Fantasy Rankings vs ECR: Week 4
---
Fantasy Football Rankings vs Expert Consensus Rankings: Week 4
My Week 4 Rankings Feel Fragile. Christian McCaffrey is questionable entering this week. Jonathan Taylor missed his first practice. Ever. Jameis Winston might not make the trip to London. Both Michael Thomas and Jarvis Landry are questionable. Amon-Ra St. Brown hasn't practiced this week. All in all, as the fantasy community receives answers about these and other high-profile players' statuses, their rankings will be updated at the bottom of this article.
Making adjustments for projected usage approaching game-time has been successful so far for me in the Fantasy Pros Accuracy Rankings contest. Thru Week 3, I'm 37th overall in accuracy out of 211 rankers, along with a 39th at RB and 31st at WR positional accuracy.
Just a reminder that I also take part in advising FantasyData's weekly Rankings. They're an excellent resource for anyone looking to win their league along with their player projections and advanced metrics.
Follow me on this journey as I highlight a few players I want to be higher or lower than the consensus for Week 4.
Higher Rank QB
Ryan Tannehill- Coming off a QB8 finish, Tannehill found his way into the end zone against the Raiders to salvage what would have been a QB22 finish. Now he faces the Indianapolis Colts on the road, who have allowed 60th and 80th percentile career performances to Davis Mills and Trevor Lawrence at the season's start. Tannehill's median fantasy score since 2019 has been 17.7 fantasy points-- which would have been the QB11 in Week 3, QB13 in Week 2, and QB15 in Week 1. It's now been twice that Tannehill has scored over 17.5 fantasy points on the season, and it's worth forgiving him after getting blown out by the Bills in Week 2's matchup. Now it's Week 4: and the Colts are mid-pack in the NFL at allowing Pass Yards and Pass TDs to QBs. In fact, QBs on average this season have scored 16.6 points against the Colts. It feels like a median game for Tannehill-- which makes his ECR too low. Tannehill's lead WR, Treylon Burks, is due for a bounce-back game after only going 1-13 on 2 targets. Tannehill moves up a tier to QB16 in my ranks.
Tannehill is the consensus QB22.
Lower Rank QB
Matthew Stafford- No, this is not me tilting over Stafford finishing as the QB27 when I predicted him to finish in the top-6 of QB in Week 3. The 49ers have allowed the 2nd fewest fantasy points to quarterbacks since the start of 2022. Additionally, the 49ers have given up the fewest QB pass yards and fewest QB pass TDs so far. Although Fields finished with a 63rd percentile career score against San Francisco, Geno Smith and Russell Wilson finished with a 25th and 7th percentile career fantasy score since 2019, respectively. Stafford has yet to score above the 50th percentile of career performances since 2019 this season. Cooper Kupp may be a shining star for fantasy, but Allen Robinson looks like a flop and no other receiver has stepped up in a meaningful way. The fact that Ben Skowronek is second among Rams WRs in targets, receptions, yards, and yards after catch should tell fantasy managers how much to temper expectations moving forward with Stafford. Looking at this from a macro view, Vegas expects this game between the Rams & 49ers to be a low-scoring affair, with only three matchups having a lower projected O/U. Stafford is at best my QB17 this week.
Stafford is the consensus QB11.
Higher Rank RB
Khalil Herbert- David Montgomery left Week 3 with an ankle/knee injury and has not yet practiced this week. Khalil Herbert proceeded to finish as the RB1 overall on 20 carries, 2 targets, 169 total yards, and 2 TDs. But this explosion is nothing new. In Herbert's rookie year, he played 4 games without Montgomery in the lineup, finishing as RB39, RB11, RB9, and RB33. Each of those games, Herbert handled 18+ carries. And in Week 4, he might handle even more. The Bears have a 34.6% team pass-rate entering Week 4-- by far the lowest in the NFL by more than 10%. Herbert will get the vast majority of opportunities out of the backfield. And the matchup for Week 4 is a nice one. The New York Giants have given up the 7th most fantasy points and 3rd most rush yards to running backs. Khalil Herbert is a top-12 running back for me.
Herbert is the consensus RB18.
Lower Rank RB
Javonte Williams - See: My week 3 analysis. Everything I predicted came true--Williams and Gordon split snaps and touches. But it got even worse. Not only was Melvin Gordon significantly involved, but third string running back Mike Boone also got meaningful snaps. This is simply a disaster scenario for Javonte Williams' prospects for achieving an upside weekly fantasy score. That's beside the fact that the Denver offense looks broken. How can fantasy managers have confidence starting Javonte Williams as more than a FLEX play? His ECR seems unconscionable. He falls outside of my top-24 of running backs for Week 4.
Williams is the consensus RB13.
Higher Rank WR
Chris Olave- The 1st round draft pick for the New Orleans Saints has not only started to catch more passes, he's started to catch fire. Olave leads all NFL receivers in Air Yards, tied for 13th among receivers in targets. He's commanded 13 targets in two straight games for 80+ yards in both games. Michael Thomas and Jarvis Landry are nursing injuries, which provides even more opportunities for the budding rookie. There is one caveat, though. Jameis Winston missed Thursday's practice. If Winston doesn't play on Sunday and Dalton starts instead, I'll downgrade Olave overall, but I still want to be ahead of consensus. The chart below shows distributions of the 1st round WRs fantasy scores over the last three years. In the last two seasons, the 84th percentile weeks from 1st round rookies look similar to that of Stefon Diggs, Michael Pittman, and Robert Woods' production in 2021-- Olave's ADP in June was WR46. Now, Olave is a WR2 for me heading into Week 4.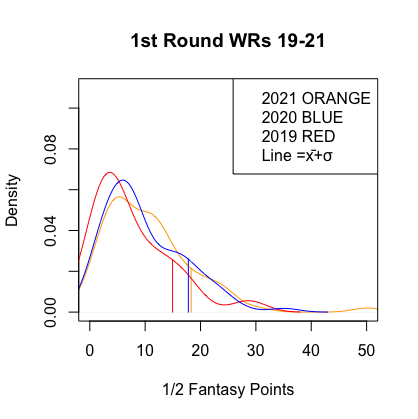 Olave is the consensus WR31.
Lower Rank WR
Davante Adams- It's been bad the last few weeks for Davante Adams. He's only caught 7 passes on 17 targets. Adams' fantasy production has been boosted by having scored in three straight games--40% of Adams' fantasy points have come from TDs. That streak ends in Week 4 against Denver. The Broncos have given up the fewest fantasy points, fewest receiving yards, and 7th fewest receptions to WRs this season. DK Metcalf went 7-36 Week 1; Brandin Cooks went 4-54 in Week 2; and Brandon Aiyuk went 3-39-1 in Week 3. Something just doesn't look right in the Raiders offense-- especially some of Derek Carr's targets toward Davante Adams. I've moved down Davante Adams to WR12 overall, and it might continue to slide by Sunday.
Adams is the consensus WR5.
Higher Rank TE
Dalton Schultz- I think Schultz plays in Week 4. He's logged limited practices leading up to Friday-- and the Cowboys have shown over the last few years that their star players will suit up on Sundays if they've been practicing. Before leaving in Week 2 with his MCL injury, Schultz had caught 9 passes on 13 targets for 80 yards . To expand the sample size, Schultz earned 7 targets in Week 8 of 2021 when Cooper Rush stepped in for Dak Prescott. Washington also allows over 9 fantasy points per game to the TE position so far this season, so this isn't a matchup to steer clear from for Schultz. I have Schultz in the top-13 contingent on his availability and may move higher with a full-practice Friday.
Schultz is the consensus TE21.
Lower Rank TE
Irv Smith, Jr.- The biggest concern for Smith is that he's a part-time player at this point. Smith hasn't played 60% of snaps in a contest yet, despite earning 15 targets through 3 games. In fact, among TEs with at least 15 targets, Smith and Kyle Pitts are the only ones with single-digit receptions entering Week 4. Smith ranks 11th of 14 TEs with 15+ targets at 0.99 yards per route run, and ranks dead last in PFF grade for deep-pass receiving grade. Expecting big plays from Irv Smith is a choice of folly. Don't consider Irv Smith, Jr. a streaming option. Smith ranks outside my top-24 for TEs in Week 4.
Smith is the consensus TE16.
---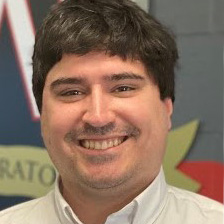 Bradley Stalder has over twelve years of fantasy football experience in auction, dynasty, redraft, and bestball formats. Before developing the Fantasy Football Fanalysts Podcast (@FFFanalysts) with Billy Muzio (@FFMuzio), he also wrote fantasy football articles and created comprehensive player and team projections for 3CoSports.com. He earned his BS in Mathematical Science from Franciscan University and MEd with focus in Mathematics Education from the University of Notre Dame. He lives near Detroit, Michigan with his wife and three daughters. He teaches Math by day to 7th and 8th graders. You can follow him on Twitter at @FFStalder.