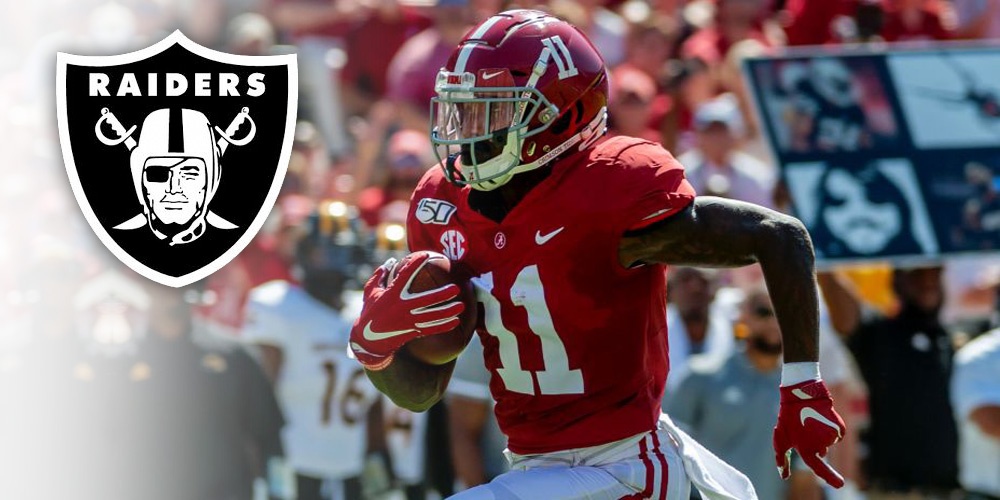 Henry Ruggs III Fantasy Forecast
---
Henry Ruggs III Fantasy 2020
The 2020 wide receiver class was one of the deepest, most talented groups we have seen in quite some time. One in which the Raiders made Henry Ruggs III the first receiver selected with the 12th overall pick in the 2020 NFL Draft. He was a part of "the big three" wide receivers from this class that many put into a tier of their own. His Alabama teammate, Jerry Jeudy, and Oklahoma's CeeDee Lamb being the other two. It was a mixed bag when determining which order these three would come off the board on draft night. Ruggs was able to separate himself at the NFL Combine with the fastest 40-yard dash (4.27). The Raiders historically target players with speed in the NFL Draft and they continued that trend. Aside from Ruggs' speed and success on the football field, he was able to display his athletic ability on the basketball court as well. His high school basketball highlight tape has been blowing up all over the internet and is rather impressive for someone of his size. The Raiders are adding a much-needed athlete to the wide receiver's room and will be able to do anything they can to get the ball into Ruggs' hands.
HENRY RUGGS III
Is a 5'11" WR
Runs a 4.27 40
Has a 42" vert

This is what that combination looks like on a basketball court.

📼 @Hoopmixtape
pic.twitter.com/mWKt4UXtga

— David Astramskas (@redapples) February 29, 2020
Ruggs' three years at Alabama were fairly similar across the board. He may not have had the most eye-popping statistical seasons like some other wideouts in this 2020 class, but he was a constant contributor to the Crimson Tide offense. Ruggs appeared in 12 games all three seasons but was only a contributor in the last two years. In his career at Alabama, he averaged over 18 yards per reception while scoring at least five touchdowns in each season. When comparing his final two years, his stats were almost identical from top to bottom. Ruggs produced 40+ receptions, just under 750 yards, and at least seven touchdowns in each of them. Though he never led the team in receiving, he was always a reliable option. The Raiders will be able to ease Ruggs into an offense that is in desperate need of a consistent receiving option.
| | | | | | | |
| --- | --- | --- | --- | --- | --- | --- |
| YEAR | GAMES | REC | REC YDS | REC TD | LONG | YDS/REC |
| 2019 | 12 | 40 | 746 | 7 | 81 | 18.6 |
| 2018 | 12 | 42 | 724 | 10 | 57 | 17.2 |
| 2017 | 12 | 7 | 175 | 5 | 60 | 25 |
2020 Fantasy Forecast
Heading into the 2020 NFL Draft, there weren't many better landing spots for a rookie wide receiver than Las Vegas. Ruggs now joins a group of wide receivers that had an underwhelming season as a whole in terms of Fantasy Football production. The Raiders only had two receivers that saw over a 45% snap share. There were 96 players in the NFL that eclipsed this mark of 45%. Their top Fantasy Football wide receiver in 2019 was Tyrell Wiliams, who came in at WR47 with 42/651/6. To put this into perspective, the Philadelphia Eagles were the only team that had their WR1 finish outside of the top 50 (Alshon Jeffery WR59). The next highest fantasy finish by a Raiders' receiver was rookie Hunter Renfrow at WR54. The breakout season by tight end Darren Waller also was a factor in these poor wide receiver numbers. Waller was a target-hog, leading the team with 117. The next most was Renfrow, who was targeted 71 times. These end of season results can also be skewed, however, depending on the number of games these players were active in. This is a variable that held the Raiders wideouts back, as they failed to have a single wide receiver play in all 16 games during the 2019 season. Tyrell Wiliams missed two games early on due to a foot injury, and Hunter Renfrow missed three with a broken rib. Ruggs was able to remain upright at the college level, missing just two games in his three years.
Though the Raiders didn't have ideal fantasy production from the wide receiver position, their overall passing numbers weren't all that bad. They had the ninth-most passing yards in the league with 3,926. All of these yards came in just 523 pass attempts, which was just 21st in the league. This led to the Raiders also being amongst the top of the league in pass yards per attempt (7.5), where they ranked 7th. However, this success in the passing game did not lead to many points. The Raiders' 19.6 points per game were amongst the bottom half of the league ranked T23 in the NFL. While Derek Carr always seems to get his fair share of criticism, his 70.4% completion percentage ranked second, just behind Drew Brees of all quarterbacks who starter 10+ games. Carr wasn't surrounded by the most talented pass-catchers, but he made it work with what he had. Given the additions the Raiders made in the NFL Draft, the same cannot be said for their squad in 2020.
Derek Carr's career passing grade when targeting 10-19 yards downfield: 90.3

Henry Ruggs III receiving grade in 2019 when targeted 10-19 yards downfield: 91.8 #RaiderNation pic.twitter.com/v2gp89Uub9

— PFF Las Vegas Raiders (@PFF_Raiders) May 6, 2020
Ruggs is in a passing offense that saw success in 2019 but did not live up to their full potential. He steps into an offense where he is arguably the top receiving option at his position where he should receive a healthy amount of targets. We should still consider Darren Waller to be the number one receiving option in this Raiders' offense, but Ruggs should be a contributor from day one. In FantasyData's initial 2020 Fantasy Football Projections, Ruggs is the leading wide receiver in the Raiders' offense. They project him to be slightly out-targeted by Renfrow but excel in just about every other spot. Ruggs will do a majority of his work on the outside with Renfrow manning the slot. Projections will change as the offseason progresses, but expect Ruggs to remain on top of this list.
STAY IN TOUCH
Sign up for FantasyData's newsletter and get awesome content sent to your inbox.
We'll never share your email address and you can opt out at any time, we promise.
---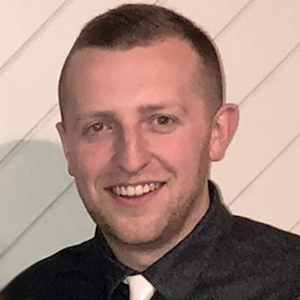 Dom Cintorino is a Central Michigan University graduate who earned a Bachelor's degree in General Management. He has been writing in the Fantasy Sports industry for three years now. He began with Dominate Fantasy where he was the lead writer for season-long and DFS purposes during the 2016 season. Dom eventually moved on to write both Fantasy Golf, and Fantasy Football for RotoExperts through a majority of 2018. He represented RotoExperts in the Kings Classic - Brown Division which took place at the Pro Football Hall of Fame. Dom is also currently a contributor at Fantasy CPR where he writes Daily Fantasy Golf.