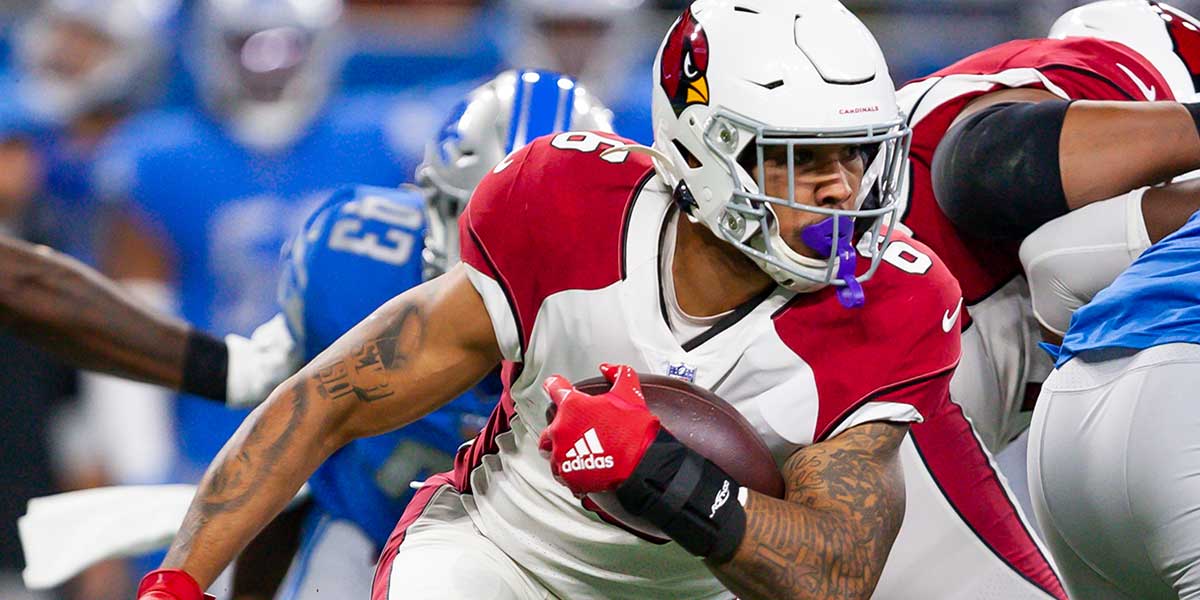 Can James Conner Build On His Success From Last Season? Fantasy Outlook 2022
---
James Conner Fantasy Outlook
James Conner had a tremendous bounce-back season in 2021 while playing for the Arizona Cardinals. It was his year playing in the Red Sea. The desert air did him wonderfully as he played in the most games he's played in his career.
Conner was on pace to set multiple career highs in nearly every significant category before hurting his ribs and missing 2 weeks. Despite that, he entered free agency searching for a big payday. Turns out he didn't have to search for very long as the Arizona Cardinals re-signed him to a 3-year/21 million dollar deal. This means that the Cardinals clearly expect the 27-year-old running back to be their main RB1 for at least the next couple of years. Due to that, they didn't bring in any competition aside from Darrel Williams. Williams will play the Chase Edmonds role in the offense.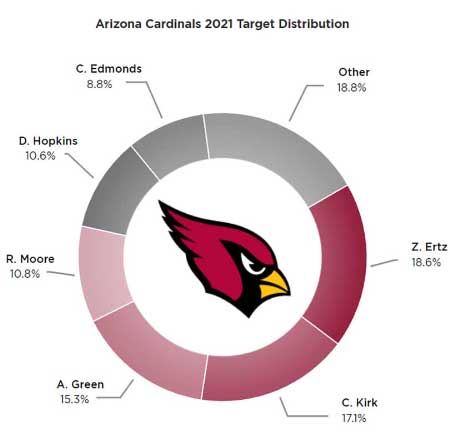 With Chase Edmonds out of the fold, I do think that Conner might get to receive a bit more. Why? Since Conner is actually a pretty good receiver. For his career, he has averaged an 83.9% catch rate while having over 7 yards per catch. If you watched any Cardinals games last year, you saw Conner make at least 1 highlight catch and run a game. Just watch the one below.
Most touchdowns last season

Jonathan Taylor 20
Austin Ekeler 20
JAMES CONNER 18@JamesConner_ | @AZCardinals

via @NFL pic.twitter.com/N71htaB6fZ

— NFL on CBS 🏈 (@NFLonCBS) July 19, 2022
https://twitter.com/NFLonCBS/status/1549419541842763776?s=20&t=PObHtLXSCOkJXxsSCvRWVg
https://twitter.com/NFLonCBS/status/1549419541842763776?s=20&t=PObHtLXSCOkJXxsSCvRWVg
The only concerns about James Conner are whether he gets injured and if the Cardinals' offense can improve from last year. The latter concern shouldn't be too big of a concern in my opinion. Why? While the Cardinals did lose DeAndre Hopkins for 6 games to a suspension, they added star WR Marquise "Hollywood" Brown. They kept their star TE Zach Ertz. Rondale Moore and Antoine Wesley return as well. They have a new rookie tight end with a ton of potential in Trey McBride. With Williams in tow, the Cardinals should do well on offense. With a tough schedule this year, I'd expect the Cardinals to have to score a ton which only helps James Conner. In fact, he might score 16+ touchdowns again.
As for his injury history, I don't care. James Conner has never had a truly horrible injury. While he has been banged up plenty of times, he's never had a season-ending injury. Couple that with the fact that you can't predict significant injuries, then I refuse to let that be a concern as to why I will/won't draft a player. Yes, James Conner plays a tough position known for injuries. Yet he still can win you a championship like he did last year. In redraft, I'm only worried about how he does this year. This year, I predict that Conner will be a top running back once again.
Conner returns as the lead RB1 for the high-powered Arizona Cardinals offense.

James Conner is currently (as of July 28th) our RB9 for 2022. You can see all our Player Projections here.
I think these projections are a little modest and could get a bump in mid-August. The thinking is someone is likely to step up and help contribute to the loss of Chase Edmonds and Nuk 6-game suspension.
My Personal Projections
I have Conner closer to 13 rushing touchdowns this season, and a little more involved in the passing game. I believe Conner sets career-highs in fantasy this season. But I also understand why our site projections are modest, as they may bring in another RB to help in the red zone.
If Conner is given more in the red zone he would reach a new high in rushing attempts, touches, and other categories.
If Conner reaches these markers during the 2022 season, he'll average 15.5 PPR points. Getting that kind of production in the 3rd or 4th round is how you win championships in fantasy football. I'm not saying to wait on running back, but you should consider only grabbing 1 RB in the first 2 rounds. While my fellow writer Corbin Young believes James Conner can't repeat his 2021 season, I disagree. He points out how Conner didn't do anything with a healthy Chase Edmonds and Kyler Murray playing. While Kyler might sap some rushes from Conner, Edmonds is gone.
Including Edmonds as a reason for why Conner won't do well this year is nonsensical. He has even less competition for touches this year with Williams, Eno Benjamin, and rookie Keanotay Ingram. Eno does hold some big sleeper appeal, but Conner is the big dog still. Plus, with such a low ADP for a top-5 running back from last season, the risk is baked in. Getting a potential RB1/top RB in the 3rd or later is how you win fantasy football leagues. I just don't see how Conner isn't at least a back-end RB1 once again this year. Am I expecting a top-5 finish? No, but I am expecting a top-12 or so finish.
Fire up James Conner this year for redraft. Just have reasonable expectations, don't expect a top-5 showing again.
Give me a follow on Twitter @DarthDbacks. I love to talk football, baseball, movies, shows, Star Wars, Marvel, and interact with the fantasy football community.
STAY IN TOUCH
Sign up for FantasyData's newsletter and get awesome content sent to your inbox.
We'll never share your email address and you can opt out at any time, we promise.
---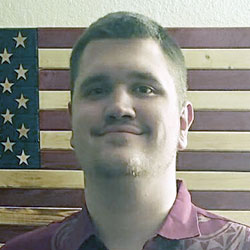 Jake is a native Phoenician and die hard fan of all the Arizona sports teams as well as the NFL and MLB. He is a Christian and a college student pursuing a dual degree in Sports Management and Sports Journalism. He is currently writing for DynastyNerds as well as a site expert at Fansided. He is obsessive about sports and stats. Jake's other hobbies include music, movies/TV, traveling and studying history. He is an avid Star Wars, Marvel, and DC fan (nerd). He wants you to know that the Jedi were the reason the Republic fell and that Dynasty>redraft. You can follow him on twitter @Darthdbacks or Discord @DarthDbacks. He is Open to doing any AMA's or podcast guest spots.