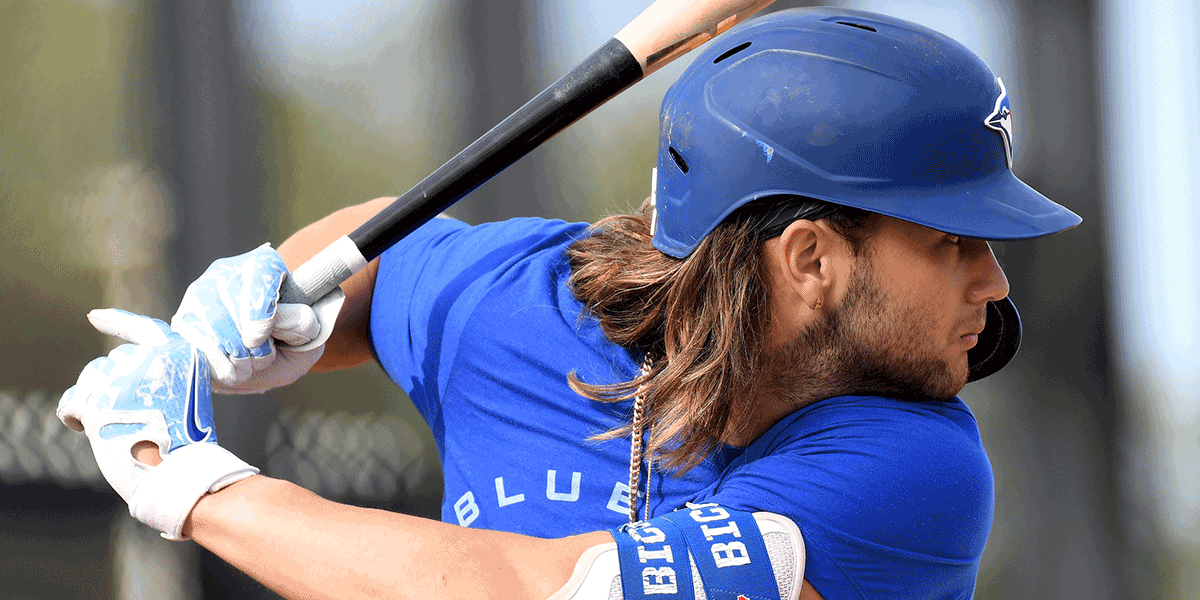 MLB DraftKings Picks: Wednesday DFS Dose
---
MLB DraftKings Picks: Wednesday, April 20th
Wednesday, April 20th provides us with a seven-game main slate of baseball with the first pitch coming at 7:05 p.m. ET. The second game of the doubleheader between the Chicago White Sox and Cleveland Guardians will not be an option for this batch of games. You will also want to keep an eye on the weather in Chicago for the game between the Rays and the Cubs. Finally, the Orioles and A's game time has been moved so the stats will not count on this slate either.
The daily dose will highlight some red hot hitters in great spots along with some pitchers that have beatable matchups or low totals. The fantasy data favorite bats and arms values will be in the $4k and $6k range respectively. At the end of the article, we will provide our lineup for the night at the time of writing the dose. Let's get started.
---
Sign Up and Start Winning!
Become a member at FantasyData and get access to the industry's best fantasy baseball subscription available!
---
Fantasy Data Favorite Bats
Bo Bichette TOR @ BOS ($5,500) — This game has the highest total on the slate and all three bats highlighted will be from this contest. This will not be the norm, but the stars align just right to where we want to attack it. Bo Bichette absolutely owns Nick Pivetta. For his career, he is batting .500 across 14 ABs with two home runs and five RBI. The SS fares well against righties as well, posting a .282 BA with 21 home runs, 125 runs, and 101 RBIs over the past 499 at-bats.
It's been a slow start for the youngster but this is a great spot to get right. The 24-year-old has at least one hit in seven of 11 games thus far. The risk is worth the reward here.
Vladimir Guerrero Jr. TOR @ BOS ($5,800) — Like Bichette, Vlad sees the ball well against Pivetta, going 4 for 14 (.286) and has one HR to go along with two BBs. Junior has been on a tear to start the 2022 season, batting .317 and averaging 10.8 DK points per game.
Guerrero has slugged five home runs already and has an incredible 41 taters in his last 467 at-bats. The Jays have a slate high projection in runs of 5.04 and Pivetta allowed the seventh-most home runs amongst qualifying pitchers in 2021 (27). This is an offense to attack and be sure to get at least one piece of it tonight.
Value Bat
Alex Verdugo TOR @ BOS ($4,100) — While $4,100 is a little high for a "value" play, Verdugo is red hot. The Red Sox outfielder makes this column because the former Dodger is averaging 9.4 DK points per game which is sixth-best on the slate but is priced as the OF25 in terms of salary.
Much like Pivetta, Jose Berrios is prone to giving up the long ball allowing 22 dongs in 2021. There is some history between the two and Verdugo has gone 4 for 5 with a home run versus the right-hander. The high-paid pitcher has not gotten off to the start the Blue Jays had hoped for.
Verdugo leads the Sox in WOBA versus righties as well, putting up a .390 WOBA over his last 388 at-bats, including 14 home runs, 96 runs, and 77 RBIs. It would be wise to bring it back with some opposing bats in what should be a game chock full of offense. Winds are blowing out to right a bit but the temps are projected to only be around 51°.
Fantasy Data Favorite Arms
Chris Bassitt SF @ NYM ($9,600) — On the opposite end of the spectrum from the Sox-Jays game is the pitchers duel on tap at Citi Field. This game features an incredibly low total of 6.5 runs. On the mound against Chris Bassitt will be Carols Rodon. We would not blame you if you wanted to roster him instead, but the price and the fact that the San Francisco Giants 9.45 per game put us on Bassitt.
The former Oakland A's starter has lived up to expectations thus far, posting 24.5 and 31.1 DK points in his two starts to the season. Rodon does average 3.7 more points per contest, but we will take the $600 in savings here.
The current Giants roster has a combined 39 at-bats versus the right-hander but has just nine hits (.231 BA) and struck out 10 times to boot. The veteran is the anti-Pivetta and Berrios, giving up just 15 home runs across 157.1 innings in 2021 and just one thus far across 12 innings. Plug him in and sit back and watch the Ks pile up.
Erick Fedde ARI @ WAS ($8,600) — The Arizona Diamondbacks trail only the Baltimore Orioles in terms of strikeouts per game with 10.18 per nine innings played. Erick Fedde is a good, not great pitcher but with this matchup and this price, we like the play tonight. In 2021, the long-time Nationals pitcher averaged almost a K/9 with 128 across 133.1 innings pitched.
Arizona has the second-lowest total on the board (4.04 runs) outside of the game in New York tonight. Only the Texas Rangers are projected to score fewer runs tonight. The other thing in favor of Fedde tonight is the fact that Arizona has scored the fewest runs in the major leagues thus far with just 2.00 per game.
There is very little risk here and the rightie has fared well in his first two starts, putting up 13.1 and 19.7 DK points respectively. The strikeouts are there so far also as he has racked up 11 in 10 innings. Save some bucks here and get Fedde into your lineups.
Value Arm
Daniel Lynch MIN @ KC ($5,500) — We are attacking another high strikeout, the low-scoring team here with Daniel Lynch. Minnesota is tied for the sixth-most strikeouts per game (9.45) and scores the eighth fewest runs at 3.64.
This play comes with some risk as Lynch did allow nine hits, six earned runs, and three home runs in his season debut, but that was against a much stronger St. Louis Cardinals lineup. The encouraging sign was the seven strikeouts across just five innings pitched and he was still able to muster out 7.3 DK points. At just $5,500, we do not need him to dominate, we just need to get those strikeouts.
Wrapping it Up
There are some good spots to attack tonight and some value out there to fit in some of the high-priced plays discussed here. Check out our lineup below to see what else we like. Thank you for reading.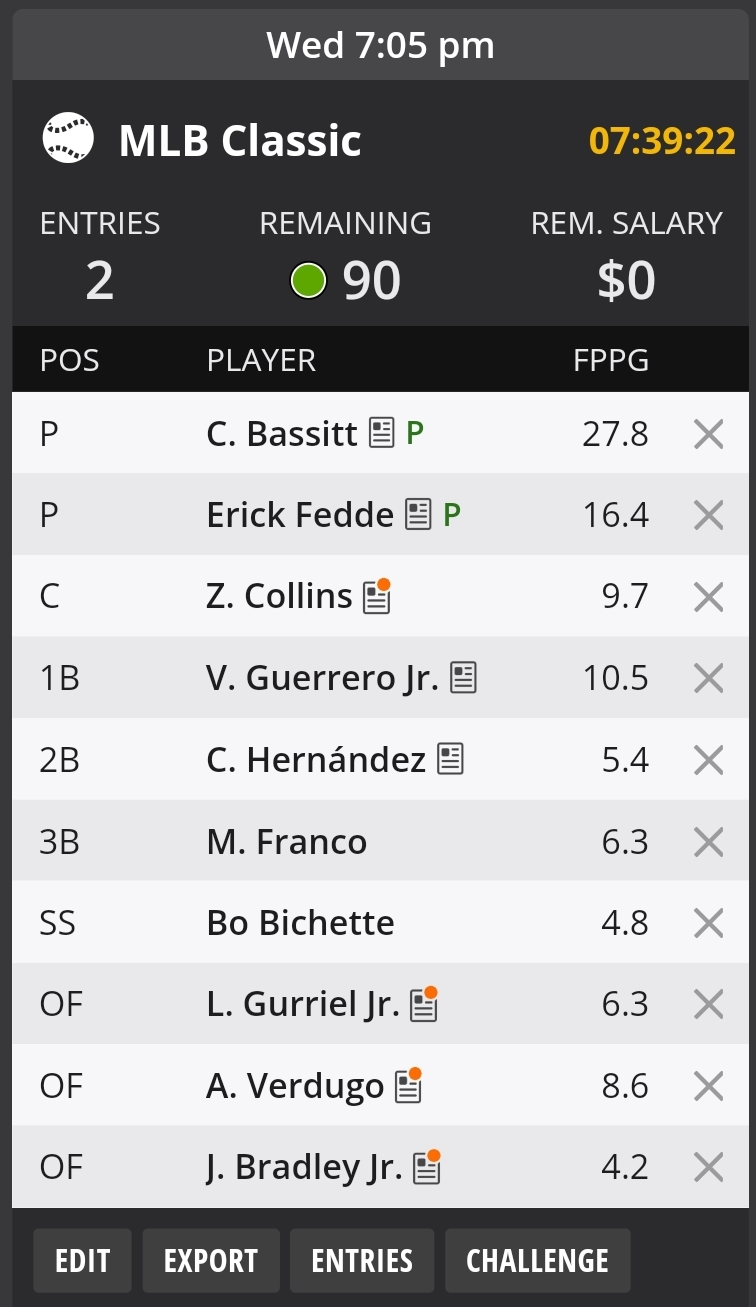 STAY IN TOUCH
Sign up for FantasyData's newsletter and get awesome content sent to your inbox.
We'll never share your email address and you can opt out at any time, we promise.
---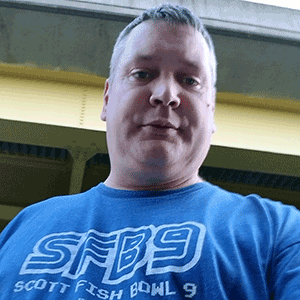 Jeff Smith has been playing fantasy sports (football and baseball) for nearly 20 years. Jeff is a member of the FSWA and a Senior Writer at DLF. Despite growing up in Buffalo Bills country, he is an avid Chicago Bears fan. It was Walter Payton that did it. When not writing or researching fantasy sports or playing DFS, Jeff enjoys spending time with his wife and their Bichon Poo, Daisy. He also likes video games, craft beer, and recently became the owner of his own business.