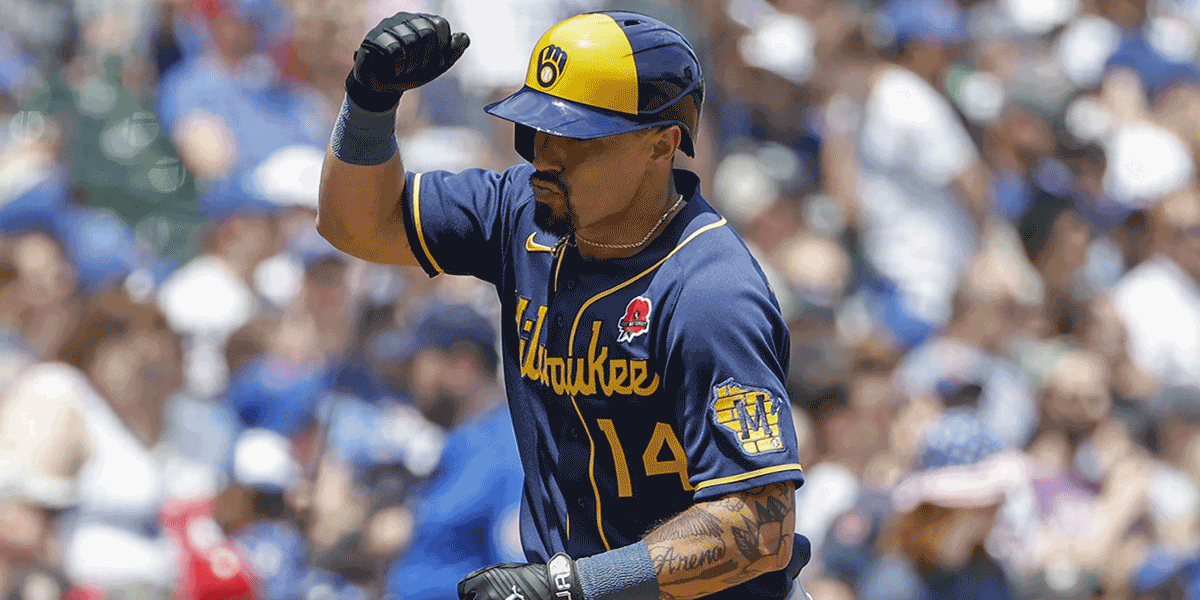 MLB DraftKings Picks Today (6/1/22)
---
MLB DraftKings Picks Today: June 1st, 2022
Wednesday, June 1st provides us with a bit of a decent-sized eight-game main slate of baseball with the first pitch coming at 7:05 p.m. ET. There are some weather concerns to keep an eye on in Boston and New York. There also is not a game at Coors on the slate so we need not concern ourselves with that.
There are just four of 16 pitchers over $9k and five of the 16 also average fewer than 10 DK points per game. Finding a value pitcher will be difficult today. The adage of paying up for pitching is going to be prudent on this slate and picking the correct two is critical. Since we will be paying up for pitching, the recommended bats will be on the more affordable side of things and our value bat is extra cheap today. You can try to squeeze a Mookie Betts or Rafael Devers into your lineup (both great plays) if you'd like, but that will mean you sacrifice elsewhere.
The MLB DraftKings picks today will highlight some hitters in great spots along with some pitchers that have beatable matchups or low totals. Our favorite bats and arms values will be in the $4k and $6k range respectively. At the end of the article, we will provide our lineup for the night at the time of writing the dose. Let's get started.
Popular Links
Fantasy Data Favorite Bats
Ty France SEA @ BAL ($4,200) — The Seattle Mariners put up 10 runs on the Baltimore Orioles last night against Bryan Baker and Zac Lowther. On tap tonight is another tasty matchup against Kyle Bradish. The right-hander brings an awful 7.31 ERA to the mound tonight. The 25-year-old has been especially bad against right-handed batters. There have also been seven home runs served up to hitters from that side of the plate.
Enter Ty France with his 12-game hitting streak and his .347 batting average to go along with seven home runs. The youngster excels against righties, batting .356 and belting five of his seven dingers versus them. Seattle has an implied run total of 4.31 tonight and should easily exceed that number. We like a little bit of a Mariners stack tonight in Camden Yards.
Julio Rodriguez SEA @ BAL ($4,500) — Another red hot hitter for the M's is Julio Rodriguez. The center fielder has seven or more DK points in 10 of his last 15 games and is batting .268 on the season to go along with six home runs. As is the case with his teammate France, a majority of his homers have come off of righties. The average sits at .244 against right-handed pitching but we are willing to overlook that due to the upside here.
The 21-year-old has swiped 14 bases on the year so there is always the potential for those extra five points there. Unfortunately, the Mariners are putting out a lineup that consists primarily of left-handed hitters or we would like to put more bats in our lineups for tonight but we will make do by rostering the two and three hitters here.
The wind is blowing out to right so left-handed bats could be viable tonight. J.P. Crawford is projected to bat cleanup tonight and is batting over .300 versus righties and has a home run and 16 RBI versus them. One concern here is that Baltimore goes to the bullpen early. They have one of the best pen ERAs in the majors at 3.28. That did not appear to help them last night though so don't let that keep you off of a stack here.
Value Bat
Jace Peterson MILOS @ CHC ($2,100) — Another pitcher that has a bloated ERA takes the mound in Wrigley tonight. Kyle Hendricks sports a 5.20 ERA paired with a WHIP of 1.34. The veteran has been especially bad against lefties, giving up nine home runs across just 30.1 innings.
While we don't love the season-long stats for Jace Peterson, it is hard to ignore his numbers versus Hendricks and even harder to ignore the price. The journeyman comes into the contest tonight with a .353 batting average (.824 slugging) and has three homers, and two doubles across 17 plate appearances. He has struck out just five times in 20 plate appearances to go along with three walks.
Peterson already has a home run in this series and the matchup tonight gives him a chance for another. At just $2,100, all we really need is a base hit or two. The 32-year-old has six steals on the season, giving us another area to potentially rack up some points tonight.
Fantasy Data Favorite Arms
Nestor Cortes LAA @ NYY ($10,700)— We mentioned that there are weather concerns in New York tonight so you will want to watch this one especially close if you choose to roster Nestor Cortes tonight. The right-hander is the most expensive pitcher on the slate tonight, and rightfully so. The veteran is averaging a slate-high 23.3 DK points per game.
Los Angeles has a projected run total of just 3.44, the second-lowest on the docket next to the Pittsburgh Pirates who sit at 3.17 runs. The Angels have not been the most disciplined team in 2022, sporting a 26.3% whiff rate. When they do make contact, however, they make it count as they have a 10.1% barrel rate. This ranks in the top 7% of the majors.
Cortes has only allowed six barrels on the season so that should keep the bats at bay on the other side. The veteran also has 61 K's over 53 innings (10.4 K/9) further helping his cause. The Cuban left-hander also performs better in the confines of Yankee Stadium, posting an average of 24.2 DK points across four starts. As long as the forecast is good, lock him in your lineups tonight. You can pivot to Tarik Skubal who is similarly priced if need be. This will help keep the rest of your roster intact without having to shuffle.
Robbie Ray SEA @ BAL ($9,500)— Another high strikeout rate pitcher is on the mound in Camden Yards. Robbie Ray has not performed quite as well as he has in 2021 but has still been solid. The journeyman averages the third-most points on the slate tonight and has a solid matchup against an Orioles team that whiffs at the sixth-highest rate in MLB (27.1%).
The run total sits at just 3.69 and we already mentioned how much we like the bats for Seattle so a win here is in the cards, giving us that nice extra four points at the end of the game. No batter in the Baltimore lineup has more than three home runs against lefties so we won't need to worry about the long ball much tonight. Ray has posted 17.3 or more points in his last four games, giving us that solid floor we look for with the upside of multiple strikeouts.
The 30-year-old has struck out four or more batters in every start this season and has rung up eight or more batters in his last four starts, including 10 last time out against the Oakland A's. Robbie Ray does it against good teams as well as he set down eight Boston Red Sox via the strikeout the start before that. Pair him up with Cortes and watch the K's just pile up.
Value Arm
Jeffrey Springs TB @ TEX ($6,200) — This play is all about the price, matchup, and recent performances. Jeffrey Springs has posted 27.8 and 18.5 DK points across the past two starts respectively. What is most impressive is that the 18.5 came versus the New York Yankees.
Much like the Orioles, the Rangers lack plate discipline. They whiff 27.7% of the time, third-most in the league. The team also sports a bottom tier .234 batting average. Texas does hit lefties fairly well but Springs has only given up three home runs across 33.1 innings and is not a flyball pitcher. At just $6,200 we would love another 18.5-point performance and it is certainly obtainable against an offense like this one.
As is the case with the other two pitchers tonight, the opponent has a low run total as Texas is projected to score just 3.64 runs. If you want to splurge on some bats in LA tonight, you can roster Springs and spend up for Betts, Freeman, or Turner. Our attack will be to roster two starters with double-digit K potential and squeeze in some bats in nice spots.
Wrapping it Up
Watch the weather in New York and Boston up in the air. Have backup plans in place. We gave you our strategy for the night and like the bats for Seattle, Boston, and Los Angeles (Dodgers). Good luck out there tonight fellow DFSers.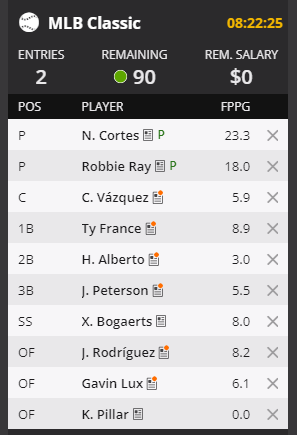 STAY IN TOUCH
Sign up for FantasyData's newsletter and get awesome content sent to your inbox.
We'll never share your email address and you can opt out at any time, we promise.
---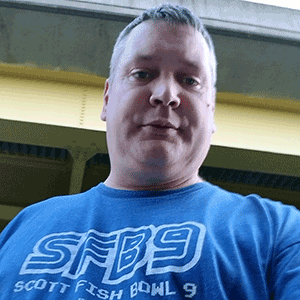 Jeff Smith has been playing fantasy sports (football and baseball) for nearly 20 years. Jeff is a member of the FSWA and a Senior Writer at DLF. Despite growing up in Buffalo Bills country, he is an avid Chicago Bears fan. It was Walter Payton that did it. When not writing or researching fantasy sports or playing DFS, Jeff enjoys spending time with his wife and their Bichon Poo, Daisy. He also likes video games, craft beer, and recently became the owner of his own business.