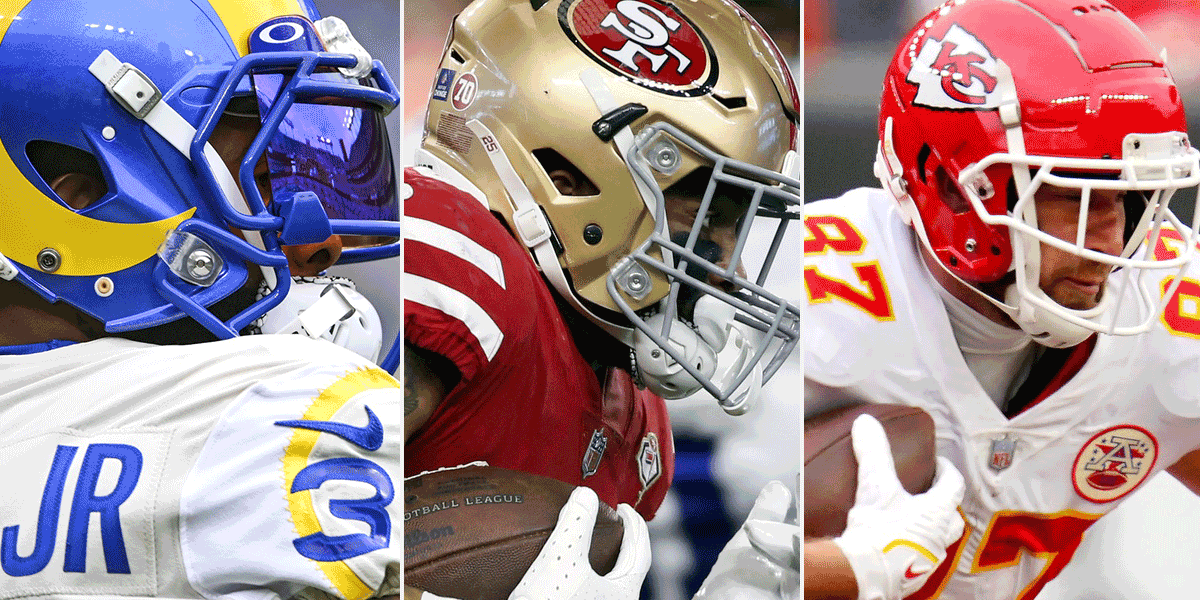 DraftKings NFL DFS Picks: Championship Round
---
NFL DFS Picks
We are down to just three games remaining on the NFL schedule, well four if you count the Pro Bowl as a game. Last weekend was perhaps the most exciting round of playoffs in the history of the NFL or at least in recent memory. We were treated to four amazing games that all ended in walk-off wins. Hopefully, we have an encore this weekend. With just two games on the slate, ownership will be high on just about every player worth rostering. You need to differentiate your lineup somehow. Perhaps you play a tight end at flex or try playing all three receivers from the Bengals or Rams. Whatever it is you decide to do, you cannot have a cookie-cutter lineup and expect to win big.
Quick Links
Fantasy Data Favorites
As we mentioned in the open, the roster percentages will be high across the board. We will try to highlight some players that are likely to be a little be less rostered on Sunday. Some plays will be chalky and there is no avoiding that, but we plan to give you a few diamonds in the rough as well to help differentiate your lineup this week and help you place in whatever contest it is that you play on Sunday.
Quarterbacks
Joe Burrow | $6600 | CIN @ KC | 34.24%
We all saw what Josh Allen did to this Chiefs defense last week. While Joe Burrow is not quite the runner that Allen is, he certainly has the talent and weapons to pick apart a depleted Kansas City secondary. Burrow is not a statue in the pocket and does have two rushing touchdowns on the season. The Bengals will need to score in bunches to stay competitive in this one and the total on this game sits at 54.5. This will be the game to attack between the two for offense. The LSU alum is coming off back-to-back subpar performances and the offensive line is struggling, but he will have to throw early and often here making him an appealing play.
Matthew Stafford | $6300 | SF @ LAR | 18.41%
While the popular play this weekend will obviously be Patrick Mahomes, Matthew Stafford offers some upside at a lower rostership percentage. The Los Angeles Rams are 3.5 point favorites at home and it is difficult to run on San Francisco. The former Detroit Lion has yet to throw an interception in the playoffs and has put up 24.28 and 32.24 DK points respectively in the two games played in the postseason. Stafford did struggle in the two prior contests between the division rivals, averaging just 15.67 points per game. Surprisingly enough, the veteran has a rushing touchdown in consecutive games. Do not look for that to happen a third time. The former number one overall pick is a nice pivot from Mahomes and comes in $1,100 cheaper.
Running Backs
Elijah Mitchell | $5900 | SF @ LAR | 30.63%
The running backs are scarce this weekend and the masses will be flocking to Joe Mixon (91.81% projected rostership). Mixon is a nice play but if you want to pay up at other positions, you will need to save at running back. Elijah Mithcell has been a workhorse of late and that should continue on Sunday as the 49ers will look to keep Matthew Stafford and Cooper Kupp on the sidelines as much as possible. The rookie has scored double-digit points in five of the last six games and has no less than 17 carries over that span. The Rams do rank 5th in the league in terms of rushing yards allowed at 98.2, but Mitchell should pay off his salary based on sheer volume alone. The Louisiana grad has run 91 and 85 yards respectively in the two prior matchups this season. Those numbers could easily be repeated and with a touchdown, that puts him at about 15 points minimum. We will take that all day on a slate devoid of many options.
Clyde Edwards-Helaire | $5300 | CIN @ TB | 5.89%
Jerrick McKinnon will be the more popular play of the two and he has played well of late. However, Clyde Edwards-Helaire is the starter and will be playing in his second game since returning from injury. The Bengals are tough against the run, allowing just 104.5 yards per game (8th in the NFL) but with the holes in the Chiefs secondary we discussed earlier with Joe Burrow, Andy Reid may want to take a run-heavy approach in this one to keep the high powered Cincinnati offense on the sideline as much as possible, thus protecting his defense. The LSU alum did not play the last time these two met but he does give us 15 to 20 point upside which is good enough on a thin slate. Take advantage of the recency bias on McKinnon and roster CEH at a lower percentage.
Wide Receiver
Cooper Kupp | $8800 | SF @ LAR | 50.53%
At this point, if you are not rostering Cooper Kupp, you are just donating money. Kupp has continued his torrid pace into the postseason. In the prior two matchups this year, the potential league MVP put up 26.2 and 29.6 DK points respectively. The price tag is high, sure, but there are ways to fit him in and still have a balanced lineup. More on that later. Just do what you have to do to get him in and move on. Surprisingly, the projected rostership is not higher on a slate with just two games. There could be an argument made to fade him on the off chance he has a bad game but that is not a risk we are willing to take in a game that could vault the Rams into the Super Bowl.
Odell Beckham Jr. | $5100 | SF @ LAR | 20.56%
We talked in the open about building rosters a bit differently this week. Pairing Odell Beckham Jr. with Cooper Kupp does just that. Beckham has not been great per se but has been serviceable and at just $5,100, that is all we need. OBJ has hit double figures in four of his last five and also has a touchdown in three of those contests. The former Giants and Browns wideout did struggle in both games versus the 49ers this season, scoring exactly 3.8 points in each one. You could pivot to Brandon Aiyuk for $5,000 here but there is another receiver we like that costs much less. Also, do we trust Jimmy Garoppolo at this point?
Mohamed Sanu | $3000 | SF @ LAR | 0.02%
We added a bonus receiver this week because it is a sneaky play that we like and it allows us to pay up for Cooper Kupp and Travis Kelce (more on him in a moment). Mohamed Sanu was activated by the 49ers this week and should slide right back into his role on offense. The veteran wideout was seeing between three and five targets per game. His playoff experience will likely earn him extra playing time as well. We mentioned that we do not trust Garoppolo just a minute ago, but at just $3,000 we can afford to take a chance. Jalen Ramsey will probably be following Samuel and Aiyuk around much of the game leaving the journeyman available to potentially get some extra looks. It is not a sexy play, but one that works for the lineup build we are trying for this weekend.
Tight End
Travis Kelce | $6500 | CIN @ KC | 33.88%
The Cincinnati Bengals gave up the sixth-most points to the tight end position in the NFL this season. Travis Kelce just torched the Buffalo Bills (ranked 2nd best) for 23.6 DK points on Sunday. The stud tight end will be the chalk of the weekend and rightfully so. Kelce has been over 13.4 points in five straight and there is no reason to think he will slow down on Sunday. The price will likely keep the rostership number in check, which is a good thing. It will be difficult to fit Kupp and Kelce in the lineup without taking a chance on someone like Sanu. Getting a piece of the Chiefs offense will be critical this weekend and we believe the veteran tight end will be the key cog on Sunday.
C.J. Uzomah | $3400 | CIN @ KC | 28.26%
C.J. Uzomah has been a target machine of late, racking up 14 in the postseason and 31 over the past five contests. In two playoff games, he is averaging 16.25 DK points and at $3,400 seems way underpriced. Because of that, Uzomah is projected to be the second most rostered tight end on the slate, ahead of George Kittle and Tyler Higbee. If you do not want to take a risk on Sanu, then Uzomah at flex makes some sense while still being able to play Kelce.
Summing It All Up
As we all know, football is unpredictable, we make these picks using the data available to us at fantasydata.com and try to help our readers make educated, thoughtful decisions when creating their DK lineup. If you find this helpful or have any comments, be sure to notate them below. Thank you for reading.
STAY IN TOUCH
Sign up for FantasyData's newsletter and get awesome content sent to your inbox.
We'll never share your email address and you can opt out at any time, we promise.
---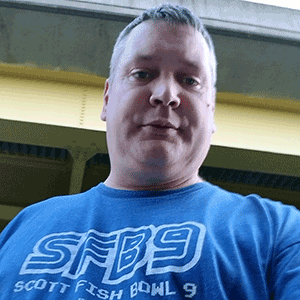 Jeff Smith has been playing fantasy sports (football and baseball) for nearly 20 years. Jeff is a member of the FSWA and a Senior Writer at DLF. Despite growing up in Buffalo Bills country, he is an avid Chicago Bears fan. It was Walter Payton that did it. When not writing or researching fantasy sports or playing DFS, Jeff enjoys spending time with his wife and their Bichon Poo, Daisy. He also likes video games, craft beer, and recently became the owner of his own business.