NFL DFS Picks: Week 3
---
NFL DFS Picks
I've been playing fantasy football since I was seven years old, and over that decade-plus, I've worked on and managed my teams in a plethora of awkward scenarios. Whether it's getting up at 5 a.m. on the west coast to look over inactives for a London game, hurrying to a computer to make a free agency pickup after Adam Schefter breaks news live on TV, or scrambling to get internet access at an actual NFL stadium (where, you'd hope, you would only need to pay attention to the matchup you have tickets for), being obsessed with fantasy is certain to elicit comments from those around you, good or bad.
But beyond fantasy, there's one thing that I've constantly done in perhaps even more inopportune settings, much to others' amusement: stretching. While not for as long as my football fandom has lasted, I've run hurdles competitively for a recent chunk of my life, and, well—look no further than the number of hamstring injuries this football season for what can happen to athletes who haven't prepared their bodies sufficiently when working at top speed. As the explanation for all of my unique stretching arrangements—of which there must be an entire album from everyone's favorite moments—I highlight the importance of flexibility. To win a hurdles race, being simply the fastest is not enough; you must also have physical pliability to surpass obstacles using the optimal amount of deviation necessary from a normal stride.
Flexibility is not only a physical skill but a mental one as well, and it's crucial to hone as we navigate the NFL in 2020. We must now adjust for injuries, interpret conflicting information, and sift through the mass of content available in order to prepare for Week 3. Thankfully, if you're looking to crush daily fantasy football, you're in the right place—read along. Oh, and if anyone bothers you about building your lineups or stretching going forward, you can tell them it was my idea.
As a reminder, I've created and will be hosting a new DFS podcast, Slate Breakers, with fellow FantasyData expert Chris Mitchell throughout the season. Episodes will be embedded in these preview articles upon release later in the week, but you can also follow me on Twitter for immediate notification when a show drops.
Quick Links
Quarterback
With neither of the usual suspects for highest-priced QB (Mahomes and Lamar face off on Monday Night Football) on the main slate, it's Russell Wilson ($7300 on DraftKings) and Dak Prescott ($7200) leading the way in their head-to-head matchup. You should mix in both, and with a slew of cheaper options available at other spots (along with potential for more opening up throughout the week), it's not out of the question to pay up for one of these two even in cash games. The next three players by salary are Josh Allen, Kyler Murray, and Cam Newton, sitting respectively at $6900/6800/6700. From adding value through rushing, each carries a high floor and obvious ceiling, though of the group, Kyler stands out to me in what should be a high-scoring affair with Detroit.
Along with my interest in Lions-Cardinals on the Arizona end (this game has a total of 54.5, good for second-highest on the slate), I'm also prepared to play Matthew Stafford ($6300). Stafford should be getting his alpha weapon back in Kenny Golladay and could fly slightly under the radar given quieter performances to start the season. Some other guys I don't mind taking fliers on based on this early look would be Joe Burrow ($6200), Mitch Trubisky ($5700), and Jared Goff ($5600).
Favorite Plays: Russell Wilson ($7300), Kyler Murray ($6800), Matthew Stafford ($6300)
Running Back
Ezekiel Elliott ($8300) and Derrick Henry ($7800) are appropriately the leaders here, and I much prefer Henry to his counterpart, Dalvin Cook ($7600), in their cross-conference duel. Zeke's a safe piece in a game you should be attacking from every which way, so don't ignore him just because Dak ran scores in against the Falcons. He'll get there more often than not and is the safest RB in fantasy football on a weekly basis for as long as Christian McCaffrey is out.
Everyone (myself included) was on Jonathan Taylor ($7000) in Week 2 at $5700, so what about in Week 3? The Colts project for a heavy rushing game script against a porous Jets team; I'm still in. We've been attacking Carolina's run defense for quite some time, so why stop here? I'd prefer Herbert starting to Tyrod for upside in this backfield—which might be the case going forward—with Austin Ekeler ($6800) and Joshua Kelley ($5000) being clear considerations at these prices. The mid-6K range also sports James Conner ($6700) and Chris Carson ($6600), but I'm going further down for my guy: Miles Sanders ($6400) lock and load. My prediction is that we don't see Sanders this cheap again for the rest of 2020, though his upcoming schedule does get brutal.
Looking further down, injuries have created potential value in Mike Davis ($5100), Jerick McKinnon ($4900), and Jeff Wilson ($4000). Wilson has the most appeal to me right now, as it looks like McKinnon may maintain his prior role, and Davis does provide reasonable potential in DraftKings' full PPR format. We should get more clarity on the plans for these backfields and others later in the week.
Favorite Plays: Ezekiel Elliott ($8300), Jonathan Taylor ($7000), Miles Sanders ($6400), Joshua Kelley ($5000), Jerick McKinnon ($4900)
Wide Receiver
Does DeAndre Hopkins ($7900) lead the way by more than he should? His targets being predominantly around the line of scrimmage might limit his upside, but even if I don't see him finishing as the WR1 on the slate very often, I wouldn't be surprised to see him in winning lineups. NFC South duos make up much of the following contingent of players, with just $200 in salary separating Julio Jones and Calvin Ridley ($7400/7200). My take: Go Julio for leverage if you think he's healthy enough, Ridley for safety. Between Mike Evans ($6800) and Chris Godwin ($6700), I like Godwin; he might slip through the cracks due to the recency bias from Evans' dominant showing.
I wrote up essentially all the WRs in last week's Falcons-Cowboys game, and I'd like to plant my flag again on hammering the receiving weapons in this Dallas contest against Seattle. While it's far too early to be making any final decisions, and you'll be influenced by the specific builds you're working with, I'd give my loose preferences to the five key players here as Amari Cooper ($6500) > Tyler Lockett ($6400) > D.K. Metcalf ($6500) > CeeDee Lamb ($5400) > Michael Gallup ($5500). Pretty much any of these guys (perhaps the exception being Gallup) are cash-viable, though in saying such, I almost wonder if that makes Gallup the best tournament play of the bunch.
Since everyone seems to be able to attack Atlanta's secondary, I'm buying the dip on Allen Robinson ($6200). Eating the chalk on Diontae Johnson ($5400) feels like a healthy approach, Robby Anderson ($5200) quietly looks like a primary option in Carolina, N'Keal Harry ($4200) appears a favorite of Cam Newton's, and I'm okay firing a dart at K.J. Hamler ($3000) as your minimum-salary punt.
Favorite Plays: Chris Godwin ($6700), Amari Cooper ($6500), Allen Robinson ($6200), Diontae Johnson ($5400), N'Keal Harry ($4200)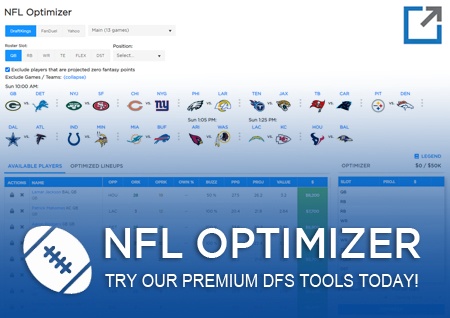 Tight End
If George Kittle ($6300) plays, you find a way to get shares, and if not, going back to Jordan Reed ($4000) works—though he's nowhere near as appealing at this price. I trust the stability of Darren Waller ($5700) getting 16 targets as a predictor for future success more than Tyler Higbee ($5900) catching three touchdowns on five looks. We saw more of the role that Hayden Hurst ($4700) can play, and a 70% snap share for Dalton Schultz ($4500) makes me excited about yet another Stanford TE in the NFL.
Ultimately, though, I'm going to be heaviest on one guy at the position this week, and it's none other than Logan Thomas ($3700). Thomas led all TEs in the league in routes run in Week 2 (going out on 95% of Washington dropbacks), and with 17 total targets over the first couple games, he boasts impressive volume. Given a friendly showdown with Cleveland to boot, it's one of those situations where you shouldn't overthink the multitude of signals.
Pivots to Thomas could be Drew Sample ($3500) and Jordan Akins ($3400), and when a chalky player absolutely busts, it can suppress his ownership on a significant scale. You do have to deal with rostering a player coached by Adam Gase (my condolences), but the sentiment around Chris Herndon ($3400) is so negative that you're probably looking at an effective bet in the grand scheme of things.
Favorite Plays: Hayden Hurst ($4700), Logan Thomas ($3700), Drew Sample ($3500)
---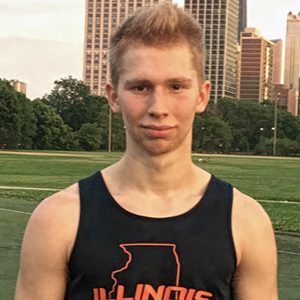 Peter Gofen started playing fantasy football at the age of seven and has amassed numerous meaningful and even more meaningful championships in the years since. His YouTube channel, PeterJaguars, has over 2.5 million total views, in the heyday of which he correctly predicted the entire 2017 NFL playoff bracket. Peter currently resides in California as a student at Stanford University, where he commentates Cardinal Sports for Stanford's campus radio station, KZSU 90.1 FM.