NFL Power Rankings Week 1
---
NFL Week 1 Power Rankings
After an entertaining opening week to the 2023 NFL season, there are plenty of notable performances, both good and bad, to highlight. Fantasy football analyst Matt MacKay is here with his NFL Week 1 power rankings, with a unique twist. While each of these teams are ranked from best to worst based on Week 1 outcomes, he also mentions a player from each team that played well or poorly, while providing his analysis on the player's outlook moving forward.
Our goal is to give you the edge needed to win fantasy football games and these power rankings are built to provide a temperature check on league hierarchy while incorporating key data and analysis for one player on each team. Now that Week 1 is officially in the books, let's dive into the first edition of 2023 NFL Week 1 power rankings.
1. Dallas Cowboys
RB Tony Pollard - It's early, but Pollard's high ADP appears to be paying off. The Cowboys' RB1 handled 14 carries for 70 yards and two touchdowns during a 40-0 rout of the New York Giants. In more competitive games, like a a home game against a talented Jets defense in Week 2, expect Pollard to reach at least 20-25 touches, while gaining more than three targets to elevate his role in the Cowboys' passing attack.
2. San Francisco 49ers
WR Brandon Aiyuk - Third-year wideout Brandon Aiyuk was going as late as the seventh round in fantasy drafts before exploding with 28.9 half-PPR points against Pittsburgh in Week 1. Aiyuk saw a 28.6 percent target share, while Deebo Samuel saw 25 percent, so there could be a few dud weeks in store for Aiyuk. However, based on his continued rapport with Brock Purdy, while playing in one of the league's best offenses, Aiyuk should be treated as a high-end WR2 with WR1 upside on the road against the Rams in Week 2.
3. Miami Dolphins
WR Tyreek Hill - The Miami Dolphins funneled the majority of its offense through star wideout Tyreek Hill, which led to him finishing as the WR1 with 11 receptions, 215 yards, and two touchdowns on a league-high 15 targets. It's even better knowing that the Dolphins' defense is not good, while the offense doesn't have a strong backfield, creating the perfect recipe for Hill to stay atop fantasy wide receiver production moving forward.
4. Detroit Lions
RB Jahmyr Gibbs - The Lions used their 12th overall pick on rookie running back Jahmyr Gibbs and we saw his explosiveness right away. Detroit fed David Montgomery 61 percent of carries, but Gibbs saw all of the running back targets against a good Chiefs defense in Week 1. Expect Gibbs to get more touches in a Week 2 home game against the Seahawks, whose defense just got shredded by the Rams, surrendering three touchdowns to Rams running backs.
5. Kansas City Chiefs
WR Rashee Rice - A lot of speculation surrounded the Chiefs' wide receiving corps this offseason. Without Travis Kelce, someone stepped up, and it wasn't Kadarius Toney. Rookie wideout Rashee Rice only played on 30 percent of snaps, but saw a 13.5 percent target share, tied for most on Kansas City during their Week 1 loss to the Detroit Lions. Rice caught three of five targets, but could've had a few more receptions to boost his output, while scoring the Chiefs' first touchdown of the game. He's a WR4 but could possess WR3/Flex upside moving forward.
6. Cleveland Browns
QB Deshaun Watson - While it wasn't a spectacular passing performance from the Browns' QB1, Watson still threw a touchdown pass and recorded five carries for 45 yards and a touchdown, raising his floor in fantasy football. Assuming Watson continues to be an efficient runner, with help behind a top-ten offensive line, he is a fringe QB1 with top-five upside.
7. Philadelphia Eagles
RB D'Andre Swift - All eyes were on the Eagles' backfield to see how they'd use their newest running back assets. It was largely disappointing, with no Eagles running back finishing with double-digit points in half PPR formats. D'Andre Swift only played 28 percent of snaps, garnered a four percent rushing share, compared to 56 percent for Kenneth Gainwell, while seizing a 6.7 percent target share. While the outlook on Swift is grim right now, he's a buy-low candidate in trades and league waiver wires.
8. Los Angeles Chargers
WR Mike Williams - There were high expectations for Mike Williams in new Chargers' OC Kellen Moore's offense, but he only managed 6.5 fantasy points against a vulnerable Miami secondary. The Chargers also stuck to the ground, scoring three of its four touchdowns on designed runs, while Donald Parham caught the only touchdown pass from Justin Herbert. Williams played 76 percent of snaps and ceded a 13 percent target share to Keenan Allen, which should make fantasy managers a bit concerned for Williams' floor moving forward.
9. Green Bay Packers
RB Aaron Jones - The focal point of Green Bay's offense, Aaron Jones could be in for a top-five season at the running back position. Jones will continue to split touches with A.J. Dillon, but he's the explosive playmaker that the Packers need out of the backfield, creating a much higher ceiling. With the strong start from quarterback Jordan Love, Jones is a solid RB1 moving forward.
10. Jacksonville Jaguars
WR Calvin Ridley - Right away, we saw the game-breaking speed and route running clinic wideout Calvin Ridley demonstrated against the Colts. After sitting out with a suspension in 2022, Ridley is in a top-12 offense with a rising quarterback talent and quality coach, plus he's surrounded by good personnel. Ridley led the team with a whopping 34 percent target share and should be in all lineups until further notice.
11. Los Angeles Rams
WR Puka Nacua - In his first NFL game, rookie wideout Puka Nacua recorded ten receptions on 15 targets for 119 receiving yards, drawing an insane 40.5 percent target share. TuTu Atwell matched Nacua's output, but saw half the number of targets, which bodes well for Nacua moving into upcoming matchups. Of course, it helps to have Matthew Stafford at quarterback, but until Kupp's injury status clears up a bit, Nacua can be used as a WR3 with WR2 upside.
12. Atlanta Falcons
RB Tyler Allegeier - Second-year running back Tyler Allgeier might be the Falcons' running back we should've drafted. While rookie Bijan Robinson dazzled with a couple of jukes en route to his first touchdown, Allegeier handled 57 percent of carries, while playing 55 percent of snaps, compared to 63 percent for Robinson. Allegeier scored two touchdowns and shows no signs of slowing down in the league's most run-centric offense behind a talented, highly paid offensive line. RB2 with RB1 upside moving forward.
13. Las Vegas Raiders
WR Jakobi Meyers - Reuniting with Josh McDaniels, his former OC in New England, Jakobi Meyers balled out with Jimmy Garoppolo in Week 1. Meyers saw a team-high 38 percent target share, even outpacing Davante Adams, taking advantage of softer coverage and securing a pair of touchdowns en route to 24.6 fantasy points and a WR1 finish. Meyers profiles as a WR3 with WR2 upside until further notice.
14. New York Jets
RB Breece Hall - Despite the devastating season-ending Achilles injury that quarterback Aaron Rodgers sustained, second-year running back Breece Hall looked great when given touches out of the Jets backfield. This includes an 82-yard rush that didn't end as a touchdown, which would've propelled Hall into a top-five running back finish. Despite the presence of Dalvin Cook, who did outpace Hall in touches, the quarterback debacle will benefit Hall more than any other skilled player for the Jets.
15. Buffalo Bills
RB James Cook - The stats weren't mind blowing, but the Buffalo Bills appear to be comfortable using second-year running back James Cook as the unquestioned RB1. Cook handled 54 percent of carries, compared to under 10 percent for all other Bills' running backs. Cook also led the Bills in targets, excluding Stefon Diggs, so his profile is certainly positive moving into Week 2 against the Raiders.
16. New England Patriots
RB Rhamondre Stevenson - Drafted as the highest New England player in fantasy football, watching Ezekiel Elliot vacuum targets from Stevenson is a bit concerning. Stevenson still finished with six targets, hauling in all six for receptions, finishing with 64 receiving yards. Fortunately, Stevenson handled 54 percent of carries, versus 31 percent for Elliot, keeping him as a mid-range RB2 with low-end RB1 upside against the Dolphins in Week 2.
17. Baltimore Ravens
QB Lamar Jackson - While it was one of the more underwhelming performances we've seen from Lamar Jackson in Week 1, the loss of J.K. Dobbins once again puts Jackson into a bigger rushing role than anticipated. We all know how dynamic Jackson is as a ball carrier, so if we just saw his floor, expect a much bigger outing from the 2019 MVP on the road against Cincinnati in Week 2. Don't panic and keep Jackson locked into starting lineups as a top-five fantasy quarterback.
18. Washington Commanders
WR Jahan Dotson - Second-year wideout Jahan Dotson did not produce against the Arizona Cardinals, finishing with 6.5 fantasy points. However, there's reason for optimism, as Dotson saw a 24 percent target share, leading all Washington wideouts. The production will follow, as incumbent quarterback Sam Howell figures out the offense under first-year OC Eric Bienemy. Dotson is a WR4 with WR3 upside against the Broncos in Week 2.
19. New Orleans Saints
WR Rashid Shaheed - Rashid Shaheed recorded an 18 percent target share, third behind Chris Olave and Michael Thomas, but he looked like he has a strong rapport with Derek Carr, finishing with five receptions, 89 yards, and a touchdown. He's the clear WR3 in an offense that likes to establish the run, however, Shaheed is a WR4 with WR3 upside in PPR formats moving forward.
20. Tampa Bay Buccaneers
WR Mike Evans - No Tom Brady? No problem, at least for Mike Evans. The towering wideout hauled in a big touchdown reception from Baker Mayfield during the Bucs' road win over the Vikings in Week 1, while seeing a massive 31 percent target share, compared to 18 percent for Chris Godwin. Evans is starting to look like a steal in fantasy drafts, so with a Week 2 matchup against the Bears, the Bucs WR1 should be locked into all lineups as a WR2 with WR1 upside.
21. Indianapolis Colts
QB Anthony Richardson - We all eagerly awaited the debut of rookie quarterback Anthony Richardson and it didn't disappoint. The dual-threat quarterback showed his arm talent, while also running through defenders with his unique blend of size and speed. Richardson found the end zone as a ball carrier, totaling two touchdowns against Jacksonville, which is why he finished with 20 fantasy points, leading all Colts skilled players. He's a low-end QB1 against the Houston Texans in Week 2.
22. Denver Broncos
RB Samaje Perine - Sean Payton used a run-centric scheme in his debut with the Broncos, which saw Samaje Perine handle 36 percent of carries and 12.5 percent of the Broncos' target share. While Javonte Williams was the RB1 in terms of carries at 59 percent. Perine showed he could be a fantasy asset with the Bengals, so expect him to remain an RB3 with RB2 upside moving forward.
23. Seattle Seahawks
RB Kenneth Walker III - Second-year running back, Kenneth Walker, played 62 percent of snaps, more than doubling Zach Charbonnet. This is important, as Walker fell victim to game script against the Rams, as the Seahawks attempted to play catch up. Walker handled 66 percent of carries but only produced 64 rushing yards and four receptions for three receiving yards. No reason to sound the alarms yet, but if another couple of weeks of stagnant production continues, Walker could fall into low-end RB2 territory.
24. Tennessee Titans
WR Deandre Hopkins - The Titans didn't look great in Week 1 but DeAndre Hopkins was a big piece of the offense. The veteran wideout saw a 39 percent target share, turning it into 10 fantasy points, catching seven passes for 65 yards. The touchdowns will follow, but Ryan Tannehill needs to play a lot better to keep Hopkins' ceiling intact. Treat Hopkins as a WR3 with WR2 upside heading into a Week 2 matchup against the Chargers.
25. Minnesota Vikings
WR Justin Jefferson - Despite being held without a touchdown, star wideout Justin Jefferson still saw a 27 percent target share, converting it into nine receptions for 150 yards and 19.5 fantasy points. No reason to panic at all, as the Vikings' defense is still bad, meaning the offense will need to stay aggressive, which bodes well for his outlook moving forward, despite a tough Week 2 primetime matchup against the Eagles on Thursday night.
26. Houston Texans
QB C.J. Stroud - All things considered, rookie quarterback and second overall draft pick, C.J. Stroud, had a decent outing against a stout Ravens defense. Stroud recorded 242 passing yards and avoided turnovers, while also adding 20 rushing yards. The Texans' skilled players appear to be upgraded as well, with Nico Collins profiling as the WR1, so Stroud is a worthy stash on benches for bye weeks and injuries in 1QB leagues.
27. Chicago Bears
WR D.J. Moore - It was not a good start for D.J. Moore against the Packers' defense in Week 1. Moore saw just a 5.6 percent target share, compared to 19 percent for Darnell Mooney and Roschon Johnson, which is definitely concerning. Moore was acquired with high fantasy football draft capital, as well as the No. 1 pick that the Bears traded away this offseason, so he's an intriguing prospect to continue monitoring. For now, Moore is a low-end WR2, potentially WR3, with high-end WR2 upside against Tampa Bay.
28. Arizona Cardinals
WR Marquise Brown - Arizona didn't muster much of anything in terms of offense, which impacted WR1 Marquise Brown, who saw a 16 percent target share, hauling in three of five targets for 28 yards. It's tough to imagine a scenario where Josh Dobbs elevates his play substantially, as he turned to Zach Ertz as his safety valve. Brown is a low-end WR3 until proven otherwise, especially with Rondale Moore making explosive plays.
29. Cincinnati Bengals
WR Ja'Marr Chase - Chase saw a 16 percent target share, which was the highest on the Bengals' lackluster offense in Week 1. He will bounce back and return WR1 numbers against the Ravens in Week 2, who he consistently dominated in 2022, but it's definitely a bit concerning watching the Bengals' offensive line get blown off the line of scrimmage. Chase remains a WR1 in all fantasy formats.
30. Carolina Panthers
TE Hayden Hurst - Rookie quarterback Bryce Young turned to his security blanket, Hayden Hurst, feeding him a 22.6 percent target share. Hurst also found the end zone, while hauling in five receptions for 41 yards on seven targets, which was enough to be the overall TE2 in PPR formats. Keep Hurst in starting lineups, as he appears to be the alpha in a young Panthers skilled group.
31. Pittsburgh Steelers
TE Pat Freiermuth - Despite hauling in a touchdown, Pat Freiermuth only saw an 8 percent target share, which was among the lowest of all Steelers skilled players. The injury to Diontae Johnson will benefit Freiermuth a bit, but in a game where the Steelers had to play catch up through the air, Freiermuth's target share and production is massively concerning, especially with only 6.8 fantasy points after scoring a touchdown.
32. New York Giants
QB Daniel Jones - Frequently considered a late-round QB1 steal in fantasy drafts, Daniel Jones couldn't muster anything behind an outmatched Giants offensive line. Jones managed 43 rushing yards, while passing for only 104 yards and two interceptions in a 40-0 rout at home against the Cowboys. Arizona should be a better matchup, but the Cardinals played well on defense in Week 1, plus they have a defensive-minded head coach, so Jones may wind up on fantasy benches by Week 3 if he cannot manufacture a couple of scoring drives.
---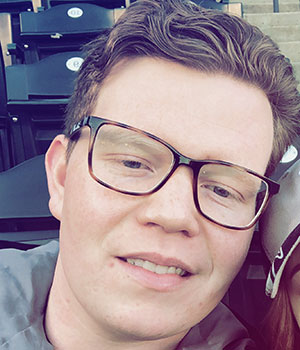 Matt is an avid writer and enjoys analyzing the game within the game that is fantasy sports. Music is another constant in his daily life. Matt loves spending time with his fiancé and three pets, which typically involves some type of outdoor exercise or adventure. He likes to read, listen to Podcasts, and is constantly motivated to create the most accurate and engaging content in the fantasy sports industry. Pat McAfee is a massive inspiration to Matt, along with his parents and friends. He is guilty of ordering the same menu item at restaurants.