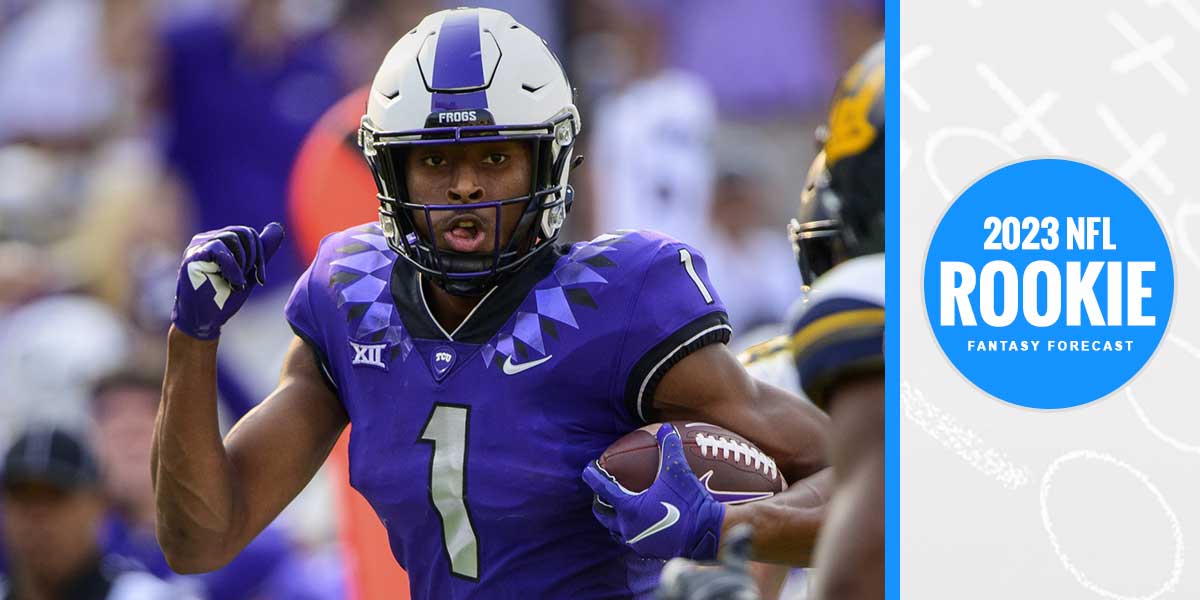 Quentin Johnston Fantasy Forecast 2023
---
Quentin Johnston Fantasy 2023
Former TCU wideout Quentin Johnston was the second player at the position off the board in the 2023 NFL Draft – and he arguably landed in the best spot for future production. The two-time First-Team All-Big 12 playmaker was selected 21st overall by the Los Angeles Chargers.
Johnston joins a position group led by Keenan Allen and Mike Williams who will be 31 and 29 respectively by the midway point of the 2023 season, so Johnston could be the future for Los Angeles as Justin Herbert's No. 1 wide receiver.
However, it's important not to simply fall in love with the landing spot when evaluating rookies. Instead, let's dive into his overall prospect profile.
Johnston Collegiate Career Review
In Johnston's covid-shortened 2020 freshman campaign (eight games), he racked up 22 receptions for 487 yards and two touchdowns – adding three carries for three yards and two more scores. Needless to say, he wasn't a dominant force as a true freshman, but he flashed big-play upside with 22.1 yards per reception and set the stage for things to come.
He saw growth in 2021, securing 33 receptions for 634 yards and six touchdowns. Again, he produced an impressive yard per reception figure (19.2) and began to enter the NFL radar.
His full-fledged breakout came in his junior season, as the 6'3" Texas native caught 60 passes for 1,069 yards and six touchdowns for the National Champion Runner-Up Horned Frogs. He cemented himself as one of the top wideouts in the 2023 class and declared for the NFL with two remaining years of eligibility.
Skill-Set
While most people's first instinct is to assume Johnston is a contested catch, physical outside receiver, he often plays smaller than his size suggests. However, this isn't necessarily a bad thing for his future production. In fact, it may serve to his benefit.
Rather than being a jump-ball contested catch receiver, he makes his money after the catch. In 2022, Johnston forced 17 missed tackles (13th among all WRs with 25-plus targets) (PFF), and his 8.9 yards after catch per reception ranked second nationally. He doesn't possess elite speed, but a 4.52 40-time is plenty fast enough to succeed at the next level.
#Chargers WR Quentin Johnson vs Michigan CB DJ Turner (4.26 40-time) in the playoffs?

76 yard house call. pic.twitter.com/JcEhwI2uvs

— Dan W. (@DanWSports) April 28, 2023
The top fantasy football wideouts in the modern era have slender builds and are volume-hogs with YAC skills rather than big-bodied specimens. That said, Johnston weighing in at 208 pounds instead of 220 pounds at the 2023 NFL Comibe isn't a big deal.
Traditional alpha X-receivers are often less dependent on great quarterback play since they can catch any pass within their large radius with physicality and length, but tied to Justin Herbert, quarterback play won't be an issue for Johnston.
Fantasy Impact for 2023
While Johnston won't be expected to be the Chargers' No. 1 wide receiver as a rookie – injuries or regression from the team's veteran wideouts could set him up for plenty of production. Allen and Williams missed a combined 11 games last year, which led to increased passing game usage for Joshua Palmer, Gerald Everett, and Austin Ekeler. Banking on injuries isn't ideal for fantasy football, but it's close to a certainty that one of Allen or Williams will miss at least some time. Everyone knows about handcuffing running backs, but wide receivers can be viewed as handcuff options, too.
Some fantasy gamers like to roster handcuffs for their own players, but drafting several bench stashes or handcuffs for players they don't have on their rosters has become more of a popular strategy for optimizing upside. Johnston is regularly priced as a WR4 or WR5 in early fantasy drafts, so if he is thrust into a significant role, he could outplay his average draft position mightily.
It's unknown whether Johnston will be good in the NFL since he has yet to play a snap, but we do know the Chargers' offense will likely be one of the best units in the NFL and the team had the second-highest pass rate last season. The team hired Kellen Moore to be its new offensive coordinator so that figure could see a dip, but in the loaded AFC West and AFC as a whole, expect L.A. to be involved in plenty more shootouts in 2023.
Johnston undoubtedly has a greater outlook for production after 2023, but in the range, he's being drafted in, targeting upside plays in high-powered offenses often pays dividends at some point in the fantasy season. Given his cost, two or three games of WR2 production would be all he needs to be worth the selection in the eighth or ninth round of 2023 fantasy drafts.
---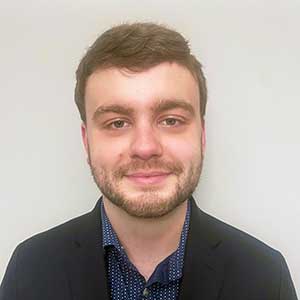 Jackson is a 2021 graduate of the University of Tennessee at Chattanooga. He was born and raised in Knoxville, Tennessee, and has loyally supported the Volunteers and Titans – through thick and thin. He has worked in the fantasy football space for two years since entering the workforce as an intern at The Sporting News and then as a contributor to RotoBaller. His specialties in the fantasy football world are redraft, dynasty, injury updates, and rookie profiles. Jackson relies on advanced stats and metrics to draw conclusions for fantasy rankings, values, and projections.