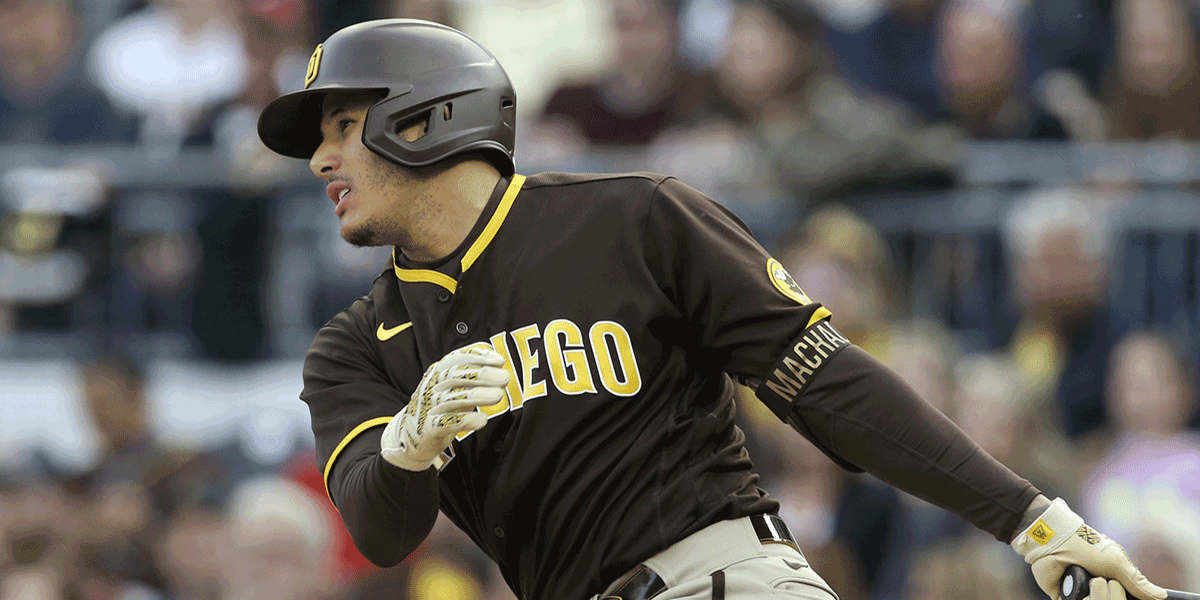 Studs, Duds, & Surprises - Early Fantasy Baseball Season Recap
---
Fantasy Baseball Studs, Duds, & Surprises
Now that the season is several weeks old, it's time to examine the most productive fantasy players, the ones who have left us down the most; and the surprising performers lifting us to the top spots.
Important note: All stats are updated through Thursday, May 20th.
Studs
Manny Machado, 3B, San Diego Padres
Manny Machado has stepped up big time during Fernando Tatis Jr.'s absence from the San Diego Padres starting lineup. Fantasy owners, of course, are reaping the benefits: he is hitting .355 with 27 runs, seven home runs, 23 RBI, and even six stolen bases. That's top-end, five-category production from the talented third baseman.
Aaron Judge, OF, New York Yankees
After rejecting a $213 million contract extension offer from the Yankees, Aaron Judge has been a man on a mission: he is determined to prove he can earn way more. So far, his bet is paying off, as he leads the majors with 14 home runs and also has 32 runs, 30 RBI, a couple of steals, a .307 average, and a 1.045 OPS. Unreal.
Bryce Harper, OF, Philadelphia Phillies
He is playing with a partially torn elbow ligament: who cares? Harper is, once again, leading the Phillies' charge for a postseason spot, and fantasy owners can't complain: he has given them 29 runs scored, nine blasts, 27 RBI, six thefts, and a .305 batting average before Friday's games. He may be banged up and actually missed some games recently, but as long as he is playing, there is no reason for you to stop playing him.
Mike Trout, OF, Los Angeles Angels
In case you had forgotten about how productive a healthy Trout is, here is a reminder: 32 runs, 11 homers, 23 RBI, a .320 average, and a 1.121 OPS. Except for the complete lack of steals (something to be expected), that's vintage Trout right there. As long as he is health, the numbers will be there. He is a generational hitter in his prime, so what else should you expect?
Pablo Lopez, SP, Miami Marlins
Marlins' hurler Pablo Lopez has been an absolute stud. He has four wins and four quality starts, with a minuscule 1.57 ERA and a 0.91 WHIP. He has excellent control and command, and he missed bats, too, as his 48 punchouts in 46 frames prove. He won't finish with a 1.00 ERA, but his performance is largely sustainable and is a clear hold.
Duds
Joey Votto, 1B, Cincinnati Reds
Currently, on the COVID-19 injured list, Votto went from hitting 36 home runs last year to zero in 74 plate appearances in 2022. He is hitting for a lousy .122 average and his .413 OPS resembles his OBP during his prime years. At 38, it's not a given that he bounces back, but at least the Reds will give him all the playing time he can handle when he returns.
Jarred Kelenic, OF, Seattle Mariners
After hitting .248/.331/.524 with a 135 wRC+ last September, we all thought Kelenic had turned a corner after a difficult 2021 season. But this year, he struggled so much (12-for-86, 10 runs, three homers, 10 RBI, four steals, a .140 average and a .510 OPS) that he is now in Triple-A Tacoma. He is still 22, though, so patience is recommended in dynasty formats.
Aaron Civale, SP, Cleveland Indians
Civale had been a serviceable fantasy starter last year, but the wheels completely fell off this season. He has more earned runs allowed than innings pitched, which is… not ideal. His 9.85 ERA and 1.74 WHIP have probably doomed you in rotisserie formats, and he has only one win and no quality starts. It has been that kind of year for him.
Surprising stars
Taylor Ward, OF, Los Angeles Angels
Can you guess the Angels' OPS leader? No, it's not Trout; and no, Ohtani isn't the answer, either. It's Taylor Ward, and you probably didn't expect to see him mashing to this degree. He has nine long balls, 26 runs, 23 RBI, and a .375 average, to go with his brilliant 1.209 OPS. Considering draft day price and production so far, he has been the MVP of the season so far, without a doubt.
Eric Lauer, SP, Milwaukee Brewers
The Milwaukee Brewers have the reigning NL Cy Young award winner Corbin Burnes and fellow 2021 Cy Young candidates Brandon Woodruff and Freddy Peralta. However, Eric Lauer has been the most impressive performer of the rotation in the first month of the season. With improved fastball velocity (it went from 92.6 mph to 94 mph on average) and more whiffs overall, he has a 2.60 ERA and a 0.98 WHIP in the season, with three wins and four quality starts. His hot start is legit, validated by his velocity gains and bat-missing ability.
CJ Cron, 1B, Colorado Rockies
The Colorado Rockies have been surprisingly competitive, largely thanks to first baseman CJ Cron. With ten round-trippers, a .319 batting average and 30 RBI, he has been a fantastic three-category contributor so far, and his 23 runs have surely helped, too. He won't steal bases, but as long as he keeps mashing like this, it won't matter.
Nestor Cortes Jr., New York Yankees
You probably thought Gerrit Cole would be the best pitcher in the Yankees' staff, right? He hasn't. Luis Severino? Nope. The Yankees' most valuable hurler hasn't been Jameson Tallion or Jordan Montgomery, either: Nestor Cortes is the right answer. With a quirky style, a funky delivery, and a 91-mph fastball, the left-hander offers a unique profile that makes him very hard to hit. He has produced a 1.35 ERA, a 0.85 WHIP and three quality starts in 40 frames, with 49 strikeouts. He won't finish with a sub-2.00 ERA, but a sub-3.00 mark is definitely possible: it already happened last year.
---
Win Your Fantasy League!
Become a member at FantasyData and get access to the industry's best fantasy baseball subscription available!
---
STAY IN TOUCH
Sign up for FantasyData's newsletter and get awesome content sent to your inbox.
We'll never share your email address and you can opt out at any time, we promise.
---

Andrés Chávez loves sports above (almost) everything else, especially fantasy baseball. He hates batting average as a category and as a tool to assess offensive performance and is open to punting saves in the right situation. He also believes leagues are won through hard work, dedication, and the waiver wire. He is not the perfect fantasy player, but is eager to improve every day, and is willing to share his daily experiences with his readers. "Sports are the most important, least important thing.