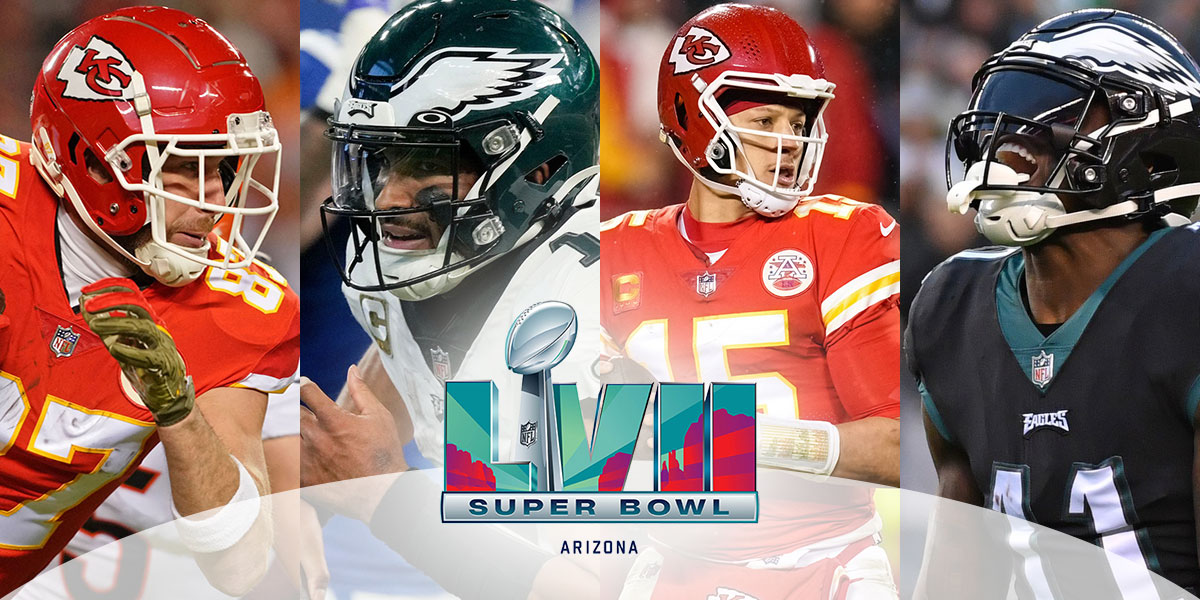 Super Bowl LVII Prop Bets: 8 Favorite Predictions
---
Super Bowl LVII Prop Bets
The wait is finally over, it's Super Bowl Sunday and the excitement is at an all-time high! As a fellow fantasy football fanatic, one knows that this Sunday's game doesn't just entertain, but it also presents an opportunity to dabble with player prop bets. This article will dive into the Super Bowl LVII player pool for predictions -- and maybe sprinkle in some novelties. Whether you're a seasoned vet or prop betting for fun, this Sunday's action won't disappoint.
Jalen Hurts O/U 1.5 TDs
Hurts has gone over this number in 9 of 17 games, including the postseason, and 8 of his last 11 games. Plus, the Kansas City Chiefs allowed the most passing TDs (33) on the season, at nearly 2 per game. The Chiefs, instead, allowed the 4th fewest rushing TDs on the season. It certainly favors Hurts to have positive matchups in the secondary for AJ Brown and DeVonta Smith. In a game whose O/U has ballooned to over 50, an evenly matched game script would ultimately come down to passing. I'll take the over on 1.5 Pass TDs for Jalen Hurts.
Patrick Mahomes O/U 295.5 Pass Yards
2022 NFL MVP Patrick Mahomes has hit the under on this number in three of the last five games, including the playoffs. However, two of those games he played less than 90% of snaps. Mahomes is still dealing with the high-ankle sprain that limited him in the Divisional matchup against Jacksonville and obviously hampered his mobility at times in the Conference Championship against the Bengals-- still, he threw for over 300 yards against Cincinnati. But it's also the matchup against the Eagles, as Philadelphia allowed the fewest passing yards to opposing QBs on the season, at less than 180 yards per game. The Eagles' defensive line may prove the difference, as PFF projects them to have an 11% defensive line advantage over the Chiefs' offensive line, as well as pressuring at a rate of 34% and converting sacks at a 23% rate clip. Mahomes, however, had the lowest pressure-to-sack rate among all qualified QBs in 2022 despite the 4th most pressures-- it'll hard to bring him down even with the increased pressure. I'll take the over on 295.5 pass yards for the renewed MVP of the NFL.
Kenneth Gainwell O/U 19.5 Rush Yards
Gainwell, who disappointed fantasy managers for most of 2022, has hit the over on this number for three straight games, including a 112 rushing-yard performance against the New York Giants in the Divisional matchup. He's averaged over 10 rushes per game during that stretch, and that's with Miles Sanders averaging 13 rushes per game during the same span. In fact, Miles Sanders only played 30% of snaps in the Conference championship game against the San Francisco 49ers, buoyed by 2 TDs to save his fantasy score that week. In fact, Sanders hasn't eclipsed 40% of snaps each of his last 4 games. I'm taking the over on Gainwell's rushing prop.
Miles Sanders O/U 60.5 Rush Yards
As mentioned before, there are concerns that Miles Sanders has been relegated to lead back of an evenly-split committee. Sanders has hit the under in 6 of the last 11 games, and under in two of the last three. The Chiefs allowed the 8th fewest rush yards per game, and with a high-scoring contest, and the emergence of Kenneth Gainwell as a secondary rushing option trusted over the last few weeks, there are paths to failure for Miles Sanders to deliver in the Big Game. I'll take the under on Miles Sanders' rush yards.
Travis Kelce O/U 6.5 Receptions
If it's the playoffs, it's Kelce time. In the two games the Chiefs have played this postseason, Kelce's caught 21 passes on 25 targets for 176 total yards and 3 TDs. Kelce has hit the over on this prop in four of the last 6 contests and has hit over 9 different times this season, including the playoffs. In the "gotta have it" scenario, Kelce has been the dependable option. In Kelce's 17 career postseason games, he's hit over 6.5 receptions 10 times, in each of the last four playoff games, and in seven of the last eight playoff games. Take Kelce's over on receptions.
Isiah Pacheco O/U 13.5 Longest Rush
Pacheco may have 99th-percentile speed and a 4.37 40-yard dash to his name, but he's hit the under on 13.5 yards in 10 of his last 16 games. The problem is that Clyde Edwards-Helaire was inactive for most of those games. CEH was activated off the injured reserve for the Super Bowl, and while it remains to be seen how involved he will be, a former 1st-round running back is not good news for giving Pacheco the volume he needs to have a chance to hit this prop. Pacheco was a modest 27th in breakaway run rate, 51st in Juke Rate, and 46th in yards created per touch-- all disappointing when we know his raw speed. Not to mention Jerick McKinnon has averaged 6 rush attempts per game over his last 8 games-- not an insignificant rush share. While it only takes one run, the path to a Pacheco 14-yard run seems tough. Take the Pacheco Under 13.5 longest rush.
Dallas Goedert O/U 19.5 Longest Reception
Goedert has hit the over in 8 of his 14 games this season. and two of his last three playoff games. However, he has hit the under in six of his last nine games. The Chiefs are a middle-of-the-pack team when it comes to receptions, yards, and fantasy points allowed to TEs, and the TE/LB matchup against Willie Gay, Jr. isn't a cakewalk. 64 of Goedert's 67 targets were less than 20 yards down the field, and he only caught 1 of the 3 targets further down the field. And while Goedert is arguably the best Yards-After-Catch TE in the league, over 67% of his targets were less than 10 yards downfield in 2022. The over might be exciting, but I'll take the under 19.5 yard longest reception for Dallas Goedert.
Jerick McKinnon O/U 2.5 Yards On 1st Rush
Over the last 5 games, McKinnon has one such game where he averages more than 2.5 yards per carry. In fact, during that 5 game span, Jerick McKinnon averages 1.8 yards per carry on 24 rushes. Take away his longest rush from each of those 5 games, and McKinnon is averaging less than 0.85 yards per carry on 19 carries. Using the data from his 5 game span, that comes out to about a 19% chance of a rush going for at least 3 yards. And it's not like this hasn't happened to McKinnon already this season-- as McKinnon's longest rush has failed to get to even 3 yards four different times. Clyde Edwards-Helaire is expected to return, which may put a damper on McKinnon's rushing upside chances. I'll take the under on McKinnon's first rush.
---
---

FREE Prop Bet Win at Underdog Fantasy
Signup For Underdog Fantasy Today!
What is Underdog Fantasy?
Underdog Fantasy is the best and easiest way to play fantasy sports; with an emphasis on Best Ball leagues and Best Ball tournaments, they have become wildly popular in the daily fantasy space. Underdog Fantasy has drafts available in every major sport, including NFL, NBA, MLB, and NHL, ranging from three-team serpentine drafts up to 12-team drafts. Learn More.
Why Should I Play At Underdog Fantasy?
Underdog Fantasy is one of my favorite ways to play fantasy sports. There are no waivers, trades, or lineup settings; there's no league management after you draft. It also offers one of the best interfaces on the market. But, don't take my word for it; If you head over to the App Store. You can verify it has a 4.7 rating with over 3,400 reviews.
Fun

- I have recommended Underdog Fantasy to a number of people, all with different levels of sports competitiveness, and knowledge of sports, and they have all found the games at Underdog Fantasy to be fun.
Interface

– The Underdog Fantasy app leaves little to be desired. The app is lightning-fast, slick, and easy to use. The design and layouts are easy to navigate with light and dark mode options, and draft rooms fill rapidly, which allows you to draft a team in minutes.
Better Chances To Win

–

With Underdog, you don't have to worry about a salary cap or being beaten by an expert who mass-entered a tournament with maximum lineup entries, used optimizers, or any other trick in the book to beat the daily player. Every owner gets one team and one shot at winning their league. Lastly, the player pool is much smaller than DraftKings or FanDuel, making it easier to cash.
STAY IN TOUCH
Sign up for FantasyData's newsletter and get awesome content sent to your inbox.
We'll never share your email address and you can opt out at any time, we promise.
---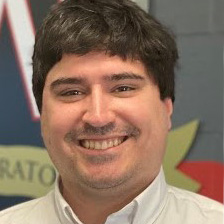 Bradley Stalder has over twelve years of fantasy football experience in auction, dynasty, redraft, and bestball formats. Before developing the Fantasy Football Fanalysts Podcast (@FFFanalysts) with Billy Muzio (@FFMuzio), he also wrote fantasy football articles and created comprehensive player and team projections for 3CoSports.com. He earned his BS in Mathematical Science from Franciscan University and MEd with focus in Mathematics Education from the University of Notre Dame. He lives near Detroit, Michigan with his wife and three daughters. He teaches Math by day to 7th and 8th graders. You can follow him on Twitter at @FFStalder.