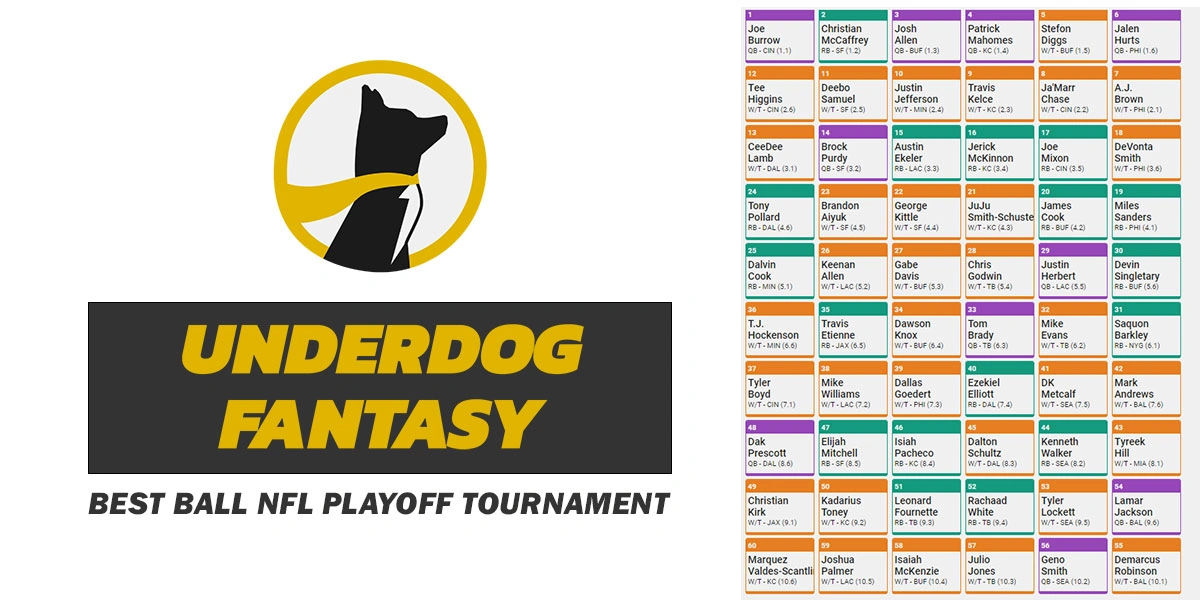 Underdog Fantasy Best Ball Strategy: 2023 NFL Playoffs
---
NFL 2023 Best Ball Tournament: NFL Playoffs
For those looking to continue the Fantasy Football season into the NFL Playoffs, I highly recommend Underdog Fantasy. Easily one of the top sites to play Best Ball in 2022, its popularity is going by the day. For those unfamiliar with this company, I would suggest checking out our Underdog Fantasy Review article to bring you up to speed.
This year there are several games you can play at Underdog Fantasy. They have weekly Best Ball drafts, with a variety of league sizes and entry fees, but what seems to be the most popular amongst the fantasy industry this week is their NFL Playoff best ball tournaments.

There are three tournaments at Underdog Fantasy for the 2023 NFL playoffs, all in the same format but with different prizes and entry fees. In this article, I will share my draft results for the Gaunlet 2 and talk about my Best Ball Strategy for the tournament.
What is Best Ball Fantasy?
Best Ball drafts have become the new Mock Draft. Best Ball is a fantasy football format where league managers draft their team, but no in-season management is required. There is no waiver wire, no trades, and no setting lineups. Instead, your highest-scoring players are automatically optimized for you to form your highest-scoring starting lineup every week. Leagues are decided by cumulative season points rather than head-to-head matchups.
How does this Best Ball Tournament Work?
Six-player Snake Draft | 10-player rosters
Starting lineup: 1 QB | 1 RB | 2 WR/TE | 1 Flex | Bench: 5
0.5 PPR Scoring format
There are no waivers, substitutions, or trades during the contest period.
At the end of each NFL week, Underdog automatically selects the entrant's highest-scoring players at the designated positions to be "starters," and only those players' statistics over that week are counted towards the entrant's accumulated score. This means entrants do not need to set their lineups.
How to Advance in the Tournament
Entrants compete in groups ("Groups") throughout multiple rounds ("Rounds").
The Tournament will have 4 Rounds, with each of the first two Rounds consisting of 6-person Groups, the third Round consisting of 8-person groups, and the final Round consisting of a single 157-person Group.
The Tournament will consist of 45,216 total entries and, in the first round, a total of 7,536 6-person Groups.
At the end of Round 1, the top one (1) performing entry in each Group will advance to Round 2 and be awarded a prize (as described below). Round 2 will consist of 7,536 entries in 1,256 6-person Groups.
At the end of Round 2, the top one (1) performing entry from each Group will advance to Round 3 and be awarded a prize (as described below). Round 3 will consist of 1,256 entries in 157 8-person Groups.
At the end of Round 3, the top one (1) performing entry from each Group will advance to Round 4 and be awarded a prize (as described below). Round 4 will consist of 157 entries in a single 157-person Group.
At the end of Round 4, the top one (1) performing entry from the Group will be the Grand Prize winner, and prizes will be awarded to all entries in Round 4 (as described below).
Underdog Fantasy Best Ball Strategy
There are a few ways to approach this draft, but before I get into it, I need to remind you of an important rule that I think many people overlook. You have to win your "group" of 6 to advance to the next round. So if you load up on players on a bye week (Philly & KC); your chances of winning the wild card round decrease drastically. Make sure your team is strong enough to get to the next round if you take a player on a BYE week.
As you can see from my draft results, I avoided the Eagles and Chiefs altogether.
My First Draft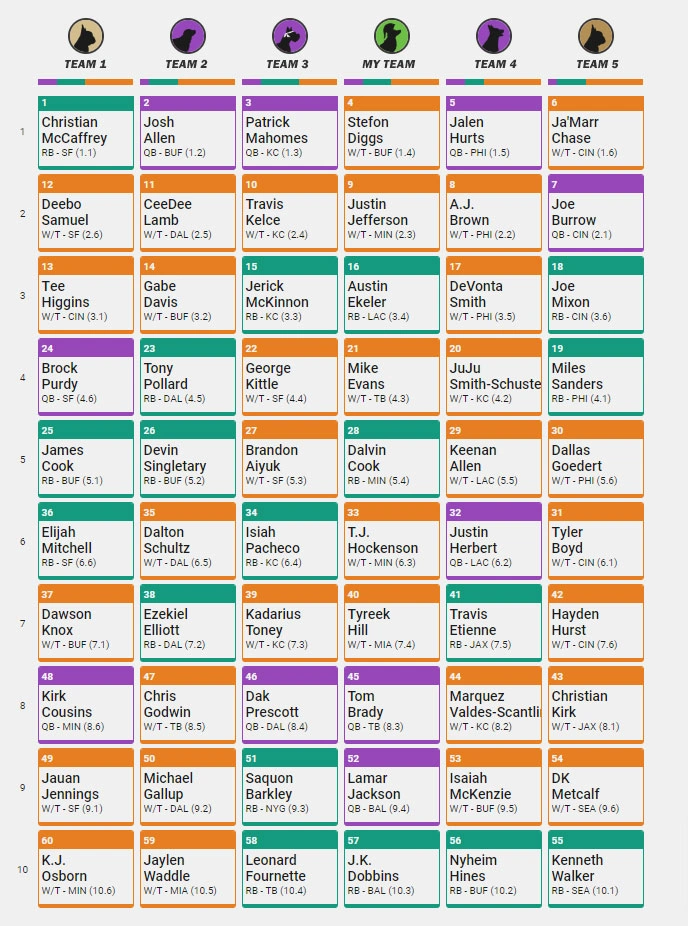 My First Draft Attempt
The "wait on QB" draft strategy definitely had its flaws this year. There were a ton of disappointing veteran QBs this past draft season, but this is the postseason.
To my surprise, four players were drafted that are on a bye this week in the first two rounds, so I felt that loading up on skill players and waiting on my QB would pan out nicely. This was my first draft, so I was test-driving things to see who was going where. My goal for this first draft was to win my group, not think long-term playoff bracket.
Stefon Diggs & Justin Jefferson - I couldn't be more excited with my first two picks. I like both the Bills and Vikings advancing in the first round, and these are elite pass catchers
Austin Ekeler - I'm surprised Ekeler wasn't drafted higher. 16th overall? This seems too good to be true. Last year no one saw the Bengals going to the Super Bowl, so you need to stay open-minded when drafting players. Don't assume there won't be upsets.
Mike Evans - The Bucs vs. Cowboys should be a great Monday Night Football game, and while Dallas does have the better record, you can never count Tom Brady out in the playoffs.
Dalvin Cook & T.J Hockenson - If the Giants win, this team won't go far, but I'm approaching things one round at a time.
Tyreek Hill - After doing a few more drafts, I realized you could get Hill later. I know it doesn't make sense having Diggs and Hill, but like I said to start, the goal was to win the first round and not focus on matchups while getting a feel for ADP.
Tom Brady & Lamar Jackson - Value picks; I think both could play spoiler this weekend and advance to the next round.
J.K Dobbins - Once I got Lamar Jackson, it made sense to stick with the upset pick of Baltimore over Cinncinati
My Favorite Draft Thus Far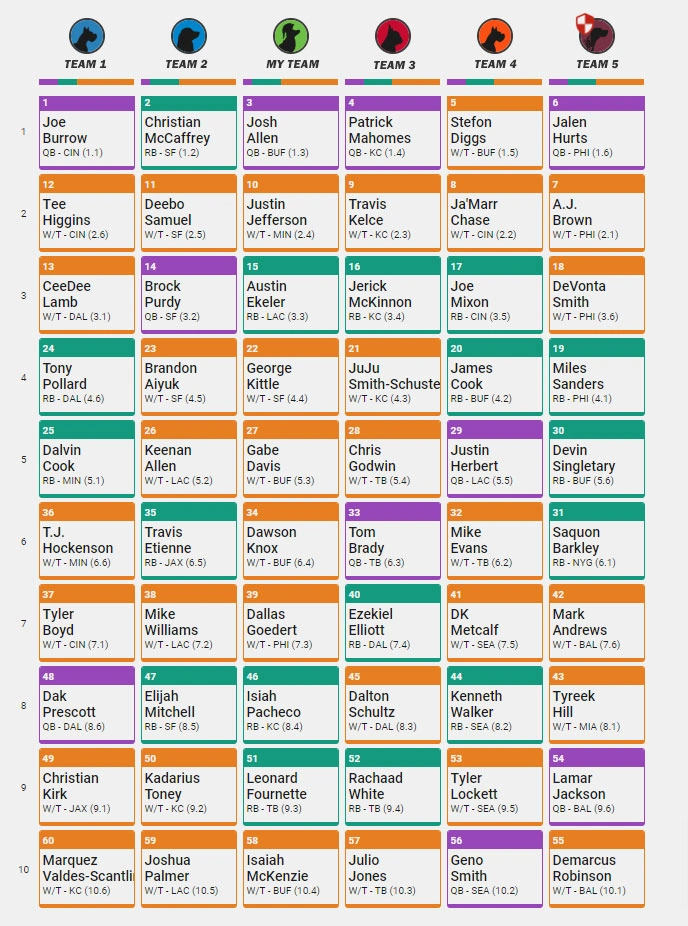 My Favorite Draft Thus Far
I've attempted to get Eagles and Chiefs on my roster, but I don't feel the overall team is strong enough to win the Wildcard round. So I'm targeting Bills players more and more. This team has a nice balance and has some similar picks to my first draft. With four Bills players, it's an all-or-nothing team. I was also able to sneak in 2 bye week players (Goedert and Pacheco) on to the roster for the next round. I feel the team is strong enough that I can get away with investing in players for the next round.
Tournament Predictions
The person who wins this Underdog Fantasy Best Ball Playoff tournament will either get away with loading up on Chiefs and Eagles and squeak out a win in the first round to advance, or upsets in the NFL playoffs will allow someone with a contrarian team to walk away with easy money. The best advice I could give you here would be to make bold predictions with the NFL playoff bracket and draft accordingly. In other words, get weird cause if you follow the ADP too closely, your team won't be different enough to win. Good Luck
STAY IN TOUCH
Sign up for FantasyData's newsletter and get awesome content sent to your inbox.
We'll never share your email address and you can opt out at any time, we promise.
---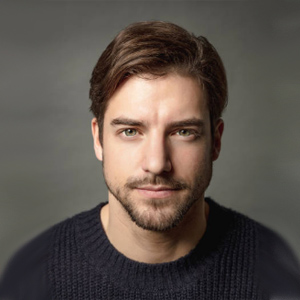 Matthew is a long time fantasy football and dynasty football fan. He lives in Las Vegas and grew up rooting for the Raiders. The team moving to his hometown was very exciting news. Matthews is married and has two young boys.