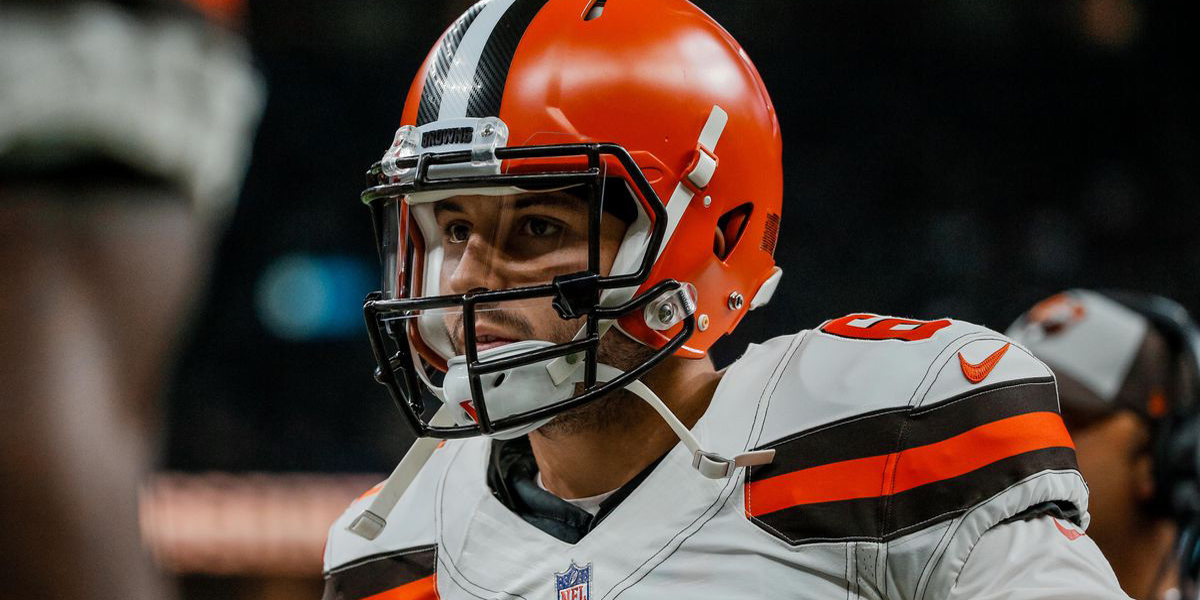 Waiver Wire Week 12 Pickups
---
Waiver Wire Week 12
The playoffs are COMING up this fantasy football season! Time to build on your success so far this season through the waiver wire. This will not only be useful to those who are looking for options in Week 12 but for that final playoff push! This list compiles players available in most leagues on Yahoo.com! Remember dominating the waiver wire is crucial to your fantasy football league. So get that FAAB budget (or what's left) ready to spend on some waiver wire pickups for Week 12! It's crunch time folks.
QUARTERBACK
Once again a helpful hint is that you should be trying to stream the quarterback position unless you have Lamar Jackson or Russell Wilson. With the Cardinals, Chiefs, Chargers, and Vikings on bye weeks, you must look for the position on the waiver wire that you can stream in Week 12!
Baker Mayfield
Less Than 55% Owned in Yahoo Leagues
In four of his last five games, Mayfield has scored at least 17 fantasy points in every game versus opponents not named the New England Patriots. In Week 12 Mayfield draws the Miami Dolphins who just allowed four total touchdowns versus Josh Allen. Mayfield has averaged 17 points per game at home this season and with the Browns now without Myles Garrett, there's a strong chance the defense is going to allow more points. According to PFF, the Dolphins rank dead last in terms of pass rush which means Mayfield is going to have time to throw the ball.
Ryan Tannehill
Less Than 21% Owned in Yahoo Leagues
Since becoming the starter in Week 7 and through Week 10, Tannehill was the QB10 overall averaging 20.1 fantasy points per game. He is back at home this week versus the Jaguars who rank middle of the pack versus the quarterback position. The Jaguars rank last in the NFL in yards per attempt on road games this season, so Derrick Henry and the offense as a whole should be able to operate extremely efficiently. Over Tannehill's four starts Henry is averaging 20.8 fantasy points per game as the RB4 overall in PPR formats.
Sam Darnold
Less Than 22% Owned in Yahoo Leagues
Over the past four weeks, the Oakland Raiders have allowed the second-most fantasy points per game to the quarterback position and a league-high 13 passing touchdowns. Darnold has played much better at home this season outside last week, and the Raiders rank dead last in passing touchdowns allowed per game on the road (2.8). With Darnold heating up over the past two weeks he is a confident streaming option in Week 12.
Honorable Mentions: IND Jacoby Brissett at HOU, DET Jeff Driskel at WAS, WAS Dwanye Haskins vs DET, MIA Ryan Fitzpatrick at CLE, OAK Derek Carr at NYJ
RUNNING BACKS
Always be aggressive from the waiver wire with running backs. With injuries so common at the position you never know when a back-up running back will find himself very quickly into a bell-cow workload. In this case, it is also worth it to be proactive with speculative adds to backups with injuries to starting running backs. Especially as we wrap up the bye-weeks. This week's backup running backs to target include the Colts RBs! Also if someone drops Brian Hill, on a furious tilt make sure you add him. He had 15 carries and had a touchdown called back, so his fantasy production does not do him justice.

Nyheim Hines
Less Than 17% Owned in Yahoo Leagues
As of right now, the consensus is on Johnathan Williams as the priority add in the Colts' backfield. However, we still do not know if Jordan Wilkins will even be active with Marlon Mack out with a fractured hand. That is why Nyheim Hines is the best add-in to the Colts backfield, especially in PPR formats. His role always seems to increase when players are injured around him. Last year when Mack missed Weeks 1,3, 4 and 5 Hines saw total targets of nine, eleven, five, and nine. The Houston Texans defense is also very good versus the run at home where they have allowed just 3.8 yards per carry. Where the Texans are weak though is versus pass-catching running backs. This season no team has allowed more receptions to the running back position than the Texans. Hines best game came back in Week 4 of the 2018 season versus the Texans where he had nine catches for 63 yards and two touchdowns. Chances are Hines will be overlooked by most on the waiver wire making him a bargain addition.
Derrius Guice
Less Than 48% Owned in Yahoo Leagues
Guice saw his first action since Week 1 and rushed seven times for 24 rushing yards. His biggest impact was in the passing game where he caught a 45-yard touchdown pass. If his role in the passing game is to expand you could see him doing some damage versus the Detriot Lions that have struggled versus the pass to running backs. The Lions have allowed the third-most receiving yards and second-most receiving touchdowns to running backs over the past four weeks.
Kallen Ballage
Less Than 37% Owned in Yahoo Leagues
Volume is king folks. Over the past two weeks, Ballage is averaging 10.6 fantasy points per game good for RB33 in PPR formats. He is averaging 19 touches per game. The Browns are missing their best defensive player so if Ballage is available he can be a low-end starter as we finish up bye weeks.
Bo Scarbrough
Less Than 2% Owned in Yahoo Leagues
Bo Scarbrough (31 snaps) easily out-snapped both Ty Johnson (18) and McKissic (14) while commanding 14 of the backfield's 19 rush attempts. He was promoted from the practice squad a day before the game and was productive rushing for 55 yards and a touchdown. If he continues to see the majority of the carries, he should be able to be somewhat fantasy-relevant versus the Redskins who have allowed the fifth-most rushing yards this season and eighth-most rushing yards in the past four weeks.
Darrel Williams
Less Than 5% Owned in Yahoo Leagues
Damien Williams looked to be taking over in the Chiefs' backfield, but of course, he goes down with a rib injury on Monday night. LeSean McCoy (55% owned) ends up scoring a touchdown, but then he leaves with a concussion. Kansas City has a bye week in Week 12, but there is a scenario where Darrel Williams is starting in Week 13. Darrel Williams led the backfield in touches with 13 and saw all the late work in the fourth quarter in Week 11.
Honorable Mentions: BAL Gus Edwards at LAR, NYG Wayne Gallman at CHI, DAL Tony Pollard at NE
WIDE RECEIVERS
Receivers are much more volatile by nature, so consider asking yourself how often you will start this receiver you bid aggressively on the waiver wire? Understand how you will use this player when they are added to your roster. Are you adding them to start them in Week 12 or are looking at their playoff schedule? This can help determine priorities when addressing the waiver wire.
Pro Tip: With us entering Week 12, it is time to trim the fat of your rosters. With it this late in the season, it is time to get rid of those extra depth pieces and acquire more players with extremely high upside to fill out your bench.
Darius Slayton
Less Than 25% Owned in Yahoo Leagues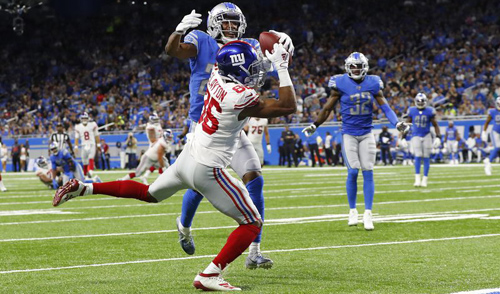 With Sterling Shepard continuing to remain on the shelf Slayton stepped up in a big way in Week 10. He caught ten-of-14 targets for 121 yards and two touchdowns. The touchdowns are not surprising as he had two back in Week 8, but the targets surely stand out. He is off the bye week and Shepard/Evan Engram are still unknowns on whether they will be available this week. Sterling Shepard (40% owned) if he is healthy is also worth adding after he has been dropped in so many places.
Deebo Samuel
Less Than 54% Owned in Yahoo Leagues
Talked about him last week, and boy did he deliver. 134 receiving yards on eight receptions; Samuel has now seen 28 targets over the past three weeks to go along with 20 receptions and over 250 receiving yards. He draws Green Bay in Week 12.
Randall Cobb
Less Than 10% Owned in Yahoo Leagues
Cobb has now seen three weeks with at least seven targets and we have seen the floor/ceiling from that target projection. In Week 9 Cobb had six receptions on eight targets for 35 yards. In Week 10 Cobb saw the same volume (eight targets, six receptions), but this time he went for 106 yards and one touchdown. He followed this performance up in Week 11 with another 100+ yard outing going for 115 and another score on just four receptions. He draws New England in Week 12 but is probably in the best spot from a matchup perspective versus the Patriots defense.
Taylor Gabriel
Less Than 10% Owned in Yahoo Leagues
In Gabriel's last four games he has scored or had at least 50 yards receiving. He is also coming off a season-high 14 targets and seven receptions from Week 11. He plays the Giants in Week 12 who have allowed the third-most fantasy points to the wide receiver position.
DeVante Parker
Less Than 59% Owned in Yahoo Leagues
Since Week 7 Parker has seen at least six targets in every single game and surpassed 50 yards receiving to go along with three touchdowns. He is WR15 overall during this timespan.
Will Fuller V
Less Than 61% Owned in Yahoo Leagues
The Texans are "hopeful" Will Fuller (hamstring) can return in Week 12. You want any part of this Houston Texans offense that you can get. Add him if he was dropped in your league. Week 16 the Texans play the Buccaneers in the fantasy football championship
Honorable Mentions: Mecole Hardman KC (Bye week), James Washington PIT at CIN, Kelvin Harmon WAS vs DET
TIGHT END
Jacob Hollister
Less than 33% Owned in Yahoo Leagues
Over his two games, Hollister has 16 targets, 12 receptions, 99 receiving yards, and three touchdowns. If you need a tight end Hollister is a must-add player for the stretch run. He also gets Arizona Week 16 in the fantasy football championship.
Noah Fant
Less than 28% Owned in Yahoo Leagues
The touchdown reception Fant had in Week 9, may not be something he can just reproduce, but he is still seeing targets as a tight end in the Broncos offense. At least four targets in four of five games and 23 targets total in his last three games. He has upside as a young athletic tight end. And with another game with a season-high 11 targets, it is clear and obvious who Brandon Allen wants to target in this offense. Be warned that the matchup versus Buffalo is extremely difficult for tight ends so he may be an add and sit this week.
Ryan Griffin
Less than 3% Owned in Yahoo Leagues
The most widely available tight end he should be added if anybody needs a tight end this week. Griffin has scored 20 plus points in two of his last four games and the Raiders are the fifth-worst team versus the position this season. Over the past four weeks, no team has allowed more targets and red zone targets to the tight end than the Raiders.
Honorable Mentions: Jaeden Graham ATL vs TB
For defenses, you want to target the teams with the highest spreads. That assumes that the team will be winning thus forcing the opponent to have to be throwing more; creating more opportunities for sacks, fumbles, and interceptions. You do not want to start even great defenses against teams that are run-heavy. A theme with some of these defenses is they are home favorites.
Cleveland Browns (49% Owned) - Dolphins allow second-most fantasy points to the defense
Tennesse Titans (16% Owned) - Titans have scored double-digit fantasy points over their last three games compiling eight sacks and six turnovers
Atlanta Falcons (2% Owned) - The Falcons have scored over 45 points over the past two weeks and get Mr.Turnover himself Jameis Winston in Week 12.
STAY IN TOUCH
Sign up for FantasyData's newsletter and get awesome content sent to your inbox.
We'll never share your email address and you can opt out at any time, we promise.
---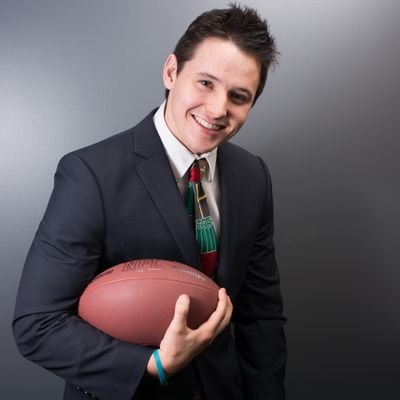 Andrew has come a long way as a fantasy football writer. After graduating from Roger Williams University where he received a degree in marketing he began to write his own fantasy blogs via WordPress.com. He used to call himself the Fantasy Football Master. Nowadays, he is slightly more humble. He has worked with Pro Football Focus as an base data analyst along with bringing head writing experience from Gridiron Experts. He is an absolute die hard Patriots fan (humble brag) and will never forget his first fantasy football team. In his first ever fantasy football league he drafted the Bears defense in the 1st round. He then proceeded to win the entire league. #DefenseWinsChampionships