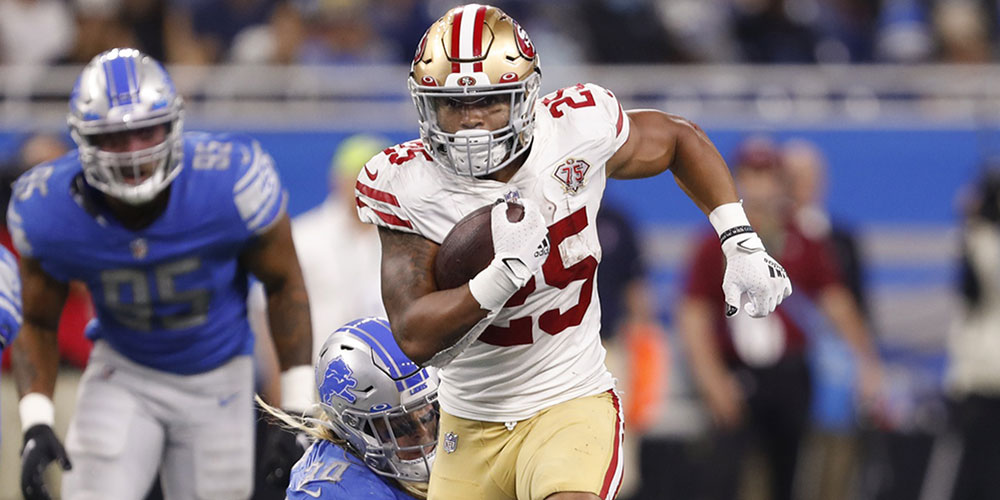 Waiver Wire Targets Week 2
---
Waiver Wire Week 2
Every first week of the NFL season is a bit disorienting. This week gives us our first chance to see how new coaches will use players in their schemes, how new players will be used in new offenses, and how they'll affect the returning players. The most important thing to remember after Week 1 is not to panic. Ezekiel Elliott only had 13 opportunities last Thursday, producing just 39 total yards, but that doesn't mean you drop him. It's a long season, keep your cool while those around you lose theirs, and you'll always have the advantage. This is my first-week doing waivers for FantasyData, and if you have specific platforms you want me to reference, please let me know; my default platforms will be Sleeper and ESPN. I will list as many players as possible that should be available on your waiver wires, but don't forget to do some work on your own. Check your league waiver wires for players I might not mention; you never know who could be sitting out there.
QB Waiver Wire Targets
Jameis Winston
New Orleans Saints (Rostered in 3% of Sleeper Leagues / 26.2% of ESPN Leagues)
Your Week 1 QB1 (pending the outcome of the Raiders vs. Ravens Monday night)? That would be Jameis Winston. Maybe the Lasik eye surgery has done wonders for his accuracy. Or it's possible that Sunday was just a charmed week for Winston where everything went right for him. Winston only attempted 20 passes but threw five touchdowns, or a touchdown 20% of his attempts. Just for the sake of perspective, the single-season TD % record is 10.16% from Tommy Thompson in 1948, and the great Aaron Rodgers, who's led the league on three different occasions in TD % career-high, was 9.1% coming last year. You should expect regression to Winston's touchdowns thrown, but you should also expect that the Saints will need to throw more than 20 times a game going forward, and Winston should far exceed the 148 passing yards he totaled on Sunday. Winston also had six rushing attempts Sunday for another 37 yards, and it could be a good omen going forward that he's going to use his legs for additional fantasy points from his legs this season.
Teddy Bridgewater
Denver Broncos (Rostered in 27% of Sleeper Leagues / 4.7% ESPN Leagues)
Teddy Bridgewater has always been a competent game manager, but could he be ready to show just a tad bit more with the Broncos starting QB role, likely his last shot at a starting role in the NFL? Bridgewater diced up the Giants secondary to the tune of a 78% completion rate on Sunday while passing for 264 yards and two touchdowns. He did this despite Courtland Sutton essentially going MIA this week (1/14). He'll also be without Jerry Jeudy, who suffered a gruesome ankle injury, for at least the next few weeks. Even without Jeudy, Bridgewater still has plenty of weapons at his disposal. Sutton should improve as he continues to work his way back from injury and is complemented by K.J. Hamler, Noah Fant, Tim Patrick, and Melvin Gordon. The Giants' pass defense isn't very good, but Bridgewater could take advantage of that and provides streaming potential in favorable matchups.
Tyrod Taylor
Houston Texans (Rostered in 14% of Sleeper Leagues / 3.9% of ESPN Leagues)
In maybe the most surprising of all performances on Sunday, the Houston Texans manhandled the Jacksonville Jaguars, partly based on the superb effort of Tyrod Taylor. Despite a less than impressive cast of pass-catchers, Taylor still completed 21 of 33 attempts for 291 yards. He threw for two touchdowns and added another 40 yards on four rushing attempts. Jacksonville has a terrible pass defense (well, rushing defense too, for that matter), but Taylor still performed with his first start of the year. The road is a tad tougher next week when Taylor faces a tough Cleveland Browns defense that just held the potent Chiefs in check (at least as much as you can do so against the Chiefs) this week. With a rushing floor to lean on, Taylor could be a nice streaming option in favorable matchups.
If you are playing in a Superflex league or just want to block a quarterback-needy league mate pick up Tyler Heinicke. We don't know precisely how long Ryan Fitzpatrick will be out with a hip injury, but we can assume it will be a while.
Washington Football Team QB Ryan Fitzpatrick did suffer a hip subluxation, the MRI confirmed. He'll be placed on Injured Reserve, source said, but no indication yet that it's season ending.

— Ian Rapoport (@RapSheet) September 13, 2021
RB Waiver Wire Targets
Jamaal Williams
Detroit Lions (Rostered in 12% of Sleeper Leagues / 73.9% of ESPN Leagues)
There was a lot of off-season chatter about how Jamaal Williams would be utilized in Detroit, at one point even being called a 1a by offensive coordinator Anthony Lynn. While many of us may have laughed at the prospect of Williams playing a huge role in the Detroit offense, at least through one week, we aren't laughing anymore. Williams was used nearly as much as D'Andre Swift, with 18 opportunities (nine rushing attempts and nine targets) compared to the 22 opportunities that Swift saw. Though doubtful (maybe) that the Lions will need to throw the ball 57 times every week, it's still encouraging to see Williams secure a 16% target share in the passing game. The Lions wide receivers are perhaps the worst in the league, and there should be more than a few weeks where Williams is at least third in the target hierarchy as he was this past Sunday. Williams is the perfect compliment to Swift, and if anything were to happen to Swift, he would have some RB1 (low-end) upside.
Elijah Mitchell
San Francisco 49ers (Rostered in 0% of Sleeper Leagues / 0.7% of ESPN Leagues)
That escalated quickly. The 49ers' third-round pick, Trey Sermon was a healthy scratch Sunday, while Elijah Mitchell, drafted three rounds later, was active. Then, as if on queue, Raheem Mostert injured his knee after just two rushing attempts. Mitchell stepped up in a big way, and with Mostert now expected to miss at least the next eight weeks, Mitchell is now a contender to be a starting running back in the NFL. Keep in mind that Mitchell was active over Sermon because Sermon does not play on special teams, while Mitchell does. There is a 0% chance that Sermon won't be active next week against the Eagles now that Mostert will be out of commission. Mitchell's elite speed and burst makes him the perfect running back to utilize in the zone-blocking scheme that the 49ers deploy. After turning in 104 yards on 19 rushing attempts (5.5 yards per carry) and scoring a touchdown, it's hard to imagine that the 49ers won't find a way to keep Mitchell involved in the offense for however long Mostert is forced to miss.
Kenneth Gainwell
Philadelphia Eagles (Rostered in 0% of Sleeper Leagues / 3.5% of ESPN Leagues)
Entering Sunday's season opener, it was believed that Gainwell was the Eagles RB3 heading into the season opener in Atlanta but based on his usage and production, he's the RB2. Miles Sanders led the Eagles backfield with 20 opportunities (15 rushing attempts and five targets), but Gainwell saw 12 opportunities as well, while Scott didn't see a single touch or target. In fact, Scott didn't have a single snap, while Gainwell saw 25 snaps. Gainwell was also the Eagles' primary two-minute back. Though he only saw three targets, the Eagles were winning for most of the game, and the game script didn't call for many passes to the backs during those two-minute drills. In a negative game script, which the Eagles will surely face when they play a better team than the Falcons, those two-minute drills could turn in PPR gold for anyone that rosters Gainwell. Gainwell was also used as a between the tackles runner, somewhat surprisingly, and would inherit additional work should anything happen to Sanders.
Make sure to check your waiver wire to see if either Nyheim Hines or Mark Ingram are available. If you have deep rosters, pick up Tony Jones Jr. as well. Jones had 11 rushing attempts during Sunday's win over the Packers and has seamlessly moved in the role vacated by Latavius Murray.
WR Waiver Wire Targets
Sterling Shepard
New York Giants (Rostered in 78% of Sleeper Leagues / 24.8% of ESPN Leagues)
Daniel Jones and Sterling Shepard have a rapport. In 18 career games played together, Shepard has averaged 14.6 fantasy points per game, making a Shepard a viable weekly starting option every time both players are healthy and playing.
Sunday's game against the Broncos continued this trend. Shepard led the Giants in targets (nine), receptions (seven), and receiving yards (113) while scoring a touchdown. The fact that Evan Engram was unable to play this week shouldn't be ignored, but nor should the fact that with Golden Tate no longer on the roster, Shepard is primed to play a large percentage of his snaps out of his best position, the slot. After a slot rate of 40% in 2019, he only saw a 24% slot rate in 2020. Playing out of the slot will allow Shepard to line up against lesser cornerbacks every week, while Kenny Golladay will also command most of the CB1 coverage every week. Shepard has averaged between 11.4 and 14.2 points per game in his first five seasons, and his biggest issue has been health. If he can stay on the field, he could be primed for his most productive season yet.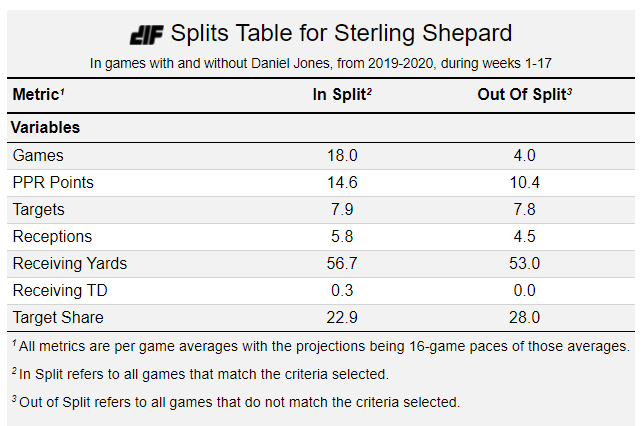 Nelson Agholor
New England Patriots (Rostered in of 0% Sleeper Leagues / 30% of ESPN Leagues)
Nelson Agholor finished as a WR4 last year, and after Sunday's debut with the Patriots, he might be ready to outproduce those totals in 2021. Agholor hauled in five of seven targets (tied for second-most on the team) for 72 yards, scoring a touchdown along the way to an 18.2 point fantasy week. Agholor also continued his 2020 trend of being a big-play threat, averaging 14.4 yards per reception on Sunday, and he is one of the few Patriots receiving options that can be a weapon downfield. His competition for targets from other wide receivers on the roster is minimal, with Jakobi Meyers and Kendrick Bourne being the biggest threats to his target share. Rookie quarterbacks tend to lean on the players they can trust, and after Sunday's game, I'd expect Mac Jones to continue to lean on the same players he targeted the most this past Sunday, which could mean a WR2/WR3 season for Agholor this year.
Jalen Reagor
Philadelphia Eagles (Rostered in 57% of Sleeper Leagues / 57.6% of ESPN Leagues)
Reagor was second for the Eagles in targets, receptions, and receiving yards on Sunday. Though he only was able to turn his six receptions into 49 yards, that total was based on being used as a receiving option close to the line of scrimmage. The Falcons allowed the Eagles to do anything they wanted on underneath routes, and the Eagles took advantage of that Sunday. Head coach and play-caller Nick Sirianni described the Eagles' offense as being "multiple" on more than a few occasions. That means that the game plan and how Reagor is used are likely to change based on what the defense gives and what is working early in the game. The most important takeaway from Sunday is that Reagor commanded 17% of the target share. Reagor showed how explosive he can be (and how well he can follow a magnificent block) on his 23-yard touchdown and could provide low-end WR3 / high-end WR3 numbers weekly if his usage holds.
Watch Jalen Reagor's acceleration. #FlyEaglesFly

📺: #PHIvsATL on FOX
📱: NFL app pic.twitter.com/SAilgczyBa

— NFL (@NFL) September 12, 2021
Mike Williams is available in nearly 25% of ESPN leagues and 62% of Sleeper leagues. Against a tough Washington defense, Williams saw 12 targets on Sunday, with 82 yards and a touchdown on eight receptions. He should be rostered in 100% of leagues.
TE Waiver Wire Targets
Pharoah Brown
Houston Texans (Rostered in 0% of Sleeper Leagues / 0% of ESPN Leagues)
Though Brown was outscored and out-targeted by Jacksonville Jaguars' tight end James O'Shaughnessy in the same game, I would lean towards Brown if I had to choose between the two players. Both players were targeted on about 15% of their team's pass attempts, but Brown was able to turn in the bigger plays averaging 16.8 yards per reception compared to 8.0 for O'Shaughnessy. If either player is available in a tight-end premium dynasty league, pick either up. The Texans are in the running with Detriot for the worst receivers room in the league, and Brown may be able to see a healthy target share every week.
Adam Trautman
New Orleans Saints (Rostered in 2% of Sleeper Leagues / 5.4% of ESPN Leagues)
If you just look at fantasy scoring from Sunday, you might believe that Juwan Johnson is the tight end you want to buy for fantasy purposes. While Johnson is an excellent pick-up in dynasty leagues, I'd suggest you pick up Trautman in redraft. Johnson may have scored 17.1 fantasy points, but I can almost guarantee you that he won't score two touchdowns on three targets in any game again in our lifetimes. Troutman led the Saints with six targets, even if he only caught three of those for 18 yards. Will Trautman secure a 30% target share every week? That's not likely, but there's no reason to think that he won't continue to be one of the most targeted Saints pass catchers considering that their WR1 right now is Marquez Callaway or Deonte Harris. Let your league mates chase the points with Johnson and pick up Trautman instead.
Quick Links
STAY IN TOUCH
Sign up for FantasyData's newsletter and get awesome content sent to your inbox.
We'll never share your email address and you can opt out at any time, we promise.
---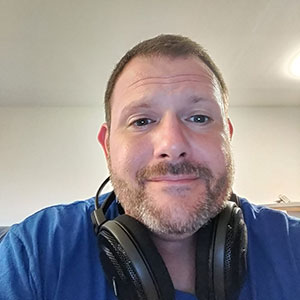 Shane Manila is currently a writer for Dynasty League Football, co-host of the Dynasty Trades HQ podcast, Manic and Chill (DLF YouTube), and Dynasty Intervention. Don't let all the dynasty talk fool you though, Shane loves redraft (almost) as much as he does dynasty football. An FSWA member, Shane formerly contributed his redraft insights via FantasyPros.com. At its core fantasy football is a weekly game, regardless of what format you are playing, and helping you make the correct decisions every week is Shane's only goal. Well, and to entertain you. No reason you can't be informed and entertained at the same time.