MLB Week 13 Hitters and Streamers Forecast
---
Hitters and Streamers Forecast
***Before we dive into this week's article, I just wanted to let you know that we've slashed the price of our MLB Subscriptions! Save HUGE on our season passes! Enjoy our Player Projections, DFS Tools, and Data at a fraction of the price. This team won't last long, so definitely check it out! Click Here to Learn More
The theme of this season so far - survive the injuries, make difficult roster decisions, and keep grinding the waiver wire. That's generally the theme and process for success during other seasons, but the injuries seem way up this year. Since I'm mostly playing in 15-team leagues this season, I'm looking at the hitter streamer lens from a deep league perspective.
At this point, we have a good idea of where we sit in the rotisserie standings and where our strengths and weaknesses lie. It seems simple, but use the waiver wire to assess team needs while also assessing upside and potential. As with pitcher streamers, maybe, just maybe, these hitter streamers end up as regulars in your starting lineup. A few from last week and this week include Jonathan Schoop, Harold Ramirez, Luis Urías, Jake Fraley, J.P. Crawford, and Steven Duggar. We'll look back to Week 12 and look ahead to Week 13.
Week 12 Hitter Streamer Review
Jonathan Schoop - (.400 BA, 2 HR, 5 R, 4 RBI)

Harold Ramirez - (.250 BA, 0 HR, 2 R, 1 RBI)

Yonathan Daza - (.308 BA, 3 R, 3 RBI)

Luis Urías (.167 BA, 5 R, 1 RBI)

Jake Fraley (.250 BA, 2 HR, 5 R, 6 RBI, 1 SB)

Taylor Trammell (.056 BA)

J.P. Crawford (.300 BA, 1 HR, 4 R, 2 RBI)

Steven Duggar (.250 BA, 2 HR, 4 R, 3 RBI, 1 SB)
Let's keep it going, Jake Fraley. Since the call up (5/31):
-.317/.481/.634 🔥
-24.1% BB%, 22.2% K% 👀
-.468 wOBA, 206 wRC+🚀#Mariners #FantasyBaseball pic.twitter.com/06hWElKf1e

— Corbin (@corbin_young21) June 15, 2021
Easier Week 13 Hitter Matchup
Atlanta Braves - 4 at NYM (1 doubleheader), 4 at CIN

Baltimore Orioles - 3 vs. HOU, 4 at TOR

Houston Astros - 3 at BAL, 4 at DET

New York Mets - 4 vs. ATL (1 doubleheader), 4 vs. PHI (1 doubleheader)

Oakland Athletics - 4 at TEX, 3 at SF
With the Mets and Braves, it's about volume with eight games. The Astros play two of the weaker pitching staffs with the Orioles allowing the 4th highest wOBA at .334 and the Tigers allowing the 10th highest wOBA at .322. With the Orioles, they play at the Blue Jays in Buffalo, which rates as the 10th best in home run park factors per EV Analytics.
Tougher Week 13 Hitter Matchup
Chicago White Sox - 2 at PIT, 3 vs. SEA

Colorado Rockies - 2 at SEA, 3 at MIL

Los Angeles Angels - 2 vs. SF, 3 at TB

San Francisco Giants - 2 at LAA, 3 vs. OAK

Seattle Mariners - 2 vs. COL, 3 at CWS
Honorable Mention:
Arizona Diamondbacks - 3 vs. MIL, 3 at SD

Pittsburgh Pirates - 2 vs. CWS, 4 at STL
With the White Sox, they have friendlier matchups, but the five-game week means fewer plate appearances. The Rockies, Angels, Giants, and Mariners play five games. Meanwhile, the Diamondbacks and Pirates have two of the worst offenses in baseball with a .283 wOBA (No. 28) for the Pirates and .282 wOBA (No. 29) for the Diamondbacks over the past 30 days.
Week 13 Hitter Streamers
Zach McKinstry (2B/OF - LAD) & Matt Beaty (1B/OF)
With the Dodgers' injuries to Max Muncy and Cody Bellinger in the past week, Zach McKinstry and Matt Beaty should earn a bit more playing time. Since McKinstry and Beaty bat left-handed, they project on the strong side of a platoon. In Week 13, the Dodgers expect to face six right-handed starters against the Padres and Cubs. The only lefty they will face - Blake Snell, which isn't that worrisome with his massive struggles.
Over the past two weeks, McKinstry has zero home runs, three runs, seven RBI, and one steal with a .308 batting average. Meanwhile, Beaty is hitting .278 with three home runs, 17 runs, and 27 RBI during that stretch. Depending on team needs, McKinstry provides batting average while Beaty provides less batting average but the ability to drive in runs. In 112 plate appearances, Beaty is hitting well against righties with three home runs, a .296 batting average, and .802 OPS.
Interestingly, McKinstry holds the higher barrel rate at 6.1% compared to Beaty with 1.2% in 2021. However, both make a healthy amount of zone contact. McKinstry boasts a 90.7% Z-Contact% and Beaty rocks an 87.8% Z-Contact%. Although the Dodgers face the Padres that allow a .287 wOBA (No. 6) and Cubs with a .312 wOBA (No. 15), I'm banking on the splits this week.
Elvis Andrus (SS - OAK)
Don't look now, but we have veteran Elvis Andrus hitting fairly well over the past 14 days. During that span, Andrus is hitting .283 with zero home runs, five runs, seven RBI, and one steal. Not super exciting by any means, but Andrus has a hit in five out of the past six games. We're also attempting to find players that we potentially find in 15-team leagues.
The Athletics face the Rangers for four games and the Giants for three games. Dare I say revenge series for Andrus? All kidding aside, the Rangers have the 5th highest wOBA allowed at .329 on the season with the 5th worst ERA at 5.94 over the past 14 days. The Royals don't scare us either since they all the 9th worst wOBA at .323 on the season and the 6th worst ERA (5.91) over the past 14 days. Unfortunately, Andrus hits towards the bottom of the lineup and that will limit the stolen base attempts and RBI opportunities.
Odúbel Herrera (OF - PHI)
Since May 30, Odúbel Herrera moved to the leadoff spot in all but one game. Since that time, Herrera is hitting .317 with two home runs, 14 runs, seven RBI, and one steal. It looks mostly boosted by his .353 BABIP during that time since the rest of the metrics look below average or mediocre. Since May 30, Herrera has a 1.9% barrel rate with an 85.5% Z-Contact%.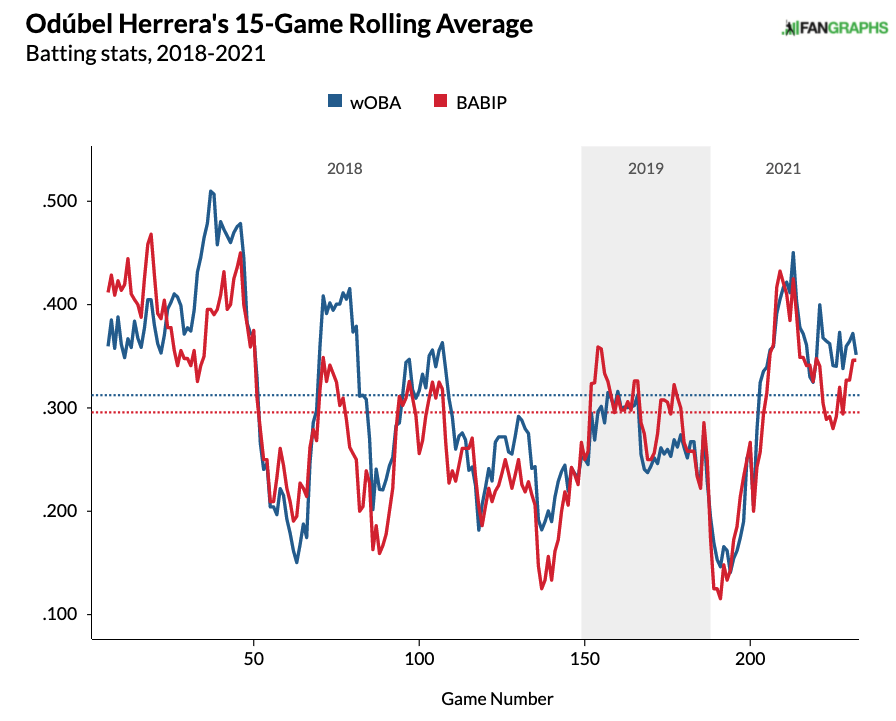 In some situations, it's about matchups while it's about playing time in others. With Herrera, it's a mix of both. The Phillies face the Nationals and Mets for six games total, including a doubleheader against the Mets.
If you check our MLB Lineups page or the RotoWire starting pitcher grid, the Phillies project to face the following pitchers.
Jefry Rodriguez

Erick Fedde (3.86 ERA, 4.01 FIP)

David Peterson (5.60 ERA, 4.73 FIP)

Thomas Szapucki (4.25 ERA, 5.33 FIP)

Taijuan Walker (2.12 ERA, 2.76 FIP)

Jacob deGrom - injury concern
Taijuan Walker is the only pitcher to fear. For Erick Fedde, he pitched well in the last start with five scoreless innings. In David Peterson's last start against the Mets, he fared better with six scoreless innings. However, Peterson allowed nine earned runs in three innings of work in two starts prior. If we could find more fantasy-relevant Phillies hitters outside of the typical ones, then we would list more than Herrera here.
Jonathan India (2B/3B - CIN)
Similar to Odúbel Herrera, Jonathan India moved to the leadoff spot recently. Since June 5, India batted leadoff in 11 straight games with a .250 batting average, one home run, eight runs, four RBI, and one steal. Although India cooled off a bit, we like the lineup placement in front of Jesse Winker and Nick Castellanos. Interestingly, the Twins and Braves pitchers haven't performed as well. The Twins have the second-worst wOBA allowed at .340 wOBA and the Braves allow the 11th worst wOBA at .320. Not that we wouldn't, but fire up Reds hitters in Week 13, and look for India in 12-team leagues.
Daniel Vogelbach (1B - MIL)
A while back I recall someone asking to name a baseball player that could outdrink people at a bar. Well, for me, that's none other than Daniel Vogelbach. With Travis Shaw injured and Keston Hiura optioned, the slugging lefty earns a bit more playing time. Like other recent hitter streamers, the lineup spot intrigues us since Vogelbach batted second in 13 straight games. During that stretch, Vogelbach has four home runs, ten runs, and six RBI with a .255 batting average, .404 wOBA, and 158 wRC+.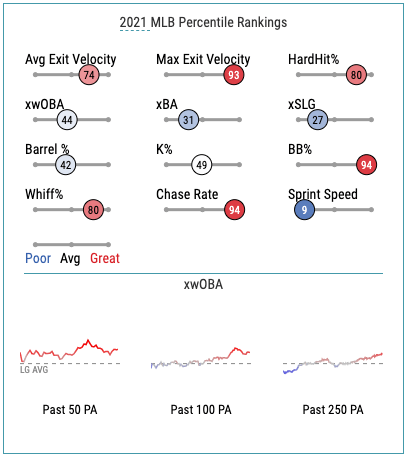 Vogelbach has the highest maximum exit velocity of his career at 114.3 mph with a near career-best 47.3% hard-hit rate. Meanwhile, he continues to show solid plate discipline evidenced by a 21.8% O-Swing% that's almost 10% above the league average and a 14.5% walk rate, which ranks in the top 6% of the league. The Brewers face the Diamondbacks and Rockies and both teams rank in the bottom-3 in wOBA allowed on the season. Both teams also rank last (ARI) and third to last (COL) in ERA over the past 14 days. Fire up the Brewers, including Vogelbach and the next hitter that we'll recommend again.
Luis Urías (2B/3B/SS - MIL)
Luis Urías is another hitter that benefitted from injuries and demotions, and he is leading off for the Brewers with Kolten Wong banged up. Urías cooled off a bit in recent games going hitless in 13 plate appearances over the past three games. Before that, Urías had one home run, nine runs, and two RBI with a .265 batting average.
It's nothing mind-blowing, but everyday playing time, leading off, and holding down a solid line makes players like Urías relevant in 15-team leagues. Wong expects to return this weekend against the Rockies, which means Urías may move down the lineup a bit. However, the same matchups against the Diamondbacks and Rockies still apply.
STAY IN TOUCH
Sign up for FantasyData's newsletter and get awesome content sent to your inbox.
We'll never share your email address and you can opt out at any time, we promise.
---

Corbin is passionate about fantasy baseball and football. He loves diving into and learning about advanced metrics. Corbin is a Mariners and Seahawks fan living in the Pacific Northwest. Corbin's other hobbies are lifting weights, cooking, and listening to fantasy sports podcasts.