Week 14 MLB Hitters and Streamers Forecast
---
MLB Hitters and Streamers
Thankfully, in Week 14, most teams play six or seven games outside of the Rays, who play five. We have a Coors Field week with seven games at home for the Rockies, meaning fire up the Rockies hitters. Over the past 14 days, the Astros, Angels, Giants, Dodgers, and Blue Jays rank top-5 in wOBA. That said, the Angels and Astros also have easier hitter matchups in Week 14. Meanwhile, the Diamondbacks, Cardinals, Cubs, Orioles, and White Sox rank in the bottom-5. At this point, we're streaming hitters and pitchers for different categories and stats, so take the skills, hot streaks, and matchups to apply it moving forward each week. Keep grinding the waiver wire, and positive outcomes can happen.
Quick Links

Week 13 Hitter Review
Zach McKinstry - (.083 BA)

Matt Beaty - (.091 BA, 2 R)

Elvis Andrus - (.292 BA, 4 R, 2 RBI, 1 SB)

Odúbel Herrera - (.100 BA, 1 HR, 3 R, 2 RBI)

Jonathan India - (.320 BA, 1 HR, 4 R, 2 RBI, 1 SB)

Daniel Vogelbach - (.158 BA, 1 R, 1 RBI) - 10-day IL on Wednesday

Luis Urías - (.370 BA, 1 HR, 6 R, 6 RBI, 1 SB)
Easier Week 14 Hitter Matchups
Boston Red Sox - 4 vs. KC, 3 at OAK

Colorado Rockies - 3 vs. PIT, 4 vs. STL

Houston Astros - 3 vs. BAL, 4 at CLE

Los Angeles Angels - 4 at NYY, 3 vs. BAL
Tougher Week 14 Hitter Matchups
Tampa Bay Rays - 2 at WSH, 3 at TOR

Chicago Cubs - 3 at MIL, 3 at CIN

Atlanta Braves - 3 vs. NYM, 3 vs. MIA
The Cubs will face several difficult starters in Freddy Peralta, Brandon Woodruff, Corbin Burnes, Tyler Mahle, Wade Miley, and Sonny Gray. Add in that Cubs hitters have a .267 wOBA (No. 29) over the past 14 days, and that's worrisome.
With the Rays, it's the low volume of games, but we won't sit any of their regular starters, especially with their weekend series against the Blue Jays. For the Braves, they face Taijuan Walker, Jacob deGrom, Sandy Alcantara, and Trevor Rogers.
Honorable Mention:
Arizona Diamondbacks - 3 at STL, 4 vs. SF
At first glance, the Diamondbacks matchups don't look that worrisome. However, this offense has struggled mightily in recent weeks. Diamondbacks hitters rank No. 27 with a .272 wOBA over the past 14 days and the 7th worst team wOBA at .295 (No. 25) on the season.
Week 14 Hitter Streamers
Yonathan Daza (OF - COL)
Just how many of us envisioned it, Yonathan Daza hitting towards the top of the Rockies lineup. Over the past 14 days, Daza has one home run, eight runs, and eight RBI with a .300 batting average. With seven games at home plus his above-average 87.5% Z-Contact%, Daza should provide another week with a high batting average and runs scored. Several Rockies hitters look like they're heating up as the weather warms up. The Rockies face the Pirates that rank as the 10th worse wOBA allowed at .322, but the Cardinals rank as a middle of the pack matchup. However, we should play almost all Rockies hitters at home.
C.J. Cron (1B - COL)
In shallow leagues, make sure C.J. Cron isn't available since he is crushing it recently. In Yahoo leagues, Cron is available in just under 60% of fantasy leagues. However, on ESPN, Cron is available in less than half of fantasy leagues. Over the past 14 days, Cron has five home runs, eight runs, and 11 RBI with a .341 batting average and a 1.182 OPS. During that stretch, Cron boasts a 17.1% barrel rate and 51.4% hard-hit rate. In 10-12 team leagues, stream Cron for power next week with seven games at home plus the current hot streak. Ignore 2020 since it was a small sample due to injuries for Cron, but when he hits the ball hard, it translates to a higher wOBA (imagine that).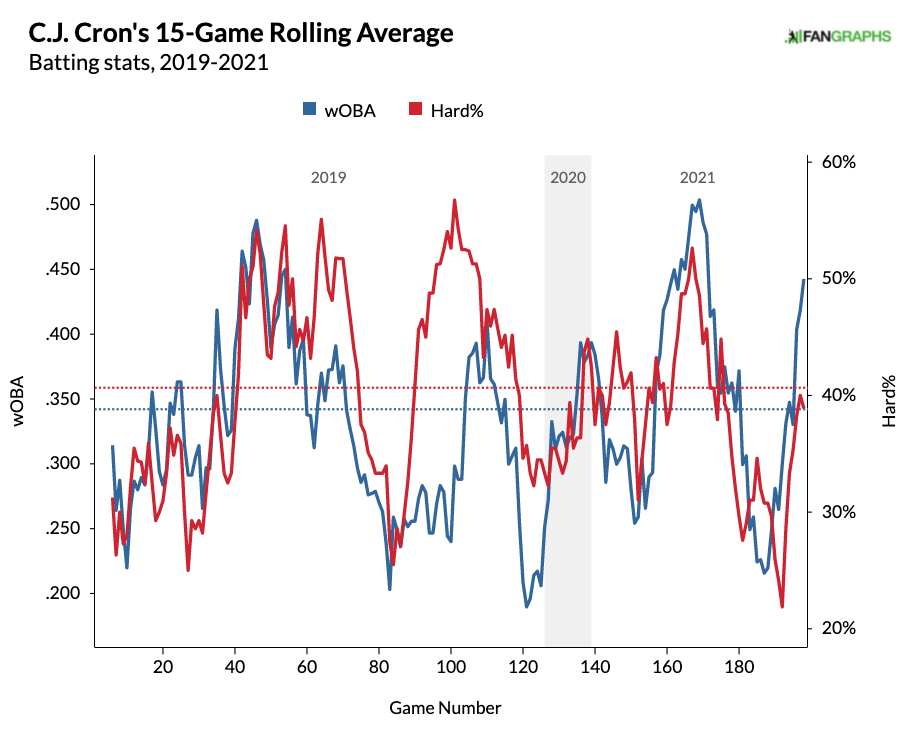 Brendan Rodgers (2B/SS - COL)
Hey, maybe, just maybe, it's happening in recent weeks with Brendan Rodgers. Since June 3, Rodgers is slashing .316/.375/.614 with four home runs, six runs, and 14 RBI. He is making a ton of zone contact (94.2%) with a decent 10.6% barrel rate during that stretch. Rodgers is also only available in shallower formats and likely not available in 15-team leagues. The season-long ground ball rate (50%) with an 18.2% HR/FB rate looks worrisome. However, ride the hot streak at home into Week 14.
Abraham Toro (1B/3B - HOU)
With Alex Bregman hitting the injured list, Abraham Toro earns playing time at third base. In Toro's return from Triple-A on June 17, he hit a home run with one steal plus a four-game hit streak. It's a small sample, but through six games in June, Toro has a .417 batting average and 1.128 OPS with two home runs, four runs, nine RBI, and one steal.
The Astros face the Orioles for three games, and the opposing starting pitchers don't worry us in Tom Eshelman, Dean Kremer, and Matt Harvey. Even when the Astros face Cleveland for four games, it's against an injury-filled rotation. Unfortunately, Aaron Civale also hit the injured list to join Shane Bieber and Zach Plesac. Cleveland's current starting rotation includes Eli Morgan, Sam Hentges, J.C. Mejia, and Triston McKenzie. That is not a lineup to fear. Start all Astros in Week 14, including Toro as a deep-league option that's 56% rostered in 15-team TGBFI leagues.
Taylor Ward (OF - LAA)
Taylor Ward batted third for five straight games, but he typically batted 6th or in the bottom half of the Angels lineup. Like the Rockies situation with Yonathan Daza, Ward took advantage of the outfield openings and hit his way into the starting lineup. What stands out in Ward's profile includes a 25.7% line drive rate and an 11.9% barrel rate. On the flip side, Ward's 83.6% Z-Contact% and 75% Contact% rank about average. Thankfully, the quality of contact remains solid.
In Week 14, the Angels face the Yankees for four games, but they won't oppose Gerrit Cole. Then they play the Orioles for three games, and they allow the second-highest wOBA at .340 on the season. Ward serves as a deep-league outfielder to stream with the playing time, seven-game week, and quality metrics.
Tony Kemp (2B/OF - OAK)
With the injury to Stephen Piscotty plus Tony Kemp hitting well, Kemp keeps earning playing time in May and June. So far this month, Kemp boasts a .339 batting average and a 1.062 OPS compared to a .292 batting average and .806 OPS in May. Also, Kemp shows underrated on-base skills, evidenced by a 16.3% walk rate and .399 OBP.
Unsurprisingly, Kemp has a 0% barrel rate in 2021 but uses his contact-oriented approach with a healthy line drive rate to keep his production going. This season, Kemp rocks a 92.2% Z-Contact% and 88.9% Contact% with a 25% line drive rate.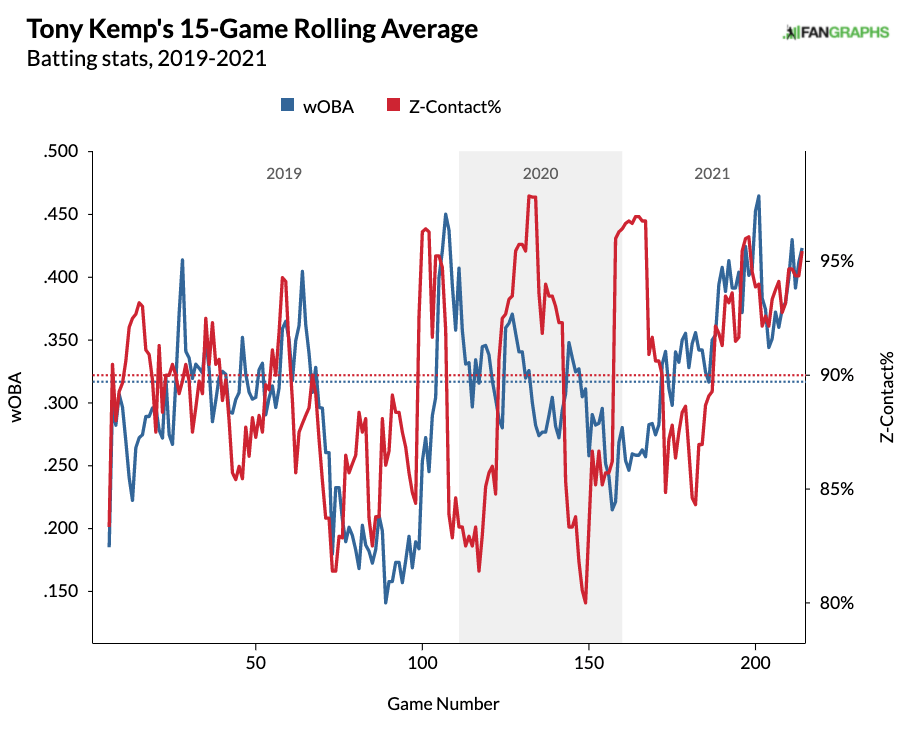 The Athletics play three games against the Rangers and then three against the Red Sox. Both teams rank in the bottom-6 in wOBA allowed with a .332 wOBA allowed by the Rangers (No. 26) and .329 wOBA allowed by the Red Sox (No. 25). Furthermore, the Rangers have the 6th highest ERA (5.57) over the past 14 days. The Red Sox pitchers have been worse with a 5.89 ERA, which ranks as the 3rd worst over the past 14 days. Look for Kemp and the rest of the Athletics offense to keep rolling into Week 14.
STAY IN TOUCH
Sign up for FantasyData's newsletter and get awesome content sent to your inbox.
We'll never share your email address and you can opt out at any time, we promise.
---

Corbin is passionate about fantasy baseball and football. He loves diving into and learning about advanced metrics. Corbin is a Mariners and Seahawks fan living in the Pacific Northwest. Corbin's other hobbies are lifting weights, cooking, and listening to fantasy sports podcasts.