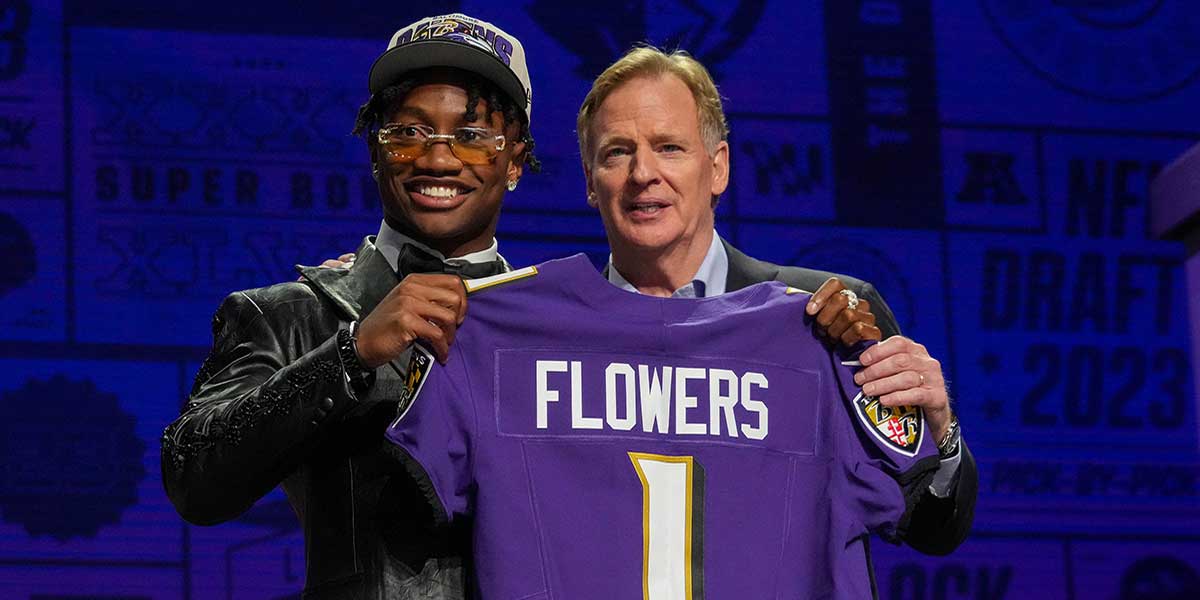 Zay Flowers Fantasy Profile for 2023
---
Zay Flowers Fantasy Preview
The drum beat for Zay Flowers securing first-round NFL Draft Capital started in earnest around the NFL Combine in March of this year. Though there were obvious concerns about Flowers size, he did ease some concerns by weighing in at 182 lbs. instead of the 177 lbs. that was listed as his college weight. Though Flowers may still be a little underweight for some, one thing that wasn't underweight was his adjusted college production. Though his production profile might have been a little up and down he still was able to produce at an elite level when you look at the totality of his college career.
Yep still all in on Flowers, also might be a bit too low on QJ. pic.twitter.com/9mCpbd9ovo

— Shanesays (@ShaneIsTheWorst) May 19, 2023
Some dynasty managers might be discouraged by Flowers landing with a Ravens team that has historically been very run-heavy and with Flowers starting his career looking up at Odell Beckham Jr. and Rashod Bateman on the depth chart, but how concerned about these factors should we be, and what can we expect from Flowers in 2023 and beyond? Let's dig in on the player who is the Boston College career leader in receptions, receiving yards, and receiving touchdowns to see how his game will translate to the NFL.
Skill Set
As eluded to earlier Flowers is a small human being. His height and weight are well below the threshold we typically want out of wide receivers. He also boasts puny arm length and wing span, and his hand size is also small which means Flowers catch radius is pretty small and might help explain his 11% drop rate in college. What he lacks in size Flowers does make up for with his speed, running a 4.42 at the combine and burst as evidenced by his excellent broad jump.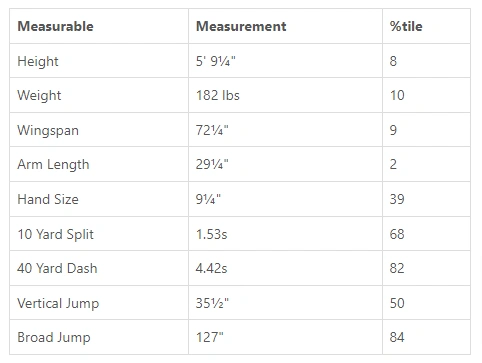 Based on Flowers' side you can be forgiven if you thought he was a slot-only player, but he actually lined up on the outside most of the time during his college career. That said, there's a good chance Flowers sees most of his work from the slot as a rookie, as neither Beckham Jr. nor hasn't played out of the slot on over 14.2% of his snaps since the 2018 season while Bateman only played out of the snap on 12% of his snaps last season. Flowers is an excellent deep threat as well as a YAC monster and is going to be a player that the Ravens, if they so choose, can be creative with, lining him up all over the field. He's been comped to Steve Smith Sr., from a tenacity and toughness standpoint, and to Tyler Lockett stylistically. While Flowers' mockdraftable measurements may seem a little underwhelming Flowers' RAS score is impressive and confirms he possesses elite speed and very good explosion, which is vital to succeeding if Flowers does spend some time out of the slot.
Zay Flowers is a WR prospect in the 2023 draft class. He scored a 8.30 #RAS out of a possible 10.00. This ranked 514 out of 3020 WR from 1987 to 2023. https://t.co/0IhpI1vMg1 pic.twitter.com/LUvjJ84oSQ

— Kent Lee Platte (@MathBomb) April 10, 2023
Landing Spot
If given a list of landing spots you wanted a wide receiver to end up with after the NFL Draft, the Baltimore Ravens probably would be slotted somewhere near the bottom. This has much to do with the fact that the Ravens finished 21st in pass attempts per game in 2022, and 32nd (last) in the league in 2020. While you can be concerned about the Ravens seemingly being a run-first offense, this ignores the fact that they ranked 9th in pass attempts per game in 2021, and have changed offensive coordinators bringing in Todd Monken in the off-season. Monken-led offenses have finished in 3rd and 4th in pass attempts in two of his four seasons while finishing 16th and 19th in his other two seasons as an offensive coordinator in the NFL.
Another area of concern is the target competition in Baltimore. It's fair to mark down Mark Andrews for a 25%+ target share, Bateman has never crested a 17.9% share in his two seasons, and Beckham Jr. captured just a 17.7% share during his last season playing in 2021. Target competition is one of those things fantasy managers worry too much about, if a player is good they are going to command a healthy target share regardless of the competition, and as Beckham Jr. is on the back end of his career, and if Baltimore liked Bateman all that much they likely wouldn't have spent another first-round pick on the wide receiver position.
Fantasy Impact
Flowers' ability to play inside or outside will help him be an immediate contributor and fantasy producer. Being a deep threat is going to be a fun combination with Lamar Jackson's ability to make plays off-platform, and I can envision multiple plays where Flowers is running free when defensive backs turn their attention to Jackson. Throughout his college career, Flowers was a target magnet with a 29.6% target share, placing him in the 89th percentile, and commanded over 10 targets per game as a senior at BC. Considering his collegiate production profile, speed and burst, and his first-round draft capital I expect Flowers to be no worse than the 2nd most targeted wide receiver on the Ravens as a rookie, and he should be their WR1 in short order. If you're concerned about Beckham Jr., don't be, he's a short-term annoyance. Outside of an eight-game productive stretch with the Rams, that was largely propped up by an unsustainable touchdown rate Beckham Jr. has not been an elite wide receiver for some time.
Dynasty Value
The 2023 wide receiver class is a solid foursome, with Flowers in the mix for WR2-WR4 of the class, with Jaxon Smith-Njigba as the clear WR1 of the class. He's currently being drafted as the WR30 in DLF startup mock drafts, with several suspect wide receivers (Jerry Jeudy, Treylon Burks, Calvin Ridley, and Quentin Johnston) who I prefer him over being drafted earlier. In your rookie drafts, his ADP is WR4 and the 10th player overall, again going off the board around the same range as Johnston, and usually after Jordan Addison. Flowers' long-term dynasty value is dependent on his rookie production. If he puts up a season similar to Treylon Burks rookie season, his value will hold steady around the WR30 range, but if he were able to put up a Chris Olave-like season Flowers could be a high-end WR2 this time next year. There's an entire range of outcomes, but again these are based on how he produces as a rookie. If he averages 9.0 or more PPG he's a strong hold or buy, and if he scores less than that and still holds hype then move off of him quickly.
---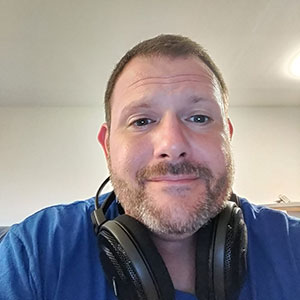 Shane Manila is currently a writer for Dynasty League Football, co-host of the Dynasty Trades HQ podcast, Manic and Chill (DLF YouTube), and Dynasty Intervention. Don't let all the dynasty talk fool you though, Shane loves redraft (almost) as much as he does dynasty football. An FSWA member, Shane formerly contributed his redraft insights via FantasyPros.com. At its core fantasy football is a weekly game, regardless of what format you are playing, and helping you make the correct decisions every week is Shane's only goal. Well, and to entertain you. No reason you can't be informed and entertained at the same time.