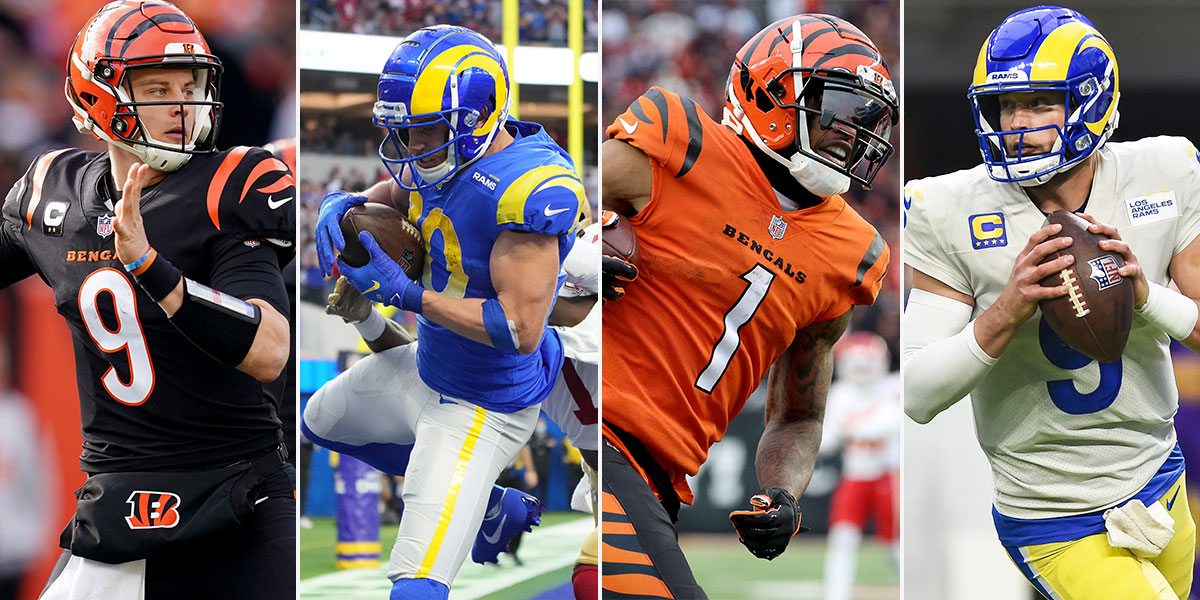 Super Bowl LVI DFS: DraftKings Picks
---
DFS Picks: Super Bowl LVI
We are down to just one game remaining on the NFL schedule and what a game it should be. Since there is just a single contest on the slate, the only option is to play the Showdown-Captain Mode on Draftkings. You will need to find ways to differentiate your lineup from the masses. Whatever it is you decide to do, you cannot have a cookie-cutter lineup and expect to win big.
Lineup Thoughts
We are going to give you several plays that we like and even some that we do not like to help you build your lineup for Super Bowl Sunday. If you are entering multiple lineups, you will need to be creative to take down a big tournament. This may mean fading Cooper Kupp. While not recommended, it will be contrarian. The triple crown winner will be heavily owned and a bad game would turn the tables in your favor.
Shutting down the Rams receiver is not easy to do, but what if Cincinnati takes him out of the game? This is a tall task and one not many have accomplished, but remember, the Bengals shut down an extremely potent Kansas City Chiefs offense in the second half of the championship game. Also, paying up for Kupp handicaps your lineup on what you can spend on the players around him in your lineup. It all boils down to your aversion to risk. Let us get right to it.
---
DFS Tools To Help You Win!
FantasyData projections and tools are easy to use and can help you win in DFS, Fantasy Leagues, and Sports Betting. We offer a ton of tools and data!
---
Fantasy Data Favorites
Here we will give you some of the players we like based on matchup and potential value.
Quarterbacks
Matthew Stafford | $10,800 | $16,200
The Cincinnati Bengals rank 19th against the quarterback position and Matthew Stafford has been a man on a mission this postseason. In three games played, the former Detroit Lion is averaging 26.93 DK points. Stafford has been taking care of the ball despite some tough competition and has just one interception in the playoffs. We mentioned in the open that the Bengals did shut down the Chiefs in the second half of the championship game, but some bounces went their way in that one and are not sustainable. Look for the Georgia grad to perform well at home on the big stage and continue his solid postseason run.
Running Backs
Joe Mixon | $9,600 | $14,400
We almost wrote Joe Mixon up as a fade due to the tough matchup but his pass-catching abilities make the veteran a potential solid play, especially if Joe Burrow is under pressure all game and has to dump off quickly to his running back. The Chiefs had been performing well against the run of late, but Mixon was able to post 14.5 points on them and back up Samaje Perine also scored a solid 13.3 in that one. The Rams ranked fifth in the league in yards allowed at 95.8 per contest. If the Oklahoma alum is to find any success, it will have to come via the screen game and we have to hope he can plunge one in from the goalline. Ownership may be low so it could be a good place to leverage your lineup, but temper expectations.
Cam Akers | $6,400 | $9,600
Cam Akers has been getting his fair share of opportunities, the rookie just has not been able to do anything with them. A big reason why was the matchups. The Cardinals, Buccaneers, and 49ers all possess solid run defenses and are in the top half of the league in terms of the fewest points allowed to the position. The Bengals are not as stout against the run and allowed the 11th most points to running backs in 2021. Sony Michel saw some action against San Francisco, but that was due to the Florida State grad being in and out with a shoulder injury. Akers will have had two weeks to heal and rest and could be the focal point of the offense if coach McVey decides he wants to try to limit the Bengals offensive opportunities. The price is the appealing part. A back getting a full workload for just $6,400 ($9,600 at captain) is highway robbery. Find a way to get Akers in your lineup. At this price, you can plug him in at captain and still afford Stafford, Kupp, and a couple of other nice pieces.
Wide Receiver
Cooper Kupp | $11,600 | $17,400
We spoke in the open about fading Cooper Kupp to be contrarian. We will not be doing that but wanted to point out the reasoning behind possibly doing so. There is not much that needs to be said about the veteran wideout. The small school receiver led the league in catches, yards, and receptions. Cincinnati ranks 17th against the position and gave up 30 plus points to Davante Adams (37.6) and Adam Thielen (30.2) in 2021. They can be vulnerable to the passing game. Kupp will likely be the highest scorer in the game and you could make a case for him to be your captain. Just keep in mind, that will leave you very thin on money to spend on other quality players.
Ja'Marr Chase | $10,400 | $15,600
The way to beat the Rams is through the air. When discussing Mixon, we mentioned how good they are against the run. If the Bengals are to have any chance in this one, they are going to have to get the rookie involved early and often. Jalen Ramsey does not typically shadow a receiver but has been pleading with his head coach to cover the LSU star all game long. If that happens, then we need to lessen our expectations and pivot towards Tee Higgins. Of course, we will not know beforehand so an educated guess will have to be made. You can bet Chase will be highly owned though and the Ramsey treatment may take him out of this one, thus sinking many lineups along the way.
Odell Beckham Jr. | $8,400 | $12,600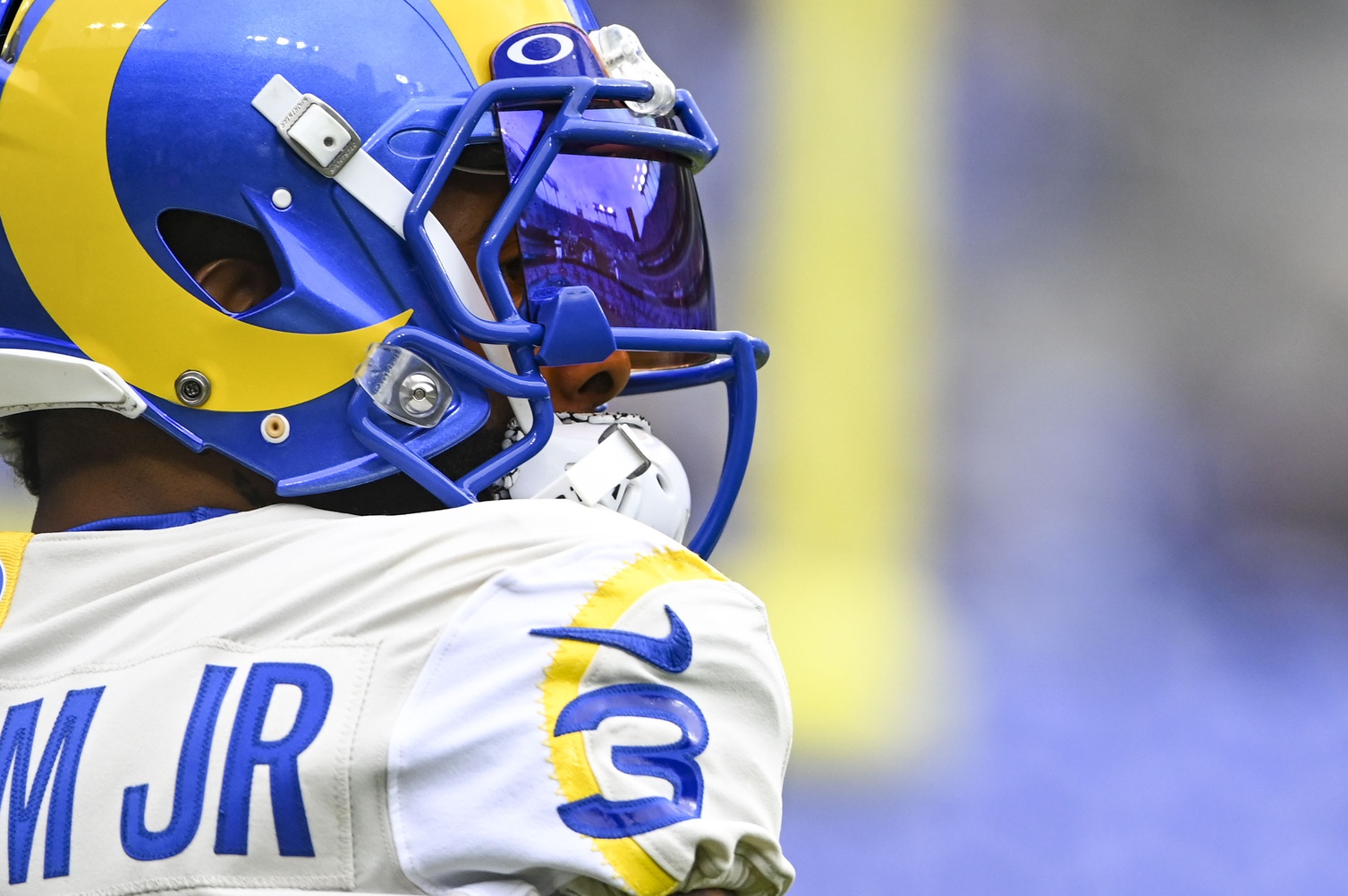 Odell Beckham Jr. had his best game of the season in the championship game versus San Francisco. The former Browns wideout hauled in nine of 11 targets for 113 yards. It also marked the third straight game that the controversial receiver has hit double figures. Quarterback Matthew Stafford threw the ball 45 times and Kupp and Beckham were the recipients of 25 of those. Finding a way to get them both in your lineup would be ideal. This can be done with Akers as your captain if you are going to fade Chase with the thought that he will be getting followed by Ramsey all game.
Tee Higgins | $7,600 | $11,400
If we get news ahead of kick-off that Ramsey is going to shadow Chase, then Tee Higgins becomes a must-play. The Clemson grad has seen 19 targets over the past two games and brought in 13 of them for 199 yards. This all adds up to 35.9 DK points and that is without scoring a touchdown. Higgins checks in with the sixth-highest points per game average (15.9) on the slate and costs $800 less than OBJ, who averaged over five points less (10.7) per contest so there is a bit of value here as well.
Tight End
Kendall Blanton | $4,600 | $6,900
It is looking like Tyler Higbee will be sitting this one out. That means Kendall Blanton and Brycen Hopkins are the only healthy tight ends on the roster. Hopkins only has one target on the season and was only active for seven games all year long. Cincinnati struggles against the tight end, allowing the sixth-most fantasy points to the position in 2021. Stafford showed trust in Blanton after Higbee went down with a knee injury, targeting the Missouri grad five times. The third-year tight end caught all five for 57 yards. This is the type of cheap play we look for when we spend up for players like Kupp and Stafford.
Kicker
Evan McPherson | $4,000 | $6,000
Kickers are often a wild card when it comes to the showdown slates. They are cheap but volatile. It is hard to argue with the consistency that Evan McPherson has displayed of late. "Money Mac" has been in double digits for seven straight games and is averaging 16.0 DK points per game in the playoffs. At just $4,000, it is hard not to find a spot for him this weekend. Of course, there is always the possibility that the rookie kicks just four extra points, but with the Rams solid defense, we have to believe that field goals are the more likely outcome of many of the Bengals drives rather than touchdowns.
Defense
Los Angeles | $3,400 | $ 5,100
All of the talks have been about the matchup between the offensive lines of Cincinnati and the defensive line of Los Angeles. Joe Burrow was sacked a league-high 51 times in 2021 and nine times in the divisional contest versus the Tennessee Titans. The Rams have been rejuvenated this postseason and have been regularly getting to the quarterback. This is a defense that ranked 10th in points allowed per game with 21.4 and was seventh in sacks per game with 2.8. This is another solid, cheap play that allows you to spend up elsewhere.
Fantasy Data Fades
In this section, we will give you some players that give us cause for concern Sunday based on the matchup or a string of sub-par performances.
Quarterbacks
Joe Burrow | $10,600 | $15,900
We just talked about the dominance of the Rams defense. What we did not mention was that they allowed the second-fewest passing touchdowns in 2021 (17) behind only the Buffalo Bills allowed less (12). That is just one passing touchdown allowed per game. That does not bode well for Joe Burrow and company. Los Angeles also allowed the fourth least amount of fantasy points per game to the quarterback position at just 16.1. The risk versus rewards makes this a fade for us. The salary is just too high for the young quarterback for the likelihood of a low return.
Running Backs
Samaje Perine | $3,600 | $5,400
Many folks will remember the big touchdown Samaje Perine had in the championship game versus the Chiefs. What they will not remember was the fact that the backup only averaged 5.2 DK points per game on the season. The usage in the Kansas City game was due to their struggles against the screen game. The Oklahoma grad just had the fortune of breaking a big one. Do not fall into the recency bias trap here. This is an easy one to skip over when building your roster for Sunday.
Wide Receiver
Tyler Boyd | $5,400 | $8,100
Tyler Boyd is a nice real-life football player but for fantasy purposes, we would like to see him be a little less touchdown-dependent. The veteran has just 14 targets in the playoffs and many of the six he saw in the championship game came after tight end C.J. Uzomah left with a knee injury. More on him in a moment. At just $5,400, we do not need a lot from the former Pitt Panther, but we question how much involvement we will see from him given the rise of standout receivers Chase and Higgins.
Tight End
C.J. Uzomah | $4,400 | $6,600
C.J. Uzomah had been on a nice little playoff run before injuring his knee in the championship game. In two games, the tight end compiled 32.5 DK points (16.25 per) and was targeted twice before leaving in the first half of the victory over the Chiefs. The problem here is that Los Angeles allows just 11.9 points a game. Mark Andrews managed only 14.9 points against them in Week 17. It is difficult to imagine Uzomah finding any success coming off an injury and practicing in a limited fashion. For less money, we would rather take our chance on either kicker.
Drew Sample | $4,200 | $6,300
If Uzomah is ruled out, then Drew Sample moves up the depth chart and becomes the number one tight end. Do not be sucked in if he is indeed announced as a starter. The price is simply way too high and you would be better served rostering either kicker as mentioned above.
Defense
Cincinnati | $3,200 | $ 4,800
The Bengals have had a great playoff run and have defied the odds to get to the big game. We said earlier that they were the beneficiaries of some good bounces against Kansas City. Cincinnati has six interceptions this postseason, but four of them have come on tipped balls. That type of luck can not be counted on and we already told you that Stafford has been good at protecting the ball the past few games. The Rams have a total of 26.50 and will probably surpass that.
Summing It All Up
As we all know, football is unpredictable, we make these picks using the data available to us at fantasydata.com and try to help our readers make educated, thoughtful decisions when creating their DK lineup. If you find this helpful or have any comments, be sure to notate them below. Thank you for reading.
STAY IN TOUCH
Sign up for FantasyData's newsletter and get awesome content sent to your inbox.
We'll never share your email address and you can opt out at any time, we promise.
---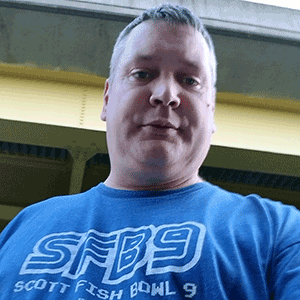 Jeff Smith has been playing fantasy sports (football and baseball) for nearly 20 years. Jeff is a member of the FSWA and a Senior Writer at DLF. Despite growing up in Buffalo Bills country, he is an avid Chicago Bears fan. It was Walter Payton that did it. When not writing or researching fantasy sports or playing DFS, Jeff enjoys spending time with his wife and their Bichon Poo, Daisy. He also likes video games, craft beer, and recently became the owner of his own business.