6 High-Risk Fantasy Players That Will Make or Break Your Team
---
High-Risk Fantasy Players for 2021
The NFL training camp is in full swing, and with that, multiple fantasy football drafts are taking place all over the world! Now your internet search is probably full of "Sleepers I Should Draft," "Should I Draft XYZ," or maybe even "Draft Strategies." However, something you should look into researching is the subject of players on the "Hate List." These are players you need to stay away from because, for a smattering of reasons, they can sabotage your team and bring your fantasy dreams of a title crashing down with the last-place finish.
So who are these players you should avoid like a pandemic?
First, let's break down some of the reasons why you may see a player land on this list. Of course, injury risk could land a player on this list. Perhaps even a new, albeit bad, landing spot for a free agent could send them to this list. Even their team drafting the new "hotness" at their position could land a player here.
One of the most significant factors you need to consider for a fantasy hate list is where the player's "ADP" is listed. Now ADP stands for Average Draft Position, and although a player may be talented, he may not be worthy of where he is landing in the draft. Plenty of reasons can lead to a "Stud" becoming a "Dud" according to their ADP, and I promise to break down each player below and why they are a risk to your fantasy football championship goals.
*Before we get started, remember that all rankings are for 1QB PPR Redraft leagues*
Now, let's break down which players are high risk:
---
FantasyData Subscriptions! SAVE BIG & Win!
Before we jump into this article, I wanted to let you know that this year's Fantasy Football Draft kit is included in our Premium and Premium Plus memberships. We have over 250 player forecasts, Fantasy Rankings, Player Projections, and Cheat Sheets for those look for something quick and easy to use to win your draft.
Miles Sanders
ADP: 32.5
2020 Stat Line: 164 attempts, 867 yards, 5.3 Average, 6 Touchdowns, 52 Receiving Targets, 28 Catches, 197 Yards Receiving, 0 Receiving Touchdowns, 142.4 Fantasy Points
Miles Sanders came into 2020, just like the entire Philadelphia Eagles organization, with high expectations. Unfortunately, Sanders underwhelmed during his 2020 campaign. He finished as RB21 for 2020. Miles Sanders has all the talent to develop into a league winner for your fantasy team. However, he struggles to put it together on the field.
Sanders finished the season with 871 total rushing yards, which was 14th overall in 2020. However, we have to dig a little deeper into his yards to understand his year and his potential in 2021. With Carson Wentz under center, Sanders averaged 13 carries with 69.8 yards per game. With Jalen Hurts under center, Sanders averaged 15 carries for 78.6 yards per game.
On paper, this looks like an instant upgrade for Sanders with the new QB1 in Philadelphia, right?
Let's break down Miles Sanders' 115-yard performance against the New Orleans Saints in week 14 and eliminate his one rush of 82 yards(most of his on-ground total). This change in the stat line would leave him with 35 yards for that contest.
Sanders average, minus one breakout play, falls to 52 yards per game with Jalen hurts running the Philadelphia Eagles offense. With Jalen Hurts' ability to run with the football becoming a wrinkle in this offense, Sanders could see a downgrade in chances to run the football.
Another reason Sanders could see a downtick in carries in the new coach, Nick Sirianni. Sirianni brings over a philosophy from Indianapolis that likes to work with multiple backs. The Eagles have built their roster to mimic the three head machine in Indianapolis by bringing back Jordan Howard, keeping Boston Scott in town, and drafting Kenneth Gainwell. With Miles Sanders being a player from a past regime, if he doesn't play to his potential early, the organization may start to look elsewhere in this backfield.
Miles Sanders will have to focus on his hands when it relates to security and catching the football. In 2020, Sanders doubled his fumble total to four, and he also dropped eight passes for a drop rate of 15.3%, the second-highest in the NFL behind J.K. Dobbins. Combine Sanders's recent issues with drops with the Eagles drafting Gainwell, a back known for his pass-catching abilities; Sanders could lose 3rd down privileges early in the season, limiting his potential.
Brandon Aiyuk
ADP: 66.3
2020 Stat Line: 96 Targets, 60 Receptions, 748 Yards, 5 Touchdowns, 6 Rushing Attempts, 77 Yards, 124.5 Fantasy Points
Brandon Aiyuk jumped on to the scene last season and enthralled plenty of fantasy owners. With Aiyuk's ability on the field blended into Kyle Shanahan's system, many fantasy owners are looking to snag Aiyuk in their draft. Brandon Aiyuk's talent on the field does come with a "warning" symbol, though as he is being drafted high in the drafts this year(as you see, his ADP is 57.9).
The first concern you should have with Brandon Aiyuk is his role in the offense. He only played four games last season where Deebo Samuels and George Kittle were both on the field. In those games, here are the stat lines he produced:
Week 4: two receptions for 18 yards
George Kittle's stat line: 15 receptions for 183 yards and one touchdown
Deebo Samuel's stat line: three receptions for 35 yards
Week 5: three receptions for 44 yards
Kittle's stat line: four receptions for 44 yards
Samuel's stat line: two receptions for 19 yards
Week 6: two receptions for 12 yards and one touchdown
Kittle's stat line: seven receptions for 109 yards and one touchdown
Samuel's stat line: six receptions for 66 yards and one touchdown
Week 7: six receptions for 115 yards
Kittle's stat line: five receptions for 55 yards
Samuel's stat line: five receptions for 65 yards
For the round you would have to draft Aiyuk in, you should want a player who has a better chance of being a team's number one target. If the San Francisco 49ers stay healthy this season, Aiyuk could fluctuate from the first option to the third option in a passing attack that plays second fiddle to the run game regardless.
Another issue that could lead to a high-risk factor surrounding Brandon Aiyuk is that the Niners drafted Trey Lance with their third pick. This move has brought a cloud of uncertainty at the quarterback position in San Francisco. These quarterbacks are two different style players, leading the offense in different directions convoluting Aiyuk value. Even if Lance does take over from week one for the Niners, his running ability also can take away from the passing attack and lead to more confusion around Aiyuk.
Aiyuk is a player that you should allow someone else to reach for in your draft. While, at the same time, you find someone who can provide a more consistent pattern to your fantasy team, preferably someone who isn't in a three-way battle in the passing offense on a team with a run-first philosophy.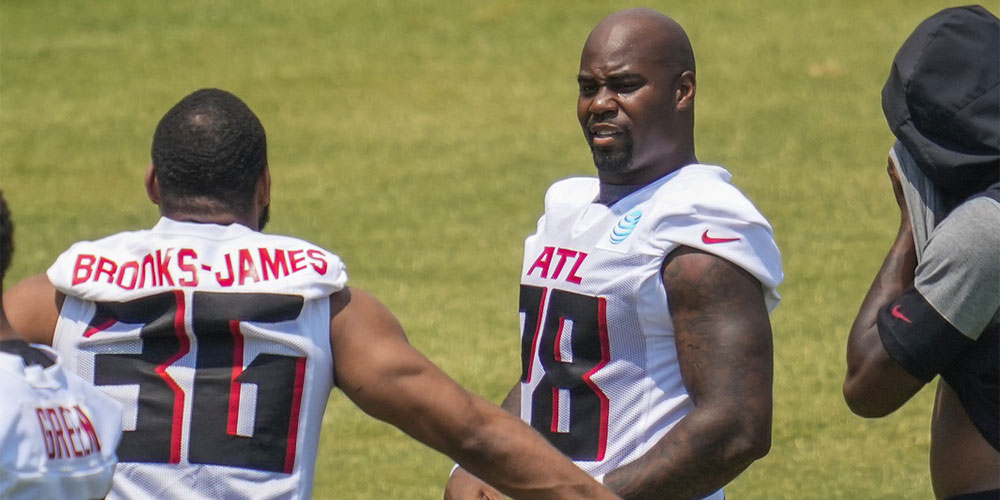 Mike Davis
ADP 41.1
2020 Stat Line (with the Carolina Panthers): 12 games started, 165 Attempts, 642 Yards, 3.9 Average, 6 Touchdowns, 59 Receptions, 373 Yards Receiving, 2 Receiving Touchdowns, 147.5 Fantasy Points
Although Mike Davis outscored one of our players on this same list, Miles Sanders, there is still a high-risk tag attached to his fantasy value in drafts this season. He enters the 2021 season as the lead back on the Atlanta Falcons depth chart. He has survived the beginning of free agency and even the draft to hold this role. With virtually no threats in the backfield with him, the Falcons trading Julio Jones, and a chance at a full 17 game slate, you may ask why am I down on Mike Davis?
Well, let's break it down below to help you make a good decision regarding this running back.
Mike Davis, at the moment, is being drafted as a 6th round pick. His ADP lands him around players such as Najee Harris, Tee Higgins, and David Johnson. Due to Davis switching teams, we can't dive deep into his stat line to discuss how he utilized in the system.
Something we can look at, however, is his struggles towards the end of the season. So let's look at the games where Davis rushed more than ten times in each game(most of these games were when Christian McCaffrey went down with an injury) and compare the differences between the beginning of the season and the end of the season.
Week 1-8
Week 3: 13 carries for 46 yards(3.5 yards per carry), zero touchdowns/ eight receptions for 45 yards, and one touchdown= 15.1 Fantasy points
Week 4: 16 carries for 84 yards(5.2 ypc ), one touchdown/ five reception for 27 yards= 17.1 fantasy points
Week 5: 16 carries for 89 yards (5.6 ypc)/ 9 reception for 60 yards and one touchdown= 20.9 fantasy points
Week 6: 18 carries for 52 yards (2.9 ypc) and one touchdown/ two receptions for 3 yards= 9.5 fantasy points
Week 7: 13 carries for 66 yards (5.1 ypc)/ one reception for 11 yards= 7.7 fantasy points
In these weeks, Mike Davis averaged a stat line of:
15.2 carries for 67.4 yards per game for an average of 4.46 yards per carry. He totaled four touchdowns and averaged five catches per game. We must break down the end of the season in games where he averaged more than ten rushing attempts.
Week 8-16
Week 11: 19 carries for 64 yards (3.4 ypc) and one touchdown/ two receptions for 15 yards
Week 12: 15 carries for 55 yards (3.7 ypc)/ three receptions for 24 yards
Week 14: 11 carries for 51 yards(4.6 ypc) and two touchdowns/ five receptions for 42 yards
Week 15: 14 carries for 59 yards (4.2 ypc)/ two catches for two yards
Week 16: 14 carries for 28 yards (2 ypc)
In these weeks, Mike Davis averaged a stat line consisting of:
14 carries for 51.4 yards per game, which leads to a 3.58 yards per carry average. He also totaled only three touchdowns, and his drops per game dropped to 2.8 receptions per game.
In every statistical category displayed above, Davis began to decline as the season wore on. This downward trend brings questions if Mike Davis can handle the workload for an entire season for the Atlanta Falcons and earns him a label of a "high risk" player in your draft with his mid-round ADP.
Chase Claypool
ADP: 72.3
2020 Stat Line: 109 Targets, 62 Receptions, 873 Yards, 9 Touchdowns, 152.9 Fantasy Points
One of the hottest names out in the fantasy football world this year is Chase Claypool. As a young, talented receiver Claypool has a bright future ahead of him. However, for redraft in 2021, you should be cautious about adding Claypool to your fantasy team with his ADP.
The first issue is the number of mouths that have to be fed in Pittsburgh. Drafting a player who is part of a talented wide receiver trio limits your upside for targets. Plus, you can't forget Eric Ebron and Pat Freiermuth also running routes for the Pittsburgh Steelers.
Let's break down some stats in different categories between the primary three weapons( JuJu Smith-Schuster, Diontae Johnson, and Chase Claypool) in the wide receiver room and see who is the superior weapon in this trio: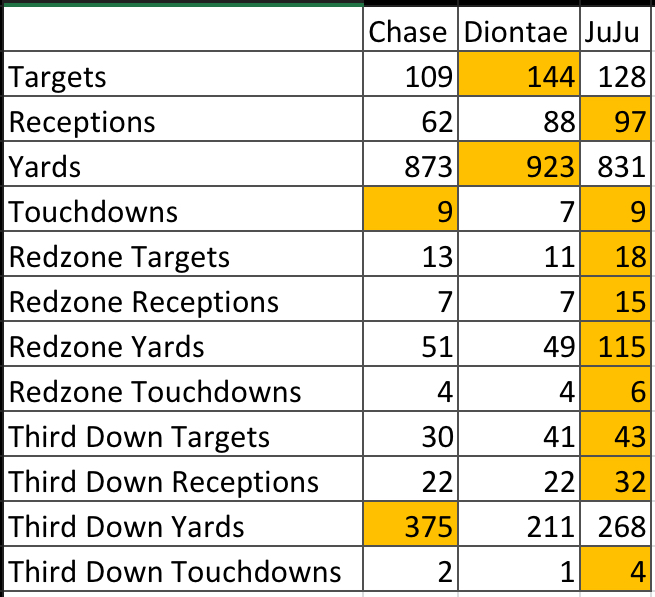 According to the above stats, Claypool leads the trio in a singular category, only when it comes to third-down yardage. This "victory" is his only victory in 13 categories as he tied with JuJu Smith- Schuster for total touchdowns. However, even that stat is skewed due to a game where he had four touchdowns in one game. Can Chase Claypool take the leap and become a stud for the Steelers? Anything is possible. However, with all three wide receivers, the two tight ends, and a first-round draft pick placed on Najee Harris, they may not have enough of the football to go around to make Chase Claypool a great value at this ADP.
Will Fuller
ADP: 106.1
2020 Stat Line (with the Houston Texans/ 11 games played): 75 targets. 53 Receptions, 879 Yards, 8 Touchdowns, 135.9 Fantasy Points
Will Fuller is one of the intriguing names heading into this fantasy season. Last year he had a career year before he was suspended for failing the NFL PED policy. As a result, Fuller had the most receptions of his career, the most yards, the most touchdowns, his highest yards per target(11.7), his highest yards per reception (16.6), and his most fantasy points per game(12.4).
Fuller enters this season with a list of variables that deem him high risk while drafting for fantasy football, even with all these career marks. First, we have to discuss Will Fuller changing teams from the Houston Texans to the Miami Dolphins. Miami is a superior team, especially on defense. This defense could affect the play calling and have the Dolphins calling a more conservative game for their young budding quarterback, Tua Tagovailoa. Speaking of their quarterback, as talented as he is, he has not reached the level that Deshaun Watson is as a passer. The final nail in the team dynamic coffin for Fuller is his teammates. Fuller is surrounded by talented players, with DeVante Parker, Jaylen Waddle, Mike Gesicki also running routes for the Dolphins this season. With more competent pass-catchers surrounding Will Fuller, his potential for a high target count is smaller than when he was the only viable pass catcher.
The biggest issue for Will Fuller is his injury history. Last season, Fuller stayed healthy until the NFL suspended him. The question surrounding Fuller is how much did the illegal substance help him deter from his usual injury-prone campaigns. Since Fuller was drafted in 2016, he has played 53 games out of 80 total regular-season games. We also have to remember that he will miss Week one of the NFL season to finish serving his suspension.
With his target total capped by a plethora of talent, a switch in quarterbacks to a less talented player and his injury risk Will Fuller can be a Boom/Bust candidate who leans towards the "high risk" factor.
Matthew Stafford
ADP: 82.6
Anyone who knows me from Twitter knows that I have a football crush on Matthew Stafford. He has the talent, he is one of the toughest players in the league, and he always balls out when I need him in fantasy. So, with that said, you would think I am all aboard the Stafford train with his trade to the Los Angeles Rams?
Well, hold your horse, pump the brakes, just R-E-L-A-X for a minute, and let us break down how Stafford could be a risky play for your fantasy dreams.
Although Stafford is one of the toughest players in the NFL, he does have a propensity to get injured throughout the year. Even if he doesn't miss a game, this could lead to him not having the ability to sling the ball around the field as his talent would naturally allow him to do. Throughout his career, Stafford has been on the injury list for his:
hip (10 times), shoulder (8), knee (7), thumb (4), back (3), ribs (3), finger (2), ankle (2), groin (1), quadriceps (1), arm (1), hand (1), foot (1)
That is 13 body parts on the injury list in his career and 44 games that he spent on the list playing less than 100%. So if you combine that factor with being 33 years old, you have a slight risk of Matthew Stafford playing at less than 100% or even missing games this season.
On top of the injury risk, look at Matthew Stafford's strength of schedule (SOS). Typically, when a fantasy player does this, they look at his playoff schedule. Instead, the key is to get off to a hot start, so we will look at the beginning of the year.
Los Angeles Rams Schedule To Start The Year
Week 1- Los Angeles Chargers
Week 2- Las Vegas Raiders
Week 3- Denver Broncos
Week 4- Chicago Bears
Week 5- Indianapolis Colts
Week 6- Tampa Bay Buccaneers
This SOS to begin the season is a gauntlet of solid defense teams (Minus the LV Raiders), limiting Stafford's statistical ceiling to start the season. Combine this with the quarterbacks surrounding Stafford at his ADP (Joe Burrow- 83.7, Matt Ryan- 102.7, Ryan Tannehill 102.8), and Stafford becomes the highest "risk" out of the options at this point in your fantasy drafts.

For this article, I used FantasyData's Average Draft Position Page. Our ADP page features a draft tracker to help you see movement with each player. I simply searched for each player and was able to create this table showing their ADP progress over the last few weeks. this is a very helpful tool for those looking to maximize draft value this summer.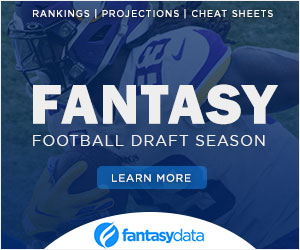 STAY IN TOUCH
Sign up for FantasyData's newsletter and get awesome content sent to your inbox.
We'll never share your email address and you can opt out at any time, we promise.
---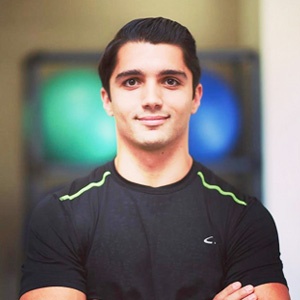 Former minor league soccer player/winner of TKO. Avid Philadelphia Eagles fan, Philadelphia born and raised, who also named their mascot (Swoop) for the team. Huge fantasy football fanatic who is all about the stats and ready to debate any topic. I have written for major publications within the sports and fitness world. Things I will debate until my last breath: Superman is the best superhero, Tim Tebow would have been a sustainable QB if he went to the Jacksonville Jaguars, and pineapples dont belong on pizza.