Are The Chicago Bears This Year's Breakout Team in the NFL?
---
The Chicago Bears have been taking a ride on the struggle bus for quite some time. In the last decade, they have only had 1 season with a winning record. That season was 2018 when the Bears lost a Wildcard Matchup against the Philadelphia Eagles in dramatic fashion. In case you don't remember, Bears kicker Cody Parky hit the upright twice on a missed field goal attempt that would have sent the Bears to the Divisional Round for the first time since 2010. They have since made another Wildcard appearance with an 8-8 record in 2020 but were unable to make it past Drew Brees and the Saints in his final season as their quarterback.
A rotating door of quarterbacks, inconsistent coaching, and a relatively weak roster have made it difficult for the Bears to find much success recently. As a historic team with a large market in one of the biggest cities in the US, it is no wonder the Bears and their fans have been desperate to return to glory. Their first step was investing in a quarterback of the future: Justin Fields. Drafted 11th overall in the 2021 NFL Draft, Justin Fields struggled to make great progress as a rookie. This wasn't the end-all-be-all by any means for Fields, as many rookie quarterbacks who are thrust into starting roles on weak rosters have trouble gaining momentum. However, in his sophomore season, Fields began to prove himself as a game-changer.
In 2022, Justin Fields made defensive coordinators stay up at night wondering how they'd be able to contain him. While Fields only threw for 2,242 yards and 17 touchdowns that season, he rushed for 8 scores and 1,143 yards. His rushing total was only 63 yards shy of Lamar Jackson's 2019 single-season rushing record (1,206). His ability to turn any given play, even broken passing plays, into big gain rushes was elite. Despite Fields' dominant playmaking ability, there were not many other difference-makers on Chicago's offense. The running back duo of David Montgomery and Khalil Herbert were somewhat effective in 2022, but they only rushed for a combined total of 1,531 yards and 9 touchdowns. That is a marginally better stat line than Justin Fields's alone. Additionally, no receivers established themselves as a serious problem for defenses through the air. The top receiver on the Bears was third-year tight end, Cole Kmet, who notched 544 yards receiving. Unfortunately for the Bears, Fields' breakout 2022 season was only enough to win them 3 games. On the bright side though, they secured the 1st overall pick in the 2023 draft.
"Why are Bears fans hyping Fields up so much!?!?"

*Justin Fields keeping the Bears in the game against the #1 NFC team with Byron Pringle, Dante Pettis and Velus Jones, in a meaningless week 14 game*

pic.twitter.com/Yj4zLA4h8D

— Bears Nation (@BearsNationCHI) May 19, 2023
Throughout the offseason, there was buzz that the Bears might capitalize on Fields' breakout season and trade him while his value was high so they could use their first overall pick on a new quarterback. This was all put to bed when Chicago doubled down on Fields and traded the first overall pick to the Carolina Panthers. In that trade, the Bears received a huge haul. In exchange for pick 1, Chicago received the 9th and 61st overall picks in the 2023 draft, a 2024 first-round pick, a 2025 second-round pick, and standout wide receiver D.J. Moore. The Bears did an excellent job of addressing their needs at wide receiver, while also keeping a top-10 pick in the 2023 draft. Additionally, that 2024 first-rounder could end up being very valuable depending on how successful the Panthers are this coming year.
When the 2023 draft arrived, the Bears again showed that they were not afraid to move some picks around to get as many valuable assets as possible. They swapped their 9th overall pick for the Philadelphia Eagles' 10th pick and 2024 fourth-rounder. With that 10th pick, they selected first-team All-SEC offensive tackle, Darnell Wright. The Bears clearly know their strength is running the ball, so they played to that by taking one of the best offensive linemen in the draft.
The Chicago Bears got an absolute MAULER in Darnell Wright. Justin Fields & Company has a lock down RT for the next 10+ years 😤

(Via Chicago Bears YouTube) pic.twitter.com/reirx2QdFR

— DeeksView (@DeeksViewOG) May 18, 2023
While addressing the offensive weapon and protection issues, the Bears were also able to make serious improvements on their defense this offseason. Chicago struggled massively on defense in 2022, allowing a league-high of 27.2 offensive points per game. To remedy this, they made some big free agent signings with former Buffalo Bills linebacker Tremaine Edmunds, Eagles linebacker T.J Edwards, and Titans edge rusher DeMarcus Walker. Additionally, they spent their two 2023 second-round draft picks on defensive lineman, Gervon Dexter, and cornerback Tyrique Stevenson.
The Bears massively improved their roster this year, and they are hoping for more progress from Justin Fields in 2023. Additionally, the NFC North is seemingly up for grabs again after Aaron Rodgers and the Green Bay Packers had won 8 out of the last 12 division titles. Bears fans can rejoice though, because Aaron Rodgers is following in Brett Favre's footsteps and joining a Jets roster that will be lucky to make it out of the AFC East. The Bears have a relatively friendly strength of schedule this year, as their opponents combined for an 0.497 win percentage in 2022. The Vikings and the Lions have also shown massive improvements in the last few years, but they still haven't been able to get it together completely. The Lions narrowly missed the playoffs last season, while the number 3 seed Vikings got bounced in the Wildcard round by Danny Dimes and the Giants.
While it may seem drastic going from last place in the league to a 9-win season and possible playoff berth, the Bears have made all the right moves in the offseason to make it happen. The 2022 Jacksonville Jaguars should be a beacon of hope for Bears fans, as they only lost by one score in the Divisional Round to the eventual Super Bowl Champion Kansas City Chiefs after having the worst record in the NFL for both of the two previous seasons. If the Jaguars can make a playoff run 1 year after being coached by Urban Meyer, I don't see why the Bears can't turn the tide in 2023.
Quick Links
---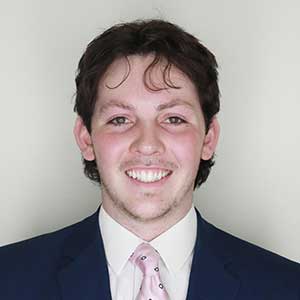 Logan was born and raised in Louisville, Kentucky, where he grew up watching sports with his parents and brother. He recently graduated from the University of Colorado Boulder, where he studied Psychology. While getting his Bachelor's degree, his favorite pastime was researching and writing about sports, particularly the NFL. His interest in writing about fantasy football started when he began writing comedic editorials for the enjoyment of his long-time league mates. He is a die-hard Patriots, Bruins, and Red Sox fan, but when it comes to basketball, he roots for the Cleveland Cavaliers.