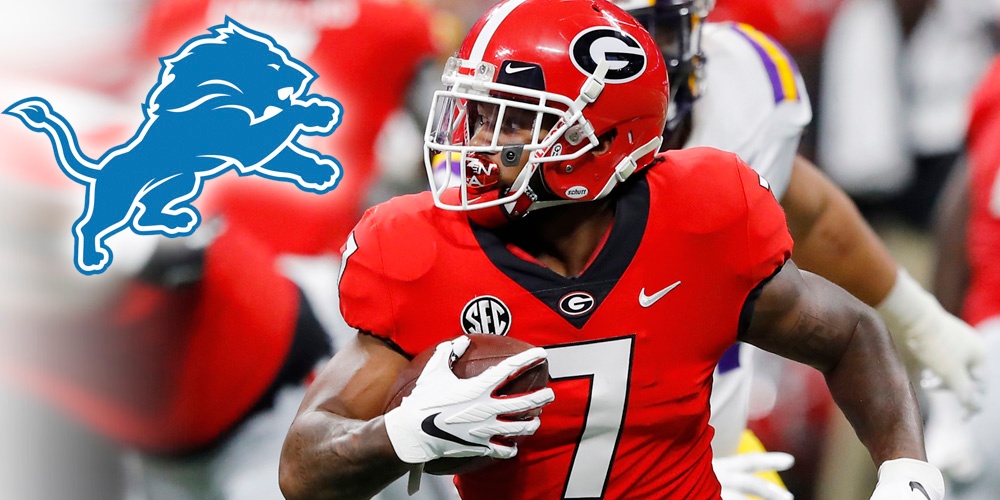 D'Andre Swift Fantasy Forecast
---
D'Andre Swift Fantasy 2020
With the 35th overall pick in the 2020 NFL Draft, the Lions drafted running back from Georgia, D'Andre Swift. Swift was projected to be the number one overall running back taken in the 2020 running back class, so Lions were more than happy to take him as the second running back off the board.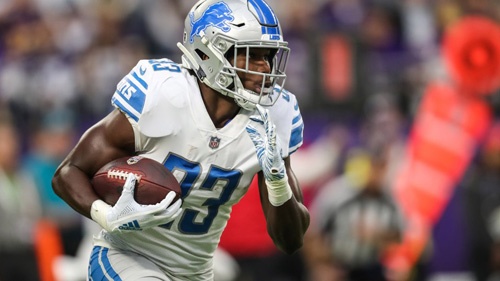 Swift now finds himself in a Detriot Lions' backfield that is filled with SEC talent; 2018 second-round pick Kerryon Johnson (Auburn) and bruising running back Bo Scarborough (Alabama). However, Swift arguably brings in the highest pedigree of college production entering the NFL. Per DetriotLions.com, he averaged more than six yards per carry the past two seasons at Georgia and added 24 receptions for 216 yards this past year. Per PFF since 2017, Swift has ranked in the top 25 in college football in yards per route run, passer rating when targeted, explosive receptions, missed tackles forced after the catch, yards per carry, yards after contact per attempt, and first down/touchdown percentage on rushes. Needless to say, he brings a rather explosive element to the Lions that they lacked in 2019. Per SharpFootballStats.com the Lions ranked 26th in the percentage of runs deemed as explosive runs (10%). Adding Swift, in general, should help the ground attack that ranked 21st in rushing last season because of injuries and lack of depth at the position. Johnson has missed eight games last year and has missed 14 games over the past two seasons. So what does Swift's role look like in 2020?
The most likely scenario of how this plays out is that there will be a running back by committee approach in 2020. This should not come as a surprise as head coach Matt Patricia has used this approach since becoming the head coach in 2018. LeGarrette Blount's 164 touches in 2018 are the most touches a running back has received under Patricia's coaching tenure while averaging *drumroll* 2.7 yards per carry. General manager Bob Quinn is also on board with this approach.
Per Michael Rothstein of ESPN, Quinn had said he prefers to have a stable of backs instead of one featured back. He also said it's a position where guys get hit and "take a pounding," so they have to make sure depth is strong there. He said he does not see Johnson and Swift having overlapping skillsets but rather that they complement one another. He did, however, praise Swift's pass-catching and route-running ability. Guess that is also a shot at Johnson's pass-catching!
D'Andre Swift Fantasy Forecast
Adding an explosive dynamic pass-catching running back like Swift makes a lot of sense for the Lions. That is because I think they missed that element in their offense that they previously had with Theo Riddick who they did not successfully replace. He had four-straight seasons of at least 53 receptions with Detroit averaging at least 126.5 touches, and 711 yards from scrimmage. Riddick finished as a top-40 fantasy running back from 2015-2017. He did not return in 2019, and the Lions' had their worst output in terms of running back receiving production. They replaced Riddick with a combination of J.D. McKissic and Ty Johnson. McKissic finished with 34 receptions and now finds himself in Washington. Ty Johnson burned everybody's waiver wire budgets and was a colossal bust, to say the least.
In 2019 the Lions ranked in the bottom half of the league in 2019 in terms of targets to the running position after ranking top-four in 2018. Now I do believe that has some to do with the system being different in 2019 but also factors in the lack of weaponry at the position. Swift is an immediate upgrade over those guys as a pass-catcher and should easily lead the backfield in targets and receptions in 2020. The one caveat here is that I do not know if he hits that 53 receptions threshold that we had seen Riddick hit in past seasons with Matthew Stafford.
In 2019, Stafford was very aggressive targeting receivers downfield under Bevell. Per FantasyData's advanced quarterback efficiency metrics Stafford's receivers ranked last in terms of target separation meaning he was not afraid to sling it into tight windows. Stafford also ranked number one in air yards per game (204.2), air yards per attempt (5.6) distance per attempt (10.8), and was second in deep ball attempts per game. That is what we expected to see if Stafford entering 2019 under Bevell who likes to run the ball but also pick up chunk yardage downfield. We should expect more of the same approach in 2020. So my concern is that total passing volume could be an issue for Swift who is going from Jake Fromm who would frequently check the ball down to Stafford. However, my major concern with Swift is when it comes to rushing and touchdown equity.
Johnson will likely continue seeing the majority of the red zone and goal-line work. In 2018, in ten games he has 18 red zone carries (36th overall), and in 2019 he had a whopping 21 red zone carries in just eight games. Inside the five-yard line, Johnson had ten carries which ranked 15th in the NFL, despite playing just eight games. For 2020, Johnson should retain his goal-line role, with Scarborough filling in if Johnson gets hurts again. I do not think the Lions view Swift as a player that they want to run between the tackles, to grind out yardage. Swift is just 5'8'' 212 pounds, whereas Johnson is 6'0'' and Scarborough is 6'1'' at 228 pounds.
My other main concern for Swift as a runner is that he absolutely thrived at Georgia which primarily ran a zone-based scheme. The Lions last season under Bevell ranked seventh in gap run play frequency versus 26th in zone run calls. I have real concerns that it might take the Lions some time to truly figure out how to best deploy Swift as a runner.
In conclusion, I do think Swift has a significant role in the passing game for the Lions, but overall volume might be an issue so it will be up to him to make the most out of his limited touches. He definitely has upside with Johnson showing over the past two seasons that he cannot stay healthy, but even if that happens I am not confident that the Lions just give him the entire workload. Ultimately, Swift needs to be a zone-heavy focused system to reach his ceiling and that is just not what the Lions are likely to do based on their scheme from last season. For that reason, I will not be reaching on Swift in dynasty leagues and view him as an RB3 in PPR with upside in redraft formats. I truly believe we will see great flashes from Swift in 2020, but I guarantee at some point #FreeDAndreSwift will be trending on Twitter come late October.
My initial projection for Swift in 2020: 40 receptions for 300 receiving yards and two touchdowns to go along with 550 rushing yards and two rushing touchdowns.

STAY IN TOUCH
Sign up for FantasyData's newsletter and get awesome content sent to your inbox.
We'll never share your email address and you can opt out at any time, we promise.
---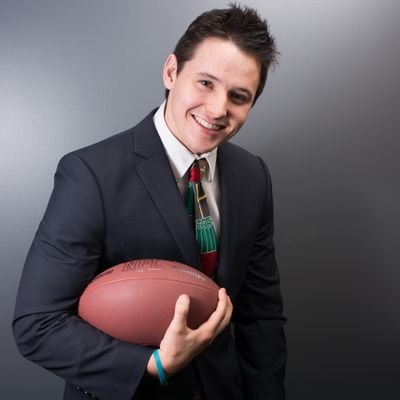 Andrew has come a long way as a fantasy football writer. After graduating from Roger Williams University where he received a degree in marketing he began to write his own fantasy blogs via WordPress.com. He used to call himself the Fantasy Football Master. Nowadays, he is slightly more humble. He has worked with Pro Football Focus as an base data analyst along with bringing head writing experience from Gridiron Experts. He is an absolute die hard Patriots fan (humble brag) and will never forget his first fantasy football team. In his first ever fantasy football league he drafted the Bears defense in the 1st round. He then proceeded to win the entire league. #DefenseWinsChampionships