DFS Cash Game Plays: NFL Week 3
---
DFS Cash Game Plays: NFL Week 3
The NFL Week 3 slate is ready for us to attack, but first, let's think about how to react to last week's DFS slate. With only two weeks of data under our belts, it's hard not to overreact to what we saw on the field, particularly as injuries and outlier performances pile up. Let other people chase the outcome stats, and we will instead focus on usage and opportunity.
We will go through each position at a variety of salary levels to see who are the best plays in cash games on DraftKings and FanDuel. For these purposes, a cash game is any contest that pays out more than one-third of the field. While these are also viable GPP options, we are primarily looking for a safe floor combined with high usage that can lead to ceiling games.
DFS Tools
Previous Week's Results
Results on DraftKings:
Massive $25 Double Up (Single Entry) - 3526/6896
Giant $10 Double Up (Single Entry) - 2317/4597
Giant $10 Double Up (Single Entry) - 2911/5747
Giant $10 Double Up (Single Entry) - 1181/2298
Giant $5 Double Up (Single Entry) - 8697/17241
NFL $5 Double Up (Single Entry) - 4684/9195
NFL $5 Double Up (Single Entry) - 1164/2298
NFL $2 Double Up (Single Entry) - 2921/5747
NFL $2 Double Up (Single Entry) - 1510/2873

Winning percentage in Single Entry contests: 0%
This was my cash game lineup for all contests in Week 2: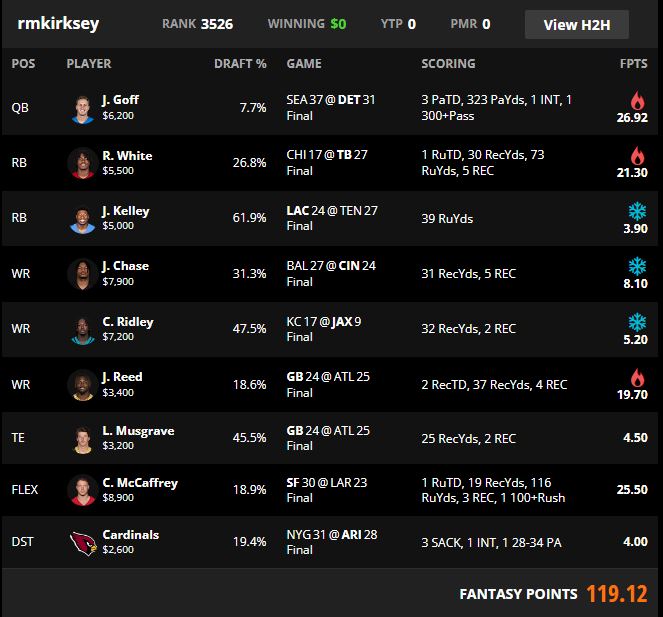 Once Week 2 started on Sunday, I posted on X/Twitter a question about this lineup. I wanted to know who on here - if anyone - would prevent this lineup from cashing on the main slate. I had my theories. I was mildly concerned about another inefficient day from Rachaad White. I thought both Reed and Musgrave could completely bust. And I was worried about Kelley against the stout Tennessee rush defense. White was great, Reed was great. Kelley and Musgrave were terrible, but they were so highly-rostered, that their scores didn't make an appreciable difference.
In the end, it came down to a Sunday morning decision I made to start Ja'Marr Chase instead of Amon-Ra St. Brown. I had ARSB in my lineup all week, but for some reason bought into the Chase bounce-back narrative. I decided to play the upside play instead of the high-floor play and it burned me. Chase was popular (as you can tell), but the decision cost me about 10 points and cost me the chance to cash in every Single Entry contest. The cash line in those was around 123 points. This lineup missed by four points and busted in each one.
Be sure you're following me on X (@CableBoxScore) for any updates I make to my player pool as we get closer to lock. I will update every weekend with new players as other news emerges.
Scoring Differences Between DraftKings and FanDuel
A quick primer on DraftKings versus FanDuel scoring for DFS if you are unfamiliar with their platforms.
On DraftKings, you are selecting nine spots with a total of $50,000 to spend. FanDuel has nine spots with $60,000 to spend, so salaries are slightly higher.
DraftKings is full PPR scoring, while FanDuel is half-PPR.
DraftKings deducts one point for a fumble lost and an interception. FanDuel is minus two points for a lost fumble and minus one for an interception.
DraftKings awards three-point bonuses for 300-yard passing games, 100-yard rushing games, and 100-yard receiving games. FanDuel does not award bonuses.
With those differences in mind, let's look at which players make good selections in Week 3.
Quarterback
Patrick Mahomes (DraftKings: $8,300, FanDuel: $9,200) put up over 25 DraftKings points in a game against the Jaguars where the Chiefs only scored 17 points. In a strange way, that shows you the massive ceiling for Mahomes against a team like Chicago that he should absolutely carve up on Sunday. Mahomes threw for both of the Chiefs' scores and rushed for 30 yards, and if he is back to rushing more again as he did in 2019-2020, there's no telling what kind of day he can have. The Chiefs rank sixth in pass play percentage (64.3%) and are projected to score a slate-high 30 points at home on Sunday.
Kirk Cousins (DK: $6,900, FD: $7,800) at home against a suspect pass defense is usually a recipe for fantasy success since he has been on the Vikings. Cousins is off to a hot start to 2023, ranking third in completion percentage, second in passer rating, and first overall in fantasy points. Through two games, the Chargers are allowing the most yards per pass attempt to opponents (9.7) by more than half a yard and yards per completion (13.5). Add in the fact that Minnesota leads the league at 78% of their plays being a pass and their defense is still atrocious, and I don't know how I won't be playing Cousins in cash this week.
C.J. Stroud (DK: $5,300, FD: $6,600) helms a surprisingly pass-happy Texans offense and the rookie leads all quarterbacks in total dropbacks through two games. He has developed an instant rapport with both Tank Dell and Nico Collins, and has the most passing yards in the NFL without an interception with 626. A shoulder injury was thought to be concerning coming out of Week 2, but Stroud practiced in full Thursday and should be good to go against Jacksonville. If you're finding that you need to punt at quarterback with so many studs on the slate, Stroud is my preferred choice.
Running Back
Tony Pollard (DK: $8,000, FD: $9,400) should be the top high-dollar running back for cash games on this slate since we have no Christian McCaffrey and Austin Ekeler could be out or severely limited. Pollard has been the beneficiary of Dallas playing in two absolute blowouts so far, and that narrative is unlikely to change against the lowly Cardinals in Week 3. Pollard is one of four backs who have finished as an RB1 each of the first two weeks for fantasy and the driving force is he has been a goal-line monster so far. According to Scott Spratt (@Scott_Spratt), Pollard had nine carries inside the five-yard line in all of 2021-2022. He has seven of those carries so far in 2023.
Bijan Robinson (DK: 7,800, FD: $9,000) is another one of the four backs to be RB1 in each week this year, plus Bijan Robinson leads all running backs in target share (22%). He has basically been exactly as advertised when drafted, and his evenly-split usage with Tyler Allgeier in Week 1 tilted all the way in his favor against the Packers in Week 2 (74%). Robinson has a game that is tailor-made for DraftKings where he can get a double-bonus each week, and it's likely not long before he is $1,000 more expensive on that site. In a game with shootout potential in Detroit, Robinson may end up being a priority for me.
Travis Etienne (DK: $6,900, FD: $8,000) gets one of the best matchups in the league this Sunday, going up against the lowly Texans rush defense. Houston was horrific in 2022 against the run, and that hasn't changed this season. They are already tied for the most rushing touchdowns allowed through two games (four), and just allowed 5.5 yards per rush to Anthony Richardson and Zach Moss last week. Etienne has not ceded touches to Tank Bigsby this year, with more than 73% of the snaps in both weeks. Bigsby hasn't topped 21% either week. Etienne also leads Bigsby in the passing game with eight targets to Bigsby's one.
Jerome Ford (DK: $4,800, FD: $5,600) is now thrust into a full-time role at least for one week after the Nick Chubb injury. Kareem Hunt coming on board complicates things in the long-term, but he has only been a Brown for two days so he is not likely to play a big role on Sunday. The price is right for Ford this week, but unfortunately the matchup is not. Ford faces the same Tennessee Titans' rush defense who shut down the cheap DFS running back of the week Joshua Kelley last week. But for $4,800 and not much competition, you are hoping Ford stumbles into 75 yards and four receptions and gets there on volume and maybe a lucky end zone trip.
Wide Receiver
Justin Jefferson (DK: $9,300, $FD: $9,700) and Tyreek Hill ($9.000, $9,600) are both in absolute smash spots this week and it almost seems imperative to try and fit one of them into your lineup. We have seen what kind of prolific passing attack the Vikings have deployed this year, but if Tyreek gets the Broncos with no Jaylen Waddle (concussion), he might get the nod here. Jefferson has been completely dominant at home averaging over 100 yards and almost one touchdown per game when in Minnesota. He doesn't have a touchdown yet this season, but that's just noise and he is going to make up for that lack of spikes this week against a weak Chargers' secondary.
Keenan Allen (DK: $7,600, FD: $8,800) was the big beneficiary with no Austin Ekeler last week, but it's also due to the new scheme that Kellen Moore has deployed in Los Angeles. He is using Allen all over the field instead of almost exclusively in the slot. Allen spent only 55% of the time in the slot in Week 2 which allowed him to operate more outside and draw man coverage. That led to two scores in Week 2, and you can be sure Allen is going to be targeted early and often once the Minnesota offense starts humming.
Nico Collins (DK: $5,300, FD: $6,900) is a surprising top-five entry in targets, air yards, and receiving yards among all wide receivers through two weeks. Stroud has locked in on Collins in the middle and deep parts of the field (14.3 aDOT) and Collins is clearly the young QB's first read. After 46 fantasy points through two weeks, Collins is still too cheap on DK at $5,300 and has essentially been keeping up elite production since the beginning of LAST year. According to Jacob Gibbs (@jagibbs_23), since the beginning of 2022, Collins has a 26.7% target share, 48.6% air yards share, and 32.4% receiving yards share.
Jayden Reed (DK: $3,800, FD: $5,900) only saw his salary increase $400 after scoring twice against the Falcons. I presume that's because DK assumed Christian Watson would be back in Week 3, but after attempting to practice Wednesday, he did not work out on Thursday, which could lead to the Jayden Reed show again on Sunday for a very cheap salary on DK. Reed, despite not playing full snaps, is top-five in targets per route run and and he jumped up to a 32% target share in Week 2. If Watson is out again, Reed will be a lock in my lineups.
Tight End
Travis Kelce (DK: $7,200, FD: $8,000) returned to action last week with his usual nice targets and a touchdown. He only caught four balls for 26 yards, which is uncommon, but the result was his salary dropped $400 for this attractive matchup against Chicago, one of the worst defenses in the league. The Chiefs have the highest implied total on the week (30 points) and Chicago is allowing the second-most yards per completion in the NFL this year (13.5 through two games). Kelce played on 64% of snaps in his first game back from injury, but I expect that to be above 80% in this home game.
Durham Smythe (DK: $2,900, FD: $4,800) has become a route-running machine through two games with Miami this year. He has played in over 98% of snaps so far this year and he is first in overall route share at the position (86%). So far, Smythe has 10 targets this year and while they have only turned into six catches 57 yards, he would be an astounding tight end punt play if Jaylen Waddle or Tyreek Hill end up missing the game or are limited. In the early going, Denver has allowed the seventh-most fantasy points per game to opposing tight ends.
Defense/Special Teams
New England DST (DK: $3,500, FD: $5,000) gets the uber-enticing matchup of facing Zach Wilson and the New York Jets, which is quickly becoming the best possible source of defensive fantasy points. The Jets rank 31st in passing yards per game, 32nd in completion percentage, and 25th in quarterback sack rate. The powerful front seven are complimented by rookie cornerback Christian Gonzalez who just shut down Tyreek Hill last week. If you've got the money to splurge on DST, New England looks like a good buy.
Buffalo DST (DK: $2,900, FD: $4,400) looks to be in a nice spot despite being on the road at Washington. The Commanders are 30th in the league with a 12.5% sack rate allowed and are underdogs in this game, which should mean plenty of Sam Howell drop-backs to exploit. Meanwhile, the Bills' secondary sits at fifth in the NFL with just a 73.2 passer rating allowed through their first two games. We want to focus on defenses under $3,000 on DK for cash games that have a high floor and a high ceiling. Buffalo fits the "bill" this week.
Cash Game Sample Lineup
Using the players listed above, you could construct a roster that looks something like this. However, remember that this is just a suggested build and could change drastically by the time the games kick off on Sunday. You should come to your own conclusions and build a cash game roster that suits the players you prefer and your style of build. I really like this build on DraftKings although I am certainly willing to pivot off to another cheap running back and get rid of Jerome Ford if I can (Kendre Miller, for example). I could not quite fit Justin Jefferson in either of these, and that likely means going down off of Keenan Allen or another mid-range player to make it happen unless you're doing bargain-basement shopping for a quarterback.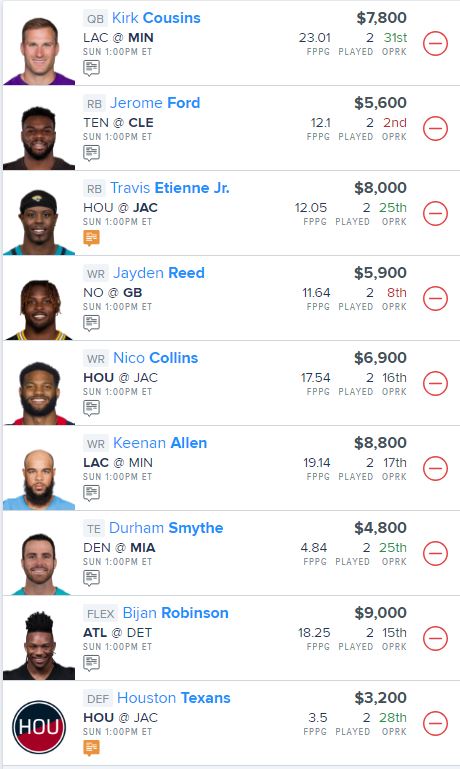 ---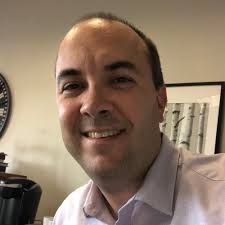 Ryan is a 20-year veteran of fantasy baseball, football, and basketball leagues. He has been writing about fantasy sports, sports betting, and DFS since 2018 and is a member of the FSWA and IBWAA. A native of Houston, he is a die-hard fan of the Astros, Rockets, and - reluctantly - the Texans. When he is not buried under sports analysis and TV show recaps, he works full-time in higher education and can be found pursuing his other passions: drinking coffee and writing about comic book investment and speculation.