DFS Thursday Night Breakdown: Titans vs Colts
---
DFS Thursday Night Breakdown
Tennessee Titans vs Indianapolis Colts
Spread: Titans -1.5 | O/U 48.5
Week 10 starts with a division battle between the Tennessee Titans and the Indianapolis Colts. These two teams are one game apart for the lead in their division which adds fuel to this rivalry game. The Colts are coming off of a drubbing at the heads of the Baltimore Ravens while the Titans are rolling into the week off a win against the Chicago Bears. The question is, how do each of these teams gameplan to win this game. Let's break it down below
How Do The Tennessee Titans Win The Game?
On the offensive side of the ball, this game will be a challenge for the Titans as the Indianapolis Colts come into the game as one of the premier defenses in the league, ranking third-best in both rushing(83 yards per game) and passing defense(206 yards per game) rankings. Even though the Colts defense is one of the best in the league the gameplan won't change much for Tennessee, they will continue to run with Derrick Henry and take their shots with A.J. Brown.
How Will The Indianapolis Colts Win The Game?
The Colts will stick with the strength of their team which is the running backs while taking their shots with the tight end core that supports Philip Rivers. The Titans defense has underperformed during 2020 and rank as the 17th best rushing defense and the 27th best passing defense.
How does this game break down for your daily fantasy sports lineups? Let's break down the positions below.
Ryan Tannehill ($11,200)
Last week Ryan Tannehill came out and had a mediocre performance against another stout defense in the Chicago Bears. He was 10-21 for 158 yards and 2 touchdowns. However, the Titans had the lead 17-0 by the end of the first half, which leads to the game script turning towards the run game. I expect a closer game this week where the Titans will need Tannehill to help lead them down the field. Expect more yardage from the Titans quarterback in week 10.
Philip Rivers ($9,800)
Philip Rivers is the higher risk play out of the two quarterbacks in this game. In DraftKings scoring, Rivers has only reached the 20 point mark twice all season long. With T.Y. Hilton still on the injury report and Jack Doyle working through the concussion protocol, Rivers could be limited on the number of weapons he has at his disposal. For his price point, and his limited upside, Rivers is a pivot for your lineups.
Derrick Henry ($10,800)
Henry had one of his worst performances last week rushing for only 68 yards against the Chicago Bears. The upside to this stat line is the fact that he ran the ball 21 times, so the volume was still present. With the Titans we know one thing, they will run the ball with Henry. He is a plug and play for your showdown lineup.
Jonathan Taylor ($8,800)/ Nyheim Hines ($6,200)/ Jordan Wilkins ($5,400)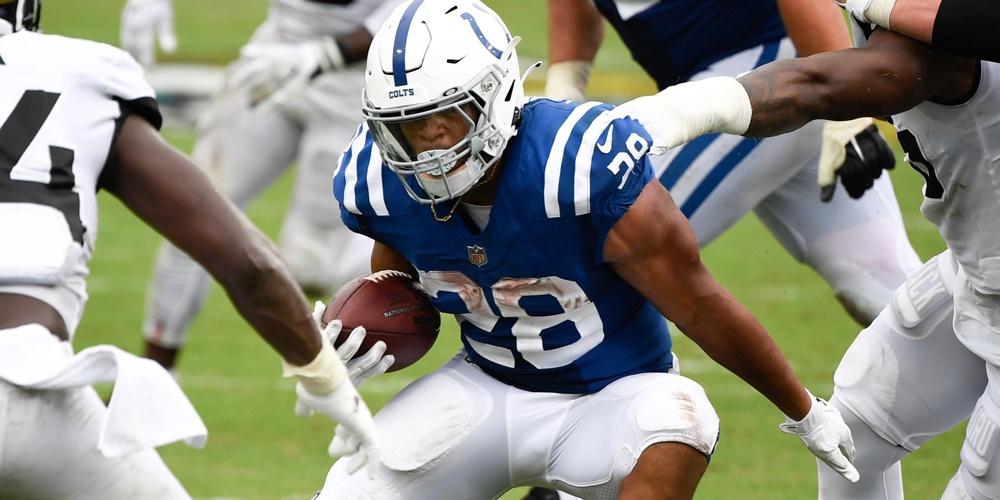 This backfield has given fantasy managers headaches throughout the season. Jonathan Taylor, one of the hottest commodities in the offseason, seems to have lost the trust of his head coach as he only rushed the ball six times last week. This season Jonathan Taylor only has one game over 100 yards rushing and seems to be positioned as second fiddle behind Jordan Wilkins.
Jordan Wilkins rushed the ball 11 times last week. The week before he logged a season-high 20 carries for the Colts. The lots have placed their trust in Wilkins recently to have the largest timeshare of their backfield when it comes to carries. For his price point, and the recent shift in focus to Wilkins, he should be in your lineups as a plug and play.
Nyheim Hines is a high risk/ high reward play. Two times this year he has paid off with 20 point fantasy games, however, trying to guess which week is a Hines week will leave your fantasy lineup staring down the barrel of a sub 10 performance more often than not. Wilkins is the cheaper, and more often used, play for this backfield.
A.J. Brown ($10,400)/ Corey Davis ($7,800)
Since returning in Week 5, A.J. Brown has scored over 20 points in 4 of his 5 games(the 5th game was 12.4 points). He is the number one target in this offense and Ryan Tannehill most trusted receiver. He can be pricey but you should find a way to place Brown in your showdown lineups.
Corey Davis has proven a lot of doubters wrong so far this season, with three performances over 15 points in fantasy. He is coming off of a zero reception matchup however and against another stout defense, Corey Davis could be a risky play for Thursday Night Football.
Zach Pascal ($6,400)/ T.Y. Hilton ($5,800)/ Michael Pittman Jr. (4,400)
Zach Pascal and Michael Pittman Jr. led the wide receiver core with targets as they were thrown to six times for Pascal, and seven for Pittman. Pascal remains a solid possession receiver and offers a nice floor but with his lack of explosiveness, you can't expect any homerun type potential from playing him.
Pittman was involved much more in his second game back from the injured reserve. If Doyle and Hilton are both limited/out, you can expect another game with more targets leaning towards Pittman Jr.
Even if T.Y. Hilton suits up for the game, Hilton has been a shell of his former greatness this season. This is also a short week when Hilton is listed still with a groin injury I would pivot away from him in your lineup.
This wide receiver core as a whole doesn't allow for a fantasy manager to feel comfortable using them in their lineup. Your salary can be used elsewhere.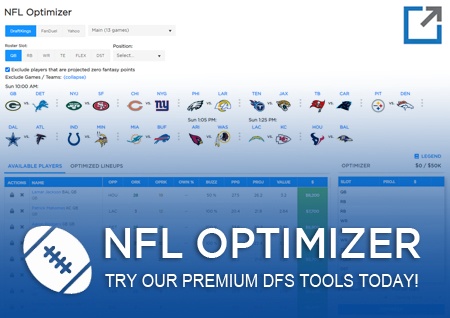 Try FantasyData's NFL Optimizer Today!
Jonnu Smith ($7,000)
After coming out of the 2020 gates strong with top-end fantasy performances, Jonnu Smith has become hit or miss since Week 6. He has not recorded more than 2 catches in that period, and the only performance he had over 5 fantasy points was last week(where he was touchdown dependent). Smith is off the board for this week at his price point.
Trey Burton($5,600)/ Mo Allie-Cox ($4,800)
Let's start this section off with the fact that Jack Doyle is doubtful for the contest so he has become an automatic "don't use" this week.
However, Trey Burton is the target within this tight end core. Philip Rivers has an affinity for his tight ends, this is something even the casual NFL fan can recognize. Chase Vernon (@ff_intervention) breaks down this Trey Burton play for Thursday night in eloquent fashion below.
3 of 5 Colts who have receiving TDs this year are tight ends. They account for 50% of the teams scores through the air in 2020. The other two: Hines (3) and Pascal (2).

Why am I not shocked?

Burton is seeing 30% target share on routes run and 6 RZ opps in the past 4 games.

— Chase Vernon (@ff_intervention) November 10, 2020
He should be in your lineup this week.
Mo Allie-Cox is a risky play this week. He has had 3 receptions in each of his last two games, however, he was a non-participant in Monday's practice and limited in Tuesday's practice. With the short turn around from last week, Mo Allie-Cox could live your lineup with minimal points this week.
Colts D ($4,200)/ Rodrigo Blankenship ($4,000)/ Stephen Gostkowski ($3,800)/ Titans D ($3,600)
The Colts defense has proven their worth this season, and with this division battle having such a focus on the running backs the scores could be low to warrant playing the Colts defense. However, the Titans defense has underperformed recently and you should pivot away from this play for the week.
In this close battle, both kickers have the chance to put up points. Gostkowski has been a little more erratic this season, however, this is the play for the DFS lineup this week. He is coming off of a perfect week 9, and Tennessee averages 2.2 field goals a game which is 9th best in the league.
Prediction/ DFS Free Head To Head Cash Lineup
Titans defeat the Colts 24-21
Jordan Wilkins ($8,100) *CAPTAIN*
A.J. Brown ($10,400)
Trey Burton ($5,600)
Stephen Gostkowski ($3,800)
Derrick Henry ($10,800)
Ryan Tannehill ($11,200)
STAY IN TOUCH
Sign up for FantasyData's newsletter and get awesome content sent to your inbox.
We'll never share your email address and you can opt out at any time, we promise.
---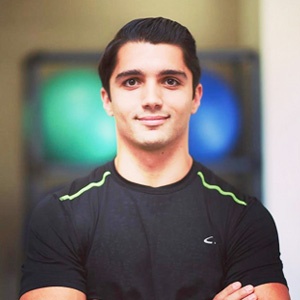 Former minor league soccer player/winner of TKO. Avid Philadelphia Eagles fan, Philadelphia born and raised, who also named their mascot (Swoop) for the team. Huge fantasy football fanatic who is all about the stats and ready to debate any topic. I have written for major publications within the sports and fitness world. Things I will debate until my last breath: Superman is the best superhero, Tim Tebow would have been a sustainable QB if he went to the Jacksonville Jaguars, and pineapples dont belong on pizza.