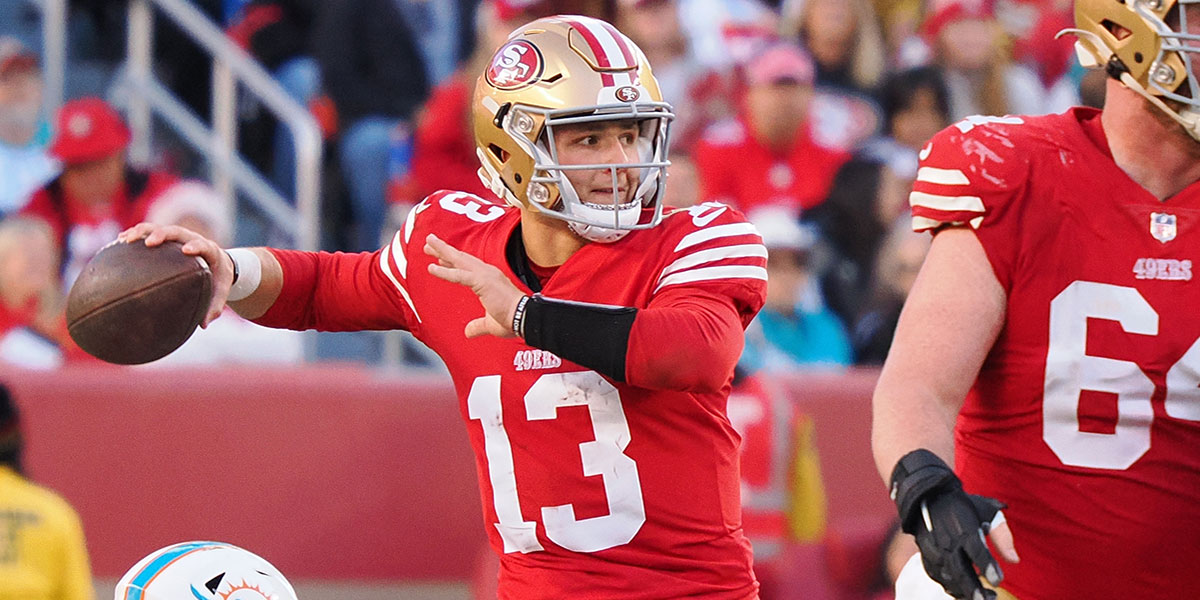 DraftKings Cash Game Plays: NFL Week 18
---
DraftKings Cash Game Plays: NFL Week 18
The NFL Week 18 slate is ready for us to attack, but first, let's think about how to react to the Week 18 oddities. This is always the absolute craziest week of the season in DFS with all of the various injuries, resting players, motivations and lack of motivations, etc. We will focus this piece primarily on the situations that are "known" as of Friday morning and I will tweet out adjustments as necessary (@KirkseySports).
We will go through each position at a variety of salary levels to see who are the best plays in cash games on DraftKings. For these purposes, a cash game is any contest that pays out at least one-third of the field. While these are also viable GPP options, we are primarily looking for a safe floor combined with high usage that can lead to ceiling games.
Week 17 Results
Below are my cash game results in Week 17 for double-ups, 50/50s, and head-to-heads:
Results:
Massive $25 Double Up (Single Entry) - 1926/4597
Giant $10 Double Up (Single Entry) - 837/2298
Giant $10 Double Up (Single Entry) - 1925/4597
Giant $10 Double Up (Single Entry) - 381/1149
Giant $5 Double Up (Single Entry) - 871/2298
Giant $5 Double Up (Single Entry) - 1910/4597
Single Entry $5 Double Up - 4398/9195
Single Entry $2 Double Up - 1206/2873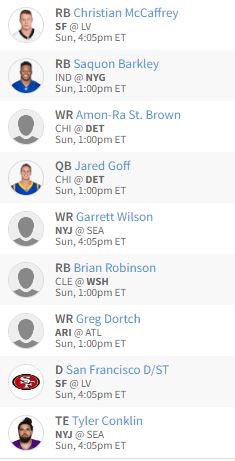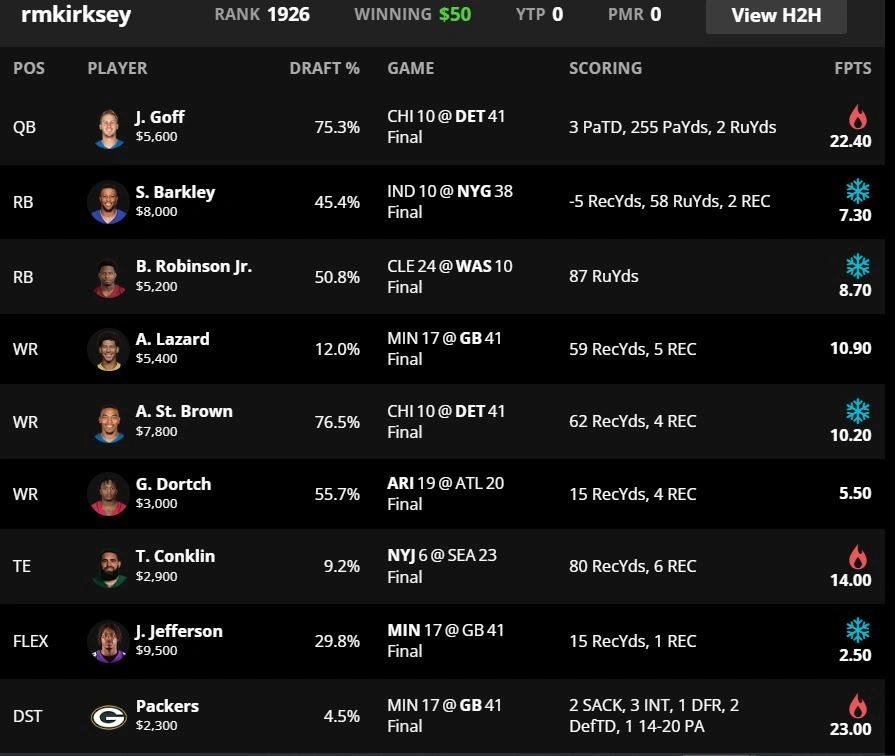 We made it to Week 17 without talking about swapping, so let's focus on that a little bit here. The picture on the left was my original lineup when the slate locked at 1 PM ET. On the right is my lineup after I made three swaps heading into the 4:00 PM games. I swapped:
1. Justin Jefferson in for Christian McCaffrey (yuck, more on that in a minute)
2. Allen Lazard in for Garrett Wilson (worked in my favor)
3. Green Bay DST for San Francisco DST (REALLY worked in my favor)
When the 1:00 PM ET games were coming to an end, this original lineup was dead in the water. All I had left was McCaffrey, Wilson, Tyler Conklin, and San Francisco DST. I was at about the 15th percentile of lineups in all my double-up contests. Based on what I had left I knew there was no way to cash anything if I didn't swap out of some chalky plays. I knew Garrett Wilson and SF DST were uber-chalky plays on this slate so they were the first to go. I knew Kirk Cousins was prone to mistakes on the road so I went down to Green Bay. I then was happy to get up a little bit to Lazard and his 20% target share from Aaron Rodgers at home in what was supposed to be a shootout.
I checked on Evan Engram (40% rostered) and Noah Fant (10% rostered) from the early games and realized Conklin must not have been on a lot of rosters. This proved to be right and I was able to fly past all the Engram teams with Conklin's score.
Those swaps left me with an extra $500. McCaffrey was $9,000 on this slate and Jefferson was $9,500. I mistakenly assumed that McCaffrey would be 30%-40% rostered and I would need to find a way around his potential big score from the lineups ahead of me. Well, the big score happened but he was only around 20% rostered in these contests compared to 30% for Jefferson. I still was able to cash in my contests thanks to Lazard and (especially) the Green Bay defense. But I would have finished near the top of all contests if I had stuck with McCaffrey and his 30 fantasy points.
Swapping is not an exact science and you have to make a lot of assumptions before you do it. Most of mine worked out, but one major one was wrong. I was lucky to get the Green Bay score here because my lineups would have been even worse than my original roster considering the egg Jefferson laid on Sunday.
Week 18 Cash Plays
Quarterback
Josh Allen ($8,400) and his Bills' teammates have had one of the most unusual, emotional, and roller-coaster weeks of any team in NFL history. With the good news coming down Friday morning that Demar Hamlin in awake and talking with teammates, almost all other incentives, motivations, and analysis can be thrown out the window when the Bills take the home turf against New England on Sunday. Allen and this team will be playing for something much bigger and much more important than a place in the standings. One of the more common jokes made on Twitter Friday morning after the Hamlin news dropped was "Bills by a million on Sunday!" I tend to agree. Yes, this is still a must-win for Buffalo, they can get a share of the one seed if the Chiefs lose on Saturday and they also don't want to risk falling into the third seed behind Cincinnati and losing a home playoff game in the second round of the playoffs. We know Allen is elite. We know he can go for 35 on any given slate. Now he has that extra little something to push his production into elite territory. I have no issues going up this high in cash games on Sunday.
Geno Smith ($6,000) looks to be the best play per dollar at the quarterback position on Sunday. His team is in a must-win situation to make the playoffs and they are facing the lowly Rams in their last game of the season. Last time Smith faced the Rams, he torched them for 367 yards and three touchdowns, good for 28 DK points. Add in a little extra juice for the incentive of locking up the Most Improved Player award, and Smith has all the motivation in the world to take over this game on Sunday afternoon. I also love several of the Seattle pass-catchers, with D.K. Metcalf and Colby Parkinson likely my favorites.
Brock Purdy ($5,700) comes into this Week 18 game against Arizona as a 14-point favorite, but also with some early incentive to win the game. San Francisco is one of four teams trying to take the number one seed in the NFC, and three of them play in the late window Sunday. The 49ers will be hoping for an Eagles loss while they get what should be an easy win against the Cardinals. At just $300 less than Smith, I don't know that I will prioritize Purdy in this spot, especially with so much of the offense going through Christian McCaffrey lately, but if I need the $300, he should have no problem putting up 16-18 fantasy points. He has at least 15 points in every game he started this season.
Running Back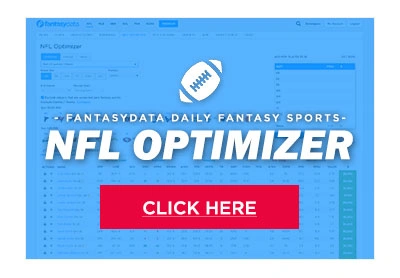 Kenneth Walker ($6,400) Since his one-week absence with an ankle injury, Walker has looked just like his old self, averaging 24.5 rush attempts and 120 rushing yards per game against the Jets and Chiefs. He hasn't scored in those games, but there have been plenty of red-zone opportunities as well. The Rams have allowed more than 135 yards rushing in three of their last four games and they have absolutely no incentive to win on Sunday. Both the passing game and the running game look to be in good spots for the Seahawks this week, but the 'Hawks will feed Walker in this one if the script (Seattle -6.5) plays out as expected.
Najee Harris ($6,100) saw tremendous volume in the upset win over the Ravens last Sunday night, including 22 rush attempts and three targets. That helped him amass 123 total yards and a score en route to 23.3 DK points. Now he gets an eliminated Cleveland Browns team that has allowed the fifth-most rushing yards and third-most touchdowns to opposing running backs. Mike Tomlin knows he needs to rely on his best players to get this win on Sunday, meaning the ball will be in Harris' hands a lot against Cleveland.
Jonathan Williams ($4,300) is trending toward being a value option at running back considering the lack of options on the Washington Commanders. Antonio Gibson was placed on IR, Brian Robinson missed the first two practices with an injury this week, and the Commanders brought up two running backs from the practice squad. That signals to me that Williams might be the lead guy on Sunday, a week after the split duties with Robinson, and had nine rush attempts and five targets. He gets a tough Dallas defense who has every incentive to win this week, but as of Friday morning, he looks like the best running back under $4,500 who will be guaranteed playing time.
Wide Receiver
Stefon Diggs ($7,900) is under $8,000 and is the top target for Josh Allen in this emotional and supercharged game environment on Sunday. Let's not overthink this. The last time these two teams played, Diggs caught seven of nine targets for 92 yards and a touchdown. I will not be surprised if Diggs has 12 targets in this game.
Brandon Aiyuk ($6,800) and George Kittle have been carrying the San Franciso passing attack on their shoulders for the last few weeks, but Aiyuk's salary is only $900 more than it was one month ago. In his last three games with Purdy under center, Aiyuk averages almost eight targets, five receptions, and 67 yards per game. He also has two total touchdowns in that span and faces a Cardinals team who gave up 38 points and four passing touchdowns to the 49ers the last time they played.
D.K. Metcalf ($6,700) is the best pass-catching option for Geno Smith this week, especially since Tyler Lockett is dealing with a shin injury and is $6,400 with a Questionable tag heading into Week 18. Metcalf had an absolute dud against the Jets last week, but in the six games prior to that one, he averaged 10 targets, 7.3 receptions, and 83 yards per game. The Rams have allowed the seventh-most fantasy points to opposing wide receivers this year, and Metcalf put up 127 yards and a score on them when these teams matched up in Week 13.
Greg Dortch ($3,800) somehow turned 10 targets into just 5.5 fantasy points last week when he was mega chalk at over 50% rostered. But the process was right as quarterback David Blough looked his way early and often throughout the game, and that is not likely to change this week. De'Andre Hopkins is still out. Zach Ertz is still on IR, and Dortch saw more looks than Marquise Brown last week. As heavy underdogs in this game, the Cardinals are likely to put it in the air a lot, especially with James Conner not practicing this week with knee and shin injuries. More value at the wide receiver position might open up, but right now Dortch looks primed for heavy usage again.
Tight End
Pat Freiermuth ($3,800) is in the same situation as Najee Harris and this Pittsburgh team that will be going full-throttle to try and win and sneak into the playoffs. Freiermuth has at least five targets in eight of his last nine healthy games and that coincides with the huge leap quarterback Kenny Pickett has taken over the last month and a half. The Browns have nothing to play for, they will be without Jadaveon Clowney and a couple of other defensive starters, and just gave up six catches and 56 yards to the corpse of Logan Thomas last week. If Freiermuth gets the targets, he should have no problem paying off this price tag.
Hunter Henry ($3,300) is another cheap player in a must-win situation, albeit in a tough environment against Buffalo on the road on Sunday. Mac Jones figures to be throwing a lot if Buffalo gets a lead in this game and the Patriots might still be without Jonnu Smith. Smith got in a limited practice on Thursday, but he missed last week with a concussion and he is not a sure thing for Week 18. In Smith's absence last week, Henry caught five balls for 52 yards and his salary barely moved at all. With top tight end options George Kittle and T.J. Hockenson now significantly priced up, a cheaper option looks to be the best route right now. Trey McBride (7/78/1 last week) at the same salary is also intriguing.
Defense/Special Teams
New York Jets DST ($2,600) is the only defense I am looking at for cash games in Week 18 as of Friday Morning. Houston DST at $2,700 is also interesting against Sam Ehlinger, but Houston reallllllly needs to lose this game and has no incentive to try and stop the Colts on offense. Meanwhile, the Dolphins will be down to third-string quarterback Skylar Thompson this week against the Jets with turnover machine Mike Glennon as his backup. The Jets have not allowed a team to score more than 23 points against them in five weeks, and that includes games against Buffalo, Detroit, and Jacksonville.
Cash Game Sample Lineup
Using some of the players listed above, you could construct a roster that looks something like this. However, keep in mind, that this is just a suggested build and could change drastically by the time the games kick off on Sunday. You should come to your own conclusions and build a cash game roster that suits the players you prefer and your style of build. This lineup takes advantage of both the passing and rushing games for Seattle, although we typically look at that as a less-than-ideal roster build. We can also safely go back to Garrett Wilson at just $5,800 again. He may have been a bust last week, but he only caught three of 11 targets. That's not likely to repeat and if he is getting that kind of volume, he should remain safe.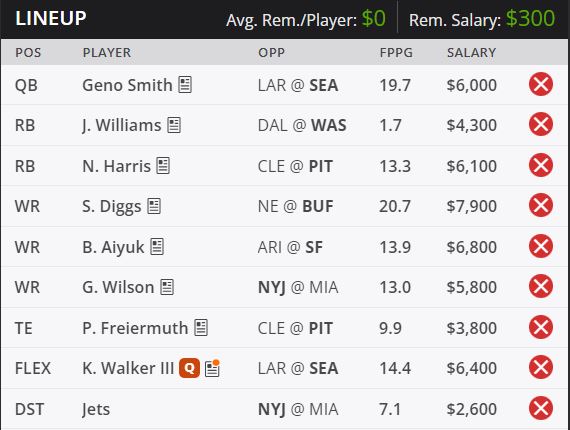 FantasyData DFS Tools
STAY IN TOUCH
Sign up for FantasyData's newsletter and get awesome content sent to your inbox.
We'll never share your email address and you can opt out at any time, we promise.
---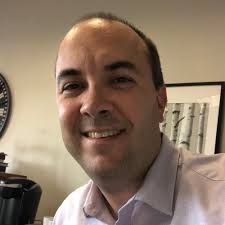 Ryan is a 20-year veteran of fantasy baseball, football, and basketball leagues. He has been writing about fantasy sports, sports betting, and DFS since 2018 and is a member of the FSWA and IBWAA. A native of Houston, he is a die-hard fan of the Astros, Rockets, and - reluctantly - the Texans. When he is not buried under sports analysis, he works full-time in higher education and can be found pursuing his other passions: drinking coffee and writing about comic book investment and speculation.