DraftKings Cash Game Plays: NFL Week 2
---
DraftKings Cash Game Plays: NFL Week 2
The NFL Week 2 slate is ready for us to attack, but first, let's think about how to react to Week 1. With only one week worth of data, it's not hard to overreact to what we saw on the field. Let other people chase stats, and focus on usage and opportunity. Let's go through each position at a variety of salary levels to see who are the best plays in cash games on DraftKings. For these purposes, a cash game is any contest that pays out at least one-third of the field. While these are also viable GPP options, we are primarily looking for safe floor combined with high usage that can lead to ceiling games.
Week 1 Results
This was my cash game lineup for double-ups, 50/50s, and head-to-heads for Week 1: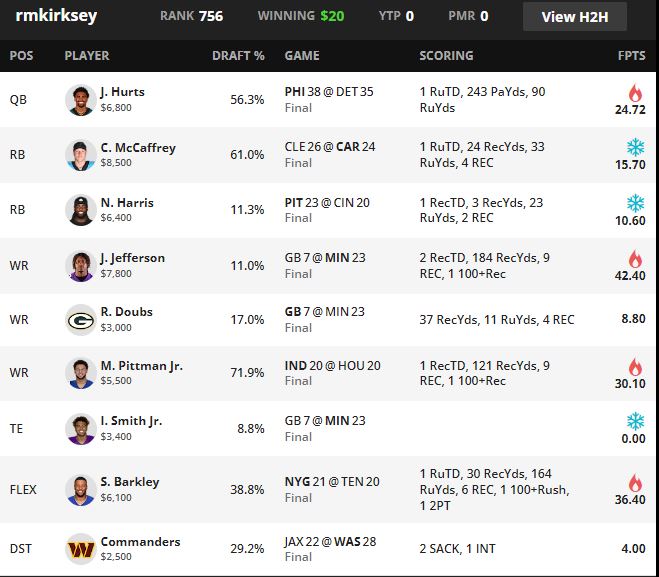 Results:
Giant $10 Double Up (Single Entry) - 756th out of 4,597 entries

Giant $10 Double Up (Single Entry) - 1,299/8,620
Giant $5 Double Up (Single Entry) - 1,484/10,579
Massive $5 Double Up (Single Entry) - 2,224/21,842
Single Entry $2 Double Up - 978/7505
NFL $3 100-Team 50/50 - 26/100
NFL $3 500-Team 50/50 - 95/500
NFL $10 200-Team 50/50 - 36/200
NFL $5 200-Team 50/50 - 52/200
NFL $3 200-Team 50/50 - 47/200
NFL $2 300-Team 50/50 - 59/300
NFL $1 400-Team 50/50 - 73/400
NFL $2 100-Team 50/50 - 26/100
NFL $5 100-Team 50/50 - 23/100
NFL $1 100-Team 50/50 - 13/100
NFL $1 100-Team 50/50 - 25/100
Five head-to-heads - won 100%
A very good start to the year with a 100% win rate this week. Although looking at my cash lineup compared to many of the other best cash players out there, it was clear I made one critical mistake. My last decision before lock was whether or not to play Najee Harris and a punt tight end or Travis Kelce and another punt wide receiver (already had Romeo Doubs at $3,000). In the end I got scared off by the prospect of two dud performances from rookie WRs near min salary so went with Harris and Irv Smith. In hindsight, the predictable usage from Kelce in a PPR format should have tipped the scales. I ended up getting the zero I was dreading anyway. I also didn't understand Jefferson at just 11%-15% rostered in contests. He was clearly underpriced and was a lock for me.
Quarterback
Lamar Jackson ($7,400) is about the only reasonable spend-up option at quarterback on this slate. Until we see Kyler Murray have success with his tumultuous receiving corps, I'll ride with Jackson if I pay up at the position. All of Patrick Mahomes, Josh Allen, Justin Herbert, Kirk Cousins, and Jalen Hurts are not on this slate so the reliable options dry up fast. But we know Jackson can get us fantasy points in multiple ways. Even with only 17 rushing yards in Week 1, Jackson was able to hit value because he found his receivers for three touchdown passes. With Mark Andrews, Rashod Bateman, and Devin Duvernay all contributing, Jackson has options at all levels of the field and should also see J.K. Dobbins back to keep the linebackers honest.
Daniel Jones ($5,100) is your punt quarterback option on this slate if you want to pay way down at the position. That's a much more necessary proposition in Week 2 after the Michael Pittman salary and several near min-priced wide receivers are no longer available. For the salary last week ($5,000), Jones was not a bad option at all. Scoring 18 fantasy points with two passing scores plus 25 rushing yards is something we will take even at $5,100 this week. At home against Carolina, this should be a much easier test for the G-Men than their road date with the Titans last week.
Trey Lance ($5,700) must REALLY be looking over his shoulder now for Jimmie GQ after an utterly abysmal start to the season. Lance completed less than 50% of his passes, ranked 26th in accuracy rating, and 32nd in clean-pocket completion percentage. But we must forgive him some of those mistakes considering he was playing on the road and in a monsoon for most of the game. He still managed to rush 13 times for 54 yards, which will always give DFS managers a strong floor when they roster Lance. Against the Seahawks at home this week, I expect some issues connecting with his receivers to be quickly fixed. As of Friday morning, he is my preferred quarterback option due to the salary level (it fell $300 since Week 1).
Running Back
Saquon Barkley ($7,300) led all running backs with an 80% snap share in Week 1. That is notable because players like Christian McCaffrey and Najee Harris floated with numbers around 90% at times when they were healthy last year. If those teams are scaling back the workloads for C-Mac and Najee, that could leave Barkley as the highest-usage running back this season. After a little bit of a slow start, Barkley ran all over the Titans in Week 1 for 164 rushing yards plus a touchdown and six catches for 30 yards. That kind of production earned him a price hike of $1,200, so we really have to think about it this week. But against a Caroline Panthers' line that allowed 217 rushing yards to the Cleveland Browns on the last slate, I'm willing to pay the price to get that matchup.
Joe Mixon ($7,200) did play in an overtime game where his team ran 100 offensive plays, but you can't help but be encouraged by the overwhelming usage throughout that contest. Mixon toted the ball 27 times and also drew nine targets. It added up to 21.5 DraftKings points without a touchdown, and he gets just a $100 salary bump in Week 2. Mixon tied for fourth in the league with four red zone rush attempts. But the problem was he turned those attempts into -1 yard. I don't think that continues moving forward, and Mixon doesn't even need to get another 35 opportunities to pay off his salary.
Darrell Henderson ($5,700) is going to cause Cam Akers' truthers to go into full-on panic mode after this week. He already quadrupled Akers' rush attempts last Thursday, and also caught all five of his targets for 26 yards. No other running back on the Rams saw a target. No other running back had more than three carries. Henderson now gets the lackluster Atlanta Falcons in Week 2 and should be seriously considered for the cash savings relief he offers.
Jeff Wilson, Jr. ($5,100) is likely to be the next man up after it was announced Elijah Mitchell will be out with injury for more than a month. There are rumblings that Tyrion Davis-Price or Jordan Mason could steal snaps and usage from Wilson, but we know how Kyle Shanahan feels about unproven running backs. Wilson stepped in for Mitchell late in Week 1 and gobbled up 11 opportunities against the Bears. With no salary jump from Week 1 to Week 2, Wilson could be this week's free square if we find out he will handle the bulk of the running back snaps.
(NOTE: D'Andre Swift did not practice on Thursday. If he is ruled out of Week 2, Jamaal Williams at $5,400 is a borderline must-play)
Quick Links
Wide Receiver
Cooper Kupp ($9,900) What would be the tipping point salary for Kupp that would make us not want to use him? After a record-setting season and a 15-target, 13-catch night in the season opener, it's clear Kupp has no plans of slowing down. Last season, the Atlanta Falcons allowed the seventh-most DraftKings points to opposing wide receivers and the Rams are out for revenge after a humiliating Week 1 loss to Buffalo. The price tag may be starting to get prohibitive, but Kupp is still worth the price of admission at $9,900.
Davante Adams ($8,600) put to rest any question about whether sharing a field with Hunter Renfrow and Darren Waller would eat into his target share. Adams had 17 targets in Week 1 while the rest of the Raiders receivers had just 18. His 187 air yards and 55.7% air yards share were among the top marks in the league, and now gets the highest implied game total of the week against an Arizona Cardinals secondary that let Patrick Mahomes carve them up like a turkey on Thanksgiving. He will be above $9,000 next week.
Michael Pittman ($6,700) comes into the week listed as Questionable with a quad injury, so this is a situation to watch closely. At just $5,500 last week, Pittman was the free square and was 80% rostered in most cash games. He proceeded to earn 13 targets which turned into nine catches for 121 yards and a score. The scary thing is, none of that production happened in the full overtime period, so his day could have been a lot bigger. He now gets the Jaguars who just allowed 305 passing yards to Carson Wentz and 117 yards to Christian Kirk. As the unquestioned number one on his team, he is still probably $800-$1,000 too cheap, so take the discount for one more week while we have it.
Christian Kirk ($5,700) gets just a $600 price hike on DraftKings after Week 1, which is a decision I will gladly accept on this slate. We saw Kirk clearly state his case as the alpha wide receiver in Jacksonville, and even though some of the throws weren't the most accurate, Kirk turned 12 targets into six catches and 117 yards. Kirk drew the sixth-most targets and the fourth-most air yards in the league last week, which gave him an elite 31.6% target share. Kirk is another player who will not remain this cheap for long. If Trevor Lawrence improves his accuracy (he was 29th in deep ball accuracy rate last week), the sky is the limit for this duo.
D.J. Moore ($5,700) actually gets a salary drop after a disappointing debut with Baker Mayfield. Moore was outshined by dusty Robbie Anderson's 71 yards and a touchdown. He could only manage three catches for 43 yards in Week 1. However, his six targets were still a strong 23.1% target share as Mayfield made it clear he only has eyes for Anderson, Moore, and Christian McCaffrey. With guys like Johan Dotson ($4,200) now priced well above their Week 1 number, there is no clear punt wide receiver as of Thursday night. That leaves us looking for mid-range values like Moore and his three straight seasons with more than 1,100 receiving yards.
Tight End
Mark Andrews ($6,400) is in a similar position as his quarterback Lamar Jackson. With no Travis Kelce on the slate and George Kittle injured, Andrews really has no peer at the high end of tight end options. Truthfully, with salaries flattening this week, you likely are not paying up for Andrews unless you punt a couple of wide receivers, but if you can get up to him, he has elite usage plus a salary that dropped from last week. Even in a down week for Andrews, he ranked first among tight ends in air yards, third in target share, and eighth in routes run at the position.
Kyle Pitts ($5,400) still has some leash left with me, especially at $5,400, but he needs to start showing some spike-game potential to live up to the hype surrounding his selection with the fourth overall pick. There were MANY cash lineups that featured Pitts on other DFS sites this week, and every single one of those managers was let down by just two catches and 19 yards. But we can be encouraged by a 36.8% targets per route run rate (second at the position) and 93 air yards (third-most). Atlanta will most certainly be down in this game to the Rams, so we could see a lot of garbage time targets come Pitts' way.
Albert Okwuegbunam ($3,700) only saw his salary go up $100 after getting peppered with targets on Monday Night Football in Week 1. He caught five of six balls thrown his way for a meager 33 yards, but under the hood, it looks much more promising for the new Denver top tight end. Albert-O was top five in routes run this week and also top twelve in both targets and target share. We learned on Monday that Russell Wilson is going to target tight ends heavily with Denver, so Okwuegbunam almost becomes a lock for me at this salary. It could be $5,000 before the month is over based on his usage.
Defense/Special Teams
Pittsburgh DST ($2,800) was the chalky defense you needed to win big last week after they bum-rushed Joe Burrow, causing him to throw four picks and fumble the ball twice. They also had relentless pressure on the quarterback. That might take a hit this week with the loss of T.J. Watt, but the Steel Curtain are playing a Patriots team that gave up two sacks, an interception, and only scored seven points in Week 1. But the best news is they are cheap again this week.
Cincinnati DST ($2,200) drew the lucky lottery ticket as the team that gets to face Cooper Rush for his first fill-in start this year. They did not cause much disruption nor turnovers in the overtime loss to the Steelers on Sunday, but at just $2,200, this is the spend-down defense that will be chalk in cash. If Joe Burrow and the Bengals get up big against Dallas, that will mean more drop-backs for Dallas, which can correlate to more sacks and potential interceptions.
Cash Game Sample Lineup
Using some of the players listed above, you could construct a roster that looks something like this. However, keep in mind, that this is just a suggested build and could change drastically by the time the games kickoff on Sunday. You should come to your own conclusions and build a cash game roster that suits the players you prefer and your style of build. In this build, I do prefer Saquon Barkley to Joe Mixon but did not have the extra $100. Before games kick-off, that might be an adjustment I find a way to make.
---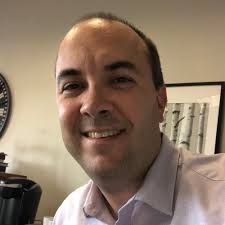 Ryan is a 20-year veteran of fantasy baseball, football, and basketball leagues. He has been writing about fantasy sports, sports betting, and DFS since 2018 and is a member of the FSWA and IBWAA. A native of Houston, he is a die-hard fan of the Astros, Rockets, and - reluctantly - the Texans. When he is not buried under sports analysis and TV show recaps, he works full-time in higher education and can be found pursuing his other passions: drinking coffee and writing about comic book investment and speculation.