DraftKings Picks Week 16: Chalk, Pivots, and Punts
---
DraftKings NFL Picks
INITIAL THOUGHTS
Happy Holidays gang! Week 16 gives us just 10 games for Sunday's main slate and as of Wednesday (as I write this intro), there is only one game with a total above 50 points (ATL @ KC). With there being 4 slates this week, we are not devoid of good plays on this little 10 gamer. The Positional Matrices are completed in The Workbook and show us plenty of good options to work with. QB has a bunch of good plays which should help spread out ownership some. RB looks thin and will push a lot of ownership onto the obvious plays. It's going to come down to which QB/WR/(TE) stacks come in at lower ownership than the field will have if we're going to get chalky at RB this week. Let's explore some ideas.
Here is the chart of who I think will be Chalk (Good & Bad), some Pivot ideas, and if needed, Punt plays.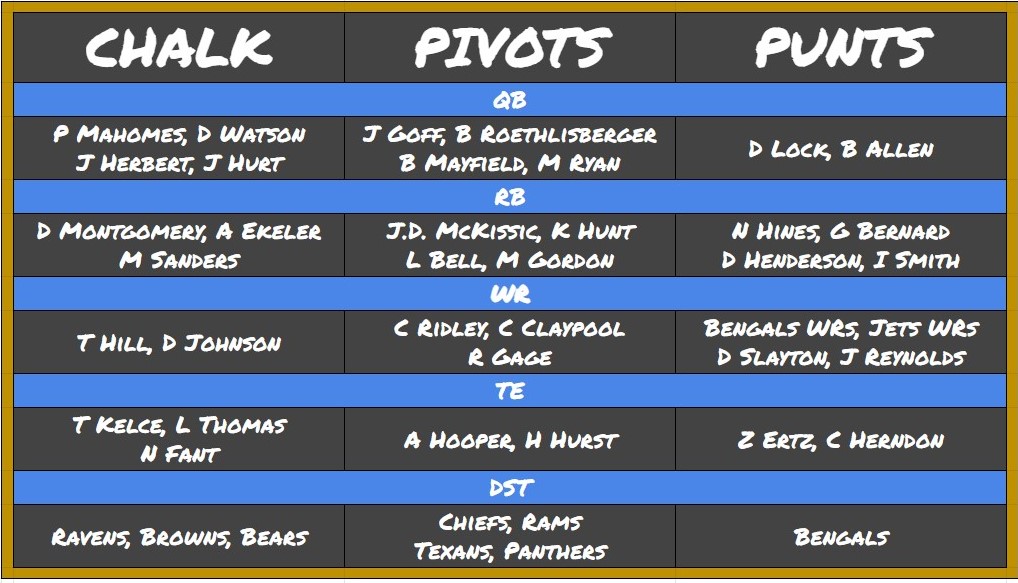 QUARTERBACKS
BEST BETS: Patrick Mahomes, Deshaun Watson, Justin Herbert, Jalen Hurts
PIVOTS: Jared Goff, Ben Roethlisberger, Baker Mayfield, Matt Ryan
PUNTS: Drew Lock, Bengals QB
The "Best Bet" group are all obvious plays, so I won't go into great detail. Patrick Mahomes faces a defense that has improved under Raheem Morris but is still allowing over 20 points per game (aside from the Raiders game) and is a pass-funnel defense. Lamar Jackson is on a roll right now and faces a tight defense but has allowed Wilson and Murray to each run for 45+ yards against them in recent weeks. Deshaun Watson has been left for dead on a terrible Texans roster but keeps putting up better than expected point totals. His mobility will keep the Bengals from teeing off on a spot like they did with the stationary Roethlisberger last week. That was also the Bengals "Super Bowl" and they are likely to fall flat this week. The Broncos are down to street free agents and practice squad players at cornerback and Justin Herbert has already had a 3 TD game against them this year. The combination of Jalen Hurts running and passing is going to be a problem for the Cowboys defense. In the Cowboys game against Arizona, they allowed Kyler Murray to run for 74 yards and a TD while throwing for two more tuddies. A couple of weeks later, the Boys let Lamar go for 94 yards and a TD on the ground while throwing 2 more through the air. Hurts' main competition for TDs will come from Miles Sanders because of how soft the Dallas run defense has been this year.
Let's get into the pivots, who are still a bit obvious and likely to have similar rostership as the pay up guys. Jared Goff is in a tough divisional matchup that has the top seed in the division at stake. Goff threw for 300-yards last time against these Seahawks but didn't connect for any TDs (or run any in). This week the Rams will be without Cam Akers and Seattle is a tough run defense as it is. McVay is going to have to find a way for Goff to win this game for them, which could include another 300+ yards and hopefully some TDs. The Steelers need to get their poop in a pile before the regular season ends. They don't want to back into the playoffs like this. There was a time when we had to be wary of starting opposing pass offenses against this Colts defense but that ship has sailed. The Colts have allowed an opposing QB and one of their receivers to post 300+ passing and 100+ receiving yards in 4 out of their last 5 games, with the only miss being Tannehill (221) and A.J. Brown (98). The others were Rodgers (311) / Adams (106), Watson (341) / Coutee (141) / Hansen (101), Carr (316) / Agholor (100), and Watson again (373) / David Johnson (106). That game with both Coutee and Hansen hitting for 100 yards gives us hope that Ben Roethlisberger could bring another receiver along, too. In that case, I would target a Ben/Diontae/Claypool stack.
The Browns are a run-first team but Baker Mayfield is still sneaking in some 30 point games (3 this year). The Jets have been easier to throw on than run and are allowing the second-most points per game to the QB position. There may be enough people staying away from Mayfield because of the running game and his own quirks that we can get him (and Goff) at low ownership in this spot. I had Matt Ryan in the pivot section last week and failed to use him in more than one lineup. He's in a similar game as he was last week with a tough defense in front of him, except he won't be playing in his dome this time. Brees threw for 3 TDs against this defense last week, albeit in his dome, but then we see a guy like Teddy Bridgewater go into KC and throw for 300 yards against them. The Falcons have no running game and will give up points forcing Matt Ryan to try to keep pace. He could fail spectacularly this week but he's in a good setup for a cheaper QB and might go low-owned.
Punt QB is tough this week. Drew Lock has rushing ability and has already had a good game against the Chargers this year. If the Chargers pull ahead quickly, Lock will have to throw (another 41 times?) and run quite a bit to keep pace. The Chargers are second, behind only the Broncos, in fantasy points allowed through QB rushing. The Bengals QB (Brandon Allen or Ryan Finley) are not going to put up 30 points but at the bottom of the barrel, they might be able to find 20 against this Texans defense, especially if Houston gets out to a commanding lead and forces the Bengals to abandon the run.
RUNNING BACKS
BEST BETS: David Montgomery, Austin Ekeler, Miles Sanders
PIVOTS: J.D. McKissic, Kareem Hunt, Le'Veon Bell, Melvin Gordon
PUNTS: Nyheim Hines, Giovanni Bernard, Darrell Henderson, Ito Smith
I have to admit, I'm a bit uncomfortable putting David Montgomery here but he has shown an incredibly high floor these past 4 games and Jacksonville has allowed other bell-cow backs to truck them during that same span. The Bears are a bubble team looking to get into the playoffs and would love to make this a short game by running the ball and Patterson's injury last week could add touches for D-Mo here. Austin Ekeler isn't a great value by recent fantasy points per current (spiked) salary as his ceiling game since returning to the field has been 23.9 DK points. However, he does have upside for more here. In the Chargers last game against Denver, a game where Ekeler was out, the Chargers RBs posted 10 catches (on 14 targets) for 76 yards and a touchdown. That alone is 23.6 points so if we assume Ekeler eats most of that pie and goes on to do anything productive in the running game, then he could get near 30 points. Miles Sanders is in a great setup this week and will probably be heavily rostered because of it, although he has burned many people this year, so perhaps there's some trepidation here. However, he's only 2 points behind Montgomery for the top spot on the RB Matrix for the Sunday slate and has been featured more with Hurts under center. In the two games played with Hurts, Sanders has 31 of the 34 possible RB carries and 7 of the 9 RB targets.
J.D. McKissic is now priced above $6k at just under $1k per his average target count per game this year. Assuming Gibson remains out for this game, the best way to attack the Panthers has been with a RB and/or a TE. That plays right into Alex Smith's style of play (assuming he's healthy) and also seemed to fit Haskins new style last week. I don't love the price on McKissic here but there's not a lot to love at RB this week and McKissic saw 23 opportunities to touch the ball last week, putting him at a Bell-Cow workload at an RBBC price. Nick Chubb's salary does not appeal to me in this spot because he'll need a multi-touchdown game and 100-yards to hit value. The Jets have been able to limit many opposing running games but Cleveland will still be able to move the ball on the ground as they like. However, it will be done through a 2 back system and one of the backs costs much less than the other and is also the one more likely to see multiple targets if the Jets are slowing the ground and pound down. Kareem Hunt is nearly $2k less than Chubb but has been a "1-B" component to the offense more often than just a change of pace guy. Although the divergence between touches has tilted more toward Chubb lately, this may be a spot where they need Hunt to even it up a bit more and there won't be many people there to reap those points on this type of slate. Le'Veon Bell will get a shot at a lead role this week with CEH listed as doubtful. Atlanta is a tough defense to run on but Andy Reid can adapt the game-plan to feature Bell in the short passing game to get around hand-offs. The Falcons are allowing opposing backfields to see 9.9 targets per game, including last week's 9 targets to the Bucs RBs. This is a great, late-season chance for Bell to showcase himself for a new contract next year. Melvin Gordon is starting to heat up. Over the Broncos past three games, Gordon has not seen that many more opportunities per game than Philip Lindsay but he has been able to produce better results with his touches. Last week he had 2 rushing TDs and 3 weeks ago he had 131 rushing yards. Over the last three weeks, Gordon has averaged 16 opportunities per game which is par for his salary here. The Chargers defense is 6th-worst in Rushing DVOA, allows 7.6 targets per game to RBs, allows 3 total TDs per game, and MG3 has to be itching for another shot at his revenge game against his old squad.
The Steelers allowed their second-most rushing yards of the season to the Bengals last week. There's a good chance Indianapolis tries to follow that same game-plan but the Steelers should be better prepared for it after a bad game like they just played. This could push the Colts into a more balanced, if not a more pass-heavy approach which would involve more Nyheim Hines than Jonathan Taylor. Hines is $2300 less salary on DK this week and comes with a solid enough of a floor that if he doesn't get more work, at least he may not sink the rest of the build. Giovanni Bernard had 25 carries and 1 target last week against a much better run defense than he'll see against the Texans here. If Ryan Finley starts at QB again, then Zac Taylor may call another run-heavy game to burn clock and keep the game close for as long as possible. The Rams will be without Cam Akers this week and McVay has said both Darrell Henderson and Malcolm Brown will both be heavily involved in the game-plan against Seattle. When deciding between the two, I'm leaning toward Henderson, who has been more productive and has seen more opportunities to touch the ball than Brown has. Brown will bump Henderson off the field on pass-protection downs and may snipe a TD from him but at this price, we'll take what we can get from Henderson. Henderson has three 20-point games on his resume this year, giving us a shot at a 5x score if the Rams find more success from their backfield than most teams have against the Seahawks this year. Raheem Morris has stated Ito Smith will be the Falcons lead back for the rest of the season. This would be great if it were a spot that is allowed to be productive, but then again, perhaps Ito is the spark this backfield is looking for? Smith is a minimum-priced RB play where you need it and may be able to score 10-15 points in this spot.
WIDE RECEIVERS
BEST BETS: Tyreek Hill, Diontae Johnson
PIVOTS: Calvin Ridley, Chase Claypool, Russell Gage
PUNTS: Bengals WRs, Jets WRs, Darius Slayton, Josh Reynolds
The WR landscape this week is quite unpleasant at first look. Lot's of good receivers in bad matchups. The Seattle guys going against the Rams corners doesn't look like must start situations (although Lockett at his price is a little more palatable than Metcalf). Guys like Allen Robinson (in his former employer game) and Keenan Allen against Denver may not require the volume needed for them to pay off their salaries. The Rams receivers have not seen the volume they are priced for and Seattle's defense has tightened up. Landry against the Jets looks good on paper but he's priced a tad too high. These are all better real football plays than this pretend football game we're playing. One or more of these guys could hit for a nice score (and I'll probably end up with a few of them in my player pool) but the price and probability have me bearish on them right now. Therefore, my WR write-up this week is a bit skinny.
Tyreek Hill is in the game with the highest projected total facing a secondary that has improved but is not good enough to stop him. Atlanta has allowed opposing WR groups to score 41.6, 40.9, and 54.9 in each of the last three weeks. Being that Hill gets saturated with the most targets in his offense, he could be getting the better portion of those type of numbers if that trend continues. Diontae Johnson is underpriced for how he is used. Johnson is the top read on most passing plays and is usually the top target in the end-zone. As we covered above with Roethlisberger, the Colts no longer need to be feared when looking at starting an opposing pass offense and with the way the Colts defend the run (less than 90 rushing yards allowed in each of their last three games), and with Pittsburgh not interested in running the ball anyway, we have a chance for Johnson and possibly a friend to come along with him in a nice Steelers passing attack stack this week. I like Johnson first but after that, I like Chase Claypool's deep role for an opportunity to hit on big plays that way. Calvin Ridley will need to have a good game for Atlanta to stay with the Chiefs. Even if Julio plays, it's still Ridley's gig to lead this offense. Julio or no Julio I even like Russell Gage in this matchup to pick up a 3x score at his $5100 price tag. He's been playing very well for the Falcons the past few weeks.
As we slide down the WR salaries I see a little more to like. Tee Higgins will be in a great spot if Brandon Allen is the starting QB and Tyler Boyd does not return from his concussion this week. If Boyd returns, then he's the guy I'll prefer as Houston has allowed 71% and 61% of the WR points scored against them over the last two weeks to come through the slot. In Allen's last game he had made a comment about getting A.J. Green more involved and he noticeably looked to get him the ball more than he had in the past. If Allen starts, I'll look to target Bengals receivers a bit more than I would with Finley in there. The Jets are not likely to catch the Browns off-guard after they bushwhacked the Rams and will likely fall behind at some point and have to throw. Unfortunately, this means Darnold spikes from 25 pass attempts into the low 30's so only one Jets WR may be viable this week. Jamison Crowder has been hard to trust but he's usually the highest floor piece in this passing game and is the only one with more than one 20 point game this year. Breshad Perriman has a 30 point game and a bunch of busts and Denzel Mims is still looking for his first twomper. Darius Slayton has 8 and 9 targets over the past two weeks and is priced below $4k. He carries big-play potential that has essentially turned to dust under Jason Garrett's play-calling but the opportunities are starting to flow his way again and he could post another ceiling game (he has two games over 20 points this year). The last time the Rams played the Seahawks I was targeting Josh Reynolds as the top pick from the trio since he has the downfield role, which is the role you want to target when picking DFS WRs against this Seattle secondary. Last time he was talked up a lot more than I've seen so far this week on Twitter but perhaps people will get there again with him. I'm already there.
TIGHT ENDS
BEST BETS: Travis Kelce, Logan Thomas, Noah Fant
PIVOTS: Austin Hooper, Hayden Hurst
PUNTS: Zach Ertz, Chris Herndon
Travis Kelce's price is getting insane but if you want to have the best shot at crushing that position, then he's the guy. Atlanta started the year off hemorrhaging points to the TE position but has since tightened up against the position so there is still some risk, even with Kelce. Logan Thomas has developed a nice floor over the past 4 weeks and had a nice breakout last week. Carolina has had their struggles defending the TE position this year so he's in a good setup here. Noah Fant is another TE coming off a breakout game and looking to continue the pattern. The Chargers have good corners and will funnel pass attempts to the inside. Waller just posted a 33 DK point game against the Chargers last week and they've allowed 3 other 20 point games to TEs this year (if you round up the 19.6 game that Fant and Okwuegbunam (who stole a TD from Fant) put up against LAC last time). Fant could easily get near his 20 point game form last week in this spot.
Austin Hooper carries a low floor this year but has a matchup against the defense allowing a whopping 17.7 PPR points to TEs this year, most in the league. Hooper's 6 targets were second to Landry's 8 last week and he's not priced up for this matchup. Hayden Hurst has had a more bankable floor than Hooper this year and is priced $100 less. The Chiefs have surrendered 24+ points to the TE position in 3 of their last 5 games as their corners have been great at taking away WRs. Matt Ryan may be forced to look inside for Hurst more often than usual in this game. Zach Ertz was targeted 7 times last week as he's worked his way back from injury and irrelevance this year. One of those targets was good for a 42-yard catch, another was good for a 27-yard catch. Unfortunately, the rest fell incomplete. That type of yardage and target count is a nice find at the $3100 price point this week. If going for a minimum-priced TE this week, Chris Herndon doesn't look too bad. Cleveland allows the second-most points to TEs (behind the Jets themselves) and has allowed at least 12 points to the position for the last 6 weeks straight (almost 7 but that game was 11.9).
DEFENSE/SPECIAL TEAMS
BEST BETS: Ravens, Browns, Bears
PIVOTS: Chiefs, Rams, Texans, Panthers
PUNTS: Bengals
The Ravens are masters of taking away the ball and Daniel Jones has mostly been a master of turning the ball over. He's not playing completely with a full bill of health which could affect his play and decision making. The Browns and Bears are facing the two teams trying to out-lose each other for the #1 pick and may not get much of a fight from either. The Falcons offense has been know to roll out a stinker from time to time. The Chiefs at home could fluster Ryan and company and keep them from scoring much and grabbing some sacks along the way. The Rams defense scored 13 against Seattle in their game earlier this year and the Seahawks offense has only regressed since then. They could be in line for a similar score here. The Bengals have the 2nd-worst OL-vs-DL matchup for the Main Slate and won't surprise the Texans like they did last week when they gave everything they had to beat the Steelers. Watt and the gang should be able to get some sacks here. The Washington OL has had a hard time protecting their QBs this year and if Haskins starts he adds some volatility to the offense where turnovers become more likely. The Panthers are starting to improve along their DL as the year has gone along and could feast on Haskins or Smith. The Texans have the second-worst Adjusted Sack Rate in the league and the Bengals are starting to finally get to the QB as the season is coming to a close. Watson is no stranger to a sack making the Bengals my favorite DST under $2500 for this slate.
FINAL THOUGHTS
After running through the slate it seems to me we can pay up and get whatever RBs we want this week and pay down at WR to either squeeze in the upper-tier QBs or load Kelce into the build. One of the things I've come away with after this round of research is that I really like the Steelers passing stack this week and Goff + Henderson + Reynolds is a cheap way to attack one of the more interesting games of the slate. If you haven't noticed yet, I made some slight changes to the layout of the Matchup Chart in The Workbook and one of the changes was to add some of the T.O.P and Pace data into the Game Environment section. Right away, two teams jump out at me from having that data all in one block and they are the two L.A. teams. Both have a TOP advantage against their opponent, both have a solid pace of play, both run a good amount of plays per game (my data only counts plays that could lead to fantasy points, so actual pass attempts (not all dropbacks) and rush attempts), and both are in situations where their opponent will allow them to run the number of plays they want. Denver will have to make the game competitive enough to feel strong about rostering Herbert/Allen so I really like the Ekeler angle from that game this week, as he'll be involved in any game-script. This is where I'm at for now (Wednesday night). My player pool should be ready sometime today (Friday) and will evolve throughout the weekend as I see where the holes in my builds are and what players at those salary spots look like reasonable plays. You can follow along with my Player Pool and Injury tabs in #TheWorkbook and are welcome to holler at me on Twitter @majesstik1. As always, best of luck to you this week, and thanks for reading!
Popular Pages & Links
STAY IN TOUCH
Sign up for FantasyData's newsletter and get awesome content sent to your inbox.
We'll never share your email address and you can opt out at any time, we promise.
---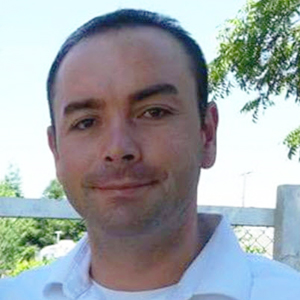 NorCal native Jesse Jones has been obsessed with fantasy football since first joining and winning a league in 1994. Always looking for an edge, Jess has been ahead of the curve mining data and building customized spreadsheet rankings and projections while others showed up to draft day asking for a pencil and a cheat sheet. Avid DFS, Best Ball and Re-Draft player that dabbles lightly in Dynasty. When not geeking out on Fantasy Football, Jess can be found hiking, kayaking, swimming, playing tabletop games, cooking, trading equities, listening to good tunes and/or enjoying a craft brew or two.