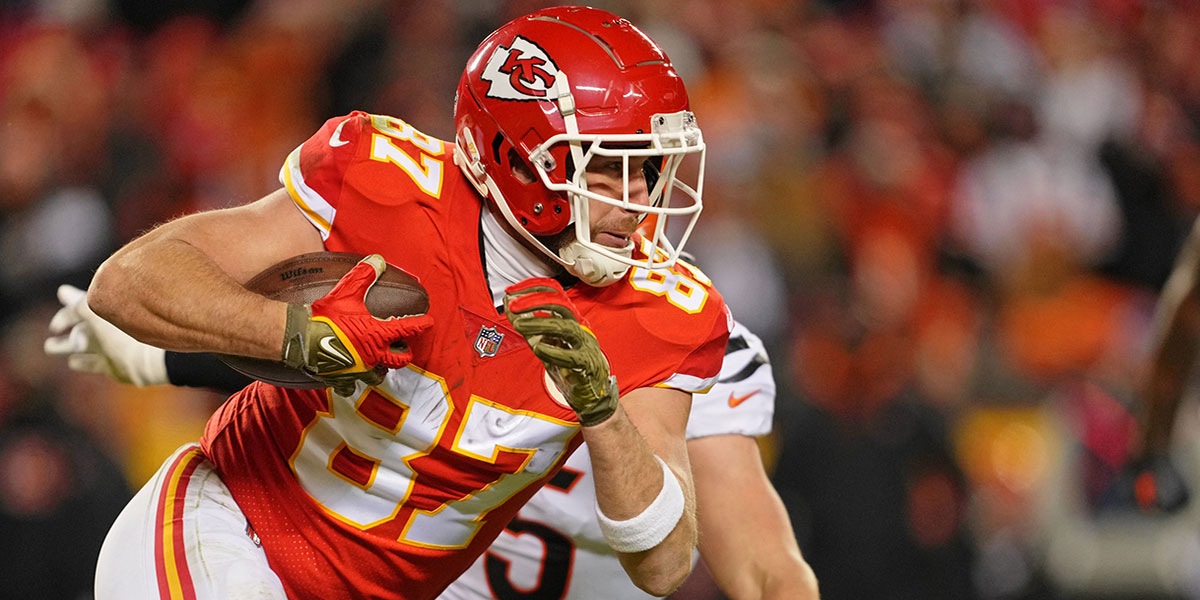 DraftKings Showdown DFS: Super Bowl LVII
---
The NFL DFS season is done with multiple-game slates, late-swap, and uncovering hidden gems. NFL DFS is now about a Super Bowl one-game showdown between the Philadelphia Eagles and the Kansas City Chiefs. On DraftKings, who are the players we should prioritize in the Captain slot, who are the best overall plays, and where can we find potential value with such a small pool of players?
Showdown slates are much different than cash games or GPP tournaments in not only roster construction, but in correlation. Assuming you are playing tournaments for the big game (cash games for Showdown slates are a fool's errand), it is essential to construct a narrative of how you feel the game will go and then build a story around that potential outcome.
Let's dive into some of the best options for the Captain spot, flex spots, and value plays
Quick Links
Captain Spot (1.5x Scoring)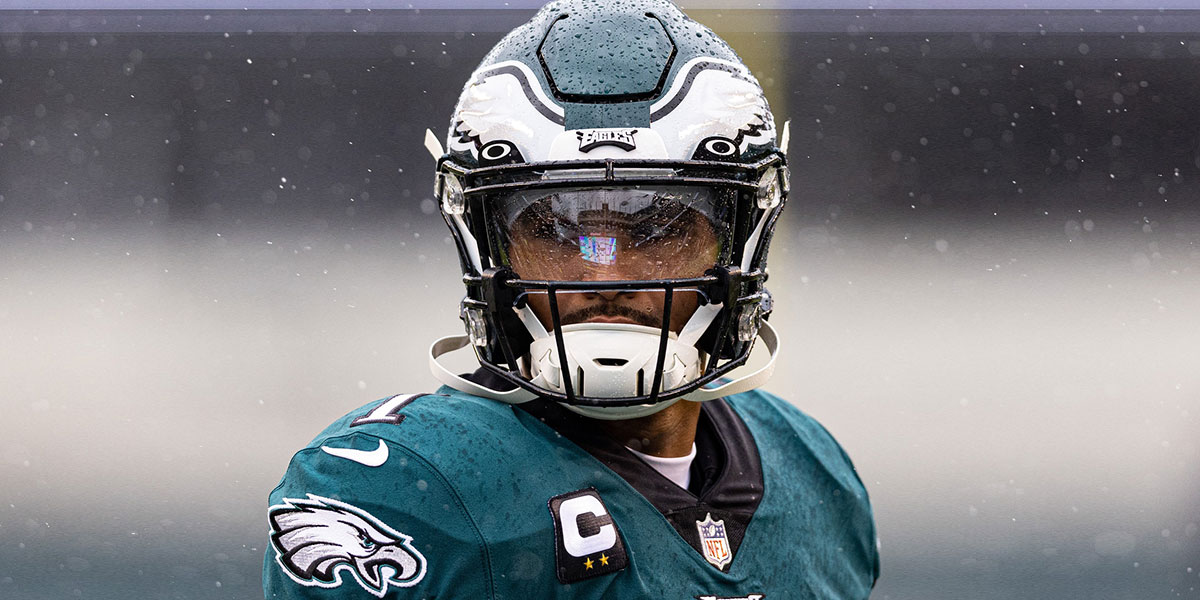 Jalen Hurts ($16,800) is unlike to face another situation as he did in the NFC Championship game where Brock Purdy got hurt in the first quarter and the game was essentially over shortly thereafter. In that contest, Hurts managed just under 15 DraftKings points but STILL rushed the ball 11 times in addition to his 25 pass attempts. Prior to two weeks ago, the last time Hurts scored under 21 fantasy points in a fully healthy game was Week 6 against Dallas. Chris Jones on the Kansas City defense has been a monster this postseason, which could cause Hurts to have to run a few more times than expected. But even if Hurts gets a clean pocket for most of the game, the Chiefs allowed the most passing touchdowns per game this season (1.8 per contest).
Patrick Mahomes ($16,500) will be playing in his third Super Bowl in six seasons and the first two have been a mixed bag of results. In 2020, he threw for 286 yards and two touchdowns while also rushing for another score against the 49ers. In 2021, he threw for just 270 yards and no scores (plus two picks) in a game where the Buccaneers blew out the Chiefs from start to finish. So, which one do you think it will be this year against the Eagles? If the Chiefs are going to compete or win this game, it will surely be on the back (and on the slightly injured ankle) of Patrick Mahomes. Where he goes, the team goes. I prefer Hurts over Mahomes in the captain slot for this game, but if anyone is going to blow up for 400 passing yards and three passing touchdowns, it will be Mahomes.
Travis Kelce ($15,900) is an incredibly powerful piece of your roster in a points-per-reception site like DraftKings. He has shown with 25 targets and 21 catches in his two playoff games this year that he is still clearly Mahomes' number-one option, especially in the Red Zone. Kelce may not have reached 100 yards receiving since Week 16, but he has three touchdowns in his two playoff games and is the most likely receiver on either team to reach 10 catches or 100 yards. Even in the blowout against Tampa Bay two years ago, he still had 10 catches for 133 yards.
Flex Spot
A.J. Brown ($9,200) was built in a laboratory for such a game as this. Brown is a physical freak of nature both off the line and in space with the ball and has the speed and agility to match up and beat any of these mediocre Kansas City defensive backs. Does it bother me that Brown has 50 total yards in two playoff games this year? It absolutely does not. Brown has one game under eight targets since Week 14 and has over 90 yards receiving in four of his last six. While Devonta Smith is attractive as a deep threat in this game, Brown has a little bit of "do everything" in him that will likely make him a favorite target for Hurts in any semi-competitive matchup.
Isiah Pacheco ($7,200) may have just seen another level of his play unlocked in the AFC Championship game when he was targeted six times by Patrick Mahomes in addition to his 10 rush attempts. Pacheco hadn't seen six targets in his previous five games but Mahomes went his way early and often against the Bengals two weeks ago. If that trend continues and Pacheco supplants Jerick McKinnon as the pass-catching back, even for one game, this could be a big spot for Pacheco, especially if the Chiefs build a lead. The Eagles were a top-six team against wide receivers this year, which led to a running back funnel where they were just middle-of-the-pack defending the position. The Eagles allowed over 115 rushing yards in six of their last seven games.
Dallas Goedert ($6,400) seems to have a salary that is way too low for his utilization in this Philadelphia offense since his return from injury. Goedert has at least five targets in four straight games and his five catches led the Eagles in the NFC Championship game. The Chiefs allowed the fifth-most touchdowns to opposing tight ends this season as their linebacking group proved to be the weak link in the Red Zone for much of the season. Goedert already has four Red Zone targets in just two playoff games, which trails only Kelce and Hayden Hurst this year.
Value Plays
Skyy Moore ($3,800) was very much a part of the game plan in a close matchup against the Cincinnati Bengals two weeks ago. Moore drew seven targets in that game, which was a season-high. He only turned them into three catches for 13 yards, but it says a lot about the confidence Kansas City is developing in him that they would go to him seven times in a win-or-go-home game. Wide receiver is a complete toss-up right now with Moore, Juju Smith-Schuster, and Marques Valdez-Scantling all getting involved in various ways, but Moore is certainly the best option in terms of points-per-dollar. If you think this is a pass-heavy game script for the Chiefs, I would certainly sprinkle some of him in.
Eagles DST ($3,600) is sure to face their biggest and toughest over the last couple of months as they take on the league leader in passing yards and passing touchdowns. But they have faced up against whoever was in front of them and come out on top more often than not. The Eagles defense has scored at least nine DK points in six of their last seven games and they allow the fewest passing yards per game this season (171.0). Combine that with their historic 11.5% sack rate this year and a potentially hobbled Patrick Mahomes (four interceptions in his two Super Bowls) could be in for a long game.
Boston Scott ($3,000) - not Jalen Hurts, Miles Sanders, or Kenneth Gainwell - leads the team in rushing touchdowns over the past three games, scoring once in each one of these do-or-die games for Philadelphia. Yes, the past two games have been blowouts and the third was in the last week of the season against the Giants' backups, but it's clear that the Eagles have a place for Scott on a game-to-game basis. He has at least six rush attempts in three straight games and averages 36 rushing yards in each of those. Even 25 rushing yards and a score in the Super Bowl is enough to pay off this salary which is $2,000-$4,000 lower than all the other relevant running backs in this game.
Sample Super Bowl LVII Tournament Lineup
In this sample lineup, the game script calls for a Chiefs blowout with Patrick Mahomes' normal red zone targets getting all the touchdown love. Travis Kelce in the captain spot won't be nearly as popular as the two quarterbacks, even though we have seen how he can blow a game wide in PPR scoring just like he did against the Jacksonville Jaguars in the Divisional Round. There is certainly a scenario out there where a dominant Chiefs pass rush forces Jalen Hurts to make several mistakes and it leads to a few Jake Elliott field goals instead of touchdowns. Add in a Devonta Smith garbage-time touchdown and we have ourselves a Super Bowl narrative! Find the story or stories you think work best for you and build the lineup you think works best for that. Unlike cash games, don't be afraid to leave some salary on the table if it fits the narrative.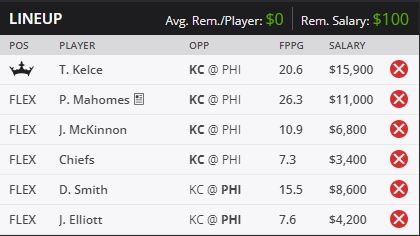 STAY IN TOUCH
Sign up for FantasyData's newsletter and get awesome content sent to your inbox.
We'll never share your email address and you can opt out at any time, we promise.
---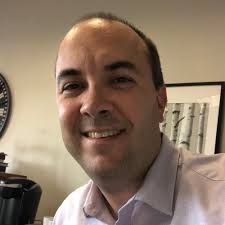 Ryan is a 20-year veteran of fantasy baseball, football, and basketball leagues. He has been writing about fantasy sports, sports betting, and DFS since 2018 and is a member of the FSWA and IBWAA. A native of Houston, he is a die-hard fan of the Astros, Rockets, and - reluctantly - the Texans. When he is not buried under sports analysis, he works full-time in higher education and can be found pursuing his other passions: drinking coffee and writing about comic book investment and speculation.