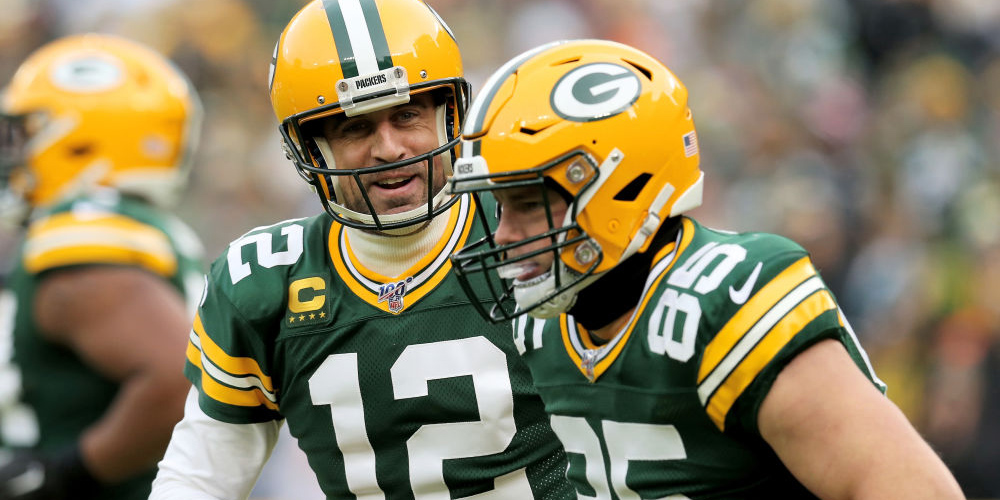 Dynasty Football: 7 Players to Sell in 2021
---
Dynasty Sell High Candidates
One of the biggest advantages of joining dynasty football leagues is that fantasy enthusiasts are not encumbered by an inactive offseason. In dynasty formats, the traditional lull between the Super Bowl and the NFL Draft is a prime time to reshape a roster and makes moves for both short- and long-term success.
With no NFL Scouting Combine taking place this spring, the 2021 NFL offseason will be vastly different than any other recent campaign, and that could lead to some golden opportunities for dynasty managers to take advantage. While acquiring players on the verge of a breakout is always a popular topic, selling high on players who may have already peaked is just as vital towards keeping a dynasty roster competitive for many years to come.
Here are some players that make sense for dynasty managers to consider trading away as we move closer to the 2021 NFL Draft.
Derrick Henry (RB) Tennessee Titans
Henry has developed into one of the most impressive rushers in recent NFL history but his fantasy value will never be higher. Fresh off a league-leading 2,027 rushing yards and 17 touchdowns, there's simply nowhere to go but down. Even though Henry just turned 27 and has the size to withhold plenty of punishment, the history of running backs who have surpassed 370 touches in a season is alarming. As my good friend Gary Davenport discovered four years ago, only two running backs dating back to 2007 have topped 370 touches and followed up that season with positive results the following year. The average attrition rate from 2007-2016 was over 30% and has been worse in the past four seasons.
PLAYER
TEAM
AGE
YEAR
TOUCH
YDS
YEAR
GAME
TOUCH
YDS
CHG%
David Johnson
ARZ
24
2016
373
2118
2017
1
17
90
-95.60%
Le'Veon Bell*
PIT
25
2017
406
1946
2018
0
-
-
-100%
Ezekiel Elliott
DAL
23
2018
381
2002
2019
16
355
1777
-11.30%
Christian McCaffrey
CAR
23
2019
403
2392
2020
3
76
374
-84.40%
*held out next season
Just because events happened in the past doesn't mean they're destined to repeat, but the numbers validate that taking that many hits, even for an elite athlete like Derrick Henry, takes a massive toll on a player's long-term health. The additional losses of WR Corey Davis, TE Jonnu Smith, WR Adam Humphries (192 combined targets), and RT Dennis Kelly, who started all 16 games in 2020, also indicate the 2021 Tennessee offense could look quite different. As great as Henry has been, his dynasty value will never be higher and he could bring a handsome haul in return, including plenty of ammo to snag one of the top-notch rookie rushers heading into the league.
Michael Thomas (WR) New Orleans Saints
2020 was a forgettable season for Thomas, who entered the year as a popular pick as the top dynasty wideout and every bit worthy of first-round considerations. Thomas battled injuries, a benching, and was held scoreless on a career-worst 40 receptions and 438 yards. Now, with Drew Brees retired, Thomas's days of absorbing 12-plus targets per week are in jeopardy as the Saints will have to dramatically rework their offense to accommodate for the loss of Brees. Regardless of who wins the starting job between Taysom Hill and Jameis Winston, it's hard to see Thomas matching his elite numbers posted during his first four campaigns. While still in his prime at 28, Thomas has now been eclipsed by several younger rising star wideouts but should be able to net a handsome return in trade talks.
Adam Thielen (WR) Minnesota Vikings
31 when the 2021 season opens, Adam Thielen is nearing the end of his days as a consistent WR1 in PPR leagues. Mike Tagliere did a study and found there is a consistent dropoff in production once a wideout hits 32, so this could be high time to cash out while the getting is good. Thielen posted top-10 fantasy numbers last season thanks to a career-high 14 touchdowns on an NFL-high 20 end-zone targets. With Justin Jefferson taking over as the Vikings' No. 1 wideout, both of those totals look ripe for some significant regression. Thielen can probably net you a first-round rookie pick or more in return and the 2021 freshman wideout class looks awfully tempting.
David Montgomery (RB) Chicago Bears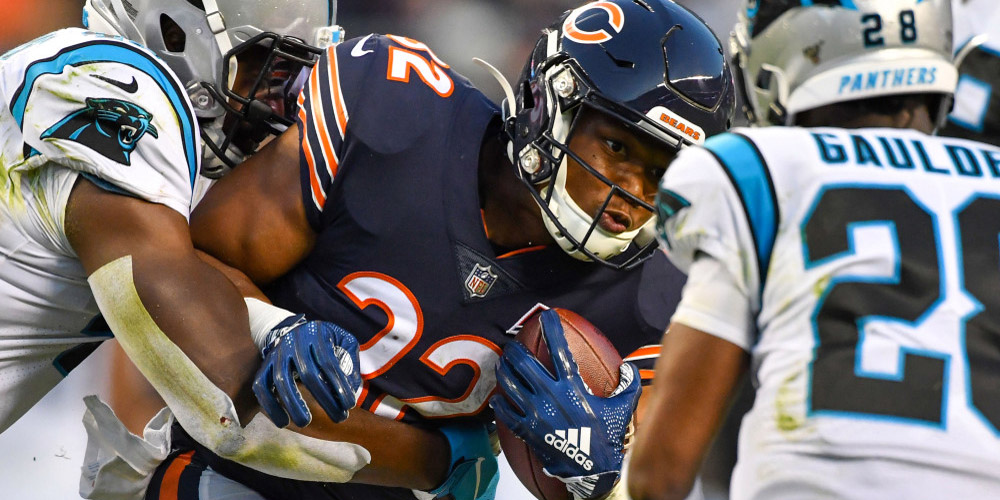 Montgomery improved all-around during his sophomore campaign, surpassing 1,000 rushing yards and posting a top-5 season in PPR scoring. But a full 41.4% of Montgomery's production came via the pass after he snagged 54-of-68 targets and finishes fourth among all running backs with 438 receiving yards. The reason Montgomery was so involved as a pass-catcher was due to Tarik Cohen's torn ACL back in Week 3. Montgomery only saw three targets per game while Cohen was healthy but jumped to 5.4 weekly targets once Cohen was sidelined. With Cohen expected to be fully healthy heading into 2021, expect Montgomery's production to take a significant hit, giving dynasty managers a prime window to cash out on a back at his peak.
Hunter Henry (TE) New England Patriots
Find the person in your league who thinks the Patriots want to recreate the Gronk/Hernadez era with their recent acquisitions of Hunter Henry and Jonnu Smith and see if you can convince them Henry will be the Y tight end. Both Smith and Henry posted top-10 run-blocking grades via PFF in 2020 and with New England re-signing QB Cam Newton as the presumptive 2021 starter ahead of the draft, Henry could be doing plenty of in-line blocking this season. New England's passing offense with Newton under center was atrocious and it's had to envision enough production to see either Henry or Smith wind up as top-10 fantasy options. Instead, we'll likely see inconsistent week-to-week usage that has all the makings of a frustrating situation to avoid in 2021.
Robert Tonyan (TE) Green Bay Packers
Despite ranking just 24th in targets, third-year Packers' tight end Robert Tonyan finished as the No. 3 PPR scorer at the position thanks to his 11 touchdown grabs, which tied Travis Kelce for the league lead. Nearly one-fifth of Tonyan's catches went for a score, while Kelce, who will retire as the greatest tight end ever, boasts a career TD rate of 7.8%. That's simply not a sustainable touchdown rate for Tonyan, even with uber-efficient QB Aaron Rodgers under center. Tonyan ranked 22nd with a 63% snap share but excelled at getting open downfield. Only four of his targets were contested catches. I fully expect the Packers to be targeting a wideout early in the deep 2021 rookie class, and that would take further targets away from Tonyan. Considering how thing the depth at tight end is, it would be understandable to want to hold on to the soon-to-be 27-year old Tonyan, but his trade value will only go down.
J.D. McKissic (RB) Washington Football Team
28 when the 2021 season kicks off, McKissic shook his journeyman label by posing an incredible, and position-leading 110 targets last season after never surpassing 50 throughout his career. But the addition of QB Ryan Fitzpatrick to compete with Taylor Heinicke and possibly even an early-round rookie should mean fewer targets are going to be thrown at or behind the line of scrimmage. Newly-signed WR Curtis Samuel will also be a huge factor as both a runner and on those shorter throws, taking further opportunities away from McKissic, who is also expected to see fewer snaps as RB Antonio Gibson takes on more of a featured role in his sophomore season. McKissic received 195 combined targets and carries last season and ranked 10th with 0.98 fantasy points per opportunity, but I don't expect him to come anywhere near those figures again.
STAY IN TOUCH
Sign up for FantasyData's newsletter and get awesome content sent to your inbox.
We'll never share your email address and you can opt out at any time, we promise.
---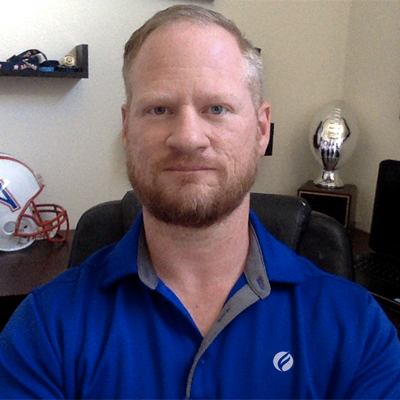 Jody is a member of both the Pro Football Writer's of America (PFWA) and Fantasy Sports Writer's Association (FSWA) and has been covering the NFL and fantasy football for over a decade. Jody won FantasyPro's Most Accurate Expert contest and also garnered the FSTA's accuracy award in 2012. A Houston native, Jody has covered the Texans locally since 2016 for both digital and radio audiences. Past writing stops include CBS Sportsline, Gridiron Experts, Pro Football Focus, Fanball, FantasyPro's. Jody is also a frequent guest on SiriusXM and Houston radio and his work regularly appears in print on newsstands each summer.