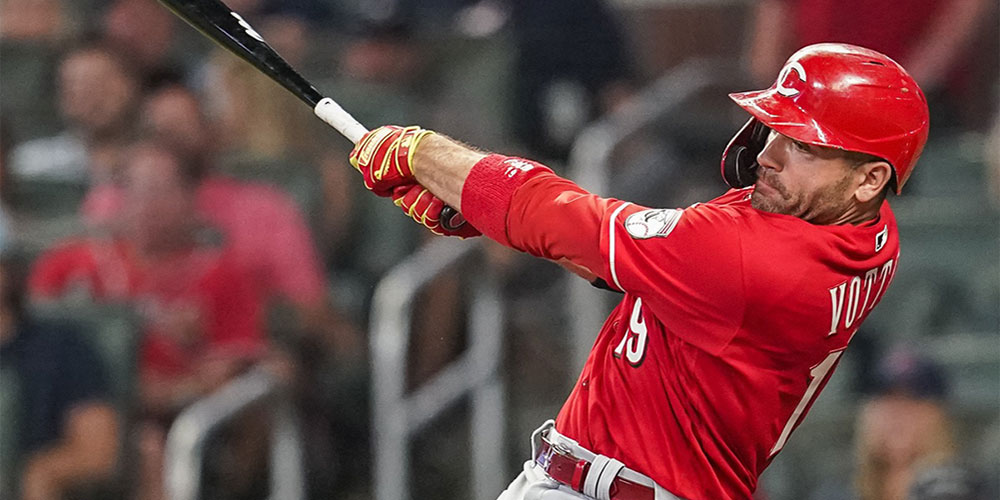 Fantasy Baseball Stock Report (AUG 16th)
---
Fantasy Baseball Stock
Way back in February, I listed several sleeper hitters that need more love. Two of those included Bryan Reynolds and Joey Votto. Both of which have either dominated as of late or consistently produced throughout the season. It seemed fitting to discuss both hitters. In this fantasy baseball stock report, we'll discuss a trio of hitters and pitchers that have seen their value increase in 2021. We'll analyze and discuss the possible reasons for their success and how we should value them moving forward.
Bryan Reynolds (OF - PIT)
After a down 2020 season where Bryan Reynolds landed on the paternity list, his NFBC ADP sat outside the top-300 picks. In 2020, Reynolds hit seven home runs with one stolen base and a measly .189 batting average. After hitting .314 in 2019, Reynolds bounced back in 2021 with 21 home runs, 68 runs, 71 RBI, three stolen bases, and a .309 batting average. Through 476 plate appearances, Reynolds already set a career-high in home runs and looks like he's on pace to set career bests in runs and RBI.
Reynolds thrives on a healthy 24.5% line drive rate and a slightly above-average zone contact rate at 86.9%. Although it may look like Reynolds' .358 BABIP runs a bit high, he typically boasted high BABIPS throughout the 2019 season and his minor league career. His 10.3% barrel rate increased from his 2019 season with his above-average quality of contact measures on Baseball Savant. Both Reynolds .395 wOBA and .384 xwOBA sit in the top 8% of the league. Stock up for Reynolds, and don't expect his ADP to sit low in 2022 even though he plays on the Pirates. Reynolds is a quality and consistent hitter that contributes in four categories with some chip-in steals.
Joey Votto (1B - CIN)
Hopefully, fantasy managers didn't write off the 37-year-old Joey Votto, who looks to hit over 30 home runs for the first time since 2017. In 2015 and 2016, Votto almost reached that mark at 29 home runs, but he's no longer the run-scoring and RBI machine back in his prime. Or at least Votto hadn't shown that during a stretch from 2018-2020. However, in 2021, Votto's 26 home runs come with 75 RBI and a healthy .279 batting average. Often we think of Votto with his elite on-base skills, and he still provides that with a 12.2% walk rate and .372 OBP.
In 2021, Votto boasts a much more aggressive approach, evidenced by a 24.9% O-Swing%, 11.4% swinging-strike rate, and a 43.2% Swing%. For reference, Votto didn't show numbers near this season since 2010 and 2011, when he recorded 37 and 29 home runs.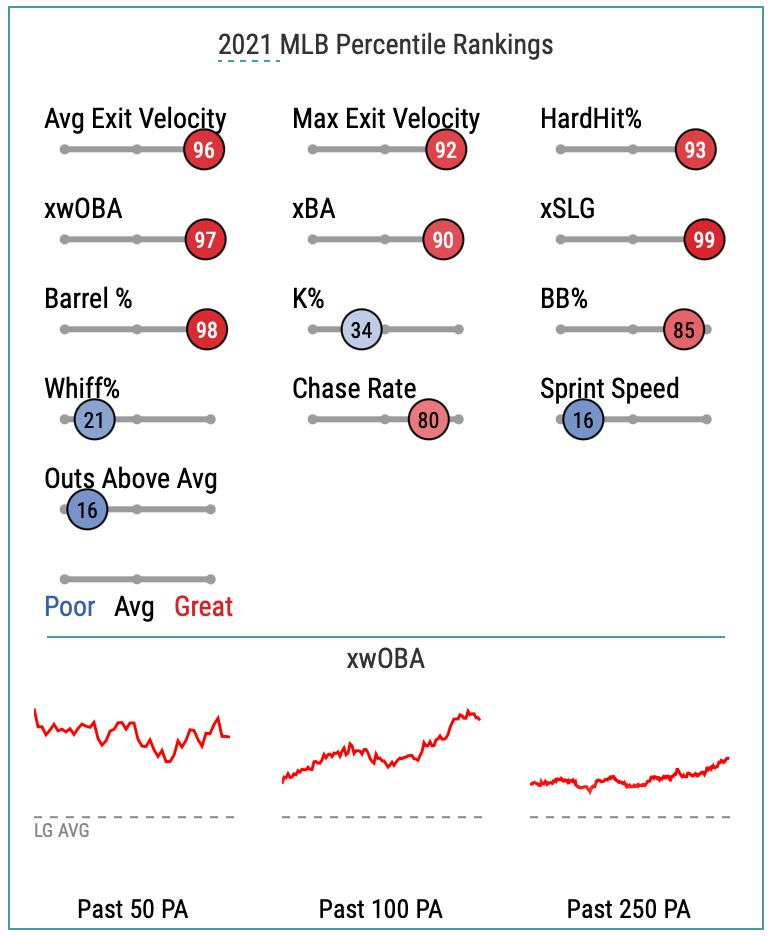 Not only does Votto use a more aggressive approach, he smashes baseballs with an 18.5% barrel rate (98th-percentile), 114.1 maximum exit velocity (92nd-percentile), and 52.8% hard-hit rate (93rd-percentile). Amongst hitters with 200 batted ball events, Votto ranksNo. 14 with a 97.5 mph exit velocity on FB/LD near Joey Gallo and Nelson Cruz. Votto's batted ball data backs up his career resurgence, and we love it when the skills back up the production.
Rafael Ortega (OF - CHC)
After two mainstays in our lineups, let's discuss a bit of an under-the-radar type player in Rafael Ortega of the Cubs. At 30 years of age, Ortega bounced around from six other major league clubs before landing with the team in 2021. Over the past 21 games since July 23, Ortega batted leadoff outside of one game, not including a pinch-hit at-bat. During that time, Ortega has four home runs, 13 runs, 11 RBI, and four stolen bases with a .408 batting average. Ortega's .510 BABIP boosts his batting average, but it still comes with a 9.4% barrel rate and a ridiculous 38.5% line drive rate.
It looks like it's a matter of playing time or lack thereof in Ortega's previous MLB stints. Ortega showed the ability to steal bases with 14 in 2019 at Triple-A and 17 combined in 2018. Although Ortega's 7.1% barrel rate and 109.5 mph maximum exit velocity don't wow us, he's swinging a hot bat and providing value in deeper leagues. Make sure Ortega isn't hanging around on waivers, which he likely isn't given his 90% roster rate in 15-team TGFBI leagues.
Zack Wheeler (SP - PHI)
In the offseason, I labeled Zack Wheeler as one of my must-have starting pitchers heading into the 2021 season. Admittedly, I didn't think he would perform so well that he would put himself into the Cy Young conversation. Wheeler's 2.56 ERA, 0.99 WHIP, 29.3% strikeout rate, and 5.5% walk rate in 162 innings pitched make him one of the top starting pitchers in real-life and fantasy baseball.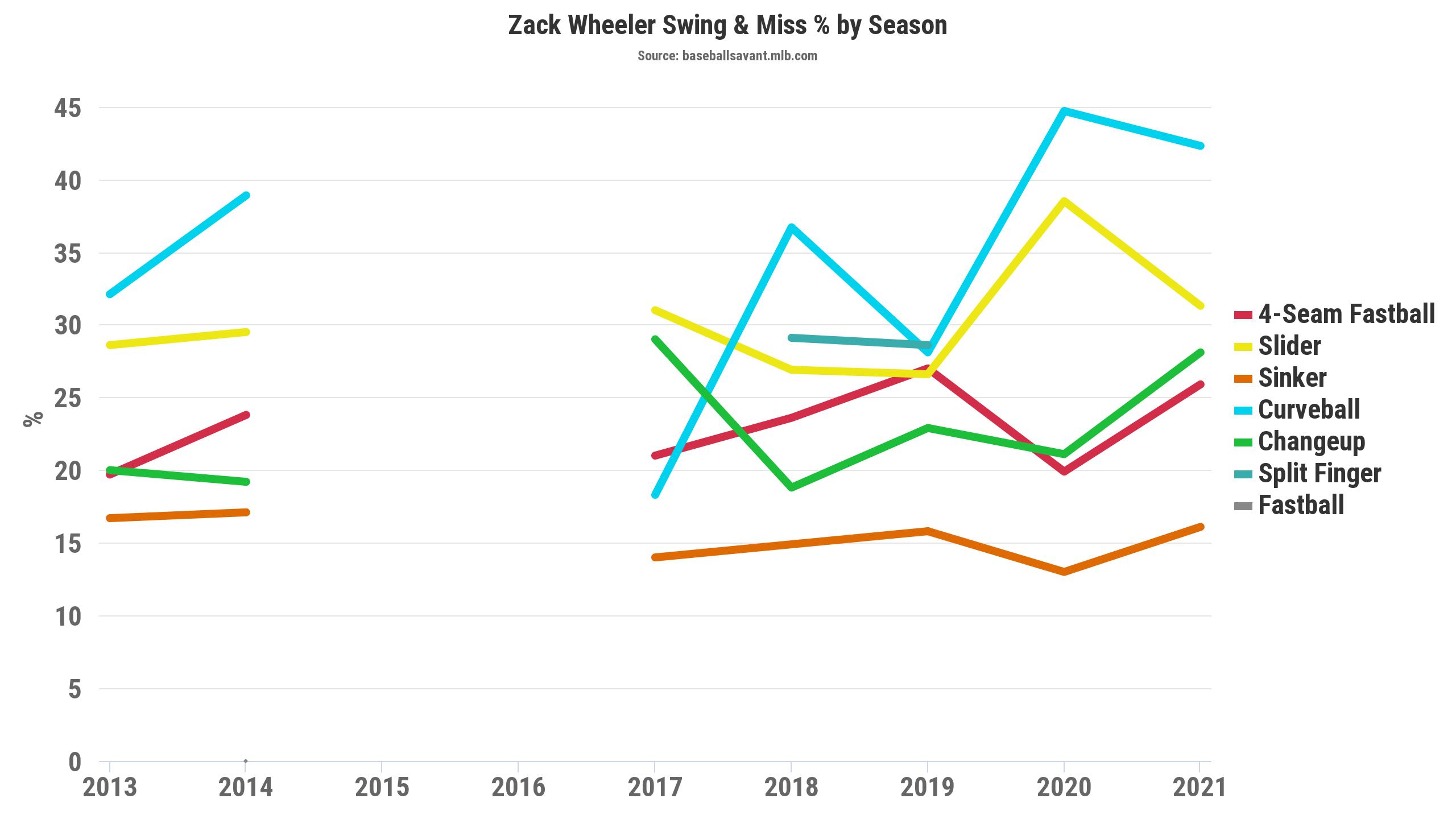 All of Zack Wheeler's pitches have near-elite results in 2021. Some question marks surrounded Wheeler after quality ratios yet a lower strikeout rate last season. Wheeler hammers the zone with a 65.1% Zone% on the four-seamer and 57.8% Zone% on the sinker. His slider and curveball have high swinging-strike rates with a 15.7% SwStr% on the slider and 17.9% SwStr% on the curve. If Wheeler keeps it up, he'll have a 2022 ADP inside the top-10 amongst starting pitchers and going as an ace.
Yusei Kikuchi (SP - SEA)
After two seasons at the MLB level, Yusei Kikuchi made changes and grew throughout the process leading to a breakout 2021 season. Kikuchi's 3.82 ERA, 1.21 WHIP, 26.1% strikeout rate, and 8.8% walk rate 129 2/3 innings pitched almost all ended up as career bests outside of the walk rate.
Interestingly, Kikuchi's cutter, which he uses 36.5% of the time, performed worse than last season when he added the pitch. Kikuchi's cutter elicits a 19.7% whiff rate, down from 24.8% in 2020. Meanwhile, the .472 SLG and .386 wOBA allowed jumped from a .366 SLG and .315 wOBA last season. So far, it looks like Kikuchi's career-best .269 BABIP and 79.8% LOB% have helped keep his ratios in check.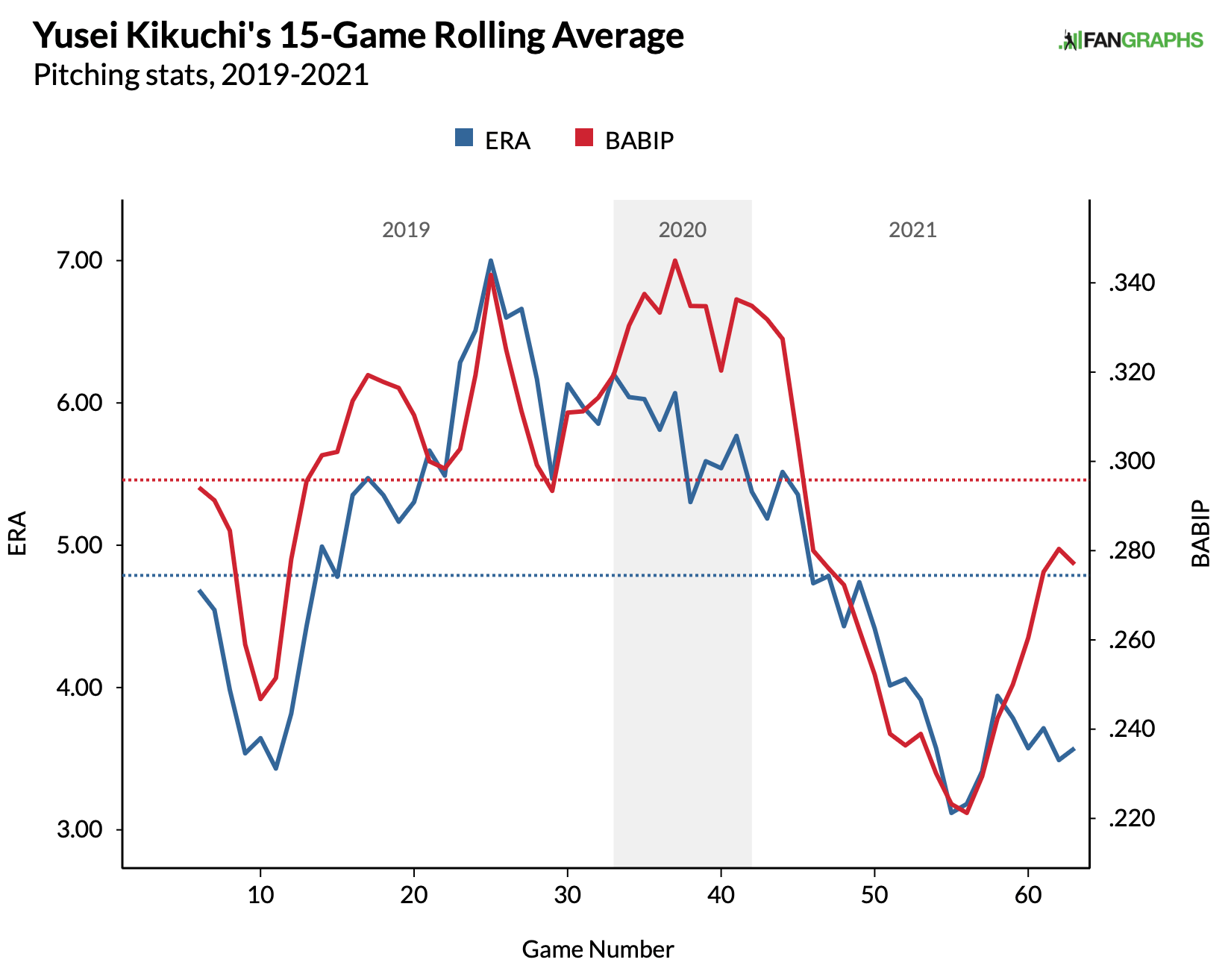 The ERA estimators don't look too optimistic for Kikuchi with a 4.49 FIP, 3.89 SIERA, and 4.48 xERA. However, we should still roll out Kikuchi in most starts, given his success and skills this season. It seems logical that Kikuchi either lowers the cutter usage or makes the tweaks needed to yield positive results again.
Logan Webb (SP - SF)
The Giants look like one of those teams where we should want Giants on our fantasy squads. From a pitching standpoint, they've improved the fantasy and real-life output for Logan Webb and Anthony DeSclafani. Although Webb came off and on the injured list a couple of times, he produced when healthy with a 2.96 ERA, 1.14 WHIP, 26% strikeout rate, and 7.5% walk rate.
Since Webb returned in early July, he boasts a 1.75 ERA, 0.94 WHIP, 25.9% strikeout rate, and 6.5% walk rate. Part of Webb's recent success is due to the low .244 BABIP allowed and 90.9% LOB%. As a ground ball pitcher, Webb induced a 63.3% GB% during the hot stretch, similar to his season-long 60.2% GB%.
What's contributing to Webb's success? It looks like Webb's sinker, changeup, and slider have intriguing profiles. Webb's sinker moves 8.2 inches more vertically than the average sinker. Meanwhile, Webb's changeup drops eight inches more than average. Webb's slider looks filthy with a 46% whiff rate and a .193 wOBA allowed.
After a rocky MLB career before this season, Webb is breaking out in 2021. Make sure he isn't hanging around on waivers, especially in shallow leagues. If Webb maintains this level of success with quality ratios, we expect his ADP to jump. In trading leagues, it's worth attempting to acquire Webb.
STAY IN TOUCH
Sign up for FantasyData's newsletter and get awesome content sent to your inbox.
We'll never share your email address and you can opt out at any time, we promise.
---

Corbin is passionate about fantasy baseball and football. He loves diving into and learning about advanced metrics. Corbin is a Mariners and Seahawks fan living in the Pacific Northwest. Corbin's other hobbies are lifting weights, cooking, and listening to fantasy sports podcasts.