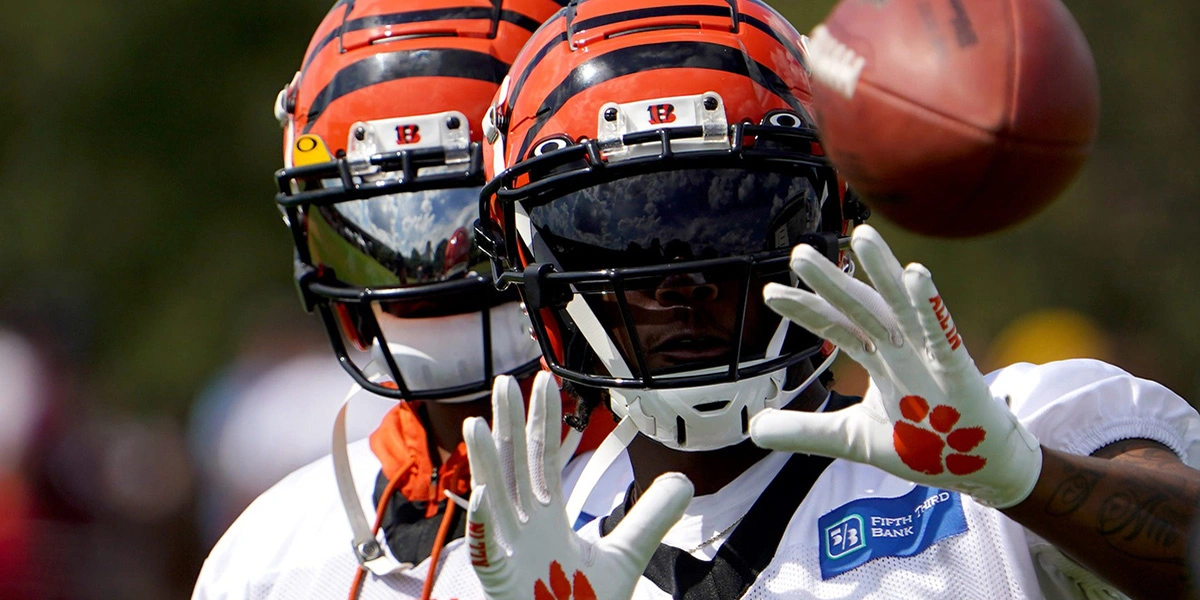 Fantasy Football Beneath the Surface: Week One Breakdown
---
Beneath the Surface: Week 1 Recap
Another week of NFL football, another pile of data to sift through looking for clues. Clues as to what lead to certain results and clues for speculating what might be coming next. They say, "looks can be deceiving." The same can be said for surface-level statistics in fantasy football. In this weekly article series, I will be looking beneath the statistical surface, beyond the standard box score, using the premium statistics provided by FantasyData, including advanced and efficiency metrics across the fantasy skill positions, to search for puzzle pieces that fit together.
The Red Zone
The opponent's red zone (from the 20-yard line to the endzone) is a valuable area of the field, whether throwing passes, taking hand-offs, or catching passes. For good reason, a player's opportunity and efficiency in the red zone are highly scrutinized on a week-to-week basis. Who are teams entrusting with those high-value opportunities, and which players are making the most of those opportunities? Touchdowns are known as a "non-sticky" statistic in fantasy football meaning they are more difficult to predict or rely on compared to the other fantasy point-scoring methods (yards and receptions being the other two). But this should not be confused with TDs being completely unpredictable or unreliable.
Among WRs, according to FantasyData's advanced efficiency metrics, Ja'Marr Chase lead the way in Week 1 with six red zone targets, and five of those targets being in the end zone. It's bizarre to consider Chase's PPR WR4 finish as a negative in any way, but he was very close to adding a few more TDs to his day, including barely missing an amazing game-winning TD (his second foot was out by a matter of inches). This bodes well for Chase as he finished with only 12 red zone targets (tied for 34th) last season.
Other than Chase, there were eight other WRs in Week 1 with more than one end zone target: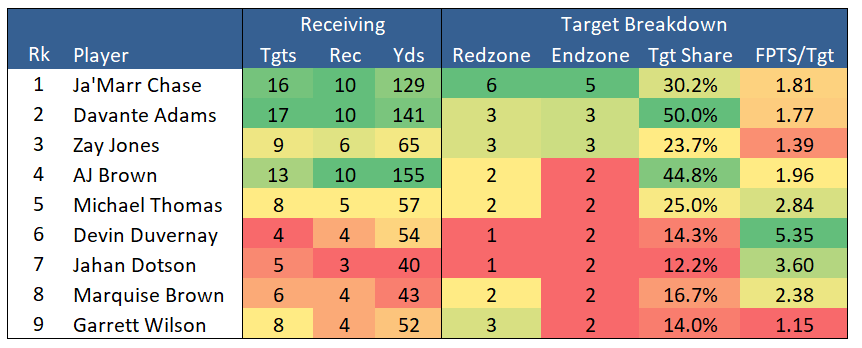 ---
Sign Up Today To Continue Reading...
The rest of this article is for FantasyData Subscribers only. Luckily for you, now is one of the best times of the year to subscribe. We are offering amazing deals on our Annual subscriptions. That means you get all our awesome DFS content, projections, rankings, and tools along with downloadable data for one full year. You will be set up for the rest of this NFL season and almost all of next year!
STAY IN TOUCH
Sign up for FantasyData's newsletter and get awesome content sent to your inbox.
We'll never share your email address and you can opt out at any time, we promise.
---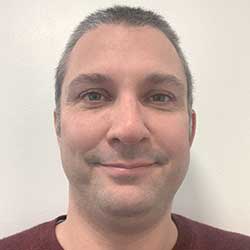 My name is Scott Rinear and I live in Seattle, Washington with my wife, two daughters and golden retriever (Jasper). Our biggest passion as a family is camping. We camp at least 10 times a year. My biggest passion personally is fantasy football. I have been playing fantasy football since 2006 and started producing content in 2020. I am a lifelong Seahawks and Mariners fan and will continue my fandom for the SuperSonics once they return to Seattle. I love everything about football, especially analytics and data analysis, and I'm a sucker for a good spreadsheet. I am a proud member of the Fantasy Sports Writers Association (FSWA).