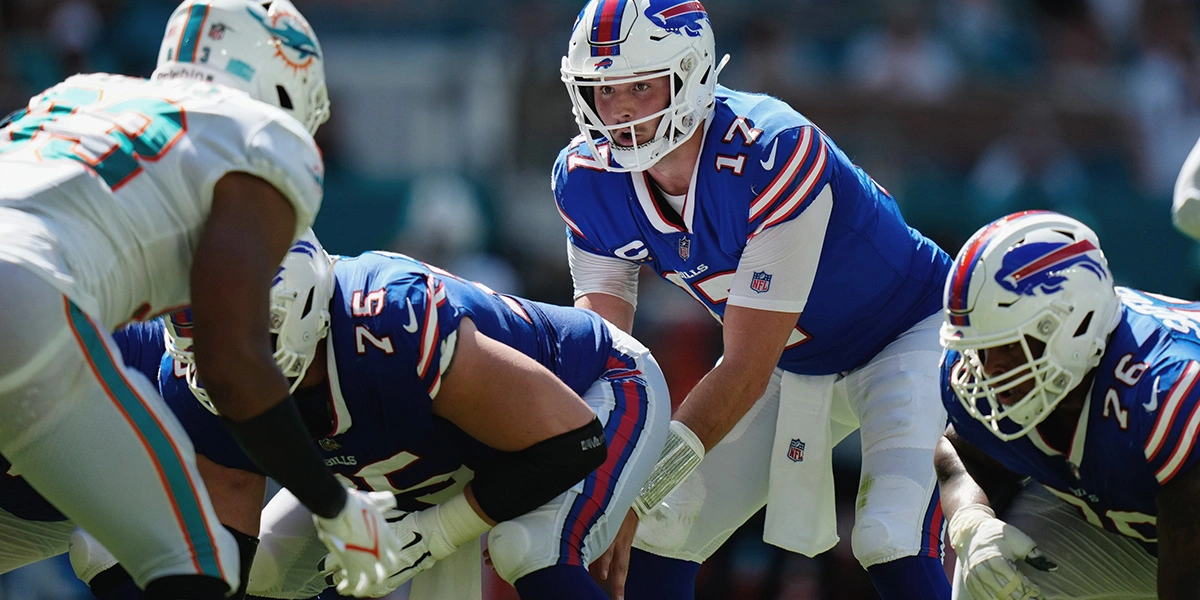 Fantasy Football Recap and Overreactions: Week 3
---
Week 3 Fantasy Reactions
So this week was interesting, to say the least. Miami upset the Bills in south beach. Josh Allen had 400 passing yards, and the Dolphins escaped with a win. It was thrilling. Browns took down the division rival Steelers to get a much-needed win, boy do the Steelers have some figuring out to do. The bears won a barn-burner against the Texans. Raiders fall to 0-3, failing to turn the Davante Adams trade into gold so far. Colts upset the Chiefs in Indy, Vikings escape Dan Campbell and the Lions, Ravens topped the Patriots and Lamar is making his contract more and more expensive for the Ravens. That man is balling out! The Bengals earned a much-needed win and will face my Dolphins on Thursday night. Eagles cruised by the Commanders who forgot how to play football The passing yards in that game was 323 to -1 at one point. Yikes. Panthers stole one from the Saints, but Jameis is playing through injury, so that doesn't help. Jaguars shocked the Chargers even though they were missing Allen and Herbert was broken. Rams got a nasty win against the Cardinals, Falcons pulled off the W vs the Seahawks, Packers edged by the Bucs and the Broncos barely beat the 49ers. That chunk of games were not thrilling to say the least.
Browns vs. Steelers
The Steelers have to figure something out. There's way too much talent on their team to be losing games and only scoring 17 points. How do you let Jacoby Brissett beat you? It wasn't JUST Brissett, though. Nick Chubb ran for 113 yards and a score, David Njoku caught nine passes for 89 yards and a score alongside Amari Cooper's big night with 7 catches for 101 yards and a touchdown. Solid night for the Browns offense. The same can't be said about the Steelers. Najee only had 61 TOTAL yards. 56 of them were rushing. If Najee Harris is only recording five receiving yards, there is something wrong. PPR king Diontae Johnson had eight catches for 84 yards, but no score. My fantasy teams need him in the end zone. The bad part is he was the only productive receiver. If you ask me, it's time for Matt Canada to go. The Steelers need to not be okay with mediocre football.
Panic or Patience: Najee Harris - Last week, I was telling you I am panicking. Now, I'm telling you my feelings haven't changed. Yes, he scored 13 points, which is not terrible. But, he was being drafted in the first round, and the expectations are always higher for those players. I hope the Steelers switch up their offensive scheme going forward.
Luck or Trend: I told you last week that Amari Cooper would trend in the right direction, and here we are a week later and he scored 23 points. Amari Cooper should be in your lineups going forward.
Bears vs. Texans
I absolutely love that Dameon Pierce is getting the bulk of the work. 20 carries for 80 yards and a touchdown. 18 fantasy points for the rook! How about Khalil Herbert scoring 30 fantasy points?? David Montgomery goes down and the sophomore running back comes in and leads the Bears to a clutch victory behind his 157 yards and two touchdowns. The fact that Justin Fields had 106 yards passing and the Bears won is ridiculous. Davis Mills didn't have that great of a day but it wasn't terrible, 245 passing yards and two touchdowns. Brandin Cooks posting 4 points is unusual, but he still led them in targets. Hey, on the bright side, Cole Kmet scored points! 2 catches for 40 yards, woohoo! I hope to god he gets utilized more going forward. This game was gross, so there's not much else to say here.
Panic or Patience: Darnell Mooney - I'm in full-on panic mode here. Mooney had the chance to be the WR1 for the Bears but their passing game is nonexistent. Mooney has 4 catches for 27 yards on the SEASON. Very bad.
Luck or Trend: I told you last week to be patient with Dameon Pierce and I'm telling you this week his 18-point week with a bulk of the work is going to be a trend. It may not consistently happen, but he is going to have good weeks moving forward.
Titans vs. Raiders
Well, would you look at that, Derrick Henry is back. 20 carries for 85 yards and a score while also catching five passes for 58 yards. Tannehill did the bare minimum to get his team the win, and they almost blew it. Robert Woods showed up, logged four catches for 85 yards. Treylon Burks disappeared which was strange. Only had 1 catch for 13 yards. I hope that doesn't continue. Way too much talent there. Carr had a decent day, he reached 300 passing yards and threw two touchdowns. Their run game wasn't very successful, Josh Jacobs only logged 66 yards on 13 carries. He had good average yards per rush, but no score, and little production is not a good day. How about Mack Hollins? 8 catches for 158 yards and a touchdown. Love to see that out of the former Dolphin. I wish we still had him! With no Renfrow, Hollins stepped up in a big way, it just wasn't enough. Raiders fall to 0-3.
Panic or Patience: Derrick Henry - Turns out, you don't have to panic on Derrick Henry. Week 2 was just a weird week. He is the king and will continue to be the king. Don't panic on him anymore!
Luck or Trend: Mack Hollins - This was a bit of luck. Hunter Renfrow was out, the Raiders were losing the whole time and Mack was the second option after Davante Adams was getting double-teamed. I don't see Hollins getting 10 targets going forward.
Chiefs vs. Colts
Vegas sportsbooks probably made a lot of money on this game. The Chiefs were favored -6.5 and then the Colts went on to win. What in the world? They failed to score against the Jaguars but can beat the Chiefs? That hurts my brain. The QB play was extremely average. Mahomes had 262 yards, and one touchdown and Matt Ryan had 222 yards and 2 touchdowns. Not bad, but not great. Simply can't have Travis Kelce logging more rush yards than CEH. Inexcusable. JuJu had a solid day, 5 catches for 89 yards, and was just missing a touchdown. Jonathan Taylor had a quiet game with 71 rush yards and 20 receiving. He needs to get in the end zone. Michael Pittman Jr. had a decent game reeling in 8 catches for 72 yards. Clearly, Pittman Jr. and Pierce being out in week 2 was the main reason they did not score. I wonder if the Colts will turn it around going forward? This was a weird game, I don't think you'll see this version of the Chiefs much this season.
Panic or Patience: Jonathan Taylor - Don't panic. Yes, you probably drafted him first or second overall and are expecting 20+ point weeks like in week one. But, today, he was one touchdown away from an 18 point week which is solid. He will be fine.
Luck or Trend: Patrick Mahomes - Two weeks in a row with 17 fantasy points. I'm starting to feel like Tyreek's absence is hurting Mahomes fantasy value. He was fine in week one, but now two weeks of sub-20 points? Interesting…
Dolphins vs. Bills
Something special is happening in Miami. Miami doesn't beat good football teams in back-to-back weeks. That has never happened in my 26 years of life as far as I know. They got a little fortunate in today's matchup, but it was a solid game and they came away with the W. Tua only had 186 passing yards and one touchdown. Much quieter game than week 2. He also hit his head on the ground so hard he stumbled when he started walking. I hope he's alright. He was okay-enough to launch a 44-yard game-changing pass to Waddle! Waddle salvaged his fantasy week with that catch. Without that catch he is at three catches for 60 some yards. This is ironic because Tyreek had two catches for 33 yards. Quiet week for both of them. Without Chase Edmonds finding the end zone twice, the Phins would have struggled to stay in this game. Thank you for paying Edmonds. I'm shocked to be writing this, but Devin Singleary led the Bills in receiving. Nine catches for 78 yards and a touchdown. Isaiah McKenzie had a great day too. He hauled in 7 catches for 76 yards and a score. Diggs put up seven receptions for 74 yards, but no score this week. I'm really glad we "shut down" Diggs. He still had a solid day, but we forced the Bills to find other ways to succeed.
Panic or Patience: Dawson Knox - He only had 6.5 points in a game where his QB threw the ball 63 times…probably time to panic and replace for a better option if you can. See if Tyler Conklin is available in your leagues.
Luck or Trend: Chase Edmonds - While he only had 21 rush yards, his 2 touchdowns won't be a consistent thing. A little luck on this one, but if you played him in fantasy good for you!
Ravens vs. Patriots
Lamar Jackson is killing it in fantasy this year. Another 40-point week for him. He is their starting quarterback and running back. 218 yards in the air, 107 on the ground with five touchdowns. Incredible day. Hell, incredible two weeks in a row! Other than Lamar, Mark Andrews was the only other noteworthy fantasy player. Andrews topped 28 points. He was targeted 13 times. Thirteen! Duvernay was the only other double-digit scorer with 10. But he is only rostered in 17% of ESPN leagues so that doesn't really matter. The Patriots may be 1-2, but they have fought in every game. Mac Jones threw for 321 yards! But he also threw three interceptions…he is stinky. Now he's dealing with an ankle injury. Rhamondre Stevenson, was the Patriot RB to play this week; who would've thunk? Not me, I played Damien Harris in a lot of places. Rhamondre wound up with 20 points and Damien just shy of 13. Devante Parker had a huge week. He brought in 5 catches for 156 yards. 20 points on the week! He was really the only receiver who had a decent day. The Ravens got a much-needed win, and the Patriots took another L.
Panic or Patience: Rashod Bateman - I wouldn't panic here. He had solid weeks in week 1 & 2, just didn't connect on a couple of passes. Completely different day if they do. Just a down week for Bateman.
Luck or Trend: Devante Parker - This week was a lucky one for Parker. Jakoby Meyers was out, and they had to pass way more than typical. I would be surprised if he kept up this production.
Bengals vs. Jets
Joey Franchise is back! 23 points this week thanks to 3 touchdowns and 275 passing yards. Love to see it. What I don't love to see is Joe Mixon hurt. He got banged up in this game and Perine took over the workload. I had a good call, I felt it was going to be a big Tyler Boyd game and then he had 105 yards and a touchdown. Tee Higgins also showed up, he had five catches for 93 yards (14.3 pts). Ja'Marr Chase got locked up by Sauce Gardner, but it doesn't matter since the other two WR's carried. Ja'Marr will be fine. The Jets, though they were down, felt like they were competing. They just couldn't get into the end zone. Flacco was just shy of 300 yards (285). The rush game was a measly 76 yards between Michael Carter and Breece Hall. In this game, Garrett Wilson came back to earth mainly because he got clocked on a pass. Elijah Moore is failing to produce, not what I expected. Breece Hall is getting lots of passing work. 11 targets on Sunday with six catches and 53 yards to compliment it. Tyler Conklin is continuing to be a fantasy asset, eight catches for 84 yards is such a solid fantasy day (16 points). Good to see the Bengals get back in the win column; now they have to face the red-hot Dolphins on Thursday Night Football!
Panic or Patience: Joe Mixon - Don't sweat it; I'm writing this on Monday, and he was already given the nod to play Thursday night. He won't practice more than walk-throughs most likely, but he is going to play.
Luck or Trend: Tyler Boyd - I think this is going to be a trend, HOWEVER, it will not be consistent. Boyd had 20.5 points this week, but it could be another three weeks or maybe even four before we see him pop off like this again. It's just what happens when Chase & Higgins are also on your offense. OH, and Joe Mixon.
Commanders vs. Eagles
I thought this would be a better game than it was. The final score was 24-8, but the Commanders didn't score until the 4th quarter. Also, the Eagles scored all of their points in the 2nd quarter. So for the entire second half, they were held scoreless. If Washington's offense could have shown up, they may have come back in that game. Alas, they didn't, and the Eagles won the divisional matchup. Jalen Hurts is killing it! Another fantastic game from him. 340 yards with three touchdowns is a solid day in the office. Miles Sanders stinks again, go figure. DeVonta Smith is good?! Who woulda thunk! Smith reeled in 8 catches for 169 yards and a score (30.7 points!). Great day for the second-year receiver. AJ Brown got his share of the pie, he caught five balls for 85 and a touchdown. Also a great day. Dallas Goedert snuck in there with a touchdown play that got him to 11.6 points. His managers were happy about that one. The same can't really be said for Carson Wentz, Antonio Gibson and Jahan Dotson managers. They had 21 points combined and one is a QB…yikes. Carson Wentz was on a tear. Now you see how bad he can be, yet good at the same time. Fly Eagles Fly!
Panic or Patience: Carson Wentz - I mean, if he is your QB1, you have a reason to panic because having 8-point weeks is not going to benefit your team. If he is not your only QB, you don't need to panic because you can play the other option when Wentz is going against good defenses.
Luck or Trend: DeVonta Smith - I don't think he's going to top 30 very often, but he went from 0 points, to 15, to 30 by week 3. DeVonta is going to get his chances in this offense. He will be a weekly play.
Saints vs. Panthers
The Saints and Commanders must've been on the same page this week because the Saints were also scoreless until the 4th quarter. Then you look at Jameis' stat line and he had 350 passing yards. Only one touchdown, but 350 is a solid day! Kamara led the backfield with 15 touches, but only racked up 61 yards. No score. Chris Olave was targeted 13 times and caught 9 for 147 yards. I wish he found the end zone because that would have taken his 23.7 point fantasy week and made it almost 30! The rook was cookin'! Michael Thomas had a quiet day, and that may have been because he got banged up. Either way, not what you want for your fantasy team. For Carolina, McCaffrey led the backfield with 25 touches and 108 yards. I wish he found the end zone. They need to use him in the passing game more. DJ Moore disappeared, 1 catch for 2 yards. I'm glad I have zero shares. Laviska Shenault Jr. had a 67-yard touchdown that came out of nowhere. And that's the only good that came from the Panthers offense. Baker stunk; he had 170 passing yards and one touchdown thanks to Shenault. Baker is no bueno.
Panic or Patience: DJ Moore - I think I'd be panicking here. Hopefully, you jumped on waivers to fill in that WR2 void Moore is giving you. I was completely out on him to begin with.
Luck or Trend: Chris Olave - Consecutive weeks with 13 targets and plenty of production with it. I'm going with trend here. It's obvious Olave is good at getting open and what do you know, Jameis can throw to open receivers. Easy start moving forward.
Jaguars vs. Chargers
I'll tell you what, it looks like something special is brewing in Jacksonville. Trevor Lawrence led the Jags to a 38-10 victory over the Chargers. Super Bowl contenders in a lot of people's eyes. I know Keenan Allen was missing, but there is plenty of talent on that offense to thrive without him. Austin Ekeler simply can't have four carries for 5 yards. I know he had eight catches for 48 yards, but without a passing attack, the Jaguars controlled that game. Joshua Palmer filled in as much as he could with Keenen Allen out; he had six catches for 99 yards, which in turn is 15.9 points. He led the Chargers in fantasy points because Justin Herbert had a quiet day with 12.5. On the flip side, how about James Robinson?! A value draft pick yet again. 17 carries for 100 yards and a touchdown. Heck of a day. Travis Etienne is getting carries, but isn't seeing a ton of production. Zay Jones and Christian Kirk had solid days! Jones had ten catches for 85 yards and a touchdown; Kirk had six receptions for 72 yards and a touchdown. I really like what Doug Pederson is doing in Jacksonville. He is building a culture and letting his talented players thrive. Love to see 3 Jacksonville players scoring 20+ fantasy points. Don't see that often!
Panic or Patience: Austin Ekeler - I said not to panic about him last week and I'm saying it again this week. With Allen out, Herbert playing through injury and the Jags dominating, Ekeler was not going to produce. He will be okay going forward.
Luck or Trend: Travis Etienne - This is a trend but in the wrong direction. If the Jaguars are winning games, I don't think we will see Etienne utilize his receiving abilities much because the Jags will run a ground and pound offense behind James Robinson. As we have seen them doing the past few weeks. It's only week 3, but the Jags look like a good football team.
Rams vs. Cardinals
Suddenly, Cam Akers leads the Rams in touches, and Henderson is missing. I'm guessing this backfield is going to be a hot-hand approach? Akers had 12 carries for 61 yards, but the Rams offense wasn't as electric as we've seen it before. Stafford only had 249 passing yards and did not throw a touchdown. There only touchdowns were an Akers rush and Kupp rush of 20 yards. You know it's a strange day when Ben Skowronek leads the Rams in receiving. The Cardinals didn't have a great day either. They only scored 12 points. All field goals, no touchdowns. Can't win games doing that. Kyler managed to throw for 300 yards, but that was it. James Conner wasn't productive, only had 39 rush yards on 13 carries. Hollywood Brown scrounged together 14 catches for 140 yards! Heck of a day. Can't believe he didn't find the end zone. Greg Dortch had a good fantasy day; he racked up 17 points thanks to having nine catches. Like I said, this game was very vanilla. Not much action, very little scoring. Not ideal for fantasy teams. The Rams escape this week, but man, do they look questionable?
Panic or Patience: Matthew Stafford - Yeah, I'm beginning to panic here. His ceiling thus far is 18 points. Hopefully, Stafford and the Rams can get things going but it has been a slow start for them.
Luck or Trend: Greg Dortch - This fella is filling in wonderfully for Rondale Moore and DeAndre Hopkins. 23 total targets through three games is solid. Keep him in your lineups until the rest of the WR group is back on the field!
Seahawks vs. Falcons
Look at Geno Smith go. 325 yards and two touchdowns! Love to see that. Unfortunately, they lost because their defense is bad. Rashaad Penny didn't do much. 14 carries for 66 yards is meh. No touchdown either. Lockett had a decent day, with 9 catches for 76 yards. No score, because that went to D.K. Metcalf and his five catch, 64 yard day. Metcalf scoring 17 was exactly what his managers needed. The only other fantasy-relevant player for the Seahawks was Will Dissly. He had 12 points thanks to his touchdown! While the Seahawks had some guys score well, the Falcons wound up getting the win. I would say that is partly due to Kyle Pitts getting the ball finally. He had 5 catches for 87 yards. I don't care that he didn't score, it is just good to see him getting the ball. Drake London still scored 15 fantasy points, but he saw less action than previous weeks. Cordarrelle Patterson, of course scored 22 points. He had 17 carries for 141 yards and a touchdown. Hell of day for the vet! I hope Mariota can keep providing for this offense. Falcons are in the win column!
Panic or Patience: Rashaad Penny - I'm out on him. Their offense is clearly pass-first, and Penny's ceiling is 8 points thus far. Find another option.
Luck or Trend: Geno Smith - It appears 18 points is probably going to be Smith's ceiling if you ask me. If that's what you want, then start him. But I'm not sure that's what I want in fantasy.
Packers vs. Buccaneers
On paper, this seemed like a great game. Aaron Rodgers vs. Tom Brady. What more can you want? The two best QB's of the past ten or so years. However, in reality, players that were out in this game included: Mike Evans, Chris Godwin, Christian Watson, Sammy Watkins, and Julio Jones. These two elite QB's were really tested this week throwing to rookies and practice squad players. Hell, Cole Beasley was a starter for the Bucs. What in the world? I will say, Romeo Doubs finally followed up on that preseason hype. His eight catches, 73 yards, and touchdown was good for 21 fantasy points. I doubt many started him, but there are lots of injuries so it is possible. Lazard also had a solid week with 14 points thanks to a touchdown. Still counts! The Packers' rush attack was MIA. Both Dillon and Jones combined for 68 yards. Not good. The same can be said for Fournette. He only had 35 rush yards but also got 35 receiving yards on five catches to save himself from a dud of a fantasy week. This game finished 14-12, and it was really boring to watch. Which is surprising for a game involving 2 of the greats to play QB. Oh well, hopefully, the Bucs WR's can heal up sooner rather than later.
Panic or Patience: Fournette - I'm not going to suggest panicking here. Without a single starting WR, the Packers were able to focus on shutting down the rush game. That's most likely why he did not find the end zone this week. That, and it's hard to move the ball with 4th-string WR's no matter how good of a QB you are.
Luck or Trend: Romeo Doubs - I think this is a happy mixture between luck and a trend. Doubs clearly has the ability to produce like this, and it's not like he had a bunch of huge plays. His eight targets can continue to be a thing, and I think it will be. All about establishing trust with Rodgers.
Lions vs. Vikings
The Lions may be the hardest 1-2 team to play in the NFL. It feels like when you play the Lions; you have to play perfectly because they will out-fight you. Vikings squeezed by here 28-24. Good ole Dalvin Cook showed up, 97 yards and a touchdown. No passing work for Dalvin, but maybe that was because he was banged up. I dunno. Just pondering. Has anyone seen Justin Jefferson?? 3 catches for 14 yards? Jeff Okudah locked him down… Jamaal Williams dominated with 87 yards and two touchdowns. Swift got hurt so he was not very productive. Amon-Ra St. Brown had an average day. He caught six passes for 73 yards. Didn't find the end zone but was super close on a diving play. He will bounce back in week 4. The Vikings got the win, it was a well-balanced game. Two passing touchdowns from Cousins and two rushing touchdowns. One from Cook and another by Mattison. Mattison should be an automatic add-off waivers if he is available somehow. Dalvin is supposed to miss some time; not sure how long. The Vikings should be happy Cousins was able to spread the wealth to Thielen and Osborn because Justin Jefferson got shut down. Solid W by the Vikings. Detroit takes another unfortunate loss.
Panic or Patience: Justin Jefferson - No, Justin Jefferson is not going to ghost us this year. He had 40-some points in week 1. Relax. Jeff Okudah just played a really good game.
Luck or Trend: Jamaal Williams - Besides being the starter the next few weeks while Swift is out, Williams has value on this offense. They clearly utilize him in the offense, and he's been handling goal line work. I like him as a starter going forward.
Broncos vs. 49ers
I'm not going to sugarcoat it, this game stunk. It was 11-10. It had little to no impact on fantasy besides screwing fantasy teams over. Deebo Samuel and Brandon Aiyuk were tied as the high scorers for the 49ers. They scored 12.9… I hope Jimmy G shakes this performance off. The Broncos were hardly better. At least from a fantasy perspective. Cortland Sutton scored 17.7 points, and Melvin Gordon had 16.5 points. Those scores help fantasy teams much more. Again, that's really the highlight of this game. The Bronco's look horrible, and the 49ers didn't look any better. If you missed it, Jimmy G ran out of the end zone on a pass attempt and got a safety…He pulled a Dan Orlovsky. I lied; that might be the highlight of the game.
Panic or Patience: I don't know about Russell Wilson right now. Things don't look good in Denver. I don't think I'm full-on panicking, but my comfort meter is teetering towards panic. Nathaniel Hackett has some shit to figure out.
Luck or Trend: Courtland Sutton - 3rd straight game in double digits. This is a trend. Despite the Broncos playing terribly, he is producing fantasy points. Imagine if the Broncos begin to click…
Giants vs. Cowboys
The Giants were 2-0 coming into this game. Wouldn't have guessed that before the season started. Good for Brian Daboll! He looks like he can put a competent football team on the field. Especially because he knows to run the offense through Saquon. Speaking of Saquon, how great is it to see him on the field doing great things? It's been two years too long. He had 126 scrimmage yards and a touchdown. Love to see it. His touchdown was a 36-yard run and man did it look cool. Sorry, I just enjoy watching Saquon do his thing. Daniel Jones himself had 79 yards rushing; that boy can move! Unfortunately, there were no pass catchers other than Saquon that had noteworthy performances. The Giants need someone to step up, especially now that it looks like Sterling Shepherd is going to be out for the season. The Cowboys had solid nights from a few people. Zeke had 73 rush yards and a score, Tony Pollard topped 100 rush yards, CeeDee Lamb caught eight passes for 87 yards and a score. Gotta be happy about a 23-point fantasy week from Lamb. Noah Brown came back down to earth, and if Michael Gallup returns next week, his production could see a halt. We will have to see. The Cowboys get a much-needed win, and Cooper Rush goes to 3-0 as a starting quarterback.
Panic or Patience: Sterling Shepard - It's not exactly a panic, but you can't be patient here. If you relied on Shepard as a flex play, you may want to pick up Richie James. I hate hate hate that Sterling Shepard can't stay healthy.
Luck or Trend: Saquon Barkley - This is a trend. He's a stud and is going to produce fantasy points. If he can put up 18+ against the Cowboys defense, which is not a defense to scoff at, then he is a lock every week.
Popular Pages
STAY IN TOUCH
Sign up for FantasyData's newsletter and get awesome content sent to your inbox.
We'll never share your email address and you can opt out at any time, we promise.
---

Ever since Tony decided he was going to major in Sports Management at the University of Cincinnati, he knew his life would revolve around sports. Tony is an avid Miami Dolphins fan who grew up in Columbus, Ohio. Home of the Buckeyes, who Tony was born and raised to root for. Tony has been playing fantasy football for just over a decade. He approaches fantasy football with the same mentality he approaches everything else, "If you ain't first, you're last." Specializing in redraft, Tony's goal is to bring a fresh perspective to the Fantasy Football world.