Week 11 Fantasy Football Sleepers
---
Fantasy Football Sleepers
Backup running backs splashed in Week 10 in Rhamondre Stevenson, A.J. Dillon, and D'Ernest Johnson. All three flashed RB1 upside and remain must starts if the lead back remains out. COVID-19 and injuries plus player struggles led to unfortunate results in the Week 10 sleeper picks. We'll review Week 10, then look ahead to the Week 11 fantasy football sleeper picks. Only the Rams and Broncos have their bye week, so we have a relatively full slate of players to consider.
Week 10 Review
The quarterback sleepers didn't end up great with Matt Ryan and the Falcons struggling against the Cowboys with 117 passing yards and two picks. Ben Roethlisberger didn't play due to landing on the COVID-19 list. I debated writing up Taylor Heinicke, and he bested Tom Brady with 256 passing yards, 8.0 yards per attempt, and one passing touchdown.
Devonta Freeman looked decent in the first half, and he ranked No. 29 with 8.8 fantasy points in PPR leagues. In an unexpected loss to the Dolphins, Freeman still garnered 14 opportunities. Since Zack Moss played after dealing with concussion symptoms, Devin Singletary shared the backfield with Moss and Matt Breida. Singletary saved his day with a rushing touchdown with 43 rushing yards as the RB22 heading into Monday night. A three-back committee in Buffalo makes fantasy managers more frustrated.
Devonta Freeman averages 3.4 yards before contact and 1 of 2 backs in the top-25 in YBC with a double-digit missed tackle rate.

Those 2 backs include Freeman with a 12% missed tackle% (No. 7) and Devin Singletary at 10%.

Data via @RotoViz (min 5 rush attempts)

— Corbin (@corbin_young21) November 17, 2021
With Kenyan Drake, the Game Script went as expected in a high-scoring affair of 55 total points. However, Drake only mustered 16 rushing yards and 15 receiving yards with two catches on three targets. Cole Beasley remained quiet as he reeled in both targets for 15 receiving yards. Josh Allen looked for Stefon Diggs often. Diggs exploded for eight receptions on 13 targets (46.4%) for 162 receiving yards and one touchdown. We expected that type of usage for Diggs more consistently, so maybe that's a sign moving forward.
Hunter Renfrow led the Raiders in targets (9) and caught seven receptions for 46 receiving yards and one touchdown. That ranks Renfrow as WR9 heading into Monday night in front of none other than Ray-Ray McCloud. With no Roethlisberger, Mason Rudolph threw for 242 passing yards, 4.8 yards per attempt, and one touchdown with one interception. Pat Freiermuth finished third with nine targets (18%) and caught five receptions for 31 receiving yards. It's not great, but Freiermuth gave fantasy managers a decent week in PPR leagues.
Update: Last 4 weeks - 6.76 targets per game, 3.25 receptions, and 56.5 receiving yards. Let's see where the Air Yards shake out in Week 10.

Odell Beckham Jr. likely eats into the opportunity, but it's something to monitor moving forward. https://t.co/A1wTjq8vp6

— Corbin (@corbin_young21) November 16, 2021
The Robert Woods season-ending injury plus the signing of Odell Beckham Jr. changed the tune for Van Jefferson. There's a chance Jefferson earns more opportunities and produces in the coming weeks as Beckham learns the offense. Jefferson finished second on the team in targets (7) behind Cooper Kupp with 13. Matthew Stafford started with two picks, one that ended in a touchdown, and so we hoped the game script would fall into Jefferson's favor. Jefferson hauled in three of seven targets for 54 receiving yards, but the Rams barely held the ball with under 21 minutes. Let's see if Jefferson can build upon his four-game stretch of just under seven (6.75) targets per game, yet we know Beckham Jr. should garner more moving forward.
Week 11 Fantasy Football Sleepers
Tua Tagovailoa at NYJ
Jacoby Brissett started in place an injured Tua Tagovailoa on Thursday night. Then Brissett left with an injury, and Brian Flores let Tagovailoa head out there. Even in the short time, Tagovailoa tossed 158 passing yards on 13 attempts for 12.2 Adjusted Yards Per Attempt compared to the season-long 5.8 (No. 27). So far, the Dolphins rely on volume with the 5th-highest Team Pass Plays Per Game (39.9), but Tagovailoa's ceiling could increase if he improves the efficiency.
Opposing running backs and quarterbacks feast on the Jets, as they allow the 3rd-most rushing yards to the running backs and the 6th-most passing yards. Flores announced Tagovailoa as the starter in Week 11, and fantasy managers should feel confident in him as a Week 11 sleeper. Hopefully, the quarterbacks don't let us down like in Week 10. Tagovailoa should finish with a fourth top-15 finish in the past four games started (Week 6-8).
Justin Fields vs. BAL
Heading into their Week 10 bye week, Justin Fields averaged 28.8 pass attempts per game that jumped from 17.5 in Week 2-6. Fields ran more and rushed for 57.3 yards per game over the past four contests, with two top-10 finishes in Week 8 and 9. With Fields trending up, look for that to continue against a Ravens defense allowing the most passing yards per game (283.3) with the 10th-most fantasy points to the position. Fields will serve as one of the top sleeper quarterbacks in Week 11.
Boston Scott vs. NO
There's a chance Miles Sanders returns from injured reserve next week, but the Eagles have shown the willingness to establish the run the past three weeks. In Week 1-7, the Eagles running backs averaged 63.4 rushing yards per game. Then in Week 8-10, they averaged over 142 rushing yards per game. With the Eagles sharing the load between two primary rushers recently, there's still a decent chunk of rushing production for Boston Scott and Jordan Howard as flex options.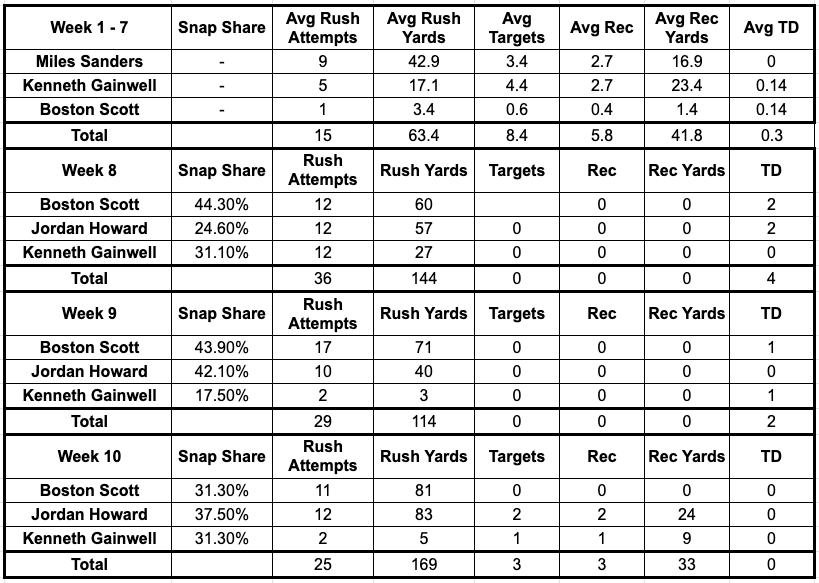 Although Scott doesn't qualify in all the advanced stats, he boasts a 4.9 (No. 13) True Yards Per Carry, 5.3 Yards Per Touch, and a 15.6% Juke Rate. Scott uses his blockers effectively with a 63.4 (No. 5) Run Blocking Efficiency. Typically we have concerns with backs facing the Saints since they allow the fewest rushing yards per game at 72.9. However, the Eagles showed an emphasis on establishing the run with effectiveness. Roll out Scott and Jordan Howard as RB3s or flex plays.
Advanced stats for the Eagles running backs (Week 8-10)

Jordan Howard: 2 YBC, 3.2 YAC, 15% Evasion%

Boston Scott: 3 YBC, 2.5 YAC, 21% Evasion%

Kenneth Gainwell: -0.1 YBC, 2.2 YAC, 35% Evasion%#FantasyFootball Data via @RotoViz pic.twitter.com/9mxnszNhxf

— Corbin (@corbin_young21) November 17, 2021
Wayne Gallman vs. NE
Unfortunately, Cordarrelle Patterson suffered an ankle injury that will likely keep him out of their Thursday night game against the Patriots. The Falcons couldn't muster much on offense with 234 total yards, but Wayne Gallman led the Falcons with 55 rushing yards on 15 carries. Gallman also hauled in one reception for 21 receiving yards. Most of that work came at the end of the third and fourth quarter, with the game well out of hand, but the production and usage still count.
Wayne Gallman is a running back that could help in the fantasy playoffs. Over the past four games, Gallman averaged 19.25 opportunities. On the season, he has 33 Evaded Tackles (No. 22), a 26.4% Juke Rate (No. 19), and a +4.8 Production Premium (No. 22). #FantasyFootball pic.twitter.com/GQM2OMOmVb

— Corbin (@corbin_young21) December 10, 2020
Way back in December 2020, Wayne Gallman garnered high usage for the Giants. When Gallman sat on the 49ers roster, I listed him as a sleeper. Then he landed on the Falcons. No, Gallman likely won't blast off like Cordarrelle Patterson. However, the Falcons rank fourth in the team running back high-value touches (HVT) with 72 total. Patterson garnered 42, and Mike Davis received 30 heading into Week 10. A reminder that HVT includes touches (carries and receptions) inside the 10-yard line. Given the seasonal data, Gallman should garner some HVT with the Falcons if Patterson misses time.
Pulling up an old Wayne Gallman tweet. Now on the Falcons, Gallman's role remains intriguing. The Falcons rank 4th with 72 Team RB High-Value Touches. If Cordarrelle Patterson (RB1/WR1) misses time, Gallman's 📈📈 https://t.co/QNud1C7NjT

— Corbin (@corbin_young21) November 16, 2021
Assuming Patterson misses the Thursday night game, fire up Gallman as a sleeper like Devonta Freeman in Week 10. There's a chance Mike Davis sees an increase in usage, but Gallman should warrant some opportunities if Patterson isn't available.
Update: The Falcons listed Cordarrelle Patterson as a game-time decision on Thursday. It seems best to let Patterson sit, and it's too risky to play Gallman if Patterson remains active.
Ty Johnson vs. MIA
The Mike White experience will end soon with Zach Wilson returning soon. News broke on Wednesday that Joe Flacco, not White, will start on Sunday. With Mike White as the starter, Johnson's receiving opportunities increased with 24 targets over the past four games (6 per game). Meanwhile, in the previous five weeks, Johnson totaled 13 with 2.6 per game.
With Mike White, Ty Johnson's received 24 targets over the past 4 games (6/game).

In the previous 5 weeks, Johnson totaled 13 with 2.6/game.

Johnson garners a 10.4% (No. 23) target share, 11.0 (No. 2) YPR, and 2.04 (No. 9) YPRR amongst running backs. #FantasyFootball pic.twitter.com/RGFmJe8jbz

— Corbin (@corbin_young21) November 18, 2021
That led to Johnson garnering a 10.4% (No. 23) target share, 11.0 (No. 2) yards per reception, and 2.04 (No. 9) yards per route run amongst running backs. The Jets should play from behind, and Johnson looked efficient, evidenced by the 6.2 (No. 5) yards per touch and +7.5 (No. 13) Production Premium. Fantasy managers can use Johnson as an RB3 similar to J.D. McKissic.
D'Onta Foreman vs. HOU
With all my hope for Jeremy McNichols taking over most of the work in Tennessee, D'Onta Foreman looks like the back to roster on the Titans. It's still a three-back rotation with Adrian Peterson too, so it's risky to trust any Titans back right now. Peterson doesn't look great in the two-game sample, evidenced by the 2.3 True YPC and -1.6 (No. 75) Expected Points Added (EPA).
In Derrick Henry's first game missed, McNichols saw a season-high 42.6% snap share but shared opportunities. Then in Week 10, the snap share for McNichols dropped to 24.1%. Meanwhile, Foreman's snap share increased to 36.2%, with 11 carries, seven routes, and two receptions on two targets for 78 total yards. If folks believe in the revenge game narrative, then there's that too. Although he doesn't qualify, Foreman showed efficiency with 5.9 Yards Per Touch. Expect usage similar to the Eagles backs with 10-12 touches with the potential for 50-60 rushing yards with a chance for a touchdown since the Texans allow the second-most rushing yards per game.
Rashod Bateman at CHI
Since coming off the injured reserve, rookie Rashod Bateman averaged seven targets per game with 4.5 receptions and 60.3 receiving yards. With their struggling defense and lack of a running game, the Ravens average the 16th-most Team Pass Plays Per Game at 35.6 compared to 25.4 in 2020 and 29.3 (No. 32) in 2019. There's no question Marquise Brown ranks as the Ravens' top receiver, but Bateman's prospect profile and small sample remind us of that upside.
Rashod Bateman's 27.7% (No. 17) Target Rate indicates Lamar Jackson looks towards Bateman when on the field.

Bateman averages 2.39 (No. 18) Yards Per Route Run. That's ahead of notable receivers such as Tyler Lockett at 2.34, Jerry Jeudy at 2.33, and Brandin Cooks at 2.27. pic.twitter.com/XwhaTcYvFf

— Corbin (@corbin_young21) November 17, 2021
Bateman's 27.7% (No. 17) Target Rate indicates Lamar Jackson looks towards Bateman when on the field. He boasted an 18.8 (93rd-percentile) Breakout Age, 40% (81st-percentile) College Dominator, and 35.7% (98th-percentile) college target share. Bateman averages 2.39 (No. 18) Yards Per Route Run (YPRR). That's ahead of notable receivers such as Tyler Lockett at 2.34, Jerry Jeudy at 2.33, and Brandin Cooks at 2.27. With the increased passing volume, Target Rate, and YPRR, expect Bateman to produce as a WR3 with upside.
Brandon Aiyuk at JAC
With Deebo Samuel taking five rushing attempts and dealing with an injury before Week 10, he only ran 16 routes and produced efficiently. Samuel looked uber-efficient as a receiver and hauled in all five targets for 97 receiving yards and one touchdown. In Week 9, Brandon Aiyuk reached season-highs in Snap Share (93%), routes (40), targets (8), receptions (6), and receiving yards (89). Since the 49ers led the Rams on Monday night, Aiyuk's production and opportunity dipped. The Jaguars allow the 9th-most receiving yards (182.2 per game), and Aiyuk should jump into the upside WR3 conversation as a Week 11 sleeper.
Jamal Agnew vs. SF
Against the Bills, with James Robinson healthy, Jamal Agnew took a 66-yard rushing touchdown as a rusher with 79 total yards on three attempts. Although Agnew didn't haul in a single reception, he averaged 7.2 targets per game over the past five contests. Outside of Dan Arnold, Agnew tied for the team lead with 35 targets and an 18.7% target share amongst receivers.
Marvin Jones Jr. equaled Agnew in the receiving opportunity department and bested Agnew in receiving yards (216-184). However, Agnew's usage in the rushing game with 98 rushing yards edges Jones in total yardage since Week 5. Trevor Lawrence showed the willingness to target Agnew with a 22.8% (No. 45) Target Rate on the season. With the projected negative game script, look for Agnew as a desperation WR4 like a lesser version than Hunter Renfrow.
James Washington at LAC
Just as we expected, Ray-Ray McCloud led the Steelers with nine receptions on Sunday with Mason Rudolph at quarterback. McCloud finished second on the team in targets (12) and receiving yards (63). That 24% target share put him right behind Diontae Johnson's 26% target share. McCloud set career-highs across the board with no game with more than four targets throughout his four-year career. The Steelers kick and punt returner in McCloud likely isn't a weekly option even in the deepest leagues. With Rudolph at quarterback, there's a chance McCloud and Rudolph developed chemistry during practice.
Might wanna put someone on that @JamesWashington guy.@Rudolph2Mason | 📺: FOX pic.twitter.com/PbmNc7Cb4V

— Pittsburgh Steelers (@steelers) November 14, 2021
However, with the Chase Claypool injury, James Washington still should garner more opportunities moving forward. Washington scored the first and only touchdown of the game for the Steelers, then hardly produced for the rest of the day with two receptions on six targets (12%) with 15 receiving yards. There's a chance Claypool misses Week 11 with the toe injury. If Claypool returns, then temper expectations for Washington.
Not including Week 10, when Washington earned at least five targets, he averaged 3.3 receptions and just under 48 receiving yards per game. The Chargers haven't given up many receiving yards with the second-fewest in the league. However, Washington should garner at least a handful of targets once again if Claypool remains out. The Steelers remain a team that averages the 6th-most Team Pass Plays Per Game at 39, but the efficiency stinks for Washington with a -8.3 (No. 83) Production Premium, 0.87 (No. 99) YPRR, and 7.0 (No. 77) Yards Per Target. On Wednesday, Chase Claypool practiced as a limited participant, so downgrade Washington if Claypool plays.
Adam Trautman at PHI
We only needed to wait until Week 8 for Adam Trautman season to happen. In Week 8, Trautman's routes and targets increased. Over the past three games, Trautman averaged 6.3 targets per game. However, Trautman barely produced in Week 8 with four receiving yards yet 47 in Week 9 and 32 in Week 10. The Target Rate of 20.1% (No. 23) indicates the Saints look to him in the passing game a bit more than the overall 12.4% (No. 21) target share.

The Eagles allow the most receptions, receiving yards, and touchdowns to the tight end position. Even over the past four games, they bleed receiving production. Trautman probably sits more in the Jared Cook type line, and fantasy managers should roll out Trautman as the top tight end sleeper.
STAY IN TOUCH
Sign up for FantasyData's newsletter and get awesome content sent to your inbox.
We'll never share your email address and you can opt out at any time, we promise.
---

Corbin is passionate about fantasy baseball and football. He loves diving into and learning about advanced metrics. Corbin is a Mariners and Seahawks fan living in the Pacific Northwest. Corbin's other hobbies are lifting weights, cooking, and listening to fantasy sports podcasts.