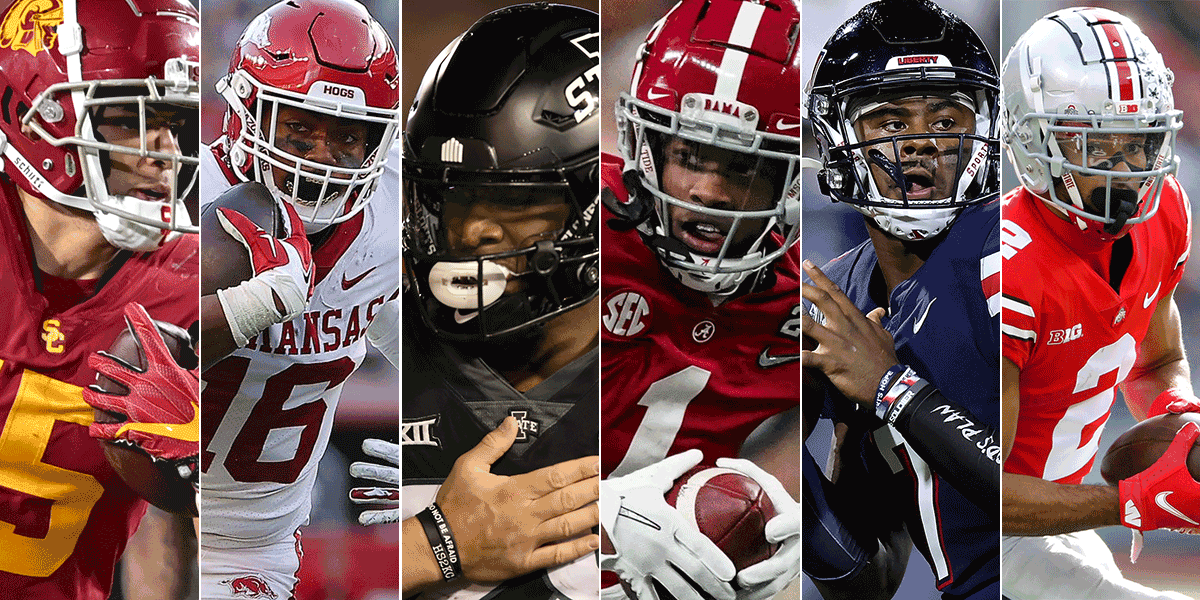 Fantasy Football Stock Report: Post-NFL Draft
---
Fantasy Football Stock Report
The foundation of this article involves whether fantasy football players' stock went up or down after the 2022 NFL Draft. Although the 2022 class wasn't as loaded as 2021, with Ja'Marr Chase, Javonte Williams, Elijah Moore, Kadarius Toney, and Travis Etienne headlining the skill positions. That doesn't even include the juicy quarterbacks in Trevor Lawrence, Trey Lance, Justin Fields, and Zach Wilson highlighting the group.
Although it's early, with nearly three months before training camp and preseason games begin, several questions pop into my mind as we react with fantasy football stock up and down, plus a few watch list notes. So many things change, so even though a player seems buried in the depth chart, sometimes trades and roster moves make a player relevant throughout the season. Insert Rhamondre Stevenson here.
Fantasy Stock Up
Will Breece Hall Make Michael Carter Irrelevant?
When an elite talent like Breece Hall enters the NFL, we hope the landing spot boosts their fantasy value. In the past, we would scoff at a skill position player landing on the Jets, but Robert Saleh and the Jets coaching staff look to build a young and talented team on offense.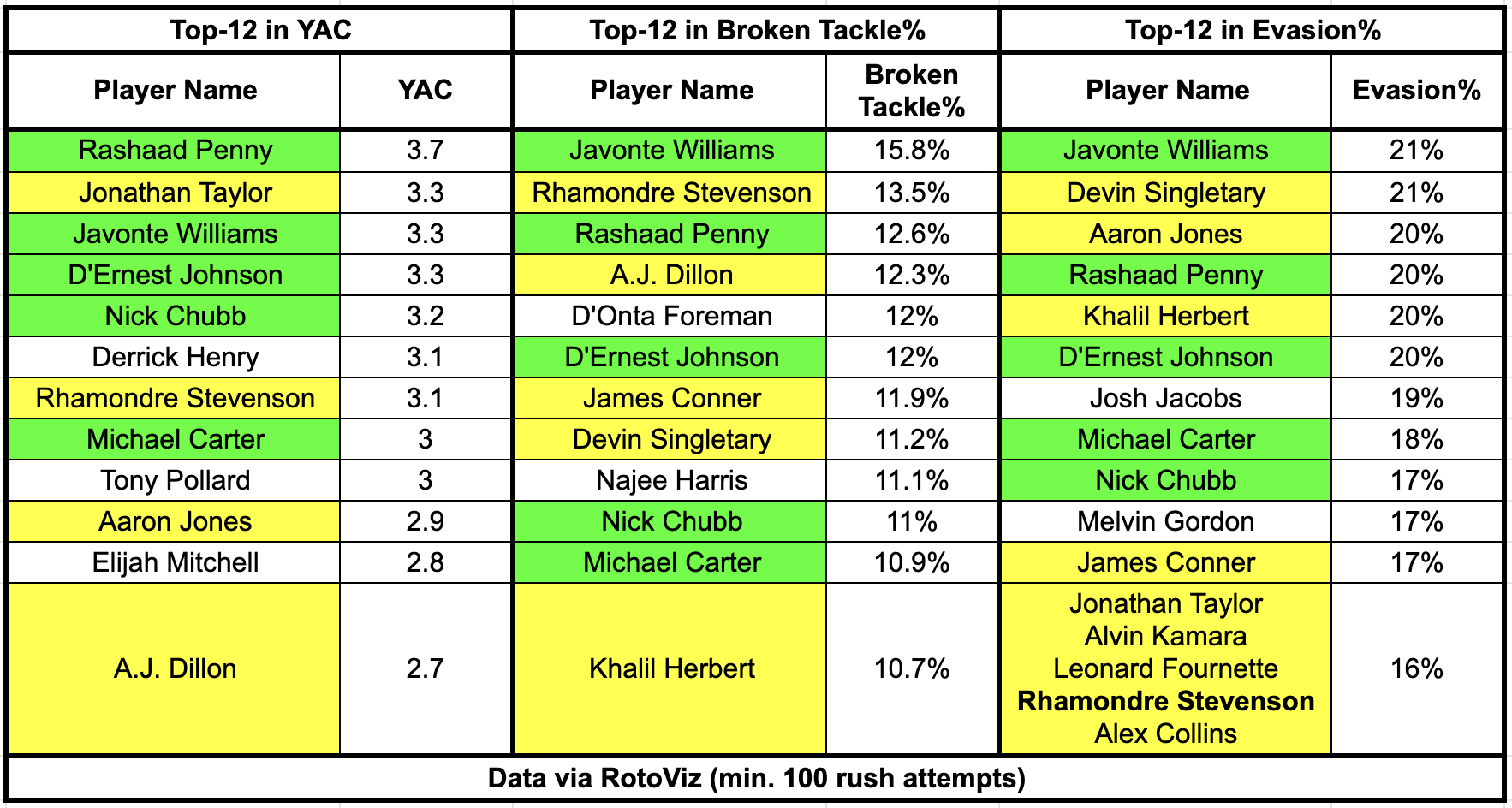 It's a slight bummer that Hall looks to usurp Michael Carter since the former North Carolina running back finished top-12 across three main categories in the advanced stats. Carter found himself amongst five other backs that posted top-12 numbers.
After two straight seasons with over 1,700 total yards, Hall went in the early second round at pick 36 to the Jets. Hall not only produced a 43.9% Dominator Rating (94th-percentile), but he also posted elite workout metrics, evidenced by the 116.9 Speed Score (97th-percentile) and 131 Burst Score (94th-percentile). Some of the top comparisons via the RotoViz Box Score Scout, based on production, include Dalvin Cook, Cam Akers, Bishop Sankey, and Duke Johnson.

It's within the range of outcomes for Carter to eat into some third-down usage with a 12% target share (No. 12) and YAC per reception (No. 6). However, Hall should garner a heavy workload towards the middle of 2022, if not immediately. There's also a scenario where Hall doesn't crush in Year 1, causing his dynasty value to take a slight dip, meaning acquire him in Year 2. In 2021, the Jets ranked bottom four in total plays, third in pass rate, and bottom third in rush rate. Meanwhile, in neutral game scripts, they rank 15th in pass and rush rate. However, the Jets ranked last with a -7.93 Game Script. Value Hall as an RB2 with RB1 upside, assuming the offense improves.
Treylon Burks (WR - TEN)
In one of the oddest trades in recent memory, the Titans traded away stud receiver A.J. Brown to the Eagles, then drafted Treylon Burks. Unfortunately, Burks didn't smash at the NFL Combine, but he posted an elite 45.9% Dominator Rating (92nd-percentile) and 31.3% College Target Share (93rd-percentile).
I debated whether Burks should fall into the stock up/down group, but the receiving opportunity should be available in 2022. The Titans acquired Robert Woods, but they profile as different receivers and roles, with Rishard Matthews, Kenny Golladay, and Antonio Gandy-Golden comparing similarly to Burks' prospect profile. Burks comps to N'Keal Harry, Kenny Britt, Jonathan Baldwin, and Jordy Nelson when including draft capital. As a bigger-bodied receiver, the Harry comp worries us.
Burks may need to rely on receiving efficiency, with the Titans ranking in the bottom third of the league in Team Pass Plays Per Game in 2019 and 2020 with a similar amount per game in 2021. Last season, Brown led the team with a 27% target share (No. 6), with Julio Jones in second with a 16% target share (No. 59). Assuming the running back target share of 26.6%, up from 11-12% in 2019 and 2020, regresses, then look for Burks and Woods to garner a target share around 20-22%. Burks possesses upside in the Titans offense for 2022 and beyond.
Will Skyy Moore Become the Chiefs WR1?
A sleeper receiver for many analysts involved Skyy Moore out of Western Michigan, who posted a 41% receiving market rate in his final season with a 44.8% College Dominator Rating (91st-percentile). Moore is a smaller receiver at 5-foot-10 and 191-pounds, who ran a 4.41 40-yard dash (90th-percentile) that translated into a 96.8 Speed Score (60th-percentile).
One of the upside comps in the RotoViz Box Score Scout involves Stefon Diggs, but the downside includes Dillon Mitchell and Quez Watkins. After the wild trade of dealing Tyreek Hill to the Dolphins, Kansas City looks to reshape their receiving core with JuJu Smith-Schuster, Marquez Valdes-Scantling, and Moore with Mecole Hardman and Travis Kelce. Will Moore become the Chiefs WR1 in 2022? Outside of Smith-Schuster, the Chiefs don't have any consistent or established receivers, not including Kelce.
Like Burks, Moore likely operates in a different role than Smith-Schuster, though the latter typically thrived in the short and intermediate areas of the field with 4.3 YAC per reception (No. 55) and 5.6 Air Yards Per Target (No. 108) in 2020. However, there's a chance the team context hype outprices Moore in dynasty and redraft leagues. Patrick Mahomes averaged 7.3 Adjusted Yards Per Attempt (No. 10) in 2021, which dropped from 8.6 (No. 3) in 2020 and 8.6 (No. 2) in 20219. The landing spot, college production, and athletic measurables make Moore an exciting rookie receiver in 2022 and future seasons.
Fantasy Stock Down
Is Kyler Murray an Upgrade for Marquise Brown?
Without looking, who led the Cardinals in target share? Tight end Zach Ertz barely edged out DeAndre Hopkins with a 21% to 20% target share in 2021. With Christian Kirk on the Jaguars, the Air Yards role remains up for grabs since Kirk led the Cardinals with 1,137 Air Yards and ranked second with a 27% Air Yards Share behind Hopkins.
Outside of 2020, where Hopkins led the team with a 29% target share (No. 2), the Cardinals spread the ball around with two receivers above 20% that peaked at 24% to Kirk in 2019. Interestingly, the Cardinals tied the Ravens with a 57% pass rate in the bottom half, but that separation increased in neutral game scripts. The Cardinals ranked 16th with a 56% pass rate, with the Ravens at 52% (No. 27) when including neutral game scripts. That indicates the Cardinals prefer to pass in neutral game script situations.
Overall, the target quality and passing volume should favor Marquise Brown for 2022. However, it feels like the Cardinals will continue to spread the ball around, meaning Brown needs to rely on his efficiency, though the -0.7 Production Premium (No. 54) and 1.94 Yards Per Route Run (No. 32) concern us. In 2021, Brown finished with seven WR1 weeks in receiving EP (44%), yet eight total, with the additional one occurring in 2019. Brown ranked 13th (2021) and 7th (2020) in WOPR, so let's monitor the target and air yard share for 2022. It's within the range of outcomes for Brown to provide WR2 numbers again, meaning this section could go into the stock-up category.
Does the Redraft and Dynasty Outlook Change For A.J. Brown?
It's painful to type A.J. Brown under the NFL Draft stock down section, but that's seemingly the case as an early 2022 projection. In the second half of 2021, the Eagles established the run, with the pass plays per game significantly dropping. Check out Shane's latest breaking down this transaction, as it's a very detailed article.

Brown relied on efficiency with the third-ranked FPOE/Gm in 2019, then fourth in 2020, which dipped to 65th in 2021. Assuming the Eagles' passing volume regresses somewhere in between, Brown could be efficient in 2022. The passing ability remains in question for Hurts, with a 78% catchable target rate (No. 26), 69% on target rate (No. 30), and 47% air yards conversion rate (No. 30). With a talent like Brown, it could boost the value of Hurts' passing ability, though the mobile quarterback negatively impacting the pass-catchers lingers in our mind. The dynasty and redraft outlook takes a slight dip, but we might want to buy the dip in 2022 and beyond.
The 15 Patriots Running Backs
Last season, I overlooked Rhamondre Stevenson since the Patriots had Damien Harris, Sony Michel, James White, Stevenson, and Brandon Bolden. The Patriots moved Michel, then White suffered a season-ending injury, which led to fantasy relevance for Stevenson as a rookie. Just like starting pitchers in baseball, a team can't have enough running backs, right.
The Patriots added Kevin Harris and Pierre Strong via the NFL Draft, plus Ty Montgomery as a free agent. Damien Harris and Stevenson shared most of the role last season, but we know White will serve a pass-catching role if healthy. Kevin Harris peaked in 2020 with 1,054 rushing yards for a 70% Rushing Yards Adjusted Market Share. The 80% Dominator Rating in 2020 fell to 31% in 2021, similar to the 43% Adjusted Rushing Market Share. It's worth noting that Harris produced on a South Carolina team that struggled to score points with 23.5 PPG (99th out of 128) in 2020 and 22.6 PPG (104th out of 130) in 2021.
Pierre Strong warrants more intrigue given the production and athleticism standpoint. As an older back coming in at 23.4 years old, Strong compiled over 1,700 total yards with 18 touchdowns at South Dakota State. The athletic measurables look juicy with a 113.5 Speed Score (94th-percentile), 126.6 Burst Score (86th-percentile), and 11.20 (76th-percentile) Agility Score. Outside of college production, it's helpful to have a running back with a near-elite Speed Score that displays the agility needed to break and evade tacklers.
In dynasty leagues, stash Strong on the taxi squad with Damien Harris as an unrestricted free agent in 2023. In redraft leagues, it's messy since Montgomery and White can play similar roles, while Harris and Stevenson rely on their rushing production and touchdowns to provide value. The Patriots' backs fall into the stock down category since it got even messier adding two rookies in 2022.
Watch List
Kenneth Walker III (RB - SEA)
For the first time in forever - the Seahawks made a first-round pick that seemed logical in an offensive lineman. Although many clamored for the Seahawks to take a quarterback in the second round, they opted for a defensive end in Boye Mafe, then Kenneth Walker III.
In the off-season, I looked at the Seahawks' offense. During the season, Rashaad Penny crushed in the advanced stats weekly.

Kenneth Walker
❔Concerns w/ receiving production
🔥Unreal rushing production
👀93rd-percentile Speed Score#FantasyFootball Data➡️@RotoViz pic.twitter.com/am20TroQgT

— Corbin (@corbin_young21) April 30, 2022
In his final year at Michigan State, Walker crushed with over 1,600 rushing yards and 18 rushing touchdowns for a 79% Rushing Yards Adjusted Market Share and 56% Dominator Rating. The 4.38 40-yard dash (98th-percentile) translated into a 114.7 Speed Score (96th-percentile). With draft capital, a few of the closest comps include David Wilson, Jeremy Langford, Tre Mason, and Darrell Henderson via the Box Score Scout.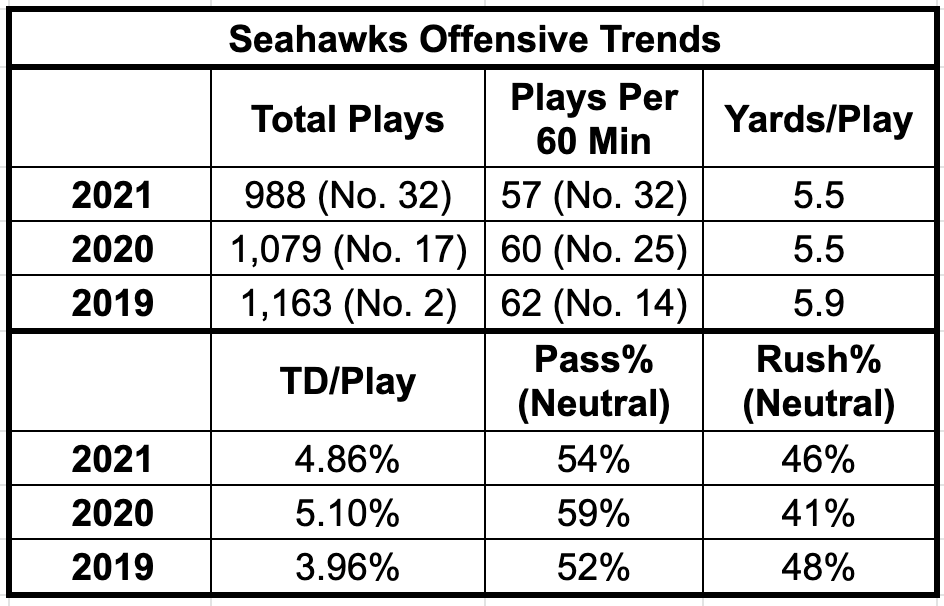 In 2021, the Seahawks ranked last in total plays and plays per 60 minutes. The offense remained efficient in touchdowns and yards per play with Russell Wilson at quarterback. Assuming the offensive efficiency ticks down with average or below-average quarterback efficiency, it's concerning for the running backs. Last season, the Seahawks ranked 13th in rush rate and 12th in neutral game scripts.

Amongst their top backs in 2021, only Rashaad Penny averaged notable yards before contact at 2.5, tied for fifth with Dalvin Cook amongst backs with 100 attempts. The Seahawks owe Chris Carson over $4.5 million in 2022 and might have concerns regarding Carson's neck surgery. Although it appears crowded in Seattle, Carson and Penny have an injury track record that makes Walker an enticing back for 2022 and beyond, especially without a standout quarterback inferring that they'll establish the run. It didn't make sense to draft Walker, but the college production and talent excite us.
Malik Willis - The Konami Code Quarterback of The Future
As a Seahawks fan, part of me wanted Malik Willis as a quarterback candidate of the future. After transferring to Liberty, Willis passed for over 2,200 yards with 20+ touchdowns, plus an average of over 900 rushing yards in two straight seasons. Willis peaked at 8.5 yards per attempt (63rd-percentile) in 2020 with nearly identical efficiency yet more passing production in 2021.
You're going to see so many different QB rankings for this 2022 QB class, but Malik Willis' arm talent will continue to keep his name at or near the top.

This was a beauty, and a perfect example of velocity under the arm strength umbrella #CFB pic.twitter.com/3vevHhEaw4

— Trevor Sikkema (@TampaBayTre) October 30, 2021
One of the top comparisons includes Tyrod Taylor, though Willis averaged just under 60 rushing yards per game, similar to Jalen Hurts and Joshua Dobbs. Ryan Tannehill signed a four-year extension in 2020 and will become an unrestricted free agent in 2024. Although Willis won't play in Year 1 unless Ryan Tannehill suffers an injury, hopefully, Willis develops with that strong arm as the Konami Code quarterback of the future. In the past, Tannehill relied on efficiency given the play-action success with an offense surrounded by Henry and A.J. Brown. It might have a different level of excitement, but it reminds me of Trey Lance of 2021, where he'll provide fantasy value on the ground with the passing game under development.
STAY IN TOUCH
Sign up for FantasyData's newsletter and get awesome content sent to your inbox.
We'll never share your email address and you can opt out at any time, we promise.
---

Corbin is passionate about fantasy baseball and football. He loves diving into and learning about advanced metrics. Corbin is a Mariners and Seahawks fan living in the Pacific Northwest. Corbin's other hobbies are lifting weights, cooking, and listening to fantasy sports podcasts.