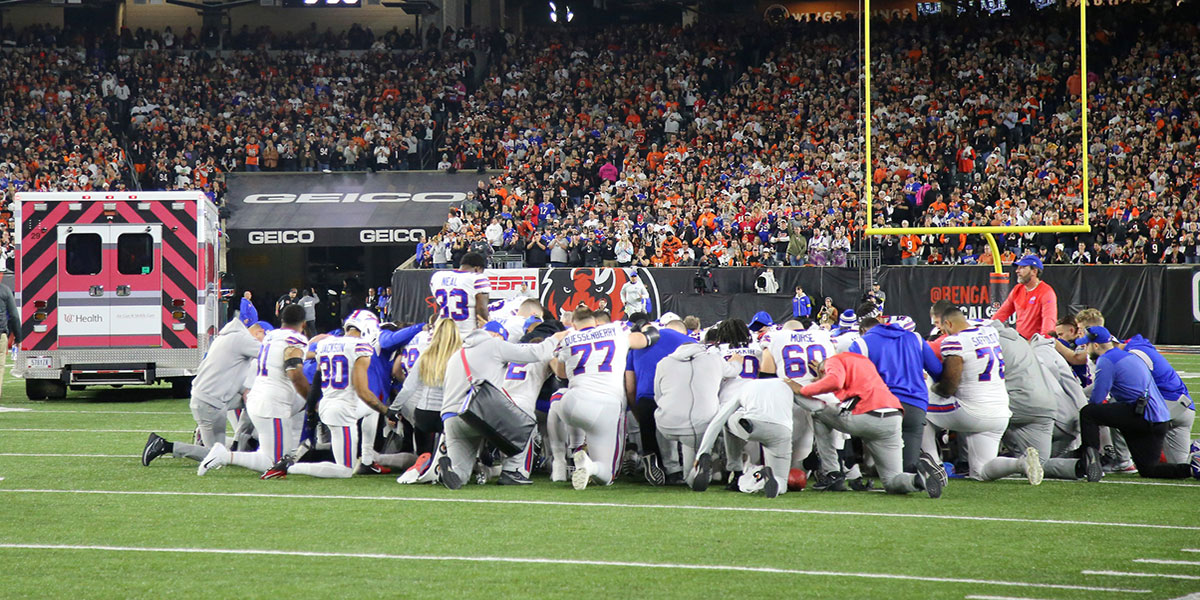 Fantasy Playoff Recap Week 17: Pray for Damar Hamlin
---
Fantasy Playoff Reactions
If you were one of the lucky rosters that was given a New Year's present with Mike Evans nearly a 50-point week, you are probably a little richer than you were before this weekend. If you somehow lost with him on your roster, I wouldn't blame you if you chose to never play fantasy football again. That would be heartbreaking. I, however, was on the right end of an Amari Cooper & Mike Evans duo. They got me 75 points combined. A wonderful way to cap off the fantasy season. With that being said, let's recap all of the action from championship week!
Bengals vs Bills
I'm sure you are now aware of what happened in this game. All I am going to say is my thoughts are with Damar Hamlin and his family right now. As of right now, they don't plan to resume the game this week, and I'm not sure what that entails. We will find out more soon.
Latest News:
Doctors saw promising signs of progress overnight from Damar Hamlin, who remained hospitalized in critical condition as of Wednesday morning, according to a friend and business partner of the Buffalo Bills safety.https://t.co/yd90xXvHL1

— Adam Schefter (@AdamSchefter) January 4, 2023
Damar Hamlin's GoFundMe Page is nearly at $5.5M, with donations from endless NFL people. On these pages alone: Andy Dalton and his wife at $3K, Russell Wilson and his wife at $10K plus their charity, Tom Brady, Josh McDaniels, Commanders. On and on. https://t.co/cM1lhPv27c pic.twitter.com/SnLONebY2w

— Ian Rapoport (@RapSheet) January 4, 2023
Titans vs Cowboys
Championship week started off with Dak Prescott & Zeke vs Josh Dobbs & Hassan Haskins. YUCK. Dallas really didn't need to do anything fancy, just had to play sound football and that's pretty much what happened. The final score here was 27-13 with a Cowboys win. The highlight of the night for the Titans was Josh Dobbs' first career passing touchdown. 232 yards and the TD in this game (10 points). Robert Woods decided to finally be playable when no one was playing him. He caught 5 passes for 39 yards and found pay dirt this week, 15 points for Woods. Treylon Burks got to 12.5 this week thanks to his 8 targets. He caught 4 for 66 and had a 20-yard rush. Not the first time he was used in the rushing game. That's a nice asset to have at the goal line. The Titans take the loss here and are relying on Dobbs yet again in week 18 to get them into the playoffs (hopefully).
Dallas came in and took care of business. As I mentioned previously. Dak threw for 282 yards and 2 TDs but had those silly interceptions again, throwing two this week. He scored 14.3 points, so it wasn't an amazing week. Dalton Schultz was the high-scorer in this game with 24.6 points. Caught 7 passes for 56 yards but had 2 TDs to top it all off. Hell of a week at the right time. CeeDee had a big night too. 11 catches for 100 yards, just no touchdown this week but it really didn't matter because he was a PPR king this week. 21 points for him. Zeke scored in 7 consecutive weeks. What more can you ask for? I suppose some more fantasy points. With Pollard inactive, Zeke only managed to score 9.7 points.
Cardinals vs Falcons
Another strange QB matchup in this game. David Blough vs Desmond Ridder. Didn't think we'd be seeing that before the season started. Nor did I think the Cardinals would be 4-12 with no QB. Blough threw for 222 yards and a TD. Only 13.5 points so hopefully you weren't relying on him this week. If you were, it better have been to avoid last place… Trey McBride got all the love this week. Scoring a team-high 20.8 points off 7 catches for 78 yards and a touchdown. Tied for the most targets on the team with 10. The second-best fantasy day for the Cardinals came from James Conner, or ole reliable as I call him. He had 14 points from 79 rush yards and 3 catches for 31 yards. If only he was able to find the end zone. Maybe a good QB would help that. Marquise Brown managed to score 12 after 3 straight weeks of sub-10-point scores. If you were desperate, this ended up being a good play.
Cordarrelle Patterson had a big week in the Falcons' win. 20 fantasy points and that all came from his 42 rush yards and rushing TD with 6 catches for 42 yards. He was all over the place this week. He rode the bench in one of my leagues, but I would never bench Dalvin for CPat. Tyler Allgeier had a solid fantasy season. He topped it off with a 16.5-point blessing for you if you played him this week. 20 carries for 83 yards and a TD from the rookie. Drake London was close to a 10-point week but came up just shy with 9.7 points. I was hoping he would find the endzone this week and get him to that 15-point mark but Cordarrelle was the featured guy this week in a close win.
Bears vs Lions
I had this game finishing A LOT closer than it ended up. Tells you why I don't work for a sportsbook. However, it was just legalized in Ohio so maybe one day I will :D. To sum up the Bears day I'll just lead off with Justin Fields being the team leader in fantasy points with 16. Not great. Only had 75 passing yards for Fields but he did have 132 rushing yards. Literally RB1 for the Bears. Cole Kmet had a decent day. Only 2 receptions for 27 yards but one of them was for a touchdown, so it got him to 10.7 points. David Montgomery's 5.6 points helped no one but the Lions. Tough day for the Bears.
The Lions were firing on all cylinders. Jared Goff threw for 255 yards and 3 TDs. A solid 22.4 points for the vet in championship weekend. D'Andre Swift was the highlight of the day. Just when people decided to get cute and sit him, he pops off for 78 rush yards, a TD on the ground and 4 catches for 39 yards and a TD in the air. Huge 27.7-point day for the third-year running back. Jamaal Williams rose from the dead this week. His 22.7 points were the most he had scored since week 11. Since then, his highest score was 10.5 points. I love when these two RBs dominate. Brock Wright found the end zone this week instead of Zylstra. 16.3 points for Brock. Amon-Ra with a little bit of a letdown in championship week, only scoring 10 points on 4 catches for 62 yards. If only he was the TD recipient instead of Brock. Oh well.
Broncos vs Chiefs
Russell Wilson has been playing some good football as of late. Well, minus Christmas day. But 2 out of the last 3 of his games he has scored 20+. This week he scored 23.5 against the Chiefs' defense. Pretty good. 222 passing yards and a passing TD and then also had 2 rushing touchdowns down in the red zone. Outside of Russ, no one relevant really had a good week. Albert O scored 13.5, Latavius Murray scored 11.2, Jerry Jeudy had 10.8 and Chase Edmonds scored 10.3 points. A real quiet week for the Broncos' skill players.
Mahomes gonna Mahomes. On his way to an MVP season. Another 25.5 points for Mahomes. QB1 season in the books. 328 yards and 3 TDs. Jerick McKinnon had another clutch week. He truly is a league winner now. 22.6 points this week from 5 catches for 52 yards and 2 TDs. That makes 3 out of the past 4 weeks where McKinnon has scored 20+ points. Two of those were 30+ points. Hell of a finish by the vet RB. Pacheco had a decent day himself. 12.9 points making it his 7th double-digit week. It will be interesting to see what the Chiefs do at running back next season. Travis Kelce didn't quite have the week we all hope for, but 11.3 points is still good for a tight end. The Chiefs make their chances at the first-round bye much greater with the win here.
Dolphins vs Patriots
I'm not going to write much about the Dolphins. It's just gonna be a quick recap otherwise it'll be a depressing monologue. Teddy Bridgewater had the offense moving in the first half, then it stalled in the second half and he got hurt, leaving us with QB3 Skylar Thompson who looked rattled. Not great. Jeff Wilson Jr. led in carries but only had 45 yards. Raheem had a big day from scrimmage. 91 total yards, 8 catches and a TD. 23.1 points for the veteran speedster. Tyreek managed to score 15 despite the offense fading away in the second half. A rushing touchdown and 4 catches for 55 yards. Jaylen Waddle was invisible in the first half apparently. 3 catches for 52 yards (8.2 pts) by the end of it, but not much production from the budding star in his final fantasy performance of the season.
The Patriots had to win this game and they did. No thanks to Mac Jones. Mac threw for 203 yards and 2 TDs. Only 16.2 points this week but that's his second-highest score this season. Oof. They need some playmakers in New England. Jakobi Meyers had the best day from the skill players. 16.8 points thanks to 6 receptions for 48 yards and a TD. Tyquan Thornton popped up out of nowhere and added 15 points to his resume this week. 3 catches for 60 yards with a score. Hunter Henry was the last fantasy-relevant player for the Pats with 10.2 points. Which, as you may have heard me say before, anything above 10 points from tight ends I will take.
Colts vs Giants
This one was ugly. Plain and simple. The Giants were doing whatever they wanted to. Foles stunk, then he got hurt. So Sam Ehlinger came in for the second half. Stunk. Combined 124 passing yards. Michael Pittman Jr managed to score 16.1 points in a horrific offensive game. 6 catches for 41 yards and a TD. The only TD for the Colts. The next high score for them was Parris Campbell with 8.3 points. Zack Moss had a decent real-life performance with 74 rushing yards. Pretty bad day for the Colts.
The Giants came into this game with the chance to secure a playoff spot and they did. Daniel Jones popped off for 36 points. 177 yards and 2 TDs in the air with 91 rush yards and 2 TDs. QB1 and RB1 for the Giants this week. Richie James came in second for fantasy points with 20.6 He led the team with 7 catches for 76 yards and a TD. Isaiah Hodgins also had a good week. 14.2 points from him. He has scored 14+ points in 4 out of the last 5 games. Solid finish to the season and he probably bolstered some lineups in the playoffs. Saquon didn't quite have the kind of day we were all hoping he would have. Only 7.3 fantasy points from 58 rush yards and a couple of catches. Not ideal during the championship week. Solid win by the Giants.
Eagles vs Saints
Well, the Eagles were shell-shocked this week. Gardner Minshew went from an A+ performance in a loss to a C- minus in one week. I guess that goes to show the ceiling and floor of backups. DeVonta Smith put together another stellar performance. 20.5 points for the sophomore WR. He had 9 catches for 115 yards. No touchdown mainly because Minshew stunk, but the one passing TD went to A.J., Brown on a 78-yard pass play. Giving Brown 19.7 on the week. Super clutch considering his production was in the can before that happened. Fantasy production fell off after those two. Dallas Goedert only had 7.5 and Miles Sanders had 6.1 points. Sanders was also wearing a massive knee brace, so that's interesting to see as the playoffs approach. Tough day for the Eagles. Would be a shame to see them lose the first-round bye.
The Saints came out swinging. Not very hard, because they only scored 20 points, but the defense was holding down the Eagles' offense, which has been very solid this season. Andy Dalton threw for 204 yards and a TD. Only 6 points after the interception. Rashid Shaheed led the Saints with 13.9 points. He caught a deep ball in this game (58 yards) and wound up with 6 catches for 79 yards. Taysom Hill had the only offensive touchdown in this one. He finished with 13.4 points. Weird week, but the Saints were able to get a much-need victory. I believe their playoff chances are very slim, but they increased with this win. Hopefully, Kamara and Olave can get more involved going forward. Their 9.1 and 8.2 performances were not very helpful in championship week. Good win, though.
Panthers vs Buccaneers
Tom Brady does it yet again. 20 points in the 4th quarter to give the Buccaneers a 30-24 win. Clinching the NFC South for them as well. Big day for the Bucs. They struggled big time as the second half of the season went on. The Panthers were in the opposite boat. The Panthers had made a late-season push and had they won this game, they would have had a shot at a playoff spot. But they lost. D.J. Moore had a great game, however. He scored 23.7 fantasy points making it 3 weeks in a row fo 18+ points for Moore. You love to see it! Sam Darnold had a solid day as well. 21.6 fantasy points from 341 passing yards and 3 TDs. Two weeks in a row of 21+ points from Darnold. Shi Smith had a good week too, scoring 17 fantasy points. Chuba Hubbard and D'Onta Foreman were letdowns this week. That one hurt me. I needed a repeat week from Foreman. Maybe next year, Carolina.
The Bucs made the late-game surge and got the win. Led by none other than 1,000-yard Mike. 9 seasons in a row of 1,000 receiving yards. He capped off this season with a 48.7-point bomb! What a hell of a week from the vet. 200 receiving yards, 10 catches and 3 TDs. Winning teams their championship across the world, I'm sure of it. Tom Brady was also another player I'm sure gave teams the boost they needed. He scored 37.6 points off the 432 yards and 3 TD day. Even snuck one in at the goal line for a rushing TD. Love to see the 45-year-old GOAT doing this still. Chris Godwin put together a solid championship week. He scored 21 points. 9 catches for 120 yards ain't too shabby. Rachaad White and Leonard Fournette each score under 10 points. Not great. They got the win, though, and that's all that matters to them.
Browns vs Commanders
The Commanders must've decided to tank, because why else would you have Carson Wentz as your quarterback when Taylor Heinicke was jiving?? Questionable in my opinion. They put up 10 points. TEN. Commander Wentz had 143 passing yards and 3 interceptions. Literally was one rushing touchdown away from 0 points on the day. Logan Thomas was the team's high scorer with 11.6 points. Yikes. Brian Robinson had 87 rush yards for 8.7 points, Jahan Dotson caught 3 balls for 37 yards good for 6.7 points and that is it for fantasy relevance. Bad week for the Commanders' players.
Deshaun Watson appears to be shaking off the rust. While he only had 169 passing yards, he did have 3 passing TDs and 31 rush yards. A solid 21 points from Watson. He should be solid for next season. Amari Cooper was the story of the day. His 25.5 points helped propel me (as well as many others I am sure) to a fantasy title. Fantastic timing after the rough stretch from weeks 13-15. Back-to-back double-digit scores in the playoffs. Can't ask for much more than that. Nick Chubb didn't quite have the kinda day you wished he had, but he did score 12.6 points. Not great, but not bad by any means. The Browns took the win here, and I think they have a small outside chance at a wildcard spot. But I am not sure.
Texans vs Jaguars
This one was ugly. Plain and simple. The Texans scored 3 points. Davis Mills threw for 200 passing yards. No touchdowns. He also led them in rush yards with 33. They miss Dameon Pierce. Dare Ogunbowale and Royce Freeman did not get the job done. Brandin Cooks was the highest-scoring skill player with 7.9 points. And that is really all you need to know about their side of the ball.
The Jaguars got out to a huge lead early and that was that. Trevor Lawrence didn't need to do anything because Travis Etienne came in and took care of business on the ground. Etienne ran for 108 yards and a TD, scoring 23 points in the process. Also had 3 catches for 32 yards. Big day for the sophomore running back. JaMycal Hasty got involved once Etienne was benched. He had 33 yards, a TD, and 6 catches for 23 yards (17.6 points). Heck of a day from the Jags' running backs. They didn't need to do much in the air. Lawrence only had 152 yards passing and an interception. A tough 4.4-point week for him in championship week. Not ideal. Ladies & gentlemen, we are one win away from seeing the Jacksonville Jaguars, who were dead last in the league last year, in the playoffs. It's insane how much they were held back by Urban Meyer. Marvin Jones Jr. was the last fantasy-relevant player with 12.1 points. I am curious to see how this team responds with a playoff spot right in front of them.
Raiders vs 49ers
If you would have told me before this game that it was going to be a high-scoring, overtime thriller, I would have said you were nuts. But here we are and it was a high-scoring, overtime thriller! Brock Purdy vs Jarrett Stidham. What a matchup. Goes to show you never know what'll happen. Despite some big performances from Davante Adams (34.3 pts), Jarrett Stidham (26 pts) and Josh Jacobs (19.5 pts), the Raiders couldn't get it done. If Adams' 150 yards + 2 TDs and Jacobs' nearly 100 scrimmage yards and TD aren't enough, what is? This defense needs a complete overhaul. Good luck, Raiders fans. Your most dedicated player (to me knowledge) is no longer with the team. Going to be a long off season for y'all.
Brock Purdy and the 49ers contine ue to roll. Another big week. That makes 8 straight. They haven't lost since Christian McCaffrey joined the team in the trade. CMC's 192 scrimmages yards and TD led the way (31.3 points). Brandon Aiyuk had another huge day. 9 catches for 101 yards and a TD. Good for 26.7 points. Kittle came in third among the skill players, scoring 12 points from 4 catches, 23 yards and a TD. Brock Purdy scored 17, which is about where he has been. It's crazy to see the last pick of the NFL draft leading a team to a playoff run. Another example of you never know what's going to happen in the NFL.
Jets vs Seahawks
The Jets stunk it up. Hopefully, they do that next week. That'd be great. Mike White was not getting it done. He did throw for 240 yards, but no TDs and 2 interceptions (measly 3.6 pts). Tyler Conklin was peppered He caught 6 passes out of 6 targets for 80 yards. No touchdown here, but a solid week regardless. After him, it's a big fall off to the next scorer. Corey Davis came in at 7.5 points and Ty Johnson had 6.7 points. Not a great week to a be a manager with Jets' players. Knowing my luck, this means Mike White is going to throw for 400 yards next week. Just you watch…
The Seahawks came in needing a win, and got it. Winning 23-6. Nothing fancy, just business. Geno Smith led the team in fantasy points with 17. 183 yards and 2 TDs for the vet QB. Kenneth Walker had a good day, too. At the right time! He scored 15 points, running for 133 yards (15 points after adding his 1 catch for 9 yards). The craziest part of this game was DeeJay Dallas. He caught 3 passes and was the Seahawks leading receiver with 55 yards. Yes, this is the same team that D.K. Metcalf is on. Tyler Lockett came back from injury, but left the game due to injury. I don't know if it was the same injury or a new one, but hopefully, you did not play him…good win for Seattle, bad game for fantasy production all around.
Vikings vs Packers
What's funn about this game is I was facing Justin Jefferson, T.J. Hockenson, and Dalvin Cook in multiple leagues. Most of those leagues, I either needed all of my players to go off assuming the Vikings players would score well, OR, I needed my team to just have a solid day and the Vikings players to stink. I did not think it was going to be the latter. When JJet, Cook and Hockenson all combined for 21.8 points, I had chances to win my matchups and that I did (as of now because we don't know what's going on with Cincy/Buffalo yet). Not ideal for some managers when Jalen Nailor and K.J. Osborn are the leaders in fantasy points. Nailor scored 18.9 points on 3 catches for 89 yards and a score. Osborn racked up 17.9 points on 7 catches for 59 yards and a score. Probably not helping many people out, but good days nonetheless.
The Packers are rolling…could be scary. Almost feels like back-to-back MPV Aaron Rodgers is breaking out of his shell. The league should be on notice. I saw someone say the Packers didn't want to come into the post-season (assuming they get in) with the hot hand and having a record of say 14-3 or 13-4. Rather, they wanted to come into the playoffs under the radar and dominate. If you look at their last Super Bowl win, that is what happened…Now, I dont think the early season woes were on purpose. Injuries and other setbacks put them behind. But now I'm wondering if they're okay with how it panned out…just some food for thought.
I'll just quickly sum up the Packers day. Rodgers had 16.5 points, not his best day but not his worst. Robert Tonyan was the leading receiver with 3 catches for 52 yards and a TD (14.2 points). Allen Lazard had a decent day, catching 5 for 59 yards, but with no touchdown its only 10.9 points. Aaron Jones had a quiet 13 point game but he had 111 rush yards which is huge for the Packers. A.J. Dillon also wound up with 10 points after he fell into the endzone. Good win for the Packers, should be interesting in week 18!
The Battle of LA (Chargers vs Rams)
This one was pretty boring. Despite Baker's Christmas day extravaganza, he couldn't get it done against the Chargers. A putrid 132 passing yards and no TDs. No interceptions, though! That's always a plus for Baker. Cam Akers was the only player succeeding on Sunday. He racked up 14 fantasy points on 123 rush yards and 1 catch for 10 yards. Soldi day for someone so polarizing this season. No better week than title week to do well! He had a nice finish to the season. Van Jefferson was the next best fantasy score. He had 10.7 off 3 catches for 77 yards. Just not an ideal week for Rams' fantasy scores. Maybe next year!
The Chargers are finally playoff bound with Justin Herbert under center. Should be interesting to see how he thrives. With everyone healthy, I don't see why he can't? Austin Ekeler was the hero this week. Recording 122 rush yards with 2 rushing TDs and had 4 catches for 39 yards to go with it. A huge 32-point week in the championship. You love to see it. Mike Williams had a solid day, scoring 16.4 off 7 catches for 94 yards. Keenan Allen with a bit of a quieter week, but still scoring double-digits with 11.8 points (5 catches for 60 yards). Justin Herbert had 212 passing yards and 2 TDs giving him 16.6 points. All-around solid week for the Chargers skill position players I'd say.
Steelers vs Ravens
Another week, another low-scoring Ravens game. Boy, do they wish Lamar was healthy? Luckily, they're in the playoffs and don't technically need him right now. We finally saw Tyler Huntley connect with Mark Andrews who scored 29 fantasy points on 9 catches for 100 yards. Would have been really cool to see him get in the end zone for a massive week. Isaiah Likely showed up this week, scoring 10 points thanks to his touchdown catch. 3 for 12 and the score for Likely. J.K. Dobbins didn't have a great fantasy day, but he racked up 93 rushing yards for the Ravens and that nearly puts him at 100 yards per game since he has been back from the IR. I am all in on J.K. for next season.
The Steelers keep on winnin' when it matters. Getting the win 16-13 this week. Led by not only Najee Harris but also Jaylen Warren. Najee had 111 rush yards and Jaylen Warren had 76. Najee was the lucky recipient of the lone touchdown this week. Whether it was intended for him or not! Najee ended up with 20.3 points and Warren had 12.8 points. Both are at the top of the Steelers production this week. Not much passing production, as we have seen with Kenny Pickett, he threw for 168 yards and the TD to Najee. Got the win, so it is irrelevant. Freiermuth led in receiving with 3 catches for 36 yards. No, I am not lying. Where you at Diontae/Pickens??? Steelers got the win, but man was it somethin'.
STAY IN TOUCH
Sign up for FantasyData's newsletter and get awesome content sent to your inbox.
We'll never share your email address and you can opt out at any time, we promise.
---

Ever since Tony decided he was going to major in Sports Management at the University of Cincinnati, he knew his life would revolve around sports. Tony is an avid Miami Dolphins fan who grew up in Columbus, Ohio. Home of the Buckeyes, who Tony was born and raised to root for. Tony has been playing fantasy football for just over a decade. He approaches fantasy football with the same mentality he approaches everything else, "If you ain't first, you're last." Specializing in redraft, Tony's goal is to bring a fresh perspective to the Fantasy Football world.