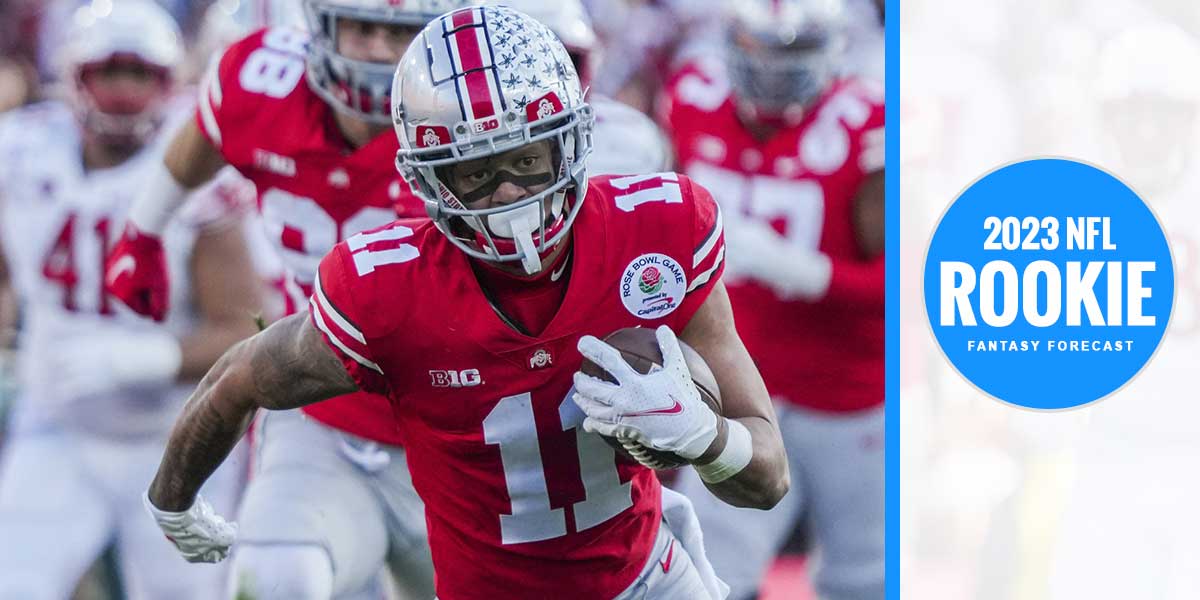 Jaxon Smith-Njigba Fantasy Forecast 2023
---
Jaxon Smith Njigba Fantasy Preview
In the 2022 NFL season, there were two rookie wide receivers who passed the 1,000-yard mark. Both receivers, Garrett Wilson and Chris Olave, were products of Ohio State University. Garret Wilson, the reigning Offensive Rookie of the Year, has gone on record saying that their former teammate, Jaxon Smith-Njigba, was the best receiver of the trio. Whether this is the truth or if Wilson was simply hyping up his old friend has yet to be seen, but Smith-Njigba certainly has the potential to become one of the NFL's next star receivers.
After an unimpressive freshman season in a talented, yet crowded, receiver room, Smith-Njigba blasted onto the scene his sophomore year at Ohio State with 95 receptions for 1,606 yards and 9 touchdowns. This was over 500 yards more than Wilson and Olave, who would go on to be drafted numbers 10 and 11 overall respectively in the 2022 NFL draft. Additionally, Smith-Njigba dazzled fans with his unforgettable, record-breaking 2022 Rose Bowl performance, where he caught 15 passes for 347 yards and 3 touchdowns.
Unfortunately, JSN's junior campaign was cut very short by a hamstring injury which kept him on the sidelines for all but three games. Regardless, Smith-Njigba's amazing talent was not forgotten, as he was the first receiver drafted in the 2023 NFL draft by the Seattle Seahawks. He looks to join a talented receiver room on a Seahawks team that silenced lots of doubters with their playoff run last year.
Skill Set
Jaxon Smith-Njigba possesses many traits that are common among successful NFL receivers, but perhaps the most important is his ability to get open. His route running is elite, and his body control is among the best in the class. While he doesn't have scorching speed, he is quick and agile and makes it easy for the quarterback to find him around the field. He impressed at the NFL combine with a 6.57 time on the three-cone drill, which proved to NFL GMs that his injury history is no longer hindering his lateral quickness. Smith-Njigba also has excellent ball skills with a highlight reel of incredible catches. He was most efficient in college as a slot receiver, but he is dynamic enough to be effective all around the field.
Landing Spot
Smith-Njigba was picked 20th overall by the Seattle Seahawks in the 2023 NFL draft. He is joining what has proven to be a powerful Seattle offense led by 2022 Comeback Player of the Year, Geno Smith. Before the 2022 season began, most people had written off the Seattle Seahawks after they shipped off their longtime pro-bowl quarterback, Russell Wilson, to the Denver Broncos for an assortment of players and high-value draft picks. While it looked like Seattle had committed to a rebuild, Seahawks coach, Pete Carroll assured fans that they were still fighting for a championship. He and his team proved doubters wrong with a winning record and a playoff berth. Although they lost in the first round, they are coming back with a vengeance after massively upgrading their roster in the 2023 draft with players like Devon Witherspoon, Jaxon Smith-Njigba, and Zach Charbonnet.
Smith-Njigba joins DK Metcalf and Tyler Lockett as Geno Smith's top targets for the 2023 season. While Smith-Njigba is third on the depth chart as of now, he could quickly work his way up if he is able to establish a connection with his breakout quarterback this year. Although DK Metcalf is in the early years of his career at only 25 years old, Tyler Lockett will turn 31 in the early weeks of the 2023 season. The Seahawks are hopeful that Smith-Njigba will be able to fill the significant void that Lockett will leave when he retires, but there is a chance that JSN could transcend Lockett's impressive impact on Seattle's offense.
Fantasy Impact
Although JSN was the first receiver to be drafted in 2023, it is difficult to immediately expect production from a rookie that has two talented receivers ahead of him on the depth chart. His talent, draft capital, and the offensive capabilities of the Seahawks are all conducive to Smith-Njigba becoming a cornerback's nightmare in years to come, but Fantasy managers might have to wait for him to solidify himself as a trusted option for Geno Smith. Geno is another question mark for JSN's production possibilities. He had an amazing season last year where he threw for over 4,200 yards and 30 touchdowns, but it is yet to be seen if he can sustain this type of quarterback play. Besides his first 2 seasons in 2013 and 2014, Geno Smith has not thrown for more than 702 yards in a season.
If Tyler Lockett takes a step back and Geno Smith continues to play at the level he played last year, JSN could have an exciting season in store for him. As of now, Smith-Njigba is being drafted around WR38 in redraft PPR leagues, which is about the same place that players like George Pickens and Juju Smith-Schuster are being drafted. He is likely to profile as a middle-of-the-pack WR3 at the start of the season, but he has the potential to be a year-one breakout.
Dynasty
In Dynasty leagues, Jaxon Smith-Njigba is a hot commodity. He was drafted 20th overall to a team that has had success at the receiver position in recent years with players like DK Metcalf, Doug Baldwin, and Tyler Lockett. Assuming Geno Smith can sustain passing production like last year, the Seahawks should have a dynamic offense under coach Pete Carroll. While his short-term upside is limited, the Seahawks spent their second first-round pick on arguably the best receiver in the class for a reason. Smith-Njigba is an asset in the slot, which will be difficult for defenses to cover while their focus is diverted to Seattle's already dominant one-two punch in Metcalf and Lockett. When Lockett's time in Seattle is over, JSN should assume the role of the number 2 receiver.
In rookie drafts, Smith-Njigba is typically being drafted at 1.03 overall behind Bijan Robinson and Jahmyr Gibbs. Through most of the offseason, JSN was the consensus 1.02 pick due to his talent and potential, but a favorable draft capital for Jahmyr Gibbs and the trading of D'Andre Swift to the Eagles has turned the tide a bit in Gibbs' favor. Realistically though, it's a flip of the coin depending on team needs. While Seattle is not necessarily the best situation Smith-Njigba could have landed in, it is certainly far from the worst. He has immense long-term upside, and he will be a fun player to watch grow and develop in the NFL. Smith-Njigba's consensus draft spot is around WR17 in Dynasty start-up drafts, which is the highest of all rookie receivers this year.
---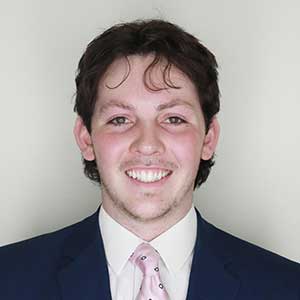 Logan was born and raised in Louisville, Kentucky, where he grew up watching sports with his parents and brother. He recently graduated from the University of Colorado Boulder, where he studied Psychology. While getting his Bachelor's degree, his favorite pastime was researching and writing about sports, particularly the NFL. His interest in writing about fantasy football started when he began writing comedic editorials for the enjoyment of his long-time league mates. He is a die-hard Patriots, Bruins, and Red Sox fan, but when it comes to basketball, he roots for the Cleveland Cavaliers.