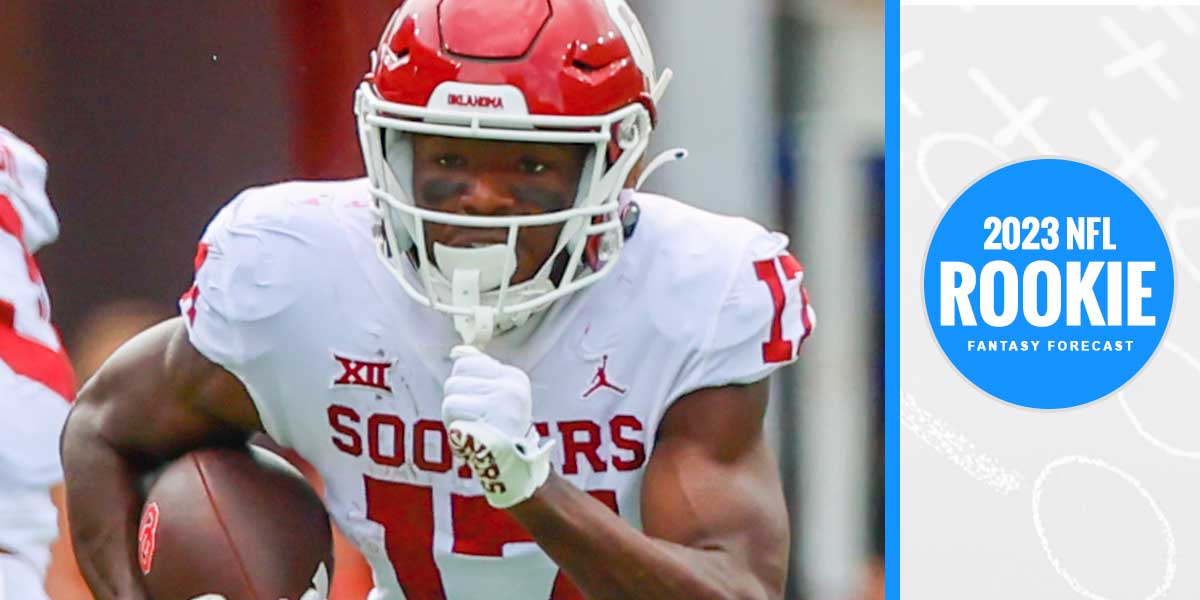 Marvin Mims Fantasy Forecast 2023
---
Marvin Mims Fantasy Forecast 2023
The Denver Broncos traded up to take Marvin Mims with the last pick of the second round in the 2023 NFL Draft. A small, elusive receiver with big play ability, Mims joins a relatively crowded receiver room in Sean Peyton's new-look Broncos Offense. The game of football seems to come naturally to the Mims family, as his brother Denzel was a second-round pick in the 2020 NFL Draft. Although Denzel has not yet seen much success at the next level, Marvin's explosiveness and x-factor ability was enough for the Broncos to trade up to take him as their first selection in the draft.
Mims joined the Oklahoma Sooners in 2020 after an impressive high school career in which he broke the Texas high school record for receiving yards in a career (5,485), and the national high school record for receiving yards in a season (2,629). He had an impressive rookie season, receiving FWAA Freshman All-America status. After a slight drop-off in his sophomore year, he returned to the spotlight as a junior with 1,083 yards, 6 touchdowns, and 7 receptions of at least 40 yards.
Skill Set
Mims does not exactly have the prototypical receiver body type that NFL GMs go crazy over, but he more than makes up for it with his ability as a playmaker. The 5'11 receiver is very versatile in that he is dangerous in the slot and on the perimeter. Mims hasn't had much of a history of drops, but he is most dangerous after he has the ball in his hands. He is a YAC monster with the ability to turn even the shortest of slant routes into big gains. He averaged 19.5 yards per catch at Oklahoma, which is within the top 5 of all CFB receivers who played for at least 3 years. Mims is a refined route runner, and he can weave through defenses and special teams units as a receiver and kick returner. Additionally, he possesses a valuable ability to find soft spots in zone coverages, making him very quarterback-friendly.
Landing Spot
After hiring Sean Payton who assured Russell Wilson he'd be in the hot seat if he did not see improvement this year, the Broncos looked to bolster their offensive capabilities through the 2023 draft. To do this, they traded up to the second round to draft Marvin Mims Jr. Mims joins a crowded receiver room where he will likely work behind Jerry Jeudy and Courtland Sutton while fighting Tim Patrick and new-addition Marquez Callaway for the WR3 spot. Although last year was a disappointment for Wilson in his new system, he has proven that he can sustain multiple fantasy receivers in his time at Seattle.
Sean Payton has made it clear that he has no interest in trading Sutton or Jeudy despite reports that the Broncos had been shopping them this offseason, but there remains the possibility that we might see one of them in a different jersey as early as this year. Barring a trade or injury at the top of the WR depth chart, it is difficult to envision that Mims would be able to sustain much production in his rookie season. Regardless, he is primed to be an interesting new factor in a Broncos offense that is looking for a playmaker who can help take the team to the next level.
Fantasy Impact
Despite Mims' talent and explosive ability, it is not likely that he will be much of a factor in redraft Fantasy Football rosters this year. While he should have the opportunity to usurp Tim Patrick as the Broncos' WR3, there will likely not be enough volume to make him fantasy relevant. In 2022, Russell Wilson's shotty QB play was hardly able to sustain one wide receiver in fantasy. While Greg Dulchich and Courtland Sutton were viable streamers on some occasions, it was very difficult to trust them as consistent options. Even Jeudy struggled to maintain consistent relevance until the last 5 weeks of the season.
Unless Wilson and the Denver offense take a massive leap this year, Mims does not profile as much more than a very late-round pick in deeper leagues. His skill set is promising though, as Russell Wilson made a career out of throwing deep balls to quick, undersized receivers. He has a very high upside if the right volume comes, but until then his consensus ranking is around WR110.
Dynasty
While short-term production is a concern for Mims, he makes for a very intriguing dynasty prospect. In a relatively weaker WR class, Mims has the talent to become a star of his draft class. While the situation isn't ideal yet, his draft capital is promising as the Broncos likely didn't trade up in the draft to use their first pick on a receiver that they don't plan on utilizing much in the long term. Sean Payton has coached many successful receivers from Marquez Colston to Brandin Cooks to Michael Thomas, so it might not be a stretch to assume he has a good eye for the position. Mims is only 21 years old, and his receiver room competition has a history of injury troubles. While Jeudy and Sutton have recently signed contract extensions with the Broncos, it's not impossible that the Broncos will move on from one of them in the coming years.
For those who don't mind waiting a bit for this talented receiver to see more volume, he could be a sneaky pick towards the end of the first round or top of the second round in rookie drafts. He will generally be drafted as WR8 of 9 this year in rookie drafts, and he could turn out to be a great return on investment for those who don't need an immediate filling at the WR position. This long-term upside upgrades him significantly in dynasty start-up drafts, putting him at about WR55.
Quick Links
---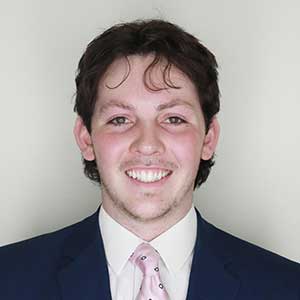 Logan was born and raised in Louisville, Kentucky, where he grew up watching sports with his parents and brother. He recently graduated from the University of Colorado Boulder, where he studied Psychology. While getting his Bachelor's degree, his favorite pastime was researching and writing about sports, particularly the NFL. His interest in writing about fantasy football started when he began writing comedic editorials for the enjoyment of his long-time league mates. He is a die-hard Patriots, Bruins, and Red Sox fan, but when it comes to basketball, he roots for the Cleveland Cavaliers.