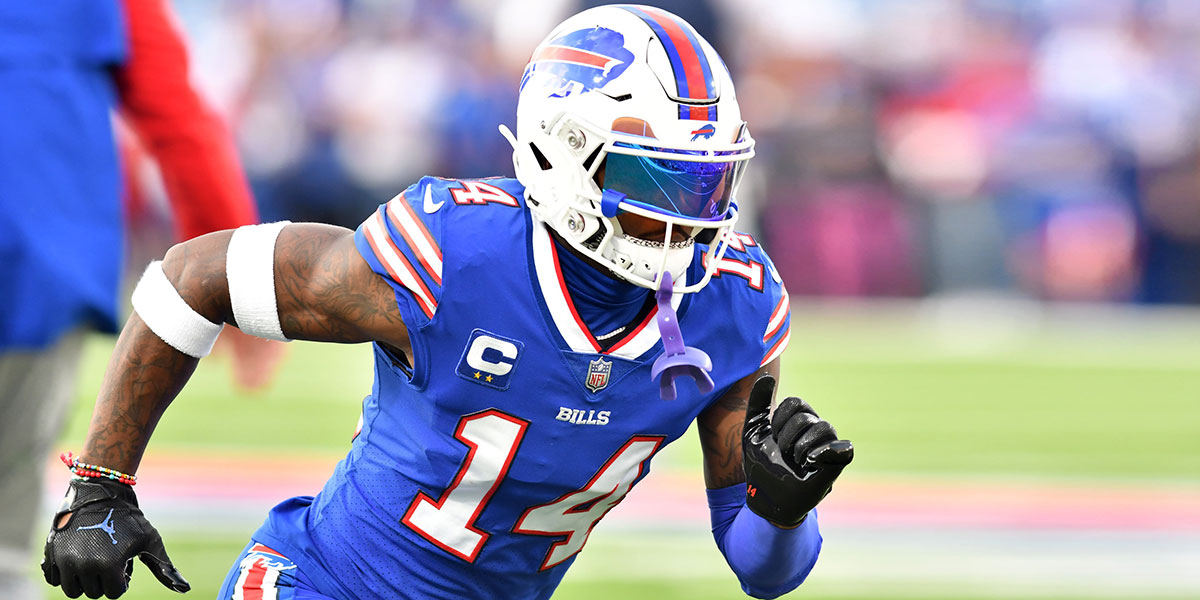 NFL DFS Cash Game Plays: Week 2
---
DFS Cash Game Plays: NFL Week 2
The NFL Week 2 slate is ready for us to attack, but first, let's think about how to react to last week's DFS slate. With only one week of data under our belts, it's hard not to overreact to what we saw on the field, particularly as injuries and outlier performances pile up. Let other people chase the outcome stats, and we will instead focus on usage and opportunity.
We will go through each position at a variety of salary levels to see who are the best plays in cash games on DraftKings and FanDuel. For these purposes, a cash game is any contest that pays out more than one-third of the field. While these are also viable GPP options, we are primarily looking for a safe floor combined with high usage that can lead to ceiling games.
DFS Tools
Previous Week's Results
Results on DraftKings:
Massive $25 Double Up (Single Entry) - 1162/
Giant $10 Double Up (Single Entry) - 1005/
Giant $10 Double Up (Single Entry) - 815/
Giant $5 Double Up (Single Entry) - 1500/
NFL $5 Double Up (Single Entry) - 373
NFL $2 Double Up (Single Entry) - 845/
NFL $2 Double Up (Single Entry) - 436/
DK Milly-Maker (I had a free ticket to use) - 105529/
Winning percentage: 100%
This was my cash game lineup for all contests in Week 1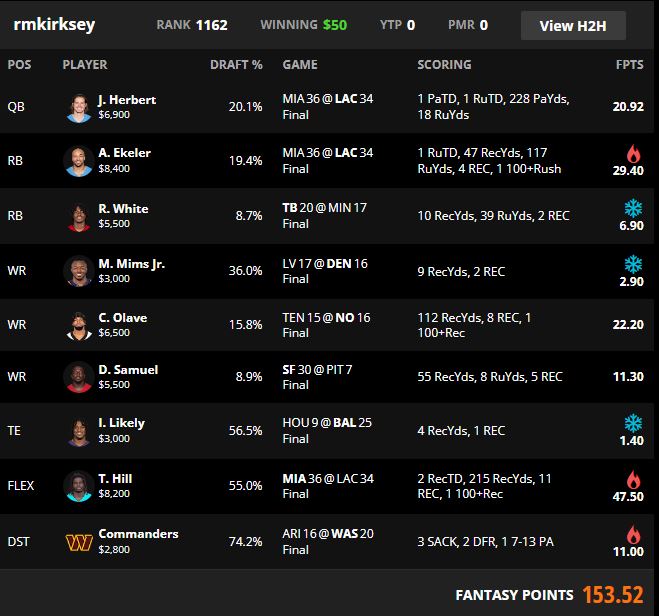 In the end, this slate came down to what you did with the quarterback position. Jalen Hurts and Anthony Richardson were popular plays this week, as was Herbert. I thought Lamar had the better matchup, and would have played him over Hurts. Richardson scared me, honestly. I knew he would have some kind of rushing floor, but I was afraid a rookie with limited college experience could potentially fall flat on his face. He did not and benefited those who took the chance. Herbert did just what we needed, and probably even disappointed in a game that had 70 total points.
Sometimes, especially with the low-salary duds, you are going to get the snowflake. But that's okay when it's guys like Isaiah Likely or Marvin Mims, who were a combined 92% rostered. If your studs hit, which mine primarily did, you can overcome those duds or if your 74% rostered defense didn't show up (the Commanders did do what we thought they would, fortunately).
For the roster, six of these players were guys listed in the Week 1 DFS piece (Herbert, Ekeler, White, Mims, Olave, and Washington). The other three were all players I posted about on X as news came out over the weekend. Be sure you're following me there (@CableBoxScore) for any updates I make to my player pool as we get closer to lock.
Scoring Differences Between DraftKings and FanDuel
A quick primer on DraftKings versus FanDuel scoring for DFS if you are unfamiliar with their platforms.
On DraftKings, you are selecting nine spots with a total of $50,000 to spend. FanDuel has nine spots with $60,000 to spend, so salaries are slightly higher.
DraftKings is full PPR scoring, while FanDuel is half-PPR.
DraftKings deducts one point for a fumble lost and an interception. FanDuel is minus two points for a lost fumble and minus one for an interception.
DraftKings awards three-point bonuses for 300-yard passing games, 100-yard rushing games, and 100-yard receiving games. FanDuel does not award bonuses.
With those differences in mind, let's look at which players make good selections in Week 2.
Quarterback
Trevor Lawrence (DraftKings: $6,700, FanDuel: $7,800) represents a quarterback in the best game environment on this slate and is only up $200 on DK from Week 1. Bothe Jaguars and Chiefs are projected to score more than 24 points in this game, so the shootout potential is immense, especially after we saw the Lions put up points against Kansas City in their stadium last week. Lawrence was ninth last week with 7.5 yards per pass attempt and with new weapon Calvin Ridley already looking like the alpha, he has a number of weapons at his disposal.
Jared Goff (DK: $6,200, FD: $7,300) was the architect of all those points against Kansas City last week, and now he may get a more unleashed Jahmyr Gibbs in the passing game. The Seahawks were gashed last week by the lowly Los Angeles Rams, which is part of the reason why Goff and the Lions are projected for 26 points in this matchup (fourth-most on the slate). If you recall, last year this matchup ended up in a 48-45 game with Goff throwing for 378 yards and four scores.
Anthony Richardson (DK: $6,300, FD: $7,500) gets a significant salary bump ($700 on DK) after smashing in his debut last week. The 40 rushing yards and one rushing score were not a surprise, but the 37 pass attempts, 223 passing yards, and passing touchdown certainly were. With the Colts' running back room in shamble right now, I like Richardson to continue his domination on the ground against a Houston Texans team that allowed the most rushing yards in the league last year and just gave up three rushing touchdowns to Baltimore last week.
Running Back
Christian McCaffrey (DK: $8,900, FD: $9,500) showed last week that he still has plenty left in the tank and is ready to take the full-time role for the 49ers. There was some concern that Elijah Mitchell would eat into his workload, but that was put to rest with 85% of the snaps against Pittsburgh, even in a blowout. A $8,900 salary for McCaffrey is $500-$1,000 lower than we have seen with peak C-Mac on DK in the past, and if this is the 2019-2020 from of McCaffrey this year, anything below $10,000 on both sites is a steal.
Travis Etienne (DK: $6,900, FD: $8,200) had questions coming into the season about his workload with Tank Bigsby on the roster, but he put those to rest in Week 1. Etienne played on 80% of the snaps, ran 69% of the routes, and handled 74% of the rushing share. I want as much of this Jacksonville offense as I can get in this high-octane game against the Chiefs. And while I may prefer to roster both Etienne and Calvin Ridley, I can almost guarantee one of them will be in my lineup.
Rachaad White (DK: $5,500, FD: $6,200) was wildly inefficient last week in a cupcake matchup with the Vikings, but he did get the workhorse role we were hoping for. The good news is that resulted in no salary increase for White this week as we wait and see what he will do for an encore in Week 2. He now gets a Chicago Bears team that allowed 4.6 yards per carry to Aaron Jones last week as well as 113 receiving yards to running backs.
Joshua Kelley (DK: $5,000, FD: $6,300) will be a must-play if Austin Ekeler sits out this week with his ankle injury. If Ekeler is out, just lock him in and don't look back. Even splitting time last week, Kelley was a force to be reckoned with. He rushed 16 times for 91 yards and a score against Miami and now could have 100% of the role if Ekeler isn't healed up by Sunday. This could be the cheap play we need to unlock the rest of the lineup on DK and FD.
Wide Receiver
Stefon Diggs (DK: $8,000, $FD: $8,000) is a way to get some exposure to the team with the highest implied total on the slate (Bills are projected to score 28.3 points). Even with Josh Allen's horrific debacle on Monday Night Football last week, Diggs got his with 13 targets, 10 receptions, a score, and 102 receiving yards. Las Vegas allowed the fourth-most yards per pass attempt last season and Diggs should have no trouble getting separation from their secondary.
Amon-Ra St. Brown (DK: $7,800, FD: $8,100) just demanded eight targets which resulted in 71 yards and a score in the opening night game last week, and there is a case to be made that this was his floor for this season. All the rest of the Lions' wide receiver corps is old and dusty and Jameson Williams won't be back until at least Week 7, if not later. The Seahawks just allowed Puka Nacua and Tutu Atwell to catch 16 balls on 23 targets last week, so St. Brown should absolutely destroy them in the middle of the field.
Calvin Ridley (DK: $7,200, FD: $8,300) wasted no time in establishing himself of the number one wide receiver on the Jaguars' team. After a huge campaign from Christian Kirk last year, he was basically relegated to WR3 duty because Ridley is simply that much better. Ridley didn't play for 686 straight days but Trevor Lawrence had a 131.3 passer rating when targeting him. Expect a lot more games with 100+ receiving yards and a score.
Puka Nacua (DK: $4,900, FD: $5,800) needs to be monitored because of his leg injury that has bothered him since the Week 1 game. But if he suits up, it is clear after a league-leading 15 targets that this is the receiver to have in LA until Cooper Kupp returns. San Francisco is a tough opponent, but on a site like DraftKings, Nacua should still be able to generate enough PPR points due to volume and garbage time to pay off a $4,900 salary.
Tight End
Darren Waller (DK: $5,500, FD: $6,600) provides the opportunity for elite usage on Sunday without the salary of Travis Kelce or Mark Andrews. Despite the terrible game environment last Sunday night, Waller finished fifth among tight ends with a 1.57 yards per route run and his usage should be ramped up this week after playing it safe in the blowout with only 54% of snaps played Arizona should be much softer across the middle, making Waller too cheap for his expected production. Plus, if you're into this sort of narrative, it's Darren Waller's birthday week!
Luke Musgrave (DK: $3,200, FD: $5,000) was actually second to just Kyle Pitts in Week 1 for yards per route run and he was heavily involved with Christian Watson missing the game. Musgrave played 75% of snaps and ran 80% of the Packers' routes. He was one Jordan Love overthrow from having a very long touchdown catch and that's one of his weapons. Musgrave had a 26% air yards share Sunday so he is getting targeted downfield already.
Defense/Special Teams
Buffalo DST (DK: $3,700, FD: $4,900) may not really be in play on FanDuel, but they look too cheap on DraftKings. Josh Allen, Aaron Rodgers, and the crazy Jets win were the storyline from Monday Night Football, but Buffalo had three sacks and an interception in that game. They should be able to provide plenty of pressure to Jimmy Garoppolo in their first home game of the year.
Washington DST (DK: $3,100, FD: $3,900) - The Commanders did not disappoint last week against Arizona and now are only $300 more on DK and $1,000 LESS on FD. In the 2022 season, the Broncos were 30th in the league, allowing a 10% sack rate to quarterbacks. Denver was 11th in the league last week with a 62% pass-play percentage, so more of that kind of game plan can lead to plenty of sacks and interceptions.
Cash Game Sample Lineup
Using the players listed above, you could construct a roster that looks something like this. However, keep in mind, that this is just a suggested build and could change drastically by the time the games kick off on Sunday. You should come to your own conclusions and build a cash game roster that suits the players you prefer and your style of build. This DraftKings build also has room for Anthony Richardson if you prefer him over Goff this week. As of Friday morning, it is a tough build to make, with no obvious spend-down options. If players like Austin Ekeler, Aaron Jones, or Christian Watson miss this game, that will make our builds much more straightforward.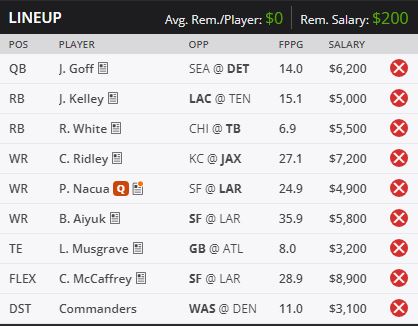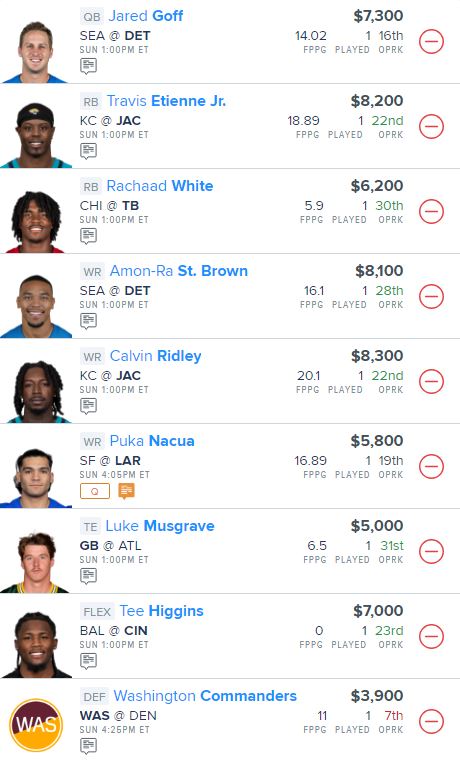 ---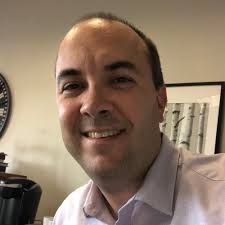 Ryan is a 20-year veteran of fantasy baseball, football, and basketball leagues. He has been writing about fantasy sports, sports betting, and DFS since 2018 and is a member of the FSWA and IBWAA. A native of Houston, he is a die-hard fan of the Astros, Rockets, and - reluctantly - the Texans. When he is not buried under sports analysis and TV show recaps, he works full-time in higher education and can be found pursuing his other passions: drinking coffee and writing about comic book investment and speculation.