NFL DFS Picks: Week 16
---
NFL DFS Picks: Week 16
So, should I be rooting for a win or a loss? For those of you who don't know, I'm a Jaguars fan—shoutout to Maurice Jones-Drew for sparking that inspiration a decade and change ago—with all I can say about the experience is that, with the exception of 2017, it's been a tough ride. Now, after the improbable Jets victory over the Rams, the Jags are in position for what could be a franchise-altering pick in Trevor Lawrence. Given the potential lack of competitiveness that comes when tanking is overly common (as can happen in the NBA), I'm not a subscriber to deliberately throwing anything, but there's a discussion to be had about prioritizing short vs. long-term angles in this type of situation.
On that note, I've been thinking a lot about how much of an impact the result might have on, well, my enjoyment of football over many years ahead. I view the league from a very broad lens given the work I'm doing—it's more useful for me right now to know the usage breakdown for Broncos RBs than specialize absorbing all the idiosyncrasies of a specific roster—but there's undoubtedly an excitement to be had having a team that you're consistently rooting for succeed. If the one playoff run the Jags enjoyed was that much fun, how valuable is a player who could lead a string of them? What does it mean that a nontrivial portion of my life satisfaction could be altered by a punter making a tackle on a breakaway return?
In my often hyper-rational approach reacting to events (that involves shrugging off the majority of things that happen to me, good or bad, and then evaluating the subset of them that I deem significant with a remarkable gravity), I almost feel like I should be aggressively rooting for the Jags to lock up the #1 pick under the presumption that the odds are high Lawrence has, at the very least, an entertaining NFL career. With two more weeks in the regular season, though, the books are yet to be written, and one thing we do have some control over is our own fantasy dominance. It's impossible to be certain what play might turn the tide of your season even in the moment itself; let's stack up our Week 16 NFL DFS Picks and see what comes.
Fellow FantasyData expert Chris Mitchell and I co-host a podcast, Slate Breakers, going into further detail on each DFS main slate. Episodes will be embedded in these preview articles once live later in the week, and for even more content, make sure to follow me on Twitter.
Quarterback
The trio of Saturday contests makes this a smaller slate than usual, and the 10 games we do have to work with don't look particularly fantasy-friendly on paper. The notable spot that jumps out is Patrick Mahomes ($8500 on DraftKings) against the Falcons—the Chiefs' team total of 32.25 is four points higher than any other team—while, after their over/under of 54.0, no other game exceeds 49.5. Rushing holds as an effective way to add value without tons of scoring, so Lamar Jackson ($8000), Deshaun Watson ($7600), and Jalen Hurts ($7000) should be well on your radar. Those of you who have been following my content know that I think the pricing on Hurts has been egregiously low, which is to say I'm still fine playing him even after this bump.
Jared Goff ($5900) and Matt Ryan ($5800) fit similar molds of being volatile passers against relatively loose defenses; Ryan is more likely to get to chase, though. The 22 attempts that Mitch Trubisky ($5700) had on Sunday were a season low, and in the same way that Ryan Tannehill made for leverage off Derrick Henry against the Lions last week, Trubisky would differentiate you from David Montgomery lineups while still taking advantage of the plus matchup. If you're pushing even lower, I guess there's a chance to spin the Drew Lock ($5000) wheel.
Favorite Plays: Patrick Mahomes ($8500), Jalen Hurts ($7000), Mitch Trubisky ($5700)
Running Back
If Christian McCaffrey ($9200) goes, you're obviously building him in where you can. I don't see any other RBs that would instantly project for 20+ points, so while I'm fine with Nick Chubb ($7800) and David Montgomery ($7700) and Austin Ekeler ($7600), I'm hardly seeing a must-have player. Miles Sanders ($7000) totally works as well, though I might rather play Hurts; Tony Pollard ($6500) would be a strong interest of mine if Ezekiel Elliott misses out.
Salaries are inflated across the board, so J.D. McKissic ($6400) playing a 88% snap share still earns him consideration; Chris Carson ($6400) is fine at the same price. Two more options in the range would be J.K. Dobbins ($6200) and David Johnson ($6100); I wouldn't blame you if you wanted to just skip right down to Le'Veon Bell ($5800), though. Bell isn't an automatic start or anything, but any of these guys needs to be efficient, and he's a cheaper core piece guaranteed to get touches in an electric offense.
Melvin Gordon III ($5600) and Giovani Bernard ($4800) are both leading backfields on teams playing for pride. The Rams will likely split between Darrell Henderson ($4500) and Malcolm Brown ($4000) in Week 16, with Henderson my preferred play; Ito Smith ($4000) is expected to take central duties for Atlanta. Given that the top RBs are neither as safe nor expensive as they sometimes are, I'm more amenable than usual to trying to nab value out of multiple plays here to work in studs at other positions.
Favorite Plays: David Montgomery ($7700), Austin Ekeler ($7600), Tony Pollard ($6500), Le'Veon Bell ($5800), Darrell Henderson ($4500)
Wide Receiver
Best of luck fitting the pieces together if you want to stack Mahomes with Tyreek Hill ($9000) and run it back with Calvin Ridley ($8500). Julio Jones ($6800) would offer valuable savings if he can go, while I suspect D.K. Metcalf ($7800) will be a solid contrarian play, and Allen Robinson ($7700) would be a must for all Bears stacks. I still like Terry McLaurin ($6700) and Cooper Kupp ($6600), even if both have been a bit quieter recently.
Target volume makes Diontae Johnson ($6300) a viable play on any slate—consistent looks keep Brandin Cooks ($6200) good, too—and although the concentration of the Panthers offense makes all of their WRs reasonable, it feels like D.J. Moore ($5800) sports the highest ceiling. Rashard Higgins ($4800) is getting quality intermediate throws; Jamison Crowder ($4500) would be my pick from the other side of that game.
There's still a full-time role for Chad Hansen ($4400); Jerry Jeudy ($3700) couldn't have possibly forgotten how to play football; Mecole Hardman ($3100) was fifth in the league in air yards in Week 15 despite running routes on just 46% of dropbacks. If Cordarrelle Patterson ($3000) returns to the fold, I think he might get more carries than people expect, with an off chance at a TD. He'd be a fun vulture to have plugged in, if nothing else.
Favorite Plays: Calvin Ridley ($8500), Terry McLaurin ($6700), Diontae Johnson ($6300), D.J. Moore ($5800), Jamison Crowder ($4500)
Tight End
Well, so now we're up a gap of $2800 between TEs after Travis Kelce ($8500) headlines the position. I do think it's worth noting that, at these prices, you effectively have to choose between Kelce and Tyreek Hill—there's almost no path to them both having slate-breaking performances. It's a weird island for Mark Andrews ($5700) being second-priced at the position, since I'm not sure he dominates the next round of options—of which Logan Thomas ($4900) is next up.
There is also Noah Fant ($4800) to keep an eye on, but you can also go further down to Dallas Goedert ($3600), Austin Hooper ($3500), or Hayden Hurst ($3400)—all sit in my type of range. Cole Kmet ($3000) ran routes on a season-high 77% of dropbacks last week, and Zach Ertz ($3100) is playing the majority snaps given Philly's two-TE sets.
Favorite Plays: Noah Fant ($4800), Dallas Goedert ($3600), Cole Kmet ($3000)
Popular Pages & Links
---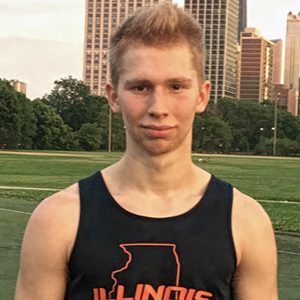 Peter Gofen started playing fantasy football at the age of seven and has amassed numerous meaningful and even more meaningful championships in the years since. His YouTube channel, PeterJaguars, has over 2.5 million total views, in the heyday of which he correctly predicted the entire 2017 NFL playoff bracket. Peter currently resides in California as a student at Stanford University, where he commentates Cardinal Sports for Stanford's campus radio station, KZSU 90.1 FM.