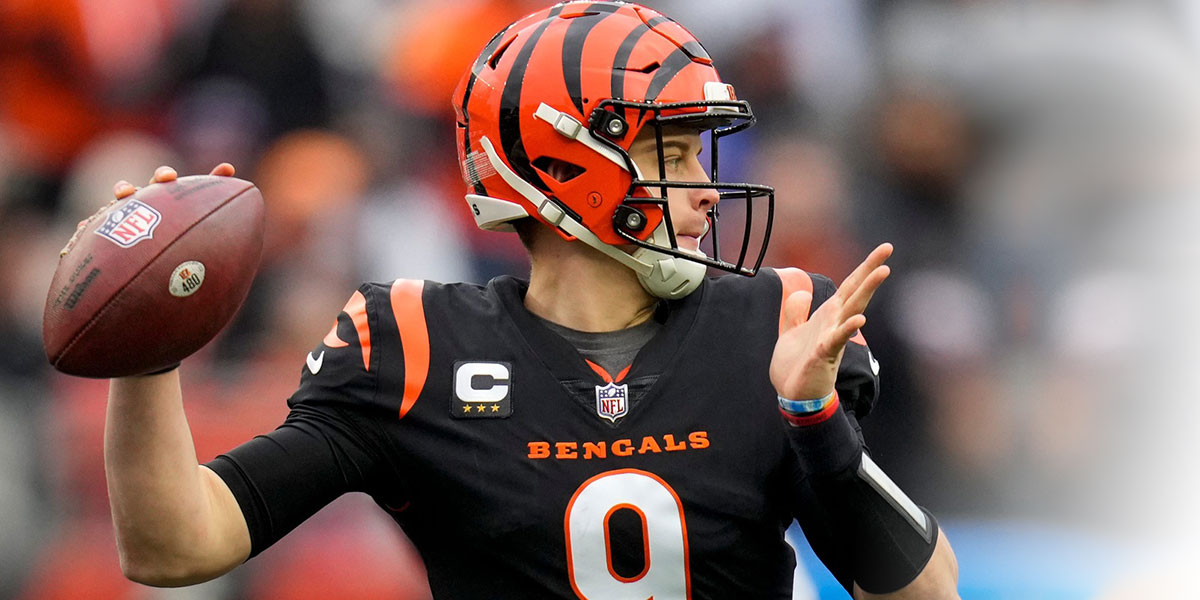 NFL DraftKings Cash Game Plays: Championship Weekend
---
NFL DFS Picks: Championship Weekend
The NFL Conference Championship Weekend DFS slate is ready for us to attack, but first, let's think about how to react to this tiny two-game slate. With such a small player pool, cash games often end up with duped lineups and low scores if the popular players don't hit their projections. It's risky, but your roster is worth differentiating somewhere in a spot you feel comfortable in so you don't end up chopping the 50/50 or double-up pots with hundreds of other managers. We will focus this piece primarily on the situations that are the best plays as of Saturday morning, and I will tweet out adjustments as necessary (@KirkseySports).
We will go through each position at various salary levels to see who are the best plays in cash games on DraftKings. For these purposes, a cash game is any contest that pays out at least one-third of the field. While these are also viable GPP options, we are primarily looking for a safe floor combined with high usage that can lead to ceiling games.
Quick Links
Divisional Round Weekend Cash Plays
Quarterback
Jalen Hurts ($7,200) is $600 less than Patrick Mahomes on this small slate but now offers a significant advantage over Mahomes. Mahomes is likely now limited with his ankle injury, while Jalen Hurts should be able to run all over the 49ers should the pocket collapse around him or the receivers fail to get open. For how strong their defense was, San Franciso allowed opposing quarterbacks to complete 65.7% of their passes, which was 10th-highest in the league. Over the last three games, that number jumps to 68.7% and the Eagles are certainly going to be trying their patented deep balls to A.J. Brown and Devonta Smith several times in this game.
Joe Burrow ($6,800) certainly deserves to be in the conversation this week, considering the 47.5 implied total of this game, the tight 1.5-point spread, and the fact that he has now put up over 20 DraftKings points in five of his last seven games. Last time against Kansas City? A cool 30 DK points including two passing touchdowns and a rushing score. Last week, Burrow threw 36 times and rushed another six times for 31 yards. That kind of usage from Burrow in "Burrow"head stadium this week should lead to an almost automatic 20 DK points again.
Running Back
Christian McCaffrey ($8,000) is light years ahead of any other running back this weekend, and he will have to be fed and fed constantly for the 49ers to compete in this game. C-Mac didn't practice Wednesday or Thursday thanks to a calf injury, but he was a full participant on Friday and is ready to go for the NFC Championship Game. The Eagles were actually just an average run defense in the regular season and also allowed running backs to catch 86 passes for 542 yards and three touchdowns. All those numbers were bottom half of the league, so I figure the San Francisco game plan is going to be to pepper McCaffrey and Deebo Samuel with a bunch of stuff underneath.
Joe Mixon ($6,500) was a major contributor for the Bengals on Sunday, rushing for over 100 yards and a score while also catching a couple of passes. The Chiefs allowed the most receptions and the fourth-most receiving yards to running backs this season, so I expect Joe Mixon, like McCaffrey, to be involved in the passing game plan as well. But even when he is not catching passes, he should find some running lanes open. The Chiefs have allowed 5.3 yards per carry over their last three games.
Jerick McKinnon ($5,400) is the running back you will want if this AFC Championship Game turns into a shootout. He is a masterful pass-catcher, a strong red zone threat, and the guy the Chiefs rely on in the two-minute drill and on third downs. He won't get the yards that Isaiah Pacheco Will, but McKinnon is the one who gets his number called near the end zone. The last time these two teams played, McKinnon dropped 14 fantasy points, which would be just fine for $5,400.
Wide Receiver
Ja'Marr Chase ($7,600) is like McCaffrey this week, in that he is in a tier all by himself now among wide receivers. But we are able to roster him at just $7,600 this week when he would clearly be close to $9,000 if this were the regular season. Chase's eight targets last week were the first time he had fewer than 12 since Week 13 of the regular season and he ended up with 61 yards and a score against the Bills. Chase played the Chiefs in his first game back from a long injury in Week 13, and despite only playing limited snaps, caught seven balls for 97 yards. He is uncoverable by this Chief's secondary and is the most dangerous weapon on any team this weekend.
A.J. Brown ($7,000) may have put up a dud against the New York Giants last week, but he has a lot going for him in this matchup against San Francisco. The 49ers allowed the sixth-most receiving yards to wide receivers this year plus the seventh-most receiving touchdowns. That's primarily due to the fact that they are prone to give up a lot of deep completions, which just happens to be A.J. Brown's specialty. The Eagles were second in league with 38 pass plays of more than 25 yards this season. The 49ers get weak fast in their secondary, so Brown should be primed for a huge game.
Deebo Samuel ($5,700) may have only seen 11 opportunities last week (seven targets and four rush attempts) but that is going to have to significantly increase against this Eagles' defense. Philadelphia is known for shutting down opposing passing games, so Samuel will need more out of the backfield and more throws to be schemed to him in space where he can most dangerously operate. Considering how I think he will be involved in the game plan this week, Samuel is too cheap for how explosive he can be. One only needs to look back to the Wild Card round against Seattle (31 DK points) to remember what he can do with an open field.
Tight End
Travis Kelce ($7,800) almost set the record for most receptions in a single playoff game. Not by a tight end, but by any player, ever. His 14 catches for 98 yards and two touchdowns led all players across the four-game slate last week, and it's clear that during playoff time, the Chiefs are going to give Kelce as many targets as he can handle. Kelce is a WR1 lined up at tight end, and he might be the most valuable player of the weekend if he can get 12+ targets again.
Hayden Hurst ($3,000) showed last week that even at a low salary, Hurst can be heavily involved in the game plan and pay tremendous dividends. Hurst caught five of six targets for 59 yards and a score, securing his spot as the second-best receiver on the team in the Bills game. The Chiefs allowed the fifth-most touchdowns to the tight end position during the regular season and are susceptible to tight ends beating their linebackers.
Defense/Special Teams
Philadelphia DST ($2,800) has been getting a lot of steam this week for the pressure and sack rate they put on opposing quarterbacks (12%). It's by far the highest in the league, and a rookie quarterback like Brock Purdy on the road might some trouble in that kind of environment. Purdy has been living on the edge in recent weeks with no interceptions and sack avoidance, and if this is the week all that regresses, this is the DST you will want in your lineup.
Cash Game Sample Lineup
Using some of the players listed above, you could construct a roster that looks something like this. However, keep in mind that this is just a suggested build and could change drastically by the time the games kick off on Sunday. You should come to your own conclusions and build a cash game roster that suits the players you prefer and your style of build. Don't be afraid to do something like double-tight end on this small slate. He is worth a roster spot if there is a good option at a decent salary like George Kittle.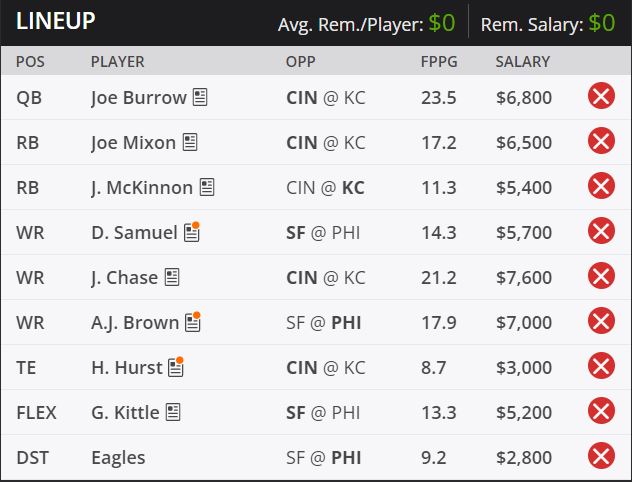 STAY IN TOUCH
Sign up for FantasyData's newsletter and get awesome content sent to your inbox.
We'll never share your email address and you can opt out at any time, we promise.
---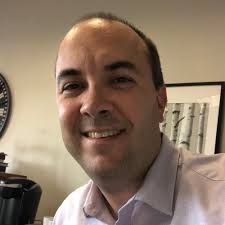 Ryan is a 20-year veteran of fantasy baseball, football, and basketball leagues. He has been writing about fantasy sports, sports betting, and DFS since 2018 and is a member of the FSWA and IBWAA. A native of Houston, he is a die-hard fan of the Astros, Rockets, and - reluctantly - the Texans. When he is not buried under sports analysis, he works full-time in higher education and can be found pursuing his other passions: drinking coffee and writing about comic book investment and speculation.