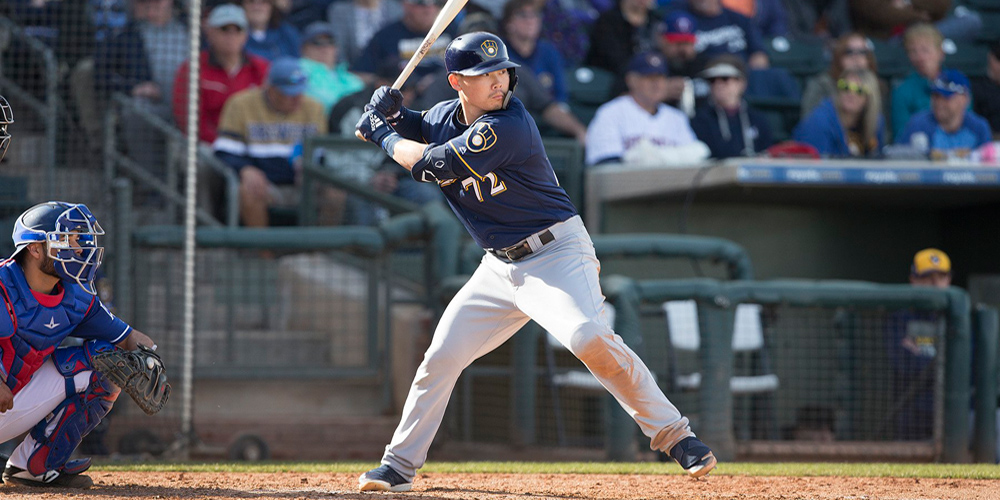 7 Second-Year Break-Out Fantasy Baseball Candidates
---
Fantasy Baseball: Second-Year Break-Out Candidates
Second-year players in fantasy baseball can be tough to predict. Guys who had great rookie seasons can end up having the dreaded sophomore slump. On the other hand, they can prove year 1 wasn't a fluke a take another step toward fantasy success. When going into your drafts, it's a good idea to know who these guys are and have your own opinion on them. Know where they are going, know if you are willing to pay up for them, or know if you will only draft them at a discount to their ADP.
I don't think you need me to tell you that reigning Rookies of the Year Pete Alonso or Yordan Alvarez are good second-year players. However, there are some less touted players out there that maybe you forgot about or missed, or simply guys that are being undervalued that should be on your radar on draft day.
The below seven players come to mind:
Keston Hiura, 2B, MIL (ADP: 2B6, 51 Overall)- When it comes to evaluating hitters the very first thing I look at is K: BB walk ratio. A poor K: BB ratio is a surefire sign of a bad average over a large sample set. Keston Hiura might the exception to that rule. Over 314 at-bats in 2019, Hiura slashed .303/.368/.570, hit 19 homers, 49 rbi, scored 51 runs and stole 9 bags. No doubt solid numbers. Looking below the surface it gets even better. He had a 13.9% barrel rate (top 8% of the league), had an average exit velocity of 91.4 (top 10%), a wOBA of .388 (top 6%), and a 50% hard-hit rate (top 3%), it's quite clear Hiura can flat out rake. And while he had a K:BB ratio of about 4:1 his first year in the majors, in the minors and college he was about half that at 2:1 and consistently hit above .300, including a phenomenal triple-slash line in AAA of .329/.407/.681. That's a 1.088 OPS for those of you keeping score at home. On a solid Brewers squad, Hiura is a guy worth reaching for in drafts a round or maybe even two above his current ADP.
Eloy Jimenez, OF, CWS (ADP: OF14, 59 Overall) - Most of you know Eloy Jimenez. In fact, there's probably a chunk of you that have been waiting for his real breakout since he was traded cross town from the Cubs to the White Sox in 2017 as part of a multi-player deal that landed the Cubs mediocre workhorse Jose Quintana. Jimenez started slowly in 2019, he missed a chunk of May due to an ankle injury and when the calendar flipped to June he was slashing a putrid .220/.273/.390 with 6 home runs and 11 rbi. Pretty gross. He started to heat up in June when he hit .340, smacked 8 home runs and racked up 20 rbi but found himself back on the shelf in July, missing 11 games after an outfield collision. If your fantasy team was out of it by August then you may not have noticed what happened next. Jimenez batted .305 with 5 homers and 15 rbi in August and completely exploded in September when he batted .383, belted 9 homers and drove in 25. Jimenez is not going to do you any favors in the average department, he simply strikes out too much, but he is in the top 8% of the league in hard-hit % and can crush 40 homers and surpass 100 rbi with ease in 2020. Draft Jimenez with confidence as a #2 outfielder in the first 5 rounds.
Vladimir Guerrero Jr., 3B, TOR (3B9, 60 Overall) - This time last year pundits were practically gift wrapping Vladimir the Rookie of the Year award (he ended up finishing 7th in AL ROY voting). Guerrero suffered an oblique injury in spring training last year and missed roughly the first month of the season, but there's no way around it, he never really got going. At the end of the day, he batted .272 with 15 home runs, 69 rbi, 52 runs, and zero steals. Overall forgettable numbers considering the hype. He hit home runs below the league average, didn't have a good ground-ball to fly ball ratio, an average BABIP, and doesn't hit the ball particularly hard (although he did have one of the hardest-hit home runs in 2019 that had an exit velocity of 118.7mph. But, amongst all these numbers we have to remember that when Vladimir Guerrero took his first at-bat in the majors he was 20 years, 1 month, and 10 days old. Everyone was watching his every at-bat. This year it's not that at all. Sure, there's interest but the baseball world nor the fantasy world will not be on the edge of their seats watching Vlad. Guerrero's 2020 ADP is currently 60, almost exactly what it was last year, but that was probably slightly depressed because of the injury. Around the 5th/6th round is a great place to take on risk and Guerrero Jr. could easily outplay that draft position.
Bo Bichette, SS, TOR (ADP: SS8, 67 Overall) – I have three words for you when it comes to Bo Bichette: Sign. Me. Up. Extra-base hits are a huge leading indicator for a player and Bichette became the first rookie to have 15 of them in his first 15 career games and the first player ever to double in 9 straight games. Here were the top leaders in Extra Base Hit % in 2019: Nick Castellanos (13.2%), Christian Yelich (13.1%), Rafael Devers (12.8%), Charlie Blackmon (12.8%), and Nelson Cruz (12.7%). Recognize any of those names? Yeah, I thought so. In Bichette's limited time in the majors, he topped them all with an Extra Base Hit % of 13.7% (but didn't have enough plate appearances to qualify for the leaderboard). Even though it's Vladimir Guerrero Jr. that gets a lot of the attention in Toronto, people aren't exactly sleeping on Bichette. He's being drafted as the 8th shortstop off the board at 71 overall, just above Marcus Semien and Carlos Correa. He doesn't have a large sample set, but in the middle rounds of the draft is where I look for a guy like Bichette, who could end up being top 5 or even top 3, at his position in the very near future.
Mike Soroka, SP, ATL (ADP: SP29, 105 Overall) – In Soroka's first year all he did was go 13-4 over 29 starts, 18 of them quality starts, threw a total of 174.2 innings, struck out 142 batters, and compiled a sparkling 2.68 ERA. He finished second in NL Rookie of the Year voting and even got a little love in NL Cy Young voting, finishing 6th. He was 10th in WAR for starting pitchers at 5.7, right behind Max Scherzer at 5.8. And best of all, he's being drafted as the 29th starting pitcher off the board, 105th player overall. The Braves are a good team and will provide Soroka with plenty of run support which will put 15+ wins well within reach. Also, it's always reassuring to see a young pitcher perform on the big stage, and even though he took the loss, Soroka looked fantastic in the playoffs last year against St. Louis when he fired 7 innings giving up only 1 run on 2 hits, walked none and struck out 7. Soroka is an absolute steal at his current ADP and certainly someone to consider reaching for earlier.
Bryan Reynolds, OF, PIT (ADP: OF37, 161 Overall) - Entering 2019, in the Pirates farm system, Bryan Reynolds was the Pirates 3rd ranked outfield prospect and 8th best prospect overall. In other words, he was a super nobody. By the end of their season, he was one of their best, most reliable players. He slashed .316/.377/.503, hit 16 home runs, 68 rbi, and scored 83 runs. He strikes out a little too much for my liking, but his xBA is .296 (top 6% in the league) so despite the Ks, he's doing something right. He also hit 37 doubles, which is a sign his power is for real and more homers could be in his future. Here's the thing with Reynolds, he might not light the world on fire or have a particularly high ceiling, but I think he has a solid floor and he's cheap. It's not every day you can get a guy that hits well and won't hurt you in other categories outside the top 150 picks.
John Means, SP, BAL (ADP: SP94, 311 Overall) - It's easy to write off any pitcher that plays for the Orioles because you probably won't be landing someone that is going to have a high wins total. Last year Means went just 12-11 but had a solid 3.60 ERA and 1.14 WHIP over 155 innings pitched. He finished 9th in WAR amongst AL pitchers at 4.5 and finished 2nd in AL Rookie of the Year voting. He's in the top 10% in hard-hit % and has a decent K:BB ratio at about 3.2:1. But the best thing about Means is that he costs you almost nothing at his current ADP. You can do a lot worse than Means as your fifth starter and he can easily turn into an innings eater for the Orioles and your fantasy team.
Good luck in your drafts and please follow me on twitter and reach out with comments.
Quick Links
STAY IN TOUCH
Sign up for FantasyData's newsletter and get awesome content sent to your inbox.
We'll never share your email address and you can opt out at any time, we promise.
---
A native of Boston, Dave has been playing fantasy sports year-round since 1998 and focuses mainly on re-draft leagues. A trained analyst in finance and business, he's dedicated himself to applying those skills to the world of fantasy sports and translate those concepts and themes to fantasy success. When not pouring over box scores or trying to pull off a blockbuster trade, he enjoys spending time with his wonderful wife and three kids, playing cards, shuffleboard, shooting pool and seeing live music.