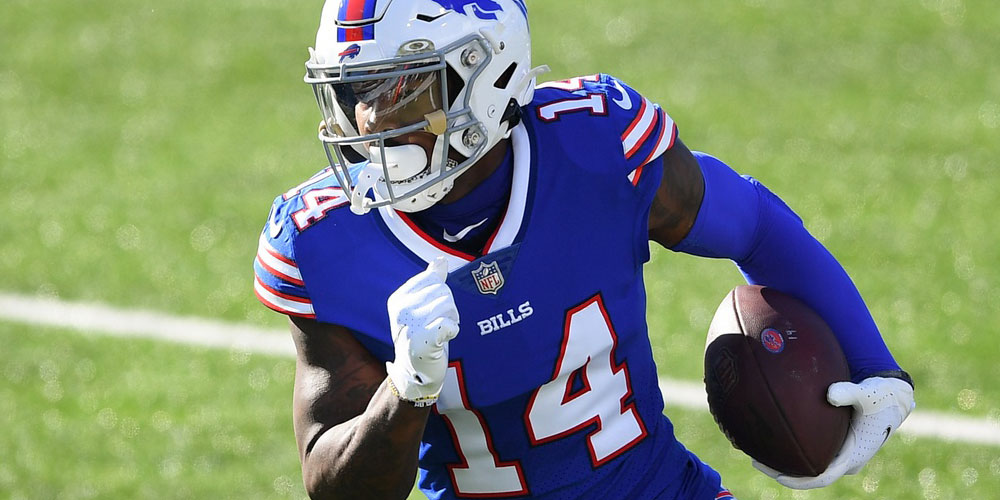 Stefon Diggs Fantasy 2021 Profile
---
Stefon Diggs Fantasy 2021
When looking back on my Stefon Diggs profile in 2020, I whiffed big time. Since then, I learned more about relevant fantasy football data to consider in making some 2021 projections. Last season helped me realize to trust the talent of Diggs and be open to the idea of trends shifting within a team like the Bills. Credit to TJ Hernandez of 4for4 for calling the Josh Allen breakout last season. The idea of the Bills and Josh Allen taking a massive leap in 2020 wasn't on my radar.
In 2020, Josh Allen went from 461 pass attempts (No. 21) in 2019 to 572 (No. 6). That's a pretty massive jump in volume, plus Allen's accuracy improved drastically as well. In 2019, Allen ranked 33rd with a 64.7% True Completion Percentage, which takes out unpressured throwaways and dropped passes. Then last season, Allen's True Completion Percentage jumped to 75.3% (No. 17). Allen's increase in volume and accuracy, plus Stefon Diggs' talent, led to a career-best season.
It's no surprise that given Josh Allen's passing yards increase of almost 1,500 yards with 17 additional passing touchdowns led to Allen's efficiency improving. In 2019, Allen ranked No. 23 with 6.2 Adjusted Yards Per Attempt. Then in 2020, Allen's Adjusted Yards Per Attempt boomed to 8.1 (No. 5). Whether it's coincidental or not, Diggs and Allen proved they're one of the top QB/WR duos in the NFL and for fantasy purposes.
Stefon Diggs 2020 Season Recap
When reflecting on the 2020 season for Stefon Diggs, we noticed Diggs ranked No. 1 with 168 targets, No. 3 with a 29.2% target share, and No. 4 with 1,716 Air Yards. Although Diggs' 33.7% Air Yards Share (No. 17) and 10.2 average target distance (No. 56) don't rank as highly, we love the volume of opportunities and production.
Diggs ranked No. 1 in both receptions (127) and receiving yards (1,535), with 463 of those yards coming after the catch that ranked No. 7 in 2020. He scored a moderate eight total touchdowns (No. 13) or 6.3% touchdown rate, which provides a reason for optimism in 2021. Diggs surpassed his career-high in targets at 149 (2018), receptions at 102 (2018), and receiving yards at 1,130 (2019).
Diggs ranked decently in a couple of efficiency metrics, including 2.58 yards per route run (No. 6) behind Julio Jones, Corey Davis, and Justin Jefferson, with Davante Adams and A.J. Brown at the top. Meanwhile, Diggs finished with a +10.8 Production Premium (No. 22), 0.55 fantasy points per route run (No. 5), and 1.96 fantasy points per target (No. 29). All the marks Diggs reached in 2020 helps confirm that he is an elite wide receiver with the No. 1 overall receiver within his range of outcomes.
Range of Outcomes in 2021
Based on last season, we know Stefon Diggs holds that No. 1 overall receiver upside with four top-3 finishes in 2020. The tricky part is that savvy fantasy players have already drafted Diggs as the WR2 in FFPC redraft leagues. We have the same trends in Underdog ADP and close in SleeperHQ ADP, with Diggs going as WR3 in Redraft PPR leagues. In FFPC and Underdog, Diggs goes after Tyreek Hill, and on Sleeper, Diggs goes behind Davante Adams and Hill.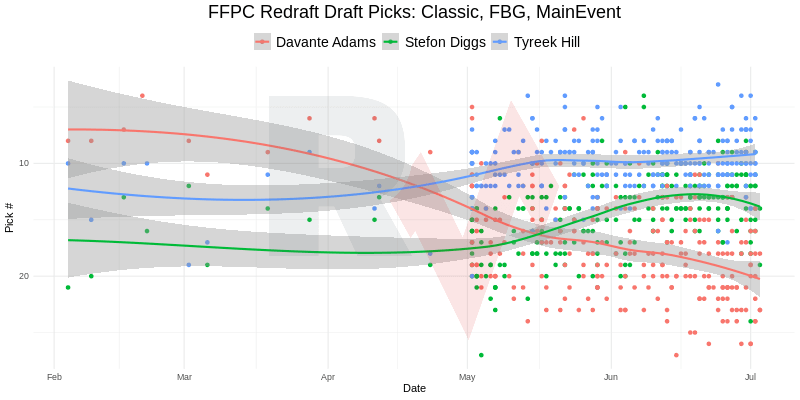 I expect Davante Adams and Tyreek Hill to regress a tiny bit, particularly in touchdown rate. That doesn't mean fade Adams and Hill, but it means don't expect 17-18 touchdowns. In 2020, Adams finished with a 15.7% touchdown rate, and Hill ended with a 17% touchdown rate. Meanwhile, Diggs only had a 6.3% touchdown rate. Often efficient receivers pair with efficient quarterbacks.
Both Aaron Rodgers and Patrick Mahomes ranked as two of the most efficient quarterbacks in 2020. Rodgers ranked No. 1 with +34.5 Production Premium and No. 6 with a +15.8 Production Premium. That said, Josh Allen finished 11th with a +9.9 Production Premium, meaning he also provided efficient production.
2021 Outlook
As noted earlier, Stefon Diggs holds an ADP as the second wide receiver off the board on several sites. The Bills added veteran Emmanuel Sanders yet lost John Brown. In theory, it's probably a lateral move, and Diggs projects as the focal point of the passing offense once again.
When a player comes off a career-best season, it's natural to fade that player expecting regression. Even if we regress the receiving yards a bit and project an increase in passing touchdowns, Diggs could still provide WR1 type numbers. There is also a possibility that Diggs' raw target total and target share increases.
The table above lists the top-12 receivers in 2020 in fantasy points per route run with their 2019 data if relevant. Both Diggs and Tyreek Hill finished with almost identical fantasy points per route run. Meanwhile, Davante Adams jumped to 0.78 compared to 0.61 fantasy points per route run in 2019, which means Adams will likely regress towards the 2019 type numbers. The top wide receivers typically rank highly in this metric, including A.J. Brown and Julio Jones, plus the trio mentioned earlier. Diggs can finish as the WR1 overall if the touchdown rate increases and the target share remains or both.
STAY IN TOUCH
Sign up for FantasyData's newsletter and get awesome content sent to your inbox.
We'll never share your email address and you can opt out at any time, we promise.
---

Corbin is passionate about fantasy baseball and football. He loves diving into and learning about advanced metrics. Corbin is a Mariners and Seahawks fan living in the Pacific Northwest. Corbin's other hobbies are lifting weights, cooking, and listening to fantasy sports podcasts.