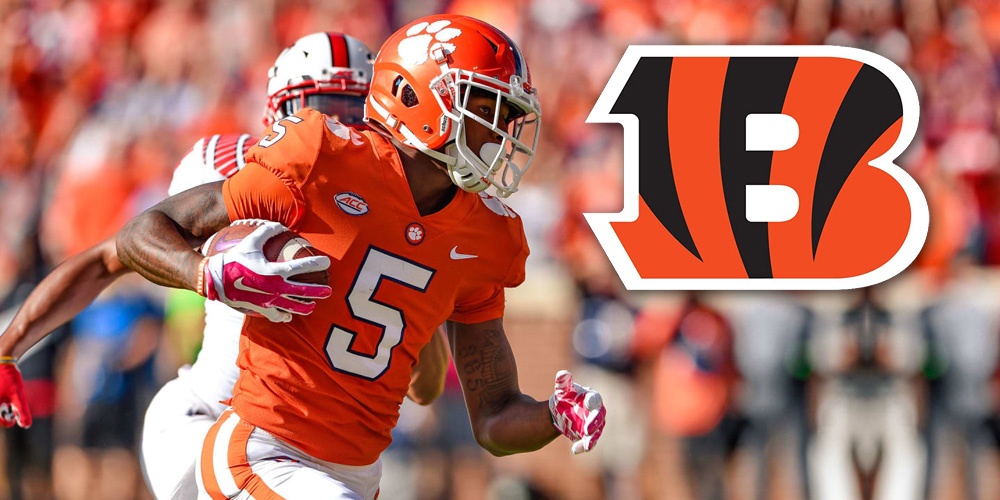 Tee Higgins Fantasy Forecast
---
With the 33rd overall pick in the 2020 NFL Draft, the Bengals drafted wide receiver from Clemson, Tee Higgins. Higgins was projected to be a first-round pick in the deep 2020 wide receiver class but ended up going as the first selection to the Bengals on Day 2.
Higgins played the prototypical X receiver role on the outside at Clemson. In 2019, Higgins yards per reception (19.8) and yards per route run (3.67) ranked fifth amongst all receivers with at least 80 targets. He profiles as a receiver used down the field with an average depth of target of 14.6 in 2019. However, this is more due to the routes he was asked to run at Clemson and not because of his speed. He is great at tracking the ball downfield which can be seen by his 65.2 reception percentage on balls thrown 20 or more yards; that ranked second-best last season. In the NFL, Higgins is more likely to win against smaller defensive backs because of his size and not because of his ability to separate from defenders.
Higgins was a prospect that I was not as high on as most entering the NFL Draft, but the idea that Higgins is potentially tied to Joe Burrow in the long-term is very exciting. The one question mark surrounding Higgins is involved around the current status of veteran wide receiver A.J. Green. The latest reports as of May 1 claim that because of the release of Andy Dalton, the Bengals have more cap space to get a deal done in the long-term with Green. Everything the Bengals have said is that they did not draft Higgins to replace Green; rather it is more of an inditement of John Ross' status on the team who was just declined his fifth-year option. They want Higgins to learn from Green, so again playing the long-term game, that sounds ideal for Higgins.
It is also worth noting that Jay Morrison of The Athletic believes Higgins will open 2020 as a starter. Now, this needs context behind it because the Bengals ran over 75% of their plays from 11-personnel last year which was number one in the NFL. He would most likely start and split time with Ross on the outside opposite of Green with Tyler Boyd remaining in the slot. So even though Higgins will be a so-called "starter" I do not project he is seeing a full snap share Week 1.
Per Bengals.com head coach Zac Taylor said that he did feel like Higgins could be a starter in September, but also said when referring the receivers, "They don't all need to play 60 plays per game. Sometimes, it's better when you reduce the amount of the snaps those guys take. Last year, our receivers had to take too many reps, and as the season wears on that affects them."
A hat-trick 🎩 🎩 🎩 for @teehiggins5 on the way to the MVP in the ACC Championship Game 🐅 #TouchdownTuesday

(via @accnetwork) pic.twitter.com/qULIZ3uF4W

— Cincinnati Bengals (@Bengals) May 5, 2020
Tee Higgins Fantasy Forecast
My major concern from Higgins' for fantasy is he will not have the opportunity to work out of the slot and thus will be subject to more press and man coverage; something he did not see a lot at the college level. When he did see it he struggled. Higgins also failed to step up when the competition increased in college. In the college playoff games in 2019 on 17 targets, he had seven receptions for just 85 yards.
Therefore in year one for fantasy football, I do not expect a lot from Higgins. He will not be on my radar in redraft leagues. The best approach with Higgins is to take the long-term outlook with him considering Ross will likely be gone in 2021, and Green's days are potentially numbered with the Bengals.
I also doubt we see the very best of Burrow in his rookie year in an offseason where workouts are going to be limited - the path to success for Higgins does not seem easy for his rookie season. There are just too many other options that Burrow can go to in this offense in 2020, to project Higgins' for a significant workload. You cannot forget that this passing game will also feature a ton of passes to the running back position considering the Bengals staff wants to use schemes that Burrow succeeded with at LSU.
The best-case scenario for Higgins is that you see him develop chemistry with Burrow as the season goes on and see him take steps in the last month of the year that show he can be a productive receiver at the NFL level. The Bengals in 2019 did attempt the sixth-most passes in the NFL but ranked 28th overall with just 5.9 yards per pass attempt. I doubt this offense is super focused on the run especially with their defense not much improved from last season. Once Higgins starts to get more looks that is when you need to pay attention.
The other area of impact that Higgins could produce in 2020 would-be touchdowns. He scored 23 touchdowns over his past two seasons and the Bengals should throw more passing touchdowns in 2020. Boyd led the team with five touchdowns, while the team ranked second to last in the NFL in passing touchdowns per game at 1.1. Auden Tate and Alex Erickson combined for 24 red-zone targets last season, so with Higgins playing ahead of those guys, his touchdown upside is definitely there. Drafting Higgins in dynasty makes a lot of sense from a team rebuilding because he could literally do nothing in year one from a production standpoint and his value could still increase.
My initial projection for Higgins in 2020: 33 receptions for 500 receiving yards and four touchdowns.
STAY IN TOUCH
Sign up for FantasyData's newsletter and get awesome content sent to your inbox.
We'll never share your email address and you can opt out at any time, we promise.
---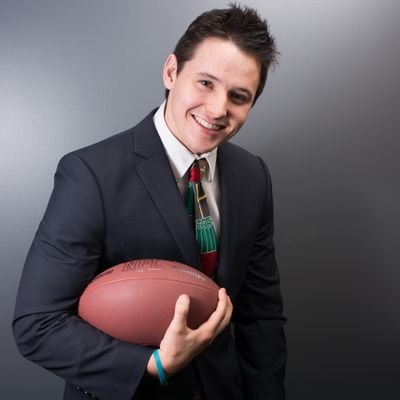 Andrew has come a long way as a fantasy football writer. After graduating from Roger Williams University where he received a degree in marketing he began to write his own fantasy blogs via WordPress.com. He used to call himself the Fantasy Football Master. Nowadays, he is slightly more humble. He has worked with Pro Football Focus as an base data analyst along with bringing head writing experience from Gridiron Experts. He is an absolute die hard Patriots fan (humble brag) and will never forget his first fantasy football team. In his first ever fantasy football league he drafted the Bears defense in the 1st round. He then proceeded to win the entire league. #DefenseWinsChampionships