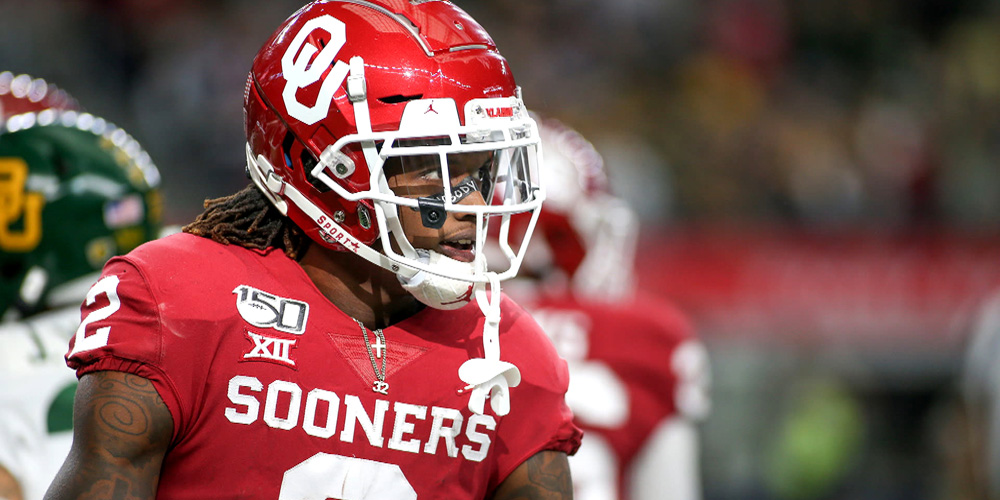 2020 NFL Draft: Top Rookie Wide Receivers
---
Top-12 Rookie Wide Receivers of 2020
The 2020 NFL wide receiver draft class is one of the deepest we have seen at the position since perhaps 2014. Teams are going to find receivers normally taken in the second or third rounds in even later rounds. That means there's going to be a chock-full of wide receivers that become fantasy relevant in 2020. From yards after the catch monsters to slot machines, this class has a bit of everything to offer.
Here are the top 12 rookie receivers to familiarize yourself with the NFL Draft coming up at the end of April
CeeDee Lamb (Oklahoma)
Considered the top wide receiver prospect by many (myself included) Lamb was a dominant receiver in 2019. According to Sports Info Solutions, Lamb ranked number one last season in yards per target (14.3), yard per route run (3.9), and yards after the catch per reception (11.2). Lamb also scored the fourth-most fantasy points of all wide receivers. He also flashed skills in the return game as a punt returner; he led the Big 12 in punt returns in 2019 (24) and in 2018 he led the conference in yards (218) and yards per return (12.8). With his diverse skill set and his ability to make plays with the ball in his hands, he will be a WR No.1 in the NFL. There's a chance that Lamb also still has not even hit his ceiling as his major weakness is route running which often can improve in the NFL.
Henry Ruggs III (Alabama)
There's fast and then there is Henry Ruggs 4.27, 40-yard dash fast; which ranks in the 100th percentile per Playerprofiler.com. The guy can absolutely fly and defenses in college needed to consistently shift coverage over to his side because of his deep threat presence. Per Sports Info Solutions, Ruggs ranked second in yards/target (13.6), and third in yards after the catch per reception (10.5). He also showed sure-hands with just one drop last season on 41 catchable targets. Ultimately the verdict on Ruggs may that he is a much better real-life receiver for an NFL offense because of his back-breaking speed that creates space for other receivers; he himself might not necessarily become an elite fantasy asset.
Jerry Jeudy (Alabama)
Arguably the best route runner of the class, the consensus on Jeudy is he is either the No.1 or No.2 wide receiver overall in this class. Fantasy owners need to pay attention to where Jeudy lands because his ability to separate in his routes should translate over to the NFL level rather quickly. Via Sports Info Solutions, Jeudy ranked second in yards per route run (3.2) and ranked fifth in yards after the catch per reception (7.9). Jeudy spent the majority of his time in the slot at Alabama playing over 58% of snaps in his past two seasons. His yards per route run from the slot (3.39) ranked fifth overall in the NCAA of all receivers with at least 200 snaps in the slot per PFF. He could easily start contributing to an NFL offense very quickly.
Jalen Reagor (TCU)
Though his 40-time at the NFL combine did not turn heads, Reagor appeared to weigh in much heavier than his playing weight was in 2019. Still, he impressed in the jump drills ranking in the 97th percentile in the vertical jump and 98th percentile in the broad jump. His overall explosiveness as a player will be exciting to see in the NFL. 2018 was Reagor's best statistical season; he finished with 1,040 receiving yards (33rd), 131 targets (10th), and 71 receptions (33rd). But what makes Reagor even more exciting at the next level is his punt return ability. In 2019, he ranked fourth overall in the NCAA in total punt return yards and second in punt return yards per return (20.8). The most astonishing fact about Reagor, however, was his quarterback's play in 2019: It was absolutely horrible. According to PFF data compiled by NFL.com's Graham Barfield, Reagor had the lowest instance of accurate passes thrown to him among the entire receiver class for the 2020 NFL Draft. He saw an accurate pass just 31% of the time. That is likely to improve in the NFL. Lastly for wide receivers entering the draft two factors to always take notice are college target market share and breakout age. Via Playerprofiler.com these are two categories that Reagor checks the box on: 95 percentile breakout age and 74th percentile college dominator rating.
Justin Jefferson (LSU)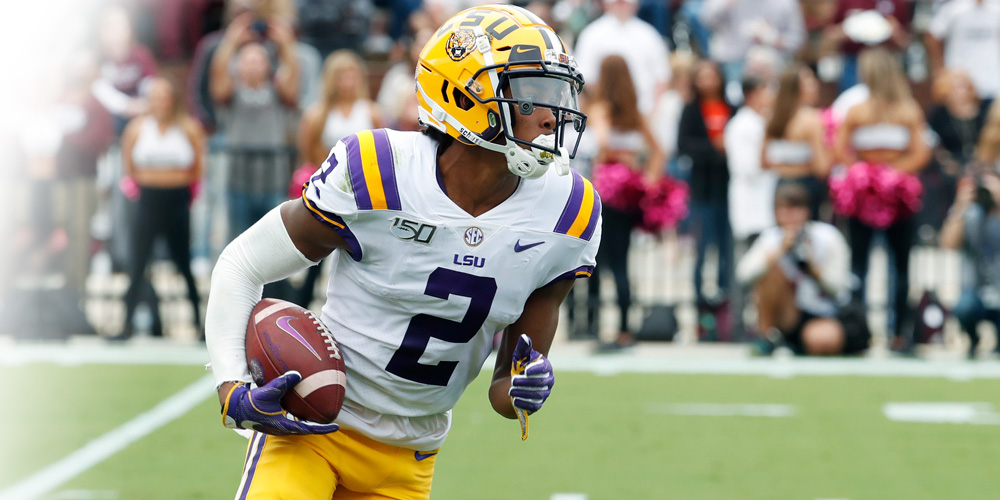 Jefferson led all receivers in NCAA with at least 200 snaps in the slot per PFF in yards (1,518), receptions (109), and touchdowns (18). Jefferson played almost exclusively in the slot in 2019 for LSU. However, the year prior he did also play on the outside so, at the NFL level, Jefferson will not be restricted to the slot; but teams would be wise to utilize his skillset there. According to Sports Info Solutions Expected Points Model, Jefferson's total points gained from being involved in the play in 2019 was a total of 53 points. That ranked highest in the 2020 draft class. They also charted him fourth in the class in yards per target. He should be drafted in the first round.
Denzel Mims (Baylor)
When it comes to risers in the NFL draft, no player has risen up more than Mims from Baylor. He dominated the NFL combine with workout metrics via Playerprofiler.com that showed his 4.38 (96th percentile) 40-yard dash, 96th percentile overall speed score, 90th percentile burst score and 96th percentile catch radius. He broke out his sophomore year in 2017 with 1,087 receiving yards and eight touchdowns. The upside is definitely there with Mims, but he does have his headaches when it comes to drops. Per PFF, Mims has 18 drops (12.9%) on catchable balls in the last two years. However, his ability to come down with contested catches and athletic profile will have a team enamored to draft him at the end of the first or top of the second round.
Brandon Aiyuk (Arizona State)
After N'Keal Harry left for the NFL, Brandon Aiyuk got the opportunity to become the number one receiver at Arizona State. In 2019, Aiyuk according to Sports Info Solutions ranked fourth in yards per target (11.5), second in yard per route run (3.2), second in yards after the catch per reception (10.9), and ranked sixth in their Expected Points Model. He also thrived as a punt returner ranking third in the NCAA in yards per punt return (16.1), and fifth in yards per kickoff return (31.9). Aiyuk is a great run after the catch receiver, but his lone year of production coming his senior season is slightly concerning to project him at the next level. It's worth noting that Aiyuk spent his first two seasons at JUCO at California's Sierra College before attending Arizona State where he then played second-fiddle to Harry for a season. For the NFL he will project as an outside receiver that will rely on explosiveness not contested-catch ability. According to PFF, his 384 deep receiving yards were the 38th most in college football even though he ranked 81st in deep targets (19).
K.J. Hamler (Penn State)
Talked to Penn State's KJ Hamler via Skype just now, and he said his best 3C time and SS time at EXOS were 6.80s and 4.00s, respectively.

Hamler also said he clocked a 4.27s 40-yard dash before suffering a hamstring injury in training.

— Austin Gayle (@PFF_AustinGayle) March 31, 2020
Somewhat of a forgotten prospect after not being able to test at the NFL combine, Hamler is sure to be overlooked. Hamler is a small receiver weighing just under 178 pounds. At Penn State, he lined up exclusively in the slot. Hamler does have the speed as alluded to his reported 40-time to be a deep threat up the seams. 28% of passes thrown his way were more than 20 yards downfield. His yards per route run from the slot (2.45) ranked 11th in NCAA last season and receiving touchdowns ranked ninth (8).
Bryan Edwards (South Carolina)
He played all four of his collegiate seasons at South Carolina. After his teammate Deebo Samuel headed to the NFL in 2019, Edwards stepped up as the number one threat in the South Carolina passing offense. In his senior season with just 10 games played, Edwards had a season-high 71 receptions (28th in the class) for 816 yards on 107 targets; with 540 (14th in the class) of those yards (66%) coming after the catch. He also forced 27 broken tackles over the past two seasons. Heading into the 2020 NFL Draft, unfortunately for Edwards, he was unable to test at the combine due to a broken foot. NFL scouts will have to most likely rely on his college film and production for their evaluation of him. Edwards ranked 15th in the 2020 draft class in yards per route run (2.58) with a minimum of 100 targets via PFF. His yards after the catch per reception (7.6) also ranked seventh-highest of any player that saw at least 100 targets.
Laviska Shenault (Colorado)
Shenault was a versatile wide receiver at Colorado, where he lined up all over the field from outside, slot, backfield, and at wildcat quarterback. The unfortunate stigma surrounding Shenault though as he enters the 2020 NFL Draft is that he has dealt with multiple injuries in his football career. This injury bug carried over to the NFL scouting combine where Shenault reportedly tested with an abdominal injury which resulted in a lackluster 40-yard dash time of 4.58. But when Shenault has been healthy he has been of the most dangerous receivers on the field. According to PFF, he broke 26 of his 44 tackles on screens/jet sweeps, which was nine more than any other receiver, and averaged 10.8 yards after the catch per reception.
Forced missed tackles since 2017:

1 Laviska Shenault. Colorado - 45
2 Ceedee Lamb, Oklahoma - 43
3 Ja'Marcus Bradley, Louisiana - 41 pic.twitter.com/XJylzemPfV

— PFF Draft (@PFF_College) April 4, 2020
Tee Higgins (Clemson)
Higgins played the prototypical X receiver role on the outside in college. In 2019, Higgins yards per reception (19.8) and yards per route run (3.67) ranked fifth amongst all receivers with at least 80 targets. He profiles as a receiver used down the field with an average depth of target of 14.6 in 2019. However, this is more due to the routes he was asked to run at Clemson and not because of his speed. He is great at tracking the ball downfield which can be seen by his 65.2 reception percentage on balls thrown 20 or more yards which ranked second-best last season. In the NFL, Higgins is more likely to win against smaller defensive backs because of his size and not because of his to separate from defenders. The other concern for Higgins; he failed to produce against better teams that he faced in college playoff. On 17 targets in the two playoff games, he had seven receptions for just 85 yards.
Lynn Bowden Jr. (Kentucky)
The ultimate swiss-army knife player, Bowden led the SEC in rushing yards at the wide receiver position along with leading the NCAA in rushing yards per attempt (7.9). Due to injuries at quarterback in 2019, Bowden started the final eight games at quarterback. His biggest strength is definitely is run after the catch. In 2018 has a full-time wide receiver he ranked 15th in yards after the catch per reception (7.7). He will most likely be a slot receiver in the NFL because that is where he spent the majority of time in college, but he could be used in a multitude of ways if he is paired with a creative offensive NFL coach.
STAY IN TOUCH
Sign up for FantasyData's newsletter and get awesome content sent to your inbox.
We'll never share your email address and you can opt out at any time, we promise.
---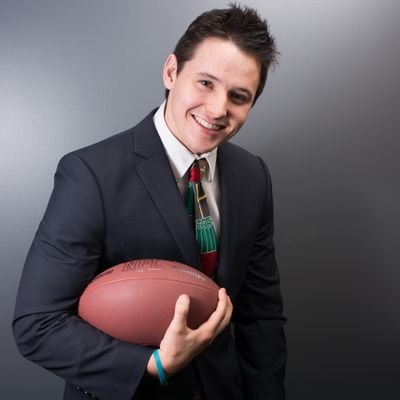 Andrew has come a long way as a fantasy football writer. After graduating from Roger Williams University where he received a degree in marketing he began to write his own fantasy blogs via WordPress.com. He used to call himself the Fantasy Football Master. Nowadays, he is slightly more humble. He has worked with Pro Football Focus as an base data analyst along with bringing head writing experience from Gridiron Experts. He is an absolute die hard Patriots fan (humble brag) and will never forget his first fantasy football team. In his first ever fantasy football league he drafted the Bears defense in the 1st round. He then proceeded to win the entire league. #DefenseWinsChampionships