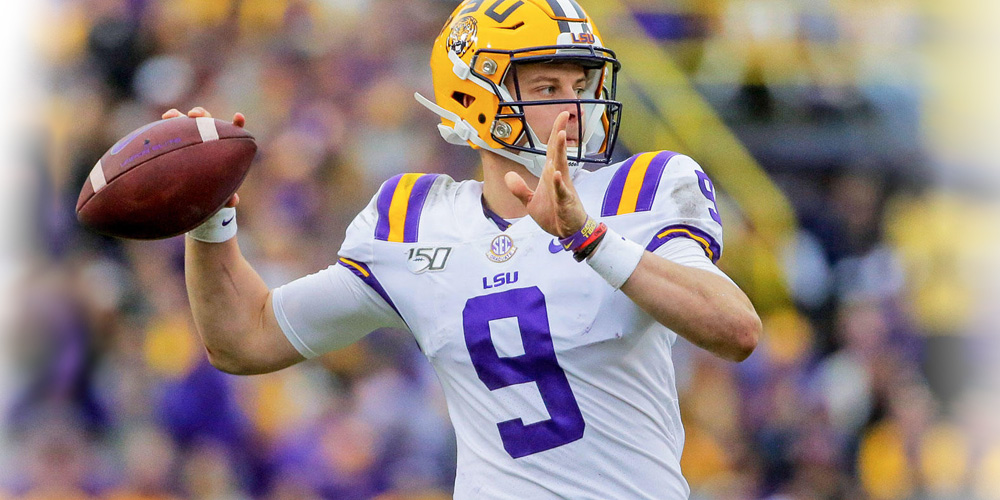 2020 NFL Draft: Top Rookie Quarterbacks
---
Top-10 Rookie Quarterbacks of 2020
In fantasy football, rookie quarterbacks can be overlooked. Many go undrafted in traditional home leagues. However, we have seen many rookie quarterbacks come on strong mid-season in fantasy leagues. This is why it is important to have a background on all of these rookie quarterbacks beyond fantasy draft day. That way during the NFL season if they are thrust into a starting role you will have a better idea of what to expect from them. After all, over the past two seasons, we have seen Kyler Murray, Gardner Minshew, Daniel Jones, Dwayne Haskins, Drew Lock, Baker Mayfield, Josh Allen, Sam Darnold, and Lamar Jackson be fantasy relevant as rookie quarterbacks.
Here are the top 10 rookie signal-callers to familiarize yourself with this spring.
Joe Burrow (LSU)
Burrow is the projected number one overall pick to the Bengals and it's a no-brainer. In 2019 he led the LSU Tigers to the National Championship after throwing for 60 touchdowns, 5,668 yards, and completing passes at an absurd 76.3%. Accuracy in quarterbacks often tends to not improve from college to the NFL so considering how accurate Burrow already is that will translate extremely well to the NFL. His overall adjusted completion percentage was a whopping 60.2%. According to Sports Info Solutions Expected Points Model, Burrow's total points gained from being involved in the play in 2019 was a total of 251 points; the next closest was Washington State's Anthony Gordon's at 180 points. They also charted him with 83% on target percentage which is a summary of throws that were catchable and did not require any adjustment from the receiver. His passing grade per PFF was the highest of any FBS quarterback in the history of PFF charting college games (94.1). For fantasy as well Burrow offers some additional upside as a runner; in college, he had 500 or more rushing yards in back-to-back season. The only knock on Burrow is that this was essentially a one-hit-wonder season for him.
Tua Tagovailoa (Alabama)
The next quarterback going in the NFL draft is Tagovailoa and he should see his name off the board in the top-five selections. I mentioned above how Burrow reigned supreme in terms of the Expected Points Model but on a per drop back basis Tagovailoa actually slightly edged out Burrow (0.49 vs 0.39). Though some might think Tua is the better runner when comparing him to Burrow, he rushed for just over 500 yards in his entire collegiate career. Tagovailoa did however led all quarterbacks in yards per attempt at 11.3 and an independent quarterback rating (146.6). The main concern with Tagovailoa is his dislocated hip injury and that could lower him on many NFL team's boards if they cannot get clear medicals on him. But for fantasy where our jobs are not on the line if we make mistake, he is worth the risk to draft.
Jalen Hurts (Oklahoma)
Hurts is definitely a wild-card in this draft because his traits translate to being an effective mobile quarterback at the next level. Mobile quarterbacks are all the rage in the NFL nowadays so there is a chance that Hurts goes easily ahead of where NFL mock drafts have him going; they have him labeled as a third-round pick. Daniel Jeremiah who is extremely in tune with the NFL has Jalen Hurts in his top-50 players. Hurts tested well at the NFL combine as well running a 4.59 40-yard dash (95th percentile) and showing an impressive burst score (123.8, 92nd percentile). Hurts also tied his former Crimson Tide teammate Tagovailoa in yards per attempts (11.3) in 2019 and outdid him on target percentage (81%) which ranked third best. He also had one of the highest ADOTs in 2019 (10.6) and per PFF he ranked seventh in deep play passing yards (1,234). 19.4% of his attempts were on passes 20-plus yards downfield. From a fantasy perspective, Hurts has the most upside of any quarterback outside of Burrow and Tagovailoa.
Justin Herbert (Oregon)
Herbert is projected to be the third quarterback taken in the first round of the NFL Draft. Herbet's strengths are highlighted by his arm talent and his athleticism. Of the quarterbacks that tested at the NFL combine Herbert's SPARQ-x score was 99.5 (78th percentile). That was the highest in the class. He was a four-year starter at Oregon which was highlighted by a great sophomore campaign in 2017. However, the next two years it was more or less the same from Hebert, with him not taking his game to the next level. Herbert would benefit from spending some more time developing at the NFL level because he is still raw in a lot of areas in his game. Herbert does offer some upside in the run game however because of his speed and overall athleticism. He could find success in a heavy RPO system.
Jordan Love (Utah State)
Love is likely to be the last quarterback drafted in the first round of the NFL Draft. He has been consistently compared to being a poor man's Patrick Mahomes because of his traits and his ability to make off-script plays. He is an aggressive thrower as he led the 2020 Draft class in deep pass attempts (85 attempts 20-plus yards downfield) slightly edging out Burrow (83 attempts). However, he struggles more with inaccuracy on the short-intermediate throws. His decision making is also questionable; 17 interceptions in 2019 after just 12 interceptions combined his first two seasons. Love also seems more comfortable outside the pocket when he needs improvise, rather than staying in the pocket and going through his progressions. He has also struggled mightily under pressure in comparison to other quarterbacks in this class; 43.6 quarterback rating under pressure in 2019. Overall in college, his rating under pressure averaged to an abysmal 53.7. Despite all of these issues through Love still will be a first-round pick because he has elite traits and his 2018 campaign with 32 touchdowns and six interceptions is not out of his range of outcomes.
Jacob Eason (Wisconsin)
Eason is projected to go within the top-60 selections as a late second-round pick. Looking at him in comparison to the rest of the class he profiles as a more traditional stand in the pocket quarterback with less mobility. He is not a super athletic guy. He wins with his arm talent and arm strength. Eason is also an accurate passer with an 79% on target percentage charted by Sports Info Solutions which ranked fifth-best. His college journey has also been different than many other college quarterbacks. He started as a freshman at Georgia in 2016, but after an injury in 2017, he lost the job to Jake Fromm and ultimately transferred to Washington for the 2019 season. Eason thrives in the pocket when the offensive line gives him time. He crumbles under pressure though which can be seen by his 78.1 rating under pressure. With the way things are trending in the NFL how much he will offer from a fantasy standpoint, is in question with him being a true pocket-passer.
Jake Fromm (Georgia)
Like Eason, Fromm is not going to blow anybody away with his athleticism. What he brings is a winning-mentality with a high football IQ. What this translates to when it comes to the NFL is a game manager quarterback; in fantasy, these guys are usually not players that you want to target. Fromm is very careful with the ball in his hands and rarely makes a poor decision that results in turnovers. According to PFF, Fromm recorded a turnover-worthy play on just seven of his 445 dropbacks last season, one of the best rates in college
football. That also means he is risk-averse, which does not usually generate fantasy points.
Tyler Huntley (Utah)
Huntley profiles as another game manager quarterback in the 2020 class projecting to be drafted beyond the sixth-round. He does not impress with his arm strength or velocity but rather succeeds in being an accurate quarterback in the short passing game. His on-target percentage was 82% which ranked second only behind Joe Burrow. In the NCAA in 2019 his overall pass completion percentage was 73.1% which ranked second. His yards per attempt ranked fourth (10.3), and his expected points added per dropback (.23) also ranked fourth. The other main issue for Huntley is that he has suffered injuries at the college missing eight games in his past three seasons. At just 6'1'' and 205 pounds he is on the smaller end of the spectrum and it would do him well to bulk up for durability purposes. Huntley did stay fully healthy his senior season playing 14 games. He also drastically improved his deep passing by ranking fifth in PFF passing grade on throws 10-plus yards down the field. Huntley will also be able to add to the run game in the NFL with his elusiveness.
Anthony Gordon (Washington State)
Gordon took over the Air Raid offense under offensive guru Mike Leach at Washington State. Gordon was a one-year starter his senior year after sitting behind future NFL quarterback Gardner Minshew in 2018. In 2019 Gordon led the NCAA in passing attempts (689), ranked fourth in completion percentage (71.6%), second in passing yards (5,579), second in passing touchdowns (48), second in total yards (5,559). He also ranked second in passing interceptions (16). Considering the success Minshew had as a six-round rookie pick after coming out of the heavy-play Air Raid offense that alone should intrigue NFL teams enough to have Gordon drafted. The main difference between the two however was the Gordon is much better when it comes to short accuracy; Minshew was much better passing downfield. Gordon's 80% on target percentage charted by Sports Info Solutions ranked fourth-best. He is a projected Day 3 prospect and could go as early as the fifth round.
Steven Montez (Colorado)
Projected to go in the sixth-round or later, Montez will be drafted because of his arm talent and natural running ability. Montez threw 59 mph at the combine (90th percentile) and ran a 4.68 40-yard dash (84th percentile). At his size 6'4'' and 231 pounds that size/speed is rare and he will be able to absorb hits at the NFL level. Montez has a ton of experience after spending five years in Colorado and that should help him land with a roster in 2020. His best plays are also almost seemingly ones that he improvises which as a backup coming into a game is usually the situation so NFL teams could see value in him as a comfortable backup with some upside. He was also able to support steady production for his best wide receiver for two seasons in Laviska Shenault Jr.
STAY IN TOUCH
Sign up for FantasyData's newsletter and get awesome content sent to your inbox.
We'll never share your email address and you can opt out at any time, we promise.
---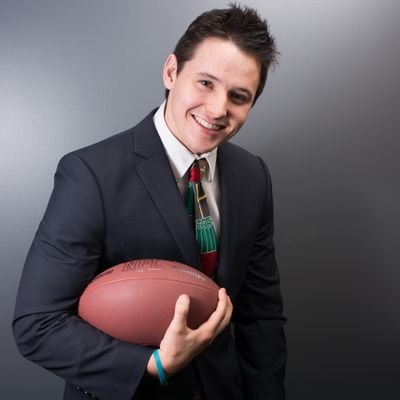 Andrew has come a long way as a fantasy football writer. After graduating from Roger Williams University where he received a degree in marketing he began to write his own fantasy blogs via WordPress.com. He used to call himself the Fantasy Football Master. Nowadays, he is slightly more humble. He has worked with Pro Football Focus as an base data analyst along with bringing head writing experience from Gridiron Experts. He is an absolute die hard Patriots fan (humble brag) and will never forget his first fantasy football team. In his first ever fantasy football league he drafted the Bears defense in the 1st round. He then proceeded to win the entire league. #DefenseWinsChampionships