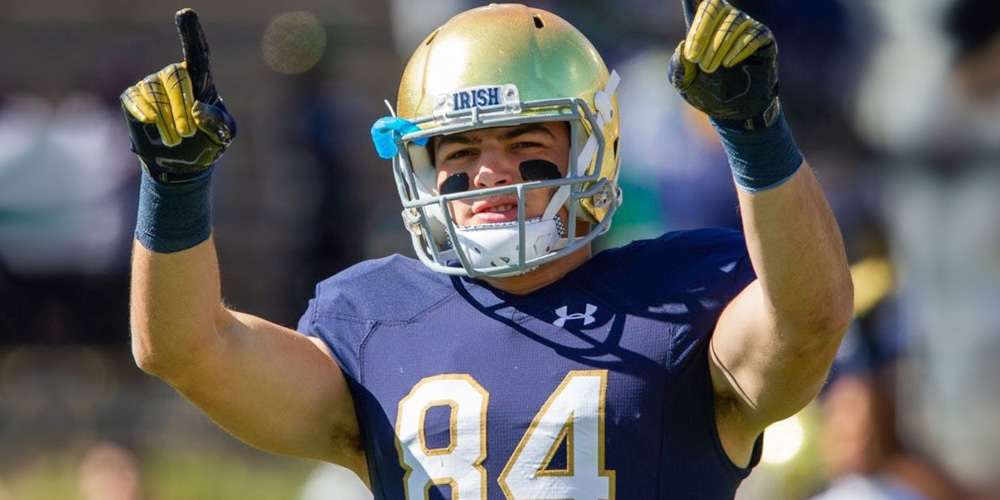 2020 NFL Draft: Top Rookie Tight Ends
---
Top-10 Rookie Tight Ends of 2020
In fantasy football, rookie tight ends tend to be overvalued. We fall in love with them during the pre-draft process and get excited when an uber-athletic one finds himself in a great landing spot. However, the jump from college to the NFL for most tight ends is tough; most if not all tight ends fail to make an impact in their rookie seasons. However, usually a few do find themselves on the streaming radar in fantasy leagues, so a select few of these guys might resurface during the NFL season. A word to the wise is to not invest too high in these rookie tight ends; especially in this class, because of it being weaker than in year's past.
Here are the top 10 rookie tight ends to familiarize yourself with come draft day.
Cole Kmet (Notre Dame)
Kmet is the consensus number one tight end to be drafted first in the 2020 class. He is projected to go at the backend of the second-round. All the traits are there for Kmet to become a successful tight end at the next level, but it is a matter of how long his development will take. He only put up production this past season at Notre Dame with 43 receptions for 515 receiving yards and six touchdowns. According to Sports Info Solutions, he caught 88% of catchable balls thrown his way (third-best) and ranked fifth in yards per route run at 1.8 (fifth-best). The downside with Kmet in year one is that he stills needs to work on run-blocking so depending on how a team's decision to use him could really influence his initial production. The upside with Kmet is the fact that he is an explosive athlete; his burst score from the NFL combine was number one in the class (126.3, 88th percentile).
Adam Trautman (Dayton)
No tight end had a higher receiver grade (94.3) per PFF than Trautman did in 2019. To put that into perspective his receiver grade was higher than Jace Sternberger, T.J. Hockenson, Irv Smith Jr., and Noah Fant's grades from 2018. The only tight end of recent memory that had a higher grade was Dallas Goedert in 2017. Trautman wins with his route running, sure hands, and explosiveness. According to PFF, he had 27 plays of 15-plus yards in 2019 which would have led all FBS tight ends. He also ranked second in yards per route run (2.71). Because of his ability to create route separation, he might be better in the short-term when you compare him to Kmet. The other important note regarding Trautman is that he used to play quarterback before switching over to the tight end position. He uses his quarterback experience to further help him be better at the tight end. The biggest knock on Trautman is that he played at a small school at Dayton. However, he put doubters to rest by his performance at the Senior Bowl. Like most rookie tight ends, Trautman still needs to work on his blocking. He graded inside the top-8, inside the top-13 for pass blocking per PFF. But, again his grade requires context considering the players he was blocking in the smaller FCS.
Outside that he still checks off the boxes when it comes to his measurables. Per PlayerProfiler.com his college dominator rating (38.1%, 97th percentile), breakout age (19.6, 87th percentile), agility score (11.05, 95th percentile), and catch radius (10.18, 81st percentile) are all fantastic. At 6'5'' he also easily comes down with contested catches. He ranked fifth for tight ends for total contested catches in 2019. He should see his name called sometime in the third round.
Harrison Bryant (Florida Atlantic)
Throughout his college career, Bryant has been a dominant receiver at the tight end position. In 2019 he was the recipient of the John Mackey Award which goes to the best tight end in the nation. He is also the first tight end since Dallas Goedert to finish a season with over 1,000 receiving yards. According to Sports Info Solutions, he led the nation for tight ends in yards per route run (3.4) which was a full 0.5 yards more than fellow tight end Hunter Bryant (2.9). He also has the best yards per route run from the slot (3.53). He tied the Hunter Bryant for the highest target share (21%) in their respective offenses. What's most impressive for Bryant from Florida Atlantic is per Sports Info Solutions Expected Points Model, Bryant added the most points for all tight ends when involved in a play. He also led all tight ends in deep catch percentage (72.7%), tied for the most catches with over 20 or more yards downfield (8), and accumulated the most yards from deep passes (259). As a receiver, Bryant definitely create mismatches for defenses, however, he had a case of the drops in 2019 (8). Bryant can also offer prowess when it comes to contested catches as he ranked second in that metric (13) in 2019. If Byrant can add more size and strength he can round out his game more to become a complete tight end in the NFL. Bryant is expected to be drafted between the third and fourth rounds of the NFL Draft.
Hunter Bryant (Washington)
Bryant is projected to go inside the third-round of the NFL Draft. He was a down-field threat tight end for Washington ranking second in yards per reception (15.9), second in yards per target (10.1) and second in yards after the catch per reception (8.0) per Sports Info Solutions. He was also second in total yards after the catch (399). Bryant caught 85 passes from 120 targets for 1,394 yards and five touchdowns throughout his collegiate career. Bryant wins with his speed and was targeted downfield often; he led all tight ends with 18 targets of 20 yards or more. He also lineup in the slot frequently at Washington and ranked fourth in yards per route run (1.79). The last word on Bryant is that he really looks more like a wide receiver than a tight end, but at only 21 years old he has a great long-term outlook. The main concern with Bryant is that he won with speed in college, but he did not test great. His 40-yard dash (4.74, 62nd percentile), and speed score (95.2, 47th percentile), left fantasy owners wanting just a bit more. He weighed in at 248 pounds at the NFL combine so he may have bulked up too much because on film he plays much faster. On the Washington Huskies official website, his weight is listed at 239 pounds. On a final note, Bryant can be a mismatch nightmare for defenses but will not be much of a red zone threat at 6'2''.
Jared Pinkney (Vanderbilt)
Pinkney projects as more of a well-rounded tight end with some receiver upside at the next level and should expect to be selected in the fifth round of the NFL Draft. Pinkey's best season as a receiver came his junior year where he had 50 receptions for 774 yards and seven touchdowns. In that season his yards per route run ranked fifth (2.28), and his yards per reception (15.4), and yards after the catch per reception (6.8) both ranked in the top-ten. However, in 2019 the offense at Vanderbilt needed him to stay in and block because of offensive line struggles. In one regard is did require Pinkney to become a better blocker but at the expense of his receiving production. His 2019 numbers (20 receptions, 233 receiving yards, two touchdowns) were a fall from grace from where he had risen in 2018. However, his yards after the catch did carry over with him ranking third in yards after the catch per reception (6.9). Pinkney has shown the talent to be an effective pass-catching receiver, but ultimately he will be subject to whatever team drafts him and how they decide to implement him into their offense.
Thaddeus Moss (LSU)
He is the son of NFL Hall of Famer Randy Moss, but he won't be a first-round pick like his dad. Moss is projected to go inside the third-round of the NFL Draft but could fall due to injury concerns. Last season Moss lined up all over the field in the LSU spread offense. He started his college career at NC State, but then missed his next two seasons with transfer rules and a foot injury in 2018. Unlike most of the tight ends in this class, Moss is strong in the run game and though he did not grade as high as Trautman in run blocking grade, blocking in the SEC is much more difficult than blocking in the FCS.
Moss is not the mismatch nightmare that his father was, but he still has sure hands. He caught all 47 catchable passes thrown his way for a zero percent drop rate. He ranked top-three in yards per target at tight end for 2019 as well (10.0), but this is more attributed to Moss playing in the best offense in college football rather than him seen as a threat down the field. He was best used out of the slot where he ranked sixth in yards per route run (2.04). Moss did not test at the combine because of a foot injury. Fantasy owners might target Moss because of his name brand equity, but his skillset points to him more likely to be just a nice well-rounded tight end for NFL teams, but not a true fantasy asset. His ten percent target share (21st percentile) and yards per route run (1.21) are not indicative of future success.
Brycen Hopkins (Purdue)
Hopkins is expected to be drafted between the third and fourth rounds of the NFL Draft. Hopkins spent five years at Purdue and finally burst onto the scene in 2019 with 61 receptions for 830 receiving yards, and seven touchdowns. Hopkins' best value that he can add to a team is his pass-catching prowess. He is not a player NFL teams will have confidence in using as an inline blocker because he just is not that physical. In this class, he ranked third in yards per route run (2.0), fifth in yards after the catch per reception (6.3), and fifth in target share percentage (19%). His total YAC ranked fourth and his yards per reception (13.6) ranked eighth. Hopkins wins with his speed which he flashed at the NFL combine testing with a 4.66 40-yard dash (82nd percentile). The big issue for Hopkins as a receiver has been his drops. Per PFF, his 22 drops since 2016 are eight more than any other tight end in the class.
Albert Okwuegbunam (Missouri)
Okwuegbunam is a projected third-round pick and a lot of that has to do with him blazing 40-yard dash (4.49, 99th percentile) and speed score (129.6, 99th percentile), which factors in his massive size (6'6'', 258 pounds). Interestingly enough the 40-yard dash was the only test that Okwuegbunam participated in; who's to say that's all he trained for? This measurement comes with more question marks because he did not play with that type of speed on the field at Missouri. In 2019 his yards per reception (11.8) ranked 30th, yards after the catch per reception (5.1) ranked 22nd and had just four receptions over 20-plus yards. He won more with his size which was evident of his end-zone presence with 23 touchdowns scored across three seasons. 23.4% of his receptions have been touchdowns. The other main concern with Okwuegbunam is that he has not gotten progressively better throughout college; rather his numbers have dropped each season. His overall PFF grade over the last three seasons: 81.7, 73.0, 62.3. His raw numbers also have decreased since 2017 wish could concern some teams and ask why he did not improve year after year.
Josiah Deguara (Cincinnati)
It's pretty rare to find a tight end that led his college team in receptions (39) and receiving touchdowns (7). That was good enough to amass a 20% target share which tied for third-highest at the tight end position in 2019. Deguara profiles as a pass-catching tight end, but can still be an efficient inline blocker. He was frequently featured as a receiver in the slot where he is able to be an athlete in space. At the NFL combine Deguara's SPARQ-x score (119.6) was the highest in the class and ranked in the 84th percentile. Deguara finished his career at Cincinnati with 1,117 receiving yards, 92 receptions, and 12 receiving touchdowns. At the NFL level, his upside is limited because of his smaller size (6'2''/242 pounds), but with an ability to play both fullback and special teams he will find himself drafted in the fifth round.
Devin Asiasi (UCLA)
A projected fifth-round pick Asiasi has strong hands (2.2% drop rate) and strong numbers in 2019 per Sports Info Solutions. He ranked fifth in yards per target (9.3), fourth in yards per route run (1.9), eighth in yards after the catch per reception (5.6), sixth in target share (17%), and second in Expected Points added. Asiasi started his college career at Michigan then transferred to UCLA for the 2018 season after sitting out in 2017. In 2018, Asiasi was behind tight end Caleb Wilson at UCLA who put up a 60-965-4 stat line in his final season. Wilson ended up as a seventh-round pick (Mr. Irrelevant) in the 2019 NFL Draft so considering Asiasi could not beat him out from a production standpoint is concerning for Asiasi's outlook. Wilson had a 25% target share his last year at UCLA; Asiasi was 17%. He will not add much as a run blocker but can create mismatch opportunities in the passing game.
STAY IN TOUCH
Sign up for FantasyData's newsletter and get awesome content sent to your inbox.
We'll never share your email address and you can opt out at any time, we promise.
---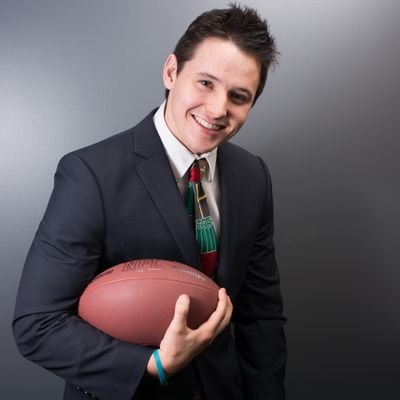 Andrew has come a long way as a fantasy football writer. After graduating from Roger Williams University where he received a degree in marketing he began to write his own fantasy blogs via WordPress.com. He used to call himself the Fantasy Football Master. Nowadays, he is slightly more humble. He has worked with Pro Football Focus as an base data analyst along with bringing head writing experience from Gridiron Experts. He is an absolute die hard Patriots fan (humble brag) and will never forget his first fantasy football team. In his first ever fantasy football league he drafted the Bears defense in the 1st round. He then proceeded to win the entire league. #DefenseWinsChampionships