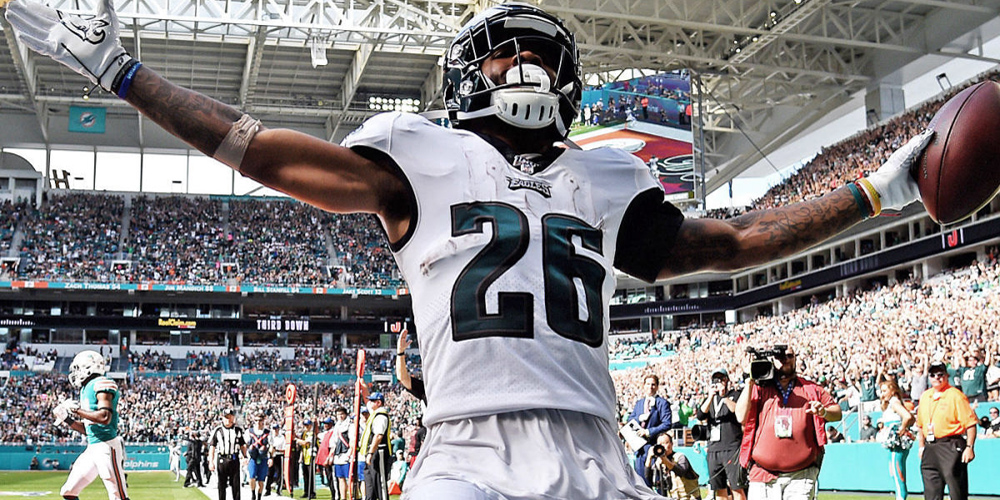 8 Fantasy Football Third-Year Breakout Candidates
---
Breakout Candidates
When it comes to players in the NFL, for whatever reason the third-year seems to be where players generally tend to take a step forward. Wide receivers in particular this is the case with, as running backs anymore seem to be productive right away if they land in the right spot. Wide receivers can take some time to develop or get used to playing at an NFL level, we don't often see wide receivers break out as rookies as we saw with Justin Jefferson in 2020. I'll be looking at some potential third-year breakout candidates to keep an eye on for fantasy football rankings movers and player research as we head into the 2021 NFL season.
Daniel Jones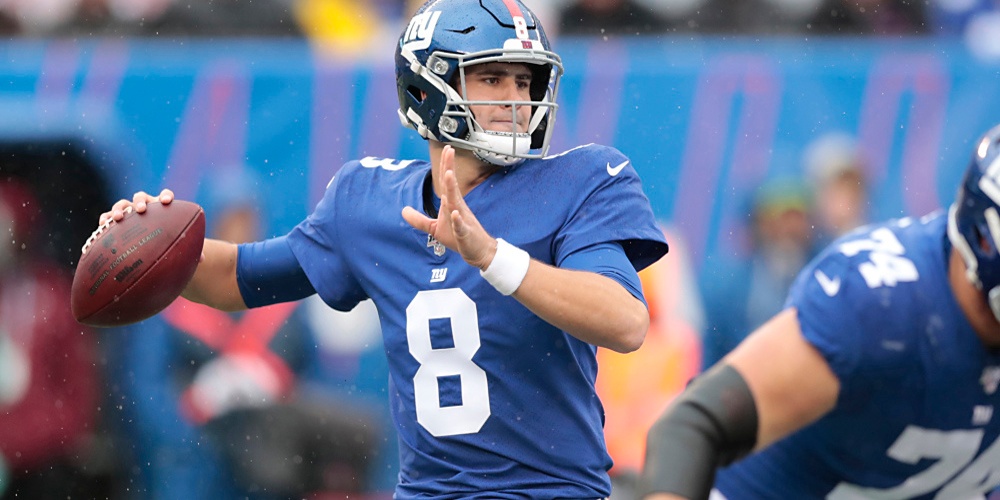 The New York Giants had some serious struggles in 2020, but losing their star running back in Week 2 was one of the biggest losses. Daniel Jones really didn't get much help from his position players. We were expecting a nice jump from Darius Slayton, but he totaled 751 yards and three touchdowns, despite playing in every single game. Evan Engram and Golden Tate also played in 15 or more games each in 2020. Needless to say, he definitely had some weapons to work with, but none of them did much to help Jones. The offensive line was the biggest issue, as they were arguably the worst in the league. The Giants obviously need some major help to their offensive line, which they should get in the 2021 Draft. Jones was the QB24 in 2020 and while he might not be the most appealing name, he could end up breaking out in 2021. With the recent news of Kenny Golladay signing a long-term deal with New York, Jones gets an obvious bump and should have some nice weapons moving forward.
The only other notable quarterbacks from this class are Kyler Murray who has obviously already broken out, Dwayne Haskins, Gardner Minshew, and Drew Lock. Lock would be appealing, but many signs have pointed to Denver wanting to address the quarterback position. If Lock ends up being the guy in Denver, then he's absolutely a third-year breakout candidate, but I wouldn't bank on it.
Miles Sanders
Many fantasy owners were banking on a big season in 2020 for Miles Sanders after he showed some very nice flashes of talent in his rookie season. Sanders quickly showed how much better he was than the rest of the backs on this roster and he finished with 867 rushing yards and six touchdowns. He played in just 12 games and would've easily hit 1,000+ rushing yards had he been healthy all year long. During Weeks 2-6, Sanders was healthy and was the RB10 during that time. When he came back from Weeks 9-15 he was the RB21. I wouldn't bank on RB1 production, but if he gets the work and the Eagles start to really lean on him, he absolutely has RB1 upside. His price is down a bit right now and I'm happily buying him in hopes of a third-year breakout.
Damien Harris
A much cheaper player and far less appealing right now is Damien Harris of the New England Patriots. James White is a free agent and was once again involved just enough to be annoying, just like Rex Burkhead. With both of them being free agents, the biggest name that's holding Harris back is Sony Michel, who has been a major disappointment for fantasy owners. Harris showed us enough last year that he appears to be more than capable of leading this backfield. If you're not a fan of Sanders or want a cheaper option as a breakout candidate, Harris has some interesting upside as we head into the 2021 season.
Davin Singletary
After drafting Zack Moss in the third round of the 2020 NFL Draft, Devin Singletary took a bit of a hit, and this backfield was a pretty even split. The biggest upside for Singletary is in the passing game, as he saw 50 targets to Moss's 18. I don't expect either back to run away with the job here in Buffalo, I wouldn't even be shocked if they brought in a veteran back to help make this situation even more unclear. Singletary is the guy that I expect to be involved enough in the passing game to keep his fantasy value up. At this point he might even be cheaper than Harris is to acquire, but if the owner of Singletary is too high on him, I'm not overpaying. If you can get him for the right price, Singletary could have some nice, consistent value in PPR formats moving forward. If the Bills end up giving him the bulk of the work, he's worth considering as a third-year breakout candidate.
There aren't a ton of other options at the running back position in this class as we've already seen Josh Jacobs and David Montgomery break out. Benny Snell isn't an appealing name by any means, but if James Conner is out he could see a nice bump in usage, splitting with Anthony McFarland. Tony Pollard and Alexander Mattison would be good options if they weren't sitting behind two stud running backs who get tons of usage. Darrell Henderson is more than likely getting passed by Cam Akers from what we've seen as well, making just a few names good options as third-year breakout candidates in this 2019 class.
Deebo Samuel
Here's the first wide receiver of this group and that's Deebo Samuel. Samuel had a nice rookie campaign and showed us some really explosive plays. He finished with 966 yards and six total touchdowns, catching 57 of 81 targets in 15 games. Samuel saw 44 targets in just seven games this year, getting more targets and receptions per game than his rookie season. He also improved in his receiving yards per game and improved on his catch percentage to 75% from 70.4%. Obviously next year the 49ers will go into the season with a healthy George Kittle and Brandon Aiyuk who also looks great, but Samuel has just as much of a chance to be the WR1 on this team as anyone. I love just about everything in his game and am gladly banking on Samuel having a breakout season in 2021.
Diontae Johnson
Next up is Diontae Johnson, who has quickly become known for his drops more than anything after leading the NFL in drops with 11, which was actually tied with TJ Hockenson. Johnson saw the highest target percentage of anyone in the NFL last year with 19.6%. Target percentage is the total percentage of snaps played where the player was targeted on a pass attempt. Johnson finished as the WR21 on the season. Johnson could be due for a big season next year and is someone I'm expecting to take a step forward in 2021, though many may already say he's broken out. I think we've just seen a glimpse of his upside and he could even flirt with low-end WR1 numbers as long as Ben Roethlisberger is the quarterback for the Steelers. The upside might be a little capped with JuJu Smith-Schuster returning, but Johnson still has shown promise and will have plenty of time to show what he's really capable of moving forward.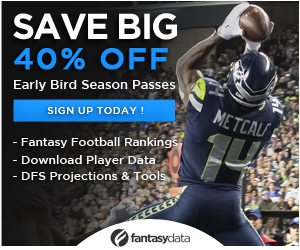 Marquise Brown
One wide receiver that many people are hoping for a breakout season from is Marquise 'Hollywood' Brown. To be honest, I hated the pick at the time and really he hasn't done anything to show us he's worthy of a nickname like 'Hollywood'. I am mentioning him here because despite him being on the Ravens and not being a fan, to begin with, he did have a nice string of games at the end of the season last year. He caught six touchdowns in his last six games of the season, but never saw more than eight targets during that time and was still just the WR29 through those games. Sure, Brown is definitely someone who could be a candidate for breaking out, and I did feel a bit obligated to include him here, but I'm not counting on much more than low-end WR2 to WR3 numbers, with inconsistent production.
Parris Campbell and Darius Slayton are a couple of lower-end names that could see a breakout season in 2021. DK Metcalf, AJ Brown, and Terry McLaurin have made their presence known and are all very highly productive receivers already. Scotty Miller is worth mentioning as we saw some flashes last year, but with the Buccaneers group of wide receivers, he just won't see the volume to justify much fantasy value.
Irv Smith Jr.
The only real breakout candidate from this class of tight ends is Irv Smith Jr. of the Vikings. The biggest thing that helps Smith is that Kyle Rudolph has been released and Smith should immediately take over that top tight end role, after already showing us flashes of what he can do. Rudolph saw 37 targets last year and Smith saw 43, and Smith finished as the TE22 while Rudolph was the TE39. Assuming Smith gets the same volume as last year, plus Rudolph's, and then taking a step forward on top of that, Smith could break out in 2021. Obviously, a few things need to go right for this to happen, but there definitely is a chance that Smith has a breakout season and finishes as a low-end TE1 in 2021. There's a chance the Vikings just lean on Justin Jefferson and Adam Thielen, but Smith definitely has the best chance to break out of this 2019 tight end class.
The two biggest names in this class were TJ Hockenson and Noah Fant, both of which broke out in 2020, as far as tight ends go. Hockenson was the TE5 and Fant was the TE8 this year, and both are established, valuable fantasy assets. I'd say they both have a chance to take another step forward, but it's hard to imagine Hockenson finishing higher than the TE5 overall, and Fant at TE8 was more than most fantasy owners really expected.
STAY IN TOUCH
Sign up for FantasyData's newsletter and get awesome content sent to your inbox.
We'll never share your email address and you can opt out at any time, we promise.
---