Week 10 MLB Hitters and Streamers Forecast
---
MLB Hitters and Streamers Forecast
The theme of this past week or so involves injuries. They just keep piling in and leading to difficult roster decisions, particularly in 15-team leagues with no injured list spots. Even in a 12-team league, it seems my entire bench is full of injured players either day to day or on the 10-day injured list. Outside of the Blue Jays that play five games, the rest of the league plays six or seven games. Meanwhile, the White Sox play eight games with a doubleheader on the slate. One aspect to monitor that we'll mention later involves the Blue Jays moving home ballparks from Florida to New York. Oh, and the Rockies play all six games at home in Week 10. Keep in mind that fantasy baseball is a game of accumulation, especially with hitters, so sometimes we need to make tough decisions with start/sit and adds/drops. That said, let's dive into the Week 10 MLB Hitters and Streamers Forecast.
---

Weekend MLB Promotion!
Save 20% on a FantasyData Premium Subscription
Use Promo Code Fan20
---
Week 9 Hitter Streamer Review
Avisaíl García (.200 BA, 2 HR, 4 R, 3 RBI, 1 SB)

Austin Hays (.200 BA, 1 R) - Landed on the 10-day injured list with a hamstring strain on Wednesday

Leury García (.111 BA, 2 R)

Jonathan Villar (.211 BA, 2 R, 2 SB)

Danny Jansen (.133 BA, 1 R)

Jeimer Candelario (.208 BA, 4 R, 1 RBI)

Adam Duvall (.100 BA, 1 HR, 4 R, 3 RBI)
Easier Week 10 Hitter Matchups
Chicago White Sox - 4 at CLE (one doubleheader), 4 vs. DET

Houston Astros - 4 vs. BOS, 3 at TOR

Minnesota Twins - 3 at BAL, 4 at KC

Oakland Athletics - 3 at SEA, 3 at COL

Colorado Rockies - 3 vs. TEX, 3 vs. OAK
All six games at home for the Rockies, woo! Meanwhile, the White Sox play eight games with one doubleheader scheduled against Cleveland. For the Athletics, they play three games at Coors Field plus their offense is surging with a .349 wOBA (No. 5) over the past 14 days.
Similarly for the Twins, they face the Orioles pitchers who have the 5th highest wOBA allowed a .333, which makes hitters facing Orioles pitchers quite intriguing. They won't even face the Orioles' best pitcher in John Means. For the Red Sox, they're one of the better offenses with a .345 wOBA (No. 7) over the past 14 days and .332 wOBA (No. 1) on the season.
Tougher Week 10 Hitter Matchups
Toronto Blue Jays - 2 vs. MIA, 3 vs. HOU

Detroit Tigers - 2 at MIL, 4 at CWS

Pittsburgh Pirates - 2 at KC, 4 vs. MIA
We only have one team playing five games in Week 10 in the Toronto Blue Jays. One piece of news to note with the Blue Jays - they'll play their home games in Buffalo, N.Y. starting on June 1st. Their current home park in Dunedin, FL ranks above-average in several of the EV Analytics Park Factors, particularly 5th highest in home run park factors. Thankfully, EV Analytics also shows Sahlen Field, which is the home of the Blue Jays Triple-A affiliate - the Buffalo Bisons. Sahlen field rates about league average across the board, but ranked 12th in home run park factors. Keep in mind, it's still a small sample with parts of 2020 and 2021, but it's worth noting.
Meanwhile, the Tigers and Pirates rank towards the bottom of the league in team wOBA. On the season, the Tigers have a .291 wOBA (No. 27) and the Pirates have a .286 wOBA (No. 29). However, the Tigers have performed better with a .306 wOBA (No. 19) over the past 14 days although the Pirates still struggle with a .269 wOBA (No. 28) during that span.
Week 10 Hitter Streamers
Garrett Cooper (1B/OF - MIA)
Just when Garrett Cooper heated up, he left Wednesday's game with right oblique tightness. That said, ignore Cooper as a hitter streamer this week if he misses time with the oblique tightness. Heading into Wednesday, Cooper had a ten-game hit streak with a .444 batting average, 1.361 OPS, three home runs, eight runs, and ten RBI in 40 plate appearances. He boasted a 10.7% barrel rate and 64.3% hard-hit rate during his hit streak. If Cooper's healthy, we like the Marlins matchups against the Blue Jays and Pirates since the Pirates have the 6th highest team wOBA allowed (.326) and the Blue Jays have 12th highest wOBA at .321.
Taylor Walls (SS - TB)
In 15-team leagues, fantasy managers probably scooped up Taylor Walls after the Willy Adames trade. However, consider Walls for potential batting average and some stolen bases. At Triple-A in 2021, Walls was hitting .327 with two home runs and two steals in 62 plate appearances. Back in 2019 at Double-A, Walls hit .270 with six home runs and 15 steals. Throughout the entire 2019 season across two levels, Walls had ten home runs and 28 steals. Walls recorded a hit in four out of six games since his call-up with a .278 batting average, four runs, and two RBI. Sneakily, the Rays have the best team wOBA at .373 over the past 14 days, meaning they're hitting well. The Rays face the Yankees for four games and the Rangers for three games. Walls should play almost every day for the Rays and consider streaming him in deeper leagues.
Josh Fuentes (1B/3B - COL)
In May, Josh Fuentes is hitting well with a .328 batting average and .955 OPS with two home runs, ten runs, and 15 RBI. Outside of his 85.6% Z-Contact% and 76.2% Contact% slightly above the league average, Fuentes chases a bit too much with his 45.4% O-Swing%. Meanwhile, none of the Baseball Savant hard-hit metrics look enticing though Fuentes could provide a decent batting average with all six games at home next week. One note to monitor with Fuentes is that he may lose playing time with C.J. Cron back healthy, but overall he's more a deep league consideration.
Brendan Rodgers (2B - COL)
Maybe, just maybe, Brendan Rodgers puts it all together and stays healthy for a decent stretch. Rodgers recorded a hit in three out of five games since his recent call-up. It's difficult to take anything away from any of the 2021 data, but let's see if he can live up to the prospect hype, particularly in Week 10 with a full slate of games at home. In theory, Rodgers should play a ton as long as he's healthy.
Trevor Larnach (OF - MIN)
Don't overlook Trevor Larnach and his power evidenced by the 116 mph maximum exit velocity (98th-percentile). Although the production hasn't started rolling in, Larnach boasts a 17.6% barrel rate in a small sample of 34 batted ball events. A seven-game week against the Orioles and Royals, yes please, particularly with the Royals. Roster Resource lists Larnach as platooning against right-handed pitchers, and one concern for Week 10 involves the Twins facing three lefties. However, Larnach hit both of his home runs this season against left-handed pitchers, so maybe it's less of an issue heading into Week 10. Stream Larnach if your team needs power given the elite maximum exit velocity numbers.
An easy 461(!) for Trevor Larnach! pic.twitter.com/PE2b8fobOR

— MLB (@MLB) May 25, 2021
Brad Miller (3B/OF - PHI)
Veteran Brad Miller is playing well so far in 2021, which pains me a bit as a Mariners fan watching Miller early on in his career. Over the past 14 days, Miller has two home runs, eight runs, six RBI, and three steals with a .364 batting average. Not too dissimilar to Miller's season-long .319 batting average and .908 OPS with five home runs, 18 runs, 14 RBI, and three steals. Sure, we can't expect the steals to continue since that's his most since 2017. However, Miller's .442 BABIP is boosting his high batting average with the highest line drive rate (26.3%) of his career.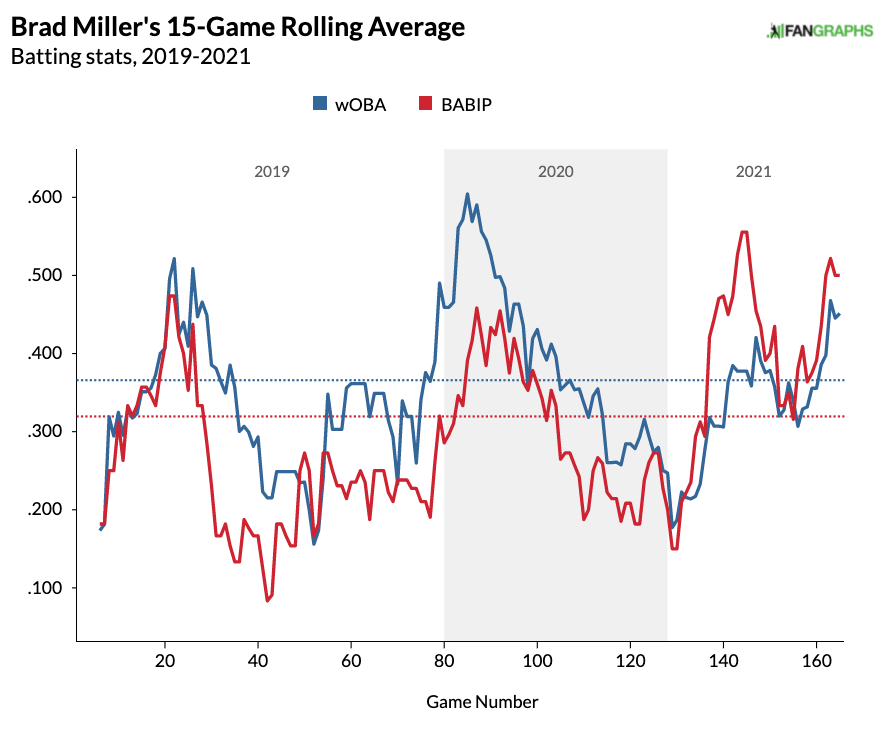 Roster Resource projects Miller to platoon as a lefty, and they project to face five righties in six games next week, so playing time shouldn't be a problem. However, he's hitting relatively well in a small sample against lefties in 2021 with three of his five home runs, a .375 batting average, and 1.194 OPS in 27 plate appearances. In 15-team leagues, consider adding and streaming Miller as he keeps hitting well to start the season.
Odúbel Herrera (OF - PHI)
Honestly, I forgot about Odúbel Herrera for valid reasons related to domestic violence. Herrera is somewhat relevant in 15-team leagues with some locked-in playing time for the Phillies with so many injuries. He cooled down a bit recently after a nine-game hitting streak. During the nine-game hit streak, Herrera hit .394 with one home run, five runs, two RBI, and two steals. Then he's hitting .150 with one run, three RBI, and two steals in the next six games.
Herrera doesn't typically barrel up the ball with a career 4.6% barrel rate near his 4.2% rate in 2021. However, his 45.8% hard-hit rate ranks as a career-best so far. Likely due to Luis Castillo's struggles, the Reds pitchers allow the 8th worst wOBA at .323 on the season. Meanwhile, the Nationals rank middle of the pack, meaning Week 10 is a mix of matchups for the Phillies hitters. For both Herrera and Brad Miller, it's about playing time with injuries to Didi Gregorius, Scott Kingery, and Bryce Harper.
Danny Santana (1B - BOS)
After Danny Santana's 2019 breakout season, where he hit 28 home runs and 21 steals with a .283 batting average. However, in 2020, Santana battled an elbow injury that required surgery, which shortened his season last year. The Red Sox signed Santana in March 2021, and he recently made his debut on May 21st. In his first two games, Santana hit a home run in back-to-back games with one stolen base. The Red Sox play seven games in Week 10, and it's mostly about volume since they face tougher team pitchers in the Astros and Yankees. However, Red Sox hitters continue to lead the league with a .332 wOBA tied with the Dodgers. Consider adding and possibly streaming Santana in 15-team leagues since it's rare to find hitters with the 20/20 potential on the waiver wire.
Say hello to Danny Santana 👋 pic.twitter.com/i4pEESZHv9

— Red Sox (@RedSox) May 22, 2021
STAY IN TOUCH
Sign up for FantasyData's newsletter and get awesome content sent to your inbox.
We'll never share your email address and you can opt out at any time, we promise.
---

Corbin is passionate about fantasy baseball and football. He loves diving into and learning about advanced metrics. Corbin is a Mariners and Seahawks fan living in the Pacific Northwest. Corbin's other hobbies are lifting weights, cooking, and listening to fantasy sports podcasts.