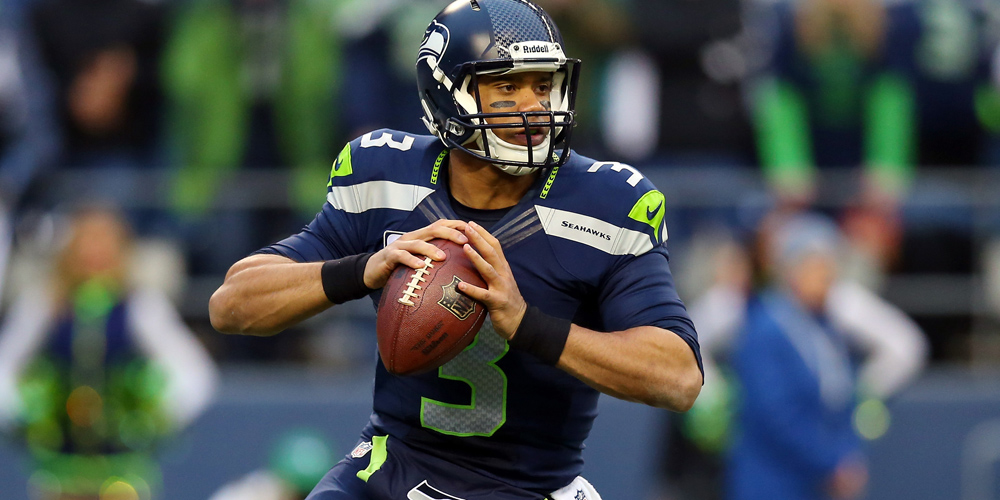 Monday Night Football DraftKings Showdown
---
Monday Night Football Preview
Seahawks -6 at Eagles I Over/Under 48.5
It's week 12 already; time does fly when you're having fun. This week we have the Seattle Seahawks coming cross-country to take on the Philadelphia Eagles. With a struggling Eagle offense and a weak Seahawks secondary, something has to give. The Seahawks are the better team in this one and should be able to come out with a win, but anything could happen in NFL. All salary and spread information are from DraftKings.
HOW THE SEAHAWKS WIN
The Seahawks have the firepower to simply outscore the Eagles when it comes down to it. Their run defense has improved throughout the year, the pass defense is still atrocious, but Carson Wentz has struggled mightily in recent weeks. The Seahawks running game is getting healthy at the right time and could provide a boost. Russell Wilson can take over a game at any time.
HOW THE EAGLES WIN
Carson Wentz needs to be better. They've been banged up on the offensive side of the ball all year, but he needs to put this team on his back and start making plays. It's well documented at this point that although they have been better of late, this Seahawks pass defense is one that can be taken advantage of. Defensively the Eagles will need to be at their best to slow down Russ Wilson and this vaunted Seahawks passing attack.
QUARTERBACKS
Russell Wilson ($12,600)
Since starting the year on fire, Wilson has since cooled off. He's thrown four touchdowns and four interceptions in his last three games. The Eagles are allowing 233 passing yards per game and have given up 13 touchdowns on the year. Those numbers are a bit misleading as the Eagles play in the worst division in football. Russ will be able to move the ball all over in this one and should provide a return similar to what we saw the first few weeks of the season.
Carson Wentz ($10,400), Jalen Hurts ($7,200)
Let's not sugarcoat it; Carson Wentz hasn't been good this year. He's thrown 14 touchdowns but also has 14 interceptions thus far. His offensive line has been banged up, his playmakers have been out, but overall he needs to be better with the football. Most teams have taken advantage of the Seahawks through the air as they allow 355 passing yards per game and have surrendered 18 touchdowns on the year. The AFC East is terrible, but it's still very much up for grabs, and the Eagles can make some noise if Wentz gets going. In some late-week news, we found out Jalen Hurts has been taking first-team reps in practice and is expected to see increased playing time in this one. That is a situation to monitor up until game time.
RUNNING BACKS
Chris Carson ($8,800), Carlos Hyde ($7,000)
Chris Carson is expected to be active for this one, giving the Seahawks a boost to their overall offense. Hyde returned to action last week and carried the ball 14 times for 79 yards and a touchdown. The Eagles are allowing 84 rushing yards per game and have given up ten scores this year. The Seahawks have used a bunch of different options at running back while waiting for Hyde and Carson to get healthy, but none have made a significant impact and should not be considered as long as these two are healthy.
Miles Sanders ($9,200), Boston Scott ($1,000)
Sanders is averaging 15 carriers and five targets the past two weeks and leads the team in snaps. Scott is averaging four carries and two targets over that same span; the Eagles also brought back Jordan Howard, who could be active for this one. The Seahawks allow just 67 rushing yards per game but are weaker against receiving backs. They allow six catches per game and 49 receiving yards to running backs, fourth-most in the league. Sanders excels in the open field, and this is an angle the Eagles should look to exploit.
WIDE RECEIVERS
Tyler Lockett ($9,600), DK Metcalf ($11,400)
Getting a healthy running game going will help out these receivers that have cooled in recent weeks. Lockett averaged nine targets a game in his last two contests, while Metcalf has averaged four a game. The Eagles are decent against defending the pass allowing only 147 yards per game and seven scores per game. Darius Slay is likely to shadow Metcalf in this one, limiting his potential upside. Either one of these guys is capable of putting up a stud game in any week.
Travis Fulgham ($6,800), Jalen Reagor ($5,800)
The Eagles lack an elite talent at the receiver position; both Travis Fulgham and Jalen Reagor are good options, and given this matchup, they should see plenty of action. Fulgham has 12 targets in the last two games but just two catches, while Reagor has eight grabs with the same number of targets. The Seahawks are giving up 259 receiving yards per game and have surrendered 13 touchdowns on the year. This is a matchup that bodes well for both these receivers, but unfortunately, they are tied to Carson Wentz.
TIGHT END
Will Dissly($3,600)
Dissly is a fine player, but he's not relevant for fantasy purposes. He has just three targets in the last two games. The Eagles are tight end friendly as they allow an average of 54 yards to the position and have given up six scores on the year.
Dallas Goedert ($6,400)
Goedert has been busy the last two weeks. He's averaging six targets a game and found the end zone last week. The Seahawks give up 46 yards per game to the tight end and have allowed three touchdowns on the year. Goedert may be the most reliable pass-catcher suiting up for the Eagles this week.
PICK
Seahawks -6 I Over 48.5
LINEUP
Tyler Lockett- Captain
Russell Wilson
Chris Carson
Dallas Goedert
Boston Scott
STAY IN TOUCH
Sign up for FantasyData's newsletter and get awesome content sent to your inbox.
We'll never share your email address and you can opt out at any time, we promise.
---

Being from New York Nick is loud and opinionated. Known as the Hot-Headed Italian within his circle, his takes are bold, with facts and stats to back them up. While playing across multiple leagues and serving as commissioner of his hometown league for the past 13 years, he's been consumed by football. Being a seasoned player, he's had success in various formats and league setups. When he's not reading or writing about football he can be found spending time with his wife and son.