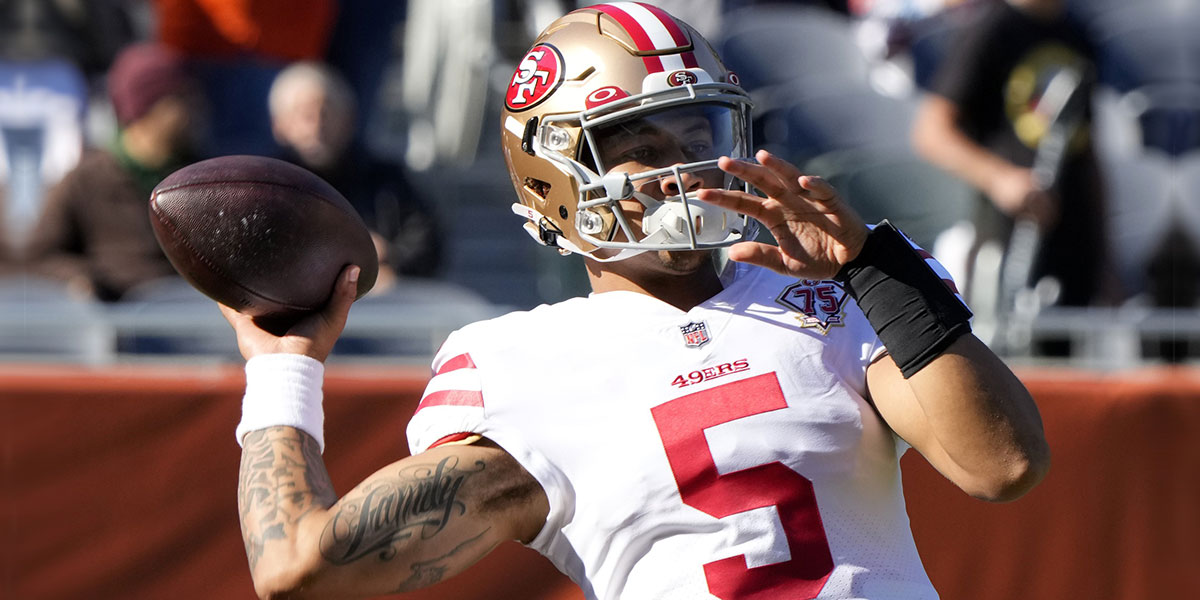 Week 17 Fantasy Football Sleepers
---
Fantasy Football Sleepers
Hopefully, we don't have as many players missing Week 17 with the new COVID-19 rules. We'll keep the introduction short as we have one final fantasy football sleepers piece for Week 17. Don't start too many Week 17 waiver wire options or risky players - roster construction matters. Also, use the recent data to provide optimism or concern heading into the final week.
Trey Lance vs. HOU
At this point, Trey Lance feels more like a must-start outside of the top-8 quarterbacks. With no Jimmy Garoppolo, it's finally Trey Lance SZN in Week 17. Lance made one start in Week 5 and appeared in Week 4 against a couple of NFC West foes. Since the Texans typically play from behind, they allow the most rushing yards to the running back position, with the third-most per game at 141.3. That said, the Texans give up the 14th most passing yards at 239.7 per game.
Small sample alert - Trey Lance ranks:
-Bottom-5 with a 62% OnTarget%
-Second to last with a 62% Catchable%.
-Bottom-10 in AYConversion% at 40%
(min. 15 PA)

As a rusher, Lance averages 2.9 YBC & 1.6 YAC with a 7% evasion rate.

Week 4 & 5 - QB14 & 20 ➡️ 130 rushing yards pic.twitter.com/KXkhLXsCJT

— Corbin (@corbin_young21) December 28, 2021
However, Lance possesses different skills than most quarterbacks. Lance totaled 130 rushing yards with seven and 16 rushing attempts in Week 4 and 5. We're dealing with a small sample, but Lance has a 62% OnTarget% (bottom-7) and 62% Catchable% (second to last). Even Lance's 40% Air Yard Conversion Rate ranks in the bottom-8 of the league. As a passer, he's struggling, but it's a tiny two-game sample. We observed how Tyler Huntley performed in three games - 234 passing yards and 52 rushing yards - that's probably a safe expectation for Lance, and hopefully, he scores one rushing and passing touchdown.
Tua Tagovailoa at TEN
After averaging 35 pass attempts per game in Week 11-13, Tua Tagovailoa didn't need to pass a bunch in Week 15 and 16 against the Jets and Saints. Outside of the Saints game with Ian Book at quarterback, Tagovailoa ranked as QB12, QB14, QB18, and QB12 in the previous four weeks. The Titans possess one of the stingiest run defenses in the league and allow the second-fewest rushing yards per game at 86.7. However, they're a softer matchup against the pass with 8th-most passing yards per game at 246.5. Unfortunately, Tagovailoa doesn't provide a massive ceiling but rather a floor play of 225 passing yards and 1-2 passing touchdowns.
Dare Ogunbowale at NE
Unfortunately, James Robinson suffered an Achilles injury, and Carlos Hyde landed on the injured reserve. Without Robinson in Week 16, the Jaguars turned to Dare Ogunbowale, who garnered an 84.7% snap share, 17 carries plus two receptions on four targets for 72 total yards. Thankfully, Ogunbowale scored a touchdown against the Jets to finish as RB15 with 15.2 fantasy points.
It's also positive to see Ogunbowale run 29 routes with a heavy opportunity share. There's a chance that Ryquell Armstead factors in, which would mean temper the expectations. In Week 16 and 17 of the 2020 season, Ogunbowale totaled 18 and 21 opportunities with an average of 75 total yards. That's a safe expectation against the Patriots, who allow the 10th-most rushing yards per game at 121.9. Ogunbowale should serve as an RB3 or flex play in PPR leagues for Week 17.
Boston Scott at WAS
Miles Sanders broke a bone in his hand, and Jordan Howard suffered a stinger. That could open the door for Boston Scott once again. Since the Eagles showed the willingness to give multiple running backs opportunities, Kenneth Gainwell could factor in as a hail-mary play in deep-leagues. From Week 1-7, the Eagles' backs averaged 13.7 carries per game and 63.4 rushing yards. Then from Week 8-16, that doubled to 30.5 rushing attempts and 153.1 rushing yards per game.
Since we talked about this last night on the @FFFanalysts show with @FFStalder, here's the data for Eagles & DeVonta Smith

Week 1-7 - Rush volume ⬇️ Pass volume ⬆️
Week 8-16 - Rush volume ⬆️⬆️ Pass volume ⬇️⬇️

Smith - identical opportunity/fantasy points, but more efficient pic.twitter.com/CF05930xIM

— Corbin (@corbin_young21) December 29, 2021
The Washington Football Team ranks 8th-best against the run allowing 104.6 rushing yards. However, they gave up 200 rushing yards combined to the Eagles in Week 15 with 131 to Miles Sanders and 69 to Jordan Howard. Assuming Howard misses Week 17, Scott should garner 12-15 rushing attempts with 60-70 total yards. In five games where Scott received ten or more rushing attempts, he averaged just under 64 total yards. Trust Scott more than Ogunbowale, but Scott will likely share with another back in Kenneth Gainwell, assuming Howard misses.
Devin Singletary vs. ATL
Over the past few games, Devin Singletary reached a snap share of 82.7% in Week 14, 95.1% in Week 15, and 71.4% in Week 16. That coincided with Zack Moss being inactive in Week 14 and 15. We observed a similar trend in Week 12 against the Saints without Moss, and Singletary earned a 67.7% snap share with 16 opportunities.

We love that Singletary's snap share and opportunities increased without Zack Moss. However, in two out of four games, Singletary received two targets compared to 13 in the other two contests. In a game against the Falcons, where the Buffalo Bills project as two-touchdown favorites, look for Singletary to have a chance to put up RB2 numbers with RB1 upside if he scores a touchdown. If Moss misses Week 17, that should give us even more confidence.
Ke'Shawn Vaughn at NYJ
In 2020, we experienced playoff Leonard Fournette. Then in 2021, it looks like we have playoff Ronald Jones. Although Jones shared snaps with a 53.2% snap share, he totaled 23 versus eight opportunities for Ke'Shawn Vaughn. There's likely some noise here, but Ke'Shawn Vaughn broke off a long 55-yard touchdown against the Panthers for their first score of the game. In Week 16, Vaughn ranked first with 9.3 yards after contact, yet only 0.7 yards before, with 93% of his yards coming after contact.
There's likely some noise here, but Ke'Shawn Vaughn broke off a long 55-yard touchdown against the Panthers for their first score of the game.

Vaughn ranked first with 9.3 YAC, yet only 0.7 YBC, with 93% of his yards coming after contact. #FantasyFootball Data via @RotoViz

— Corbin (@corbin_young21) December 29, 2021
Like the Bills against the Falcons, the Buccaneers project as heavy double-digit favorites against the Jets. In that scenario, Vaughn could receive garbage time rushing opportunities and breaks off a long run or two with above-average speed, evidenced by the 103.5 (75th-percentile) Speed Score. On the flip side, Vaughn could have eight to ten touches for 40-50 yards, which wouldn't help fantasy managers. He only serves as a desperation deep-league play that needs the game script in their favor.
Rhamondre Stevenson vs. JAC
On Wednesday, December 29, Rhamondre Stevenson returned to practice and came off the COVID-19 list. Stevenson and Damien Harris regularly share the backfield opportunities, evidenced by 15 rushing attempts compared to 10.3 carries for Harris from Week 11-13. In Week 15 without Harris, Stevenson garnered 11 touches for 40 total yards, and the game script made the Patriots play from behind.
Amongst all running backs with 15 or more targets, Rhamondre Stevenson currently ranks:

yards per route run: 4th
targets per route run: 5th
missed tackles forced per attempt: 1st
...
targets per game: 61st

Need to get this man more pass snaps

— Michael ProScout Liu (@MiKeMeUpP) December 28, 2021
Both Harris and Stevenson should thrive against the Jaguars, who allow the 9th-most rushing yards at 123.5 per game. Stevenson profiles like a YAC guy with 1.3 yards before and 3.0 after contact. He also edges Harris with a 17% evasion rate compared to Harris at 13%. However, Harris uses his run blockers more effectively with 2.3 YBC versus Stevenson at 1.3. The Run-Blocking Efficiency aligns, evidenced by Harris boasting the 2nd best RBE at 70.4. Meanwhile, we have the 38th ranked RBE (35.0) for Stevenson. Fire up Stevenson as an RB3 with upside based on the projected positive game script and YAC.
K.J. Osborn at GB
News broke that Adam Thielen heads to injured reserve with the ankle injury that ends his season. That means a positive outlook for K.J. Osborn in Week 17, although he already warranted WR3 potential. In three out of the past four weeks, Osborn earned seven or more targets. Osborn finished as WR21, WR18, and WR16 due to a touchdown in each contest.
This solidifies K.J. Osborn as an upside flex option for Week 17. #FantasyFootball https://t.co/8THQ6IxPXc

— Moody (@EricNMoody) December 29, 2021
Since Week 11, Osborn totaled a 20.2% target share that ranks second on the team behind Justin Jefferson with 13.7 fantasy points per game. Green Bay ranks middle of the pack with 22.0 fantasy points per game (No. 18), with the 9th-fewest receiving yards to the position (147.8 per game). That said, it's not the best matchup for Osborn. However, Osborn projects as a WR3 that should earn 7+ targets on a team that averages 36.3 (No. 13) Team Pass Plays Per Game.
Donovan Peoples-Jones at PIT
Donovan Peoples-Jones fits the role of a boom or bust option in Week 17. Over the past three weeks, Peoples-Jones garnered the second-highest Air Yards Share at 47.8% between Justin Jefferson and Michael Pittman. Jarvis Landry missed one of those weeks, and Peoples-Jones lacks the efficiency with a 0.404 Receiver Air Yard Conversion Rate (RACR) given the high 16.9 aDOT.
Air yardage share leaders over the past month:

55% — Justin Jefferson
48% — Donovan Peoples-Jones
39% — DeVonta Smith, Mark Andrews, Tee Higgins
38% — Stefon Diggs, Cooper Kupp
37% — DK Metcalf, Kenny Golladay, Zay Jones
35% — Robby Anderson, Terry McLaurin, Russell Gage

— Jacob Gibbs (@jagibbs_23) December 29, 2021
The Steelers allow the 9th-most fantasy points to the receiver position. However, we know the Browns rely on the run game with the 9th-most Team Run Plays Per Game (28.2) versus the 28th-ranked Team Pass Plays (30.5). With Peoples-Jones, we're hoping for positive regression from an Air Yards standpoint as a boom or bust WR4.
Zay Jones at IND
Another deep-sleeper in Zay Jones garners a 0.526 Weighted Opportunity Rating (WOPR) that ranks 22nd amongst receivers since Week 12. WOPR combines target share and Air Yards Share as an overall opportunity metric. It's nothing special, but Jones averaged 9.1 fantasy points per game during that five-game stretch. In four out of the past five games, Jones reeled in an average of 5.5 receptions, which provides a solid floor in PPR leagues.
Foster Moreau a good start vs IND who allow the 3rd most points to TEs this year

Also, Renfrow should feast vs their zone pass defense

Jacobs once again a total bell cow in Week 17

Zay Jones an absolute desperation flex with 7+ targets 4 of his last 5 games

MIA ⬇️⬇️ pic.twitter.com/muABVwgckz

— Josh Larky ↗️ (@jlarkytweets) December 30, 2021
Although the Colts rank middle of the pack with the 16th-most fantasy points to the receiver position, the Raiders average the 7th-most Team Pass Plays Per Game at 37.3. In terms of opportunity, Jones sits behind Hunter Renfrow in target share with Renfrow at 23% and 20.2% for Jones. However, the main difference involves the uber-efficiency for Renfrow with a 1.441 RACR versus 0.498 for Jones. A safe projection for Jones in Week 17 involves 5.5 receptions for 55-60 receiving yards as WR4 with little upside.
Isaiah McKenzie vs. ATL
If Cole Beasley misses Week 17, then fire up Isaiah McKenzie. On Wednesday, the Bills activated Beasley from the COVID-19 list. They also moved Gabriel Davis off the COVID-19 list, which concerns us for Isaiah McKenzie's viability. However, McKenzie profiles as their slot receiver, so Beasley's status may downgrade our enthusiasm with him.
Isaiah McKenzie in the slot = effective. pic.twitter.com/lMd5Jlwry5

— Alaina Getzenberg (@agetzenberg) December 26, 2021
McKenzie hit a career-best across the board with an 84.4% snap share, 40 routes, 11 receptions on 12 targets for 125 receiving yards, and one touchdown. Thankfully, McKenzie plays on a team that averages the third-most Team Pass Plays Per Game at 39.0. We can envision a scenario where the Bills don't pass as much given the positive game script. Regardless, the Bills still run the 7th-most plays per 60 minutes at 68 plays per game, meaning they're a high-paced squad. If Beasley misses Week 17 or you're looking for an upside WR4, roll with McKenzie. However, it's a risky play if Beasley plays with the Bills' wide receiver depth.
STAY IN TOUCH
Sign up for FantasyData's newsletter and get awesome content sent to your inbox.
We'll never share your email address and you can opt out at any time, we promise.
---

Corbin is passionate about fantasy baseball and football. He loves diving into and learning about advanced metrics. Corbin is a Mariners and Seahawks fan living in the Pacific Northwest. Corbin's other hobbies are lifting weights, cooking, and listening to fantasy sports podcasts.