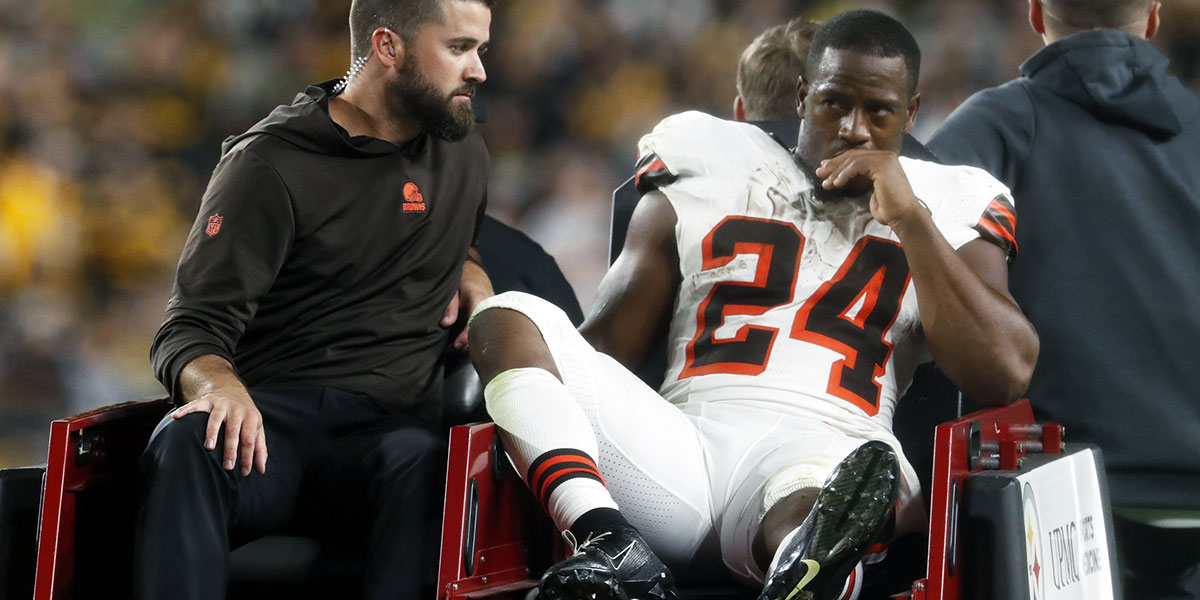 Week Two NFL Fantasy Recap
---
NFL Fantasy Recap
Week two got off to a slow start...or so we thought after the first quarter of the Eagles and Vikings game. Football fans were glad to see it flipped as the game went on. The week itself had a handful of unusual circumstances. Lots of touchdowns were scored by players on waivers across platforms. Then you also still had 2-touchdown weeks from players like Tee Higgins, Tyler Lockett, and _____. A.J. Brown and Ja'Marr Chase managers are scratching their heads currently. Let's see how the games went down.
Vikings vs Eagles
As I mentioned above, this got off to a slow start. The first quarter had us all feeling like a barn burner was in store. Nevertheless, touchdowns started falling from the sky. T.J. Hockenson hauled in a goal-line TD early in the second. He went on to have 7 catches for 66 yards and ANOTHER score in the second half giving him two on the day. Big week for him scoring 25.6 points. Cousins was the Vikings' high-scorer with 28.5 points. Big night for Captain Kirk. 364 yards and 3 TDs. Still can't win in primetime, though. Justin Jefferson didn't find pay dirt this week but he did catch 11 passes for 159 yards. He is a fantasy football juggernaut... 25 fantasy points with no touchdown. Love to see it. Last but not least, another great week from the rookie. Jordan Addison caught 3 passes for 72 yards and a score good for 16.2 points. The Vikings didn't get the win but their players will help fantasy teams.
The Eagles were victorious, thanks to the tush push. Kidding. Well, no I'm not. Jalen Hurts scored two touchdowns on tush pushes. Gave him three total TDs on the day. 25 fantasy points from 193 passing yards, one TD in the air, 35 rush yards, and 2 TDs on the ground. The big story of the day was D'Andre Swift and his massive night. 175 rushing yards, a touchdown, and 3 catches. He scored a team-high 27 points. DeVonta Smith also had a big night. He scored 23 points thanks to 4 catches for 131 yards and his TD. Not much else fantasy production from offensive players. A.J. Brown had another "meh" week with 7 points. Tough look for an early-round pick. Hopefully, he has a big week in store.
Droppable: Rashaad Penny. No idea why the Eagles paid him. He's not getting used and stinks when he is.
Packers vs Falcons
This was a good game! Falcons took home the dub, 25-24 behind Ridder and Bijan Robinson. Jordan Love had another impressive game with 3 touchdown passes. Only 153 yards to go with it but the defense was a huge help. A.J. Dillon was primed to be the lead back with Aaron Jones out, but Dillon only ran for 55 yards. Not great. Jordan Love led the Pack in fantasy points with 20. 12 of those were from TD passes. Jayden Reed made the most noise on offense scoring two touchdowns on 4 catches for 37 yards. Dontayvion Wicks also got involved. He caught Love's third TD pass. Wicks scored 12 points this week. Sucks to see Musgrave only have 2 catches for 25 yards. Thought he'd be more involved with Watson out. Doubs also didn't have the day some were hoping for. 5 points for Doubs.
The Falcons incorporated Drake London in the game plan and look at that, they won. London scored 18.7 points this week and I wonder how many benched him... Ridder put together a 21-point week. 237 yards passing, 1 TD in the air, 39 rush yards, and a goal-line scamper. Solid week for the second-yard QB. Bijan was the most effective player on the field, go figure. 124 rushing yards and 48 receiving yards on 4 catches. Bijan is going to explode once they are scoring touchdowns. Allgeier still saw plenty of work, just did not find the end zone this week. Don't give up on him. Kyle Pitts is uhhhh on the field. But he is not getting much work. 3.5 points for him.
Droppable: I hate to say it, but Kyle Pitts is one more week of no work in the offense away from being a drop candidate.
Bills vs Raiders
Tough week for the Raiders. After the first drive, you would have thought the Raiders were going to give the Bills a run for their money. And they did...for like a quarter and a half. Davante Adams caught a TD early, he was the best fantasy score from the Raiders this week with 20 points. 6 catches for 84 yards and the score for the vet. Josh Jacobs literally had -2 rushing yards. He was also still their second-highest scorer, so that should tell you all you need to know about the Raiders offense this week. Rough outing.
The Bills showed up, did their job, and walked out easily victorious. Josh Allen led the way with 274 passing yards, 3 TDs and 23.6 points. Solid week from the Bills' savior. Also, no turnovers! James Cook had himself a day. 123 rush yards, 4 catches for 36 yards all good for 20 points. Gabe Davis was the receiver to have for Buffalo this week. He caught 6 passes for 92 yards and a TD. 21 points for Davis. Stefon Diggs had a quieter day, but we saw that a lot from the studs this week. He scored 13.6 but we are used to much better weeks from Diggs. Damien Harris had an okay week, as I am sure many were playing him due to RB injuries across the league. 33 yards and a score for him.
Droppable: I don't think Hunter Renfrow is worth a roster spot at this point.
Ravens vs Bengals
This game was a great watch. It was the local game for me, so I got to see it all. Joe Burrow got off to a slow start. The Bengals' first TD, which was not special teams, came at the end of the third quarter. That is uhhhh, not great. Tee Higgins had a massive day. He caught 8 passes for 89 yards and 2 touchdowns. Led the team in fantasy points as well, dropping nearly 29! Ja'Marr did not have that kind of day. 5 catches for 31 yards is not what you want to see out of your star player. Burrow scored 15 points. 222 yards and 2 TDs from the Bayou Bengal. Keep an eye on his injury status, he didn't look good after the game. Mixon had a decent day, scoring 13.5 and Tyler Boyd had a solid outing scoring 11.2 points. No win for the Bengals yet in this 2023 season.
The Ravens escaped victorious and are now first in the division at 2-0. I guess paying Lamar is working out so far. He threw for 237 yards and 2 TDs, ran for 54 yards. 22.8 points for Lamar this week. Remember how I said some unusual names were scoring touchdowns this week? Well, did you know Nelson Agholor was on the Ravens? Because he is and he caught a touchdown and had 5 receptions for 63 yards to go with it. Mark Andrews managers can breathe a sigh of relief. He was active this week and gave you 15.5 points for your lineup. 5 catches for 45 yards and a goal-line score. Gus Edwards, who many added off waivers and were probably playing was able to put together a 12.2-point week. Zay Flowers also had another decent week, scoring 10 points on 4 catches for 62 yards.
Droppable: Ja'Marr Chase...KIDDING. Irv Smith is droppable, Rashod Bateman is droppable, and so is Odell.
Seahawks vs Lions
Two years in a row this game has given us a fun-filled, action-packed, high-scoring game! This time around, Ken Walker III scored two touchdowns and Tyler Lockett also scored two. Walker's 43 rush yards and 2 TDs were good for 18 fantasy points. He was not the team-high score. Tyler Lockett dropped 26 points this week. 8 catches for 59 yards and the two TDs I mentioned. Metcalf did fine. He got banged up but came back later on. He scored 13.5 this week. He was only missing a TD for a big week. I wish Jaxon Smith-Njigba was involved more, he is fun. Noah Fant had 9 points this week if you so happened to start him. But that's it from a fantasy standpoint for the Seahawks. Great win on the road. Spoiled the Lions' season opener, too!
Despite their best effort, the Lions couldn't squeak out the win. They had the lead early on, but lost control of it in the 4th quarter and never got it back. Goff ruined his streak of pass attempts without an interception. He did throw for 323 yards and 3 TDs. Solid day from Goff, scoring 23 points. Amon-Ra St. Brown missed some time during this game but came back in and had 6 catches total for 102 yards. No end zone this week but plenty of fantasy points, scoring 14 because of a fumble. Josh Reynolds was the Lions' MVP. He scored 23.6 points off of 5 catches for 66 yards and 2 TDs. Makes me wonder if Jameson Williams will be posting those numbers when he is back? David Montgomery got hurt but scored 12.4 points before exiting the game. Hope he is alright! Jahmyr Gibbs got 12.6 but I watched a lot of this game play-by-play, and it felt like I never saw him on the field. I dunno. Tough loss for the Lions.
Droppable: Zach Charbonnet is hovering toward this territory, but he's a good handcuff, so don't do anything silly quite yet.
Chargers vs Titans
Gritty, overtime game between these two this week. Justin Herbert did his best to get the victory in this game, but could not come up in the clutch. 305 yards and 2 TDs, however, so it was not a bad game by any means. 22 points for Herbie. Keenan Allen had a monster game. He caught 8 balls for 111 yards and 2 TDs. Good for 31 fantasy points. Something every Keenan Allen manager has been waiting for. Mike Williams had a solid week. He scored 16 points off of 8 receptions for 83 yards. Joshua Kelley was a trap. The Titans' run defense is stellar. 3.9 points from the running back. If you ask me, this is a game the Chargers should leave Nashville victorious. Not scratching their heads and 0-2.
The Titans got some week one redemption, though they had to fight hard for it to OT. Tannehill walked one into the endzone this week as he went on to lead the Titans in fantasy points. 21 points for Tannehill. He had 246 yards and a TD in the air plus the rushing TD I mentioned previously. Derrick Henry was the next highest scorer. He ran for 80 yards and a TD this week; 18.5 points after his couple of catches for 15 yards. Treylon Burks managed to reach 10 points this week, but it would be great if we saw bigger weeks from him. So much promise stuck with an average QB. Hopkins made a couple of grabs, catching 4 balls for 40 yards. Titans walked away victorious, but it wasn't the prettiest game.
Droppable: Anyone not named Henry, Burks, or Hopkins on the Titans. Not enough opportunity to go around there.
Bears vs Bucs
If nothing else, I am glad to see D.J. Moore getting the ball and scoring fantasy points. 16 to be exact. He had 6 catches for 104 yards. The TDs will come, hold strong! Justin Fields had a rough day. Lots of sacks and bad passes. Only 14.7 points as well. 211 yards and a TD for the QB. He has some work to do. Chase Claypool had a good week after all of the criticism. Seems like he kind of had to do something. He caught a TD pass and scored 12 points on the day. Kmet disappointed, so did Herbert, and where was all of that work we heard about in pregame for Roschon Johnson? 4 carries is "much more work"? The Bears are going to be quite the project this year.
Would you look at that? The Bucs are 2-0 and tied for first in the NFC South. Twos straight scrappy wins. Love to see it. Silence the haters! Another massive week from Mike Evans. Evans caught 6 passes for 171 yards and a touchdown. Led the Bucs in fantasy with 29 points. Rachaad White pleased his managers this week scoring 21 points. He ran for 73 yards and a score, caught 5 passes for 30 yards, and had a breakout week all in one. Baker had a good week, putting up 18 points on 317 yards and a TD. Chris Godwin had a quieter week, with only 10 points on 5 catches for 58 yards. Most of this game was a tough watch, but points kept going up. I hope the Bucs keep on winning!
Droppable: D'Onta Foreman, who was a healthy scratch can be dropped. Maybe even Sean Tucker if you were harboring him on your bench.
Chiefs vs Jaguars
I'll be straight, I thought Jacksonville would give Kansas City more of a fight. I know technically it was a close game the whole time, but after week one, I thought JAX put it all together and would have an efficient offense going forward but it looks like they will still have kinks to get out. 216 yards and no touchdowns is not exactly what you want from your budding star QB. 9.2 fantasy points is yucky yucky. Etienne had a bad day, only rushing for 40 yards. Calvin Ridley had a bad day, only having 2 catches for 32 yards. Christian Kirk handled the offense, basically. 11 catches for 110 yards. Over 50% of Lawrence's yards went to Kirk. Wild. Evan Engram scored the second most points with 11. HE caught 6 passes for 57 yards. Tough day for the Jags.
The Chiefs, after suffering a week one loss without Kelce, came to Jacksonville with Kelce and scraped out a win. I think it's safe to say the Chiefs are hungover from Eric Bieniemy's departure. The offense just looks to be missing that final piece of the puzzle. Mahomes did throw for 300 yards and 2 TDs, but could not get to the end zone it seemed like (scored 21 fantasy points). Pacheco had a decent day, rushing for 70 yards. Not the best fantasy day, however. Skyy Moore put together a nice comeback week, catching 3 passes for 70 yards and a TD. Good for 16 points! I hope you didn't drop him...Travis Kelce in his season debut caught 4 passes for 26 yards and a score. 12.6 points in his debut. Kadarius Toney had a better week and is worth adding if he is on waivers this week.
Droppable: Tank Bigsby is droppable in my opinion. He had no work this week. None.
Colts vs Texans
Rookie QB vs. rookie QB, which one will come out on top? Well, it was Anthony Richardson, until he smacked his head on the turf running in his second TD. Damn shame. He had 17.7 points up to that point. Only 56 passing yards and 35 rush yards with 2 TDs on the ground. Zack Moss held the Colts' offense together while Richardson was out. He ran for 88 yards and a TD. Also caught four passes! Moss scored 20.7 points this week. He is a must-add off waivers this week. Michael Pittman didn't find the end zone this week, but he scored 13.6 points due to 8 receptions. Love to see that. Not much else fantasy production from Colts' players. Kylen Granson did score 10 points, but he was not started in many leagues. Good add off of waivers this week, however.
The Texans took the loss in this one, but C.J. Stroud looks like he has what it takes to be a decent passer in the NFL. He threw for 384 yards and 2 TDs. Lots of garbage time in those numbers, but that's part of the game. Nico Collins was the story of the day. Collins scored 27.6 points on 7 catches for 146 yards and a TD. Huge day on my bench! LOL. Tank Dell also is getting in the groove, he caught 7 passes for 72 yards and a TD scoring 20 fantasy points. Robert Woods snuck in some good production, he caught 6 passes for 74 yards (13.4 points). Tank Dell is a good waiver add after this week!
Droppable: Devin Singletary is probably droppable if you need a roster spot
49ers vs Rams
I don't think we gave the Rams enough credit heading into this season. The Rams were without Cooper Kupp and Cam Akers but still put up a fight against one of the better defenses in the league. Stafford threw for 300 yards and a TD, though he did have 2 picks. He scored just shy of 14 points. The MVPs were Puka Nacua & Kyren Williams. Didn't think I'd be saying that, but here we are! Puka caught FIFTEEN passes. He broke the rookie record for receptions in a player's first two games in the NFL. Unreal what we are seeing out of the BYU product. 30 points for Puka and 28 from Kyren Williams to top it off. He ran for 52 yards, a TD on the ground, and even caught 6 balls for 48 yards and a score.
The 49ers did come out on top, despite the Rams' best effort. Deebo Samuel led the receivers with 6 catches for 63 yards, he also was involved in the run game. 5 carries for 38 yards and a score. Deebo scored a solid 22 points this week. CMC was his usual self. Ran for 116 yards, a TD, and caught 3 passes. Nothing wrong with a quiet 22.5-point week from CMC. Brock Purdy threw for 200 yards but did not have a TD. The groundwork did the job this week. Purdy scored 14.7 points. Are George Kittle managers nervous???
Droppable: Elijah Mitchell is droppable if you need the roster spot. Otherwise, hold on to him. Van Jefferson should have already been dropped.
Giants vs Cardinals
I was this close to turning this game off at one point. The Cardinals were up 20-0 at one point! Josh Dobbs played a tremendous game. He led the Cardinals with 25.2 points. Threw for 228 yards and a TD, plus he ran for 41 yards and a TD. What more could you ask for from a journeyman backup? Hollywood Brown had a bounce-back week himself. He scored 17 points on 6 catches for 54 yards and a score. James Conner continues to be relevant for fantasy, he scored 16.6 on 106 rush yards and a TD.
As I said, this game was wild. Daniel Jones led the Gmen down 20 and got the win. He threw the pigskin for 321 yards and 2 TDs (also had an INT) but also ran the ball for 59 yards and a TD. Big week from DJones, he scored 30 points! He looked like 2022 Jones again. We saw rookie WR Jalin Hyatt get involved this week, he had 2 catches for 89 yards. Darren Waller was used plenty, caught 6 for 76 yards (13.6 pts). Even Isaiah Hodgins got involved more. He caught 4 passes for 40 yards and a TD (14 points). Saquon led the offense with 2 touchdowns. 63 rush yards, 6 catches for 29 yards, and one TD running and one after the catch. Big week for Saquon, scoring 27.2 points, but it cost him. He hurt his ankle and is set to miss time. Keep an eye out for that one.
Droppable: Parris Campbell feels droppable in my opinion. Same for Rondale Moore.
Jets vs Cowboys
Well, the Jets are miserable to watch again. Zach Wilson is not "him." 170 passing yards and 1 TD but of course he tacked on three interceptions. Not great. Not to mention, he was also their leading rusher as well. What happened to Breece Hall? 4 rushes for 9 yards and on top of that, Dalvin Cook only added 4 rushes for 7 yards. YIKES. Garrett Wilson put together an okay day. 2 catches for 83 yards and the touchdown was a long one. So, it saved his day. Garrett was the leading scorer with 17 and the next high score was Tyler Conklin with 10. Gross.
The Cowboys had much better weeks across the board. Leading the way was none other than CeeDe Lamb himself. 11 catches for 143 yards. No score this week, but that doesn't matter when you catch the ball 11 times! 25 points for CD! Pollard had a good day as well. 25 carries for 72 yards and 7 catches for 37 yards.
Droppable: Deuce Vaughn if you have to move someone, Dalvin Cook possibly too.
Commanders vs Broncos
Boy was this one a thriller?! I bet you expected a high-scoring, down-to-the-wire matchup in this one, didn't you? NOT. This was a wild game. The Broncos went up 21-7 very quickly thanks to Marvin Mims and his 20 points. Russ also had a big game with nearly 26. They slowly gave up the lead and in the fourth quarter, the Commanders came charging and took control of the game.
Luckily, Russ had a trick up his sleeve and threw a hail-mary touchdown at the end of the game to give the Broncos one last chance, but they had to convert a 2-point conversion and were not able to because of a very questionable no-call...I know Broncos fans reading this are not happy about it.
The Commanders were led by Brian Robinson, who has turned into Eric Bieniemy's bell-cow. He scored 29 fantasy points on 87 rush yards, 2 TDs, and 2 catches for 42 yards. Monster day for the sophomore back. Sam Howell had 299 yards with 2 TDs, good for 21.2 points. Terry McLaurin is back on the map. He caught 5 passes for 54 yards and a score, a solid 16 points for his managers. The Jahan Dotson hype has been really quiet. That and the Antonio Gibson hype. Tough.
Droppable: Samaje is getting close, but he holds a lot of handcuff value. Curtis Samuel is droppable.
Saints vs Panthers
The Panthers may be 0-2, but I like what we're seeing from Bryce Young. It was a tough outing statistically, but he completed 67% of his passes for 153 yards and a TD. He's working with a veteran who is over the hump, a meddling WR in Chark, and an overdrafted rookie Jonathan Mingo. Hayden Hurst might be his best-receiving option. Miles Sanders will be fine going forward, but the Saints defense is pretty solid in terms of run defense.
Thielen led the Panthers with 20 fantasy points. Big night from the veteran, catching 7 passes for 54 yards and a score. Are you ready for this? Chuba Hubbard was the next leading receiver with 5 catches for 34 yards (10 pts total). Young was the next leading fantasy scorer with 13.5 points, so not great. Panthers have some work to do.
Derek Carr and his new threads are 2-0! I'm happy for Carr, rooting for him to succeed down there after a mess of a career with the Raiders. He threw for 228 yards, not TDs and a pick. Not a good fantasy day at all. Tony Jones Jr, who I thought was on another team, racked up 15.4 points off 2 rushing touchdowns. Not sure what happened to Jamaal Williams but keep an eye on it. I believe it was a hamstring injury. Chris Olave, despite not scoring, was able to score 14.6 points on 6 catches for 86 yards. Rashid Shaheed staying in the picture with 4 catches for 62 yards. Michael Thomas might be back ladies and gentlemen. 7 catches for 55 yards (12.5 pts).
Droppable: Chark and maybe even Mingo are droppable.
Steelers vs Browns
Pains me to even be writing this recap because of what occurred in the game. If you didn't know already, Nick Chubb suffered a gruesome knee injury, ending his season. Nothing is worse than seeing a player of Chubb's caliber being wiped out for the season on a fluke play. Such a bummer.
In his absence, Jerome Ford was able to help the offense move. Ford ran for 106 yards, caught 3 passes for 25 yards and a touchdown. He scored 24 points and is a must-add off waivers. Amari Cooper scored 16 points, he caught 7 passes 90 yards. Deshaun Watson scored 11, and after that, it was a wasteland. Elijah Moore was the next-highest score with 7 points. A tough week and a tough loss for the Browns. In multiple ways...
The Steelers rode their defense this week. The defense scored 2 touchdowns on a pick and a scoop and score a fumble. We finally saw what is hopefully a George Pickens breakout game. He caught 4 for 127 yards and a score. He had a massive 70-yard TD as well. He was their leading scorer with 22.7 points. Jaylen Warren had a nice night. Only 20 rushing yards but he caught 4 passes for 66 yards, good for 12.6 points. Najee continues to disappoint. I would be shocked if Warren does not start to out-touch Najee in the backfield.
Droppable: Allen Robinson is droppable; they can't support two wide receivers in this offense yet.
---

Ever since Tony decided he was going to major in Sports Management at the University of Cincinnati, he knew his life would revolve around sports. Tony is an avid Miami Dolphins fan who grew up in Columbus, Ohio. Home of the Buckeyes, who Tony was born and raised to root for. Tony has been playing fantasy football for just over a decade. He approaches fantasy football with the same mentality he approaches everything else, "If you ain't first, you're last." Specializing in redraft, Tony's goal is to bring a fresh perspective to the Fantasy Football world.